Trending
CARRO's Year in Review | Our New Products, Services and Achievements
In 2015, we set out with a vision to lead the automotive and mobility solutions market by providing a better experience, democratizing information and advancing the automotive industry. 
4 years on and we've moved closer to realizing this, with 2019 being an eventful year, launching a host of first-in-the-market services and products, regional expansions and recognition from our investors and media.
So, let's dive into CARRO's Year in Review and learn about the details of what we've done and achieved this year.
CARRO's Year in Review:
1. Singapore's First Car Subscription Service with True Usage-Based Insurance
We kickoff CARRO's Year in Review with one of the biggest highlights. This year was our launch of Singapore's first car subscription service. This new service provides Singaporean drivers with a commitment-free and flexible car ownership experience that's unlike traditional car ownership. 
Depending on their needs, drivers can choose from 3 different plans, Daily, Roomy or Fancy, and pay a fixed monthly subscription fee that covers everything from insurance to maintenance. To achieve true flexibility, there is no fixed term or contract so customers can unsubscribe whenever they want.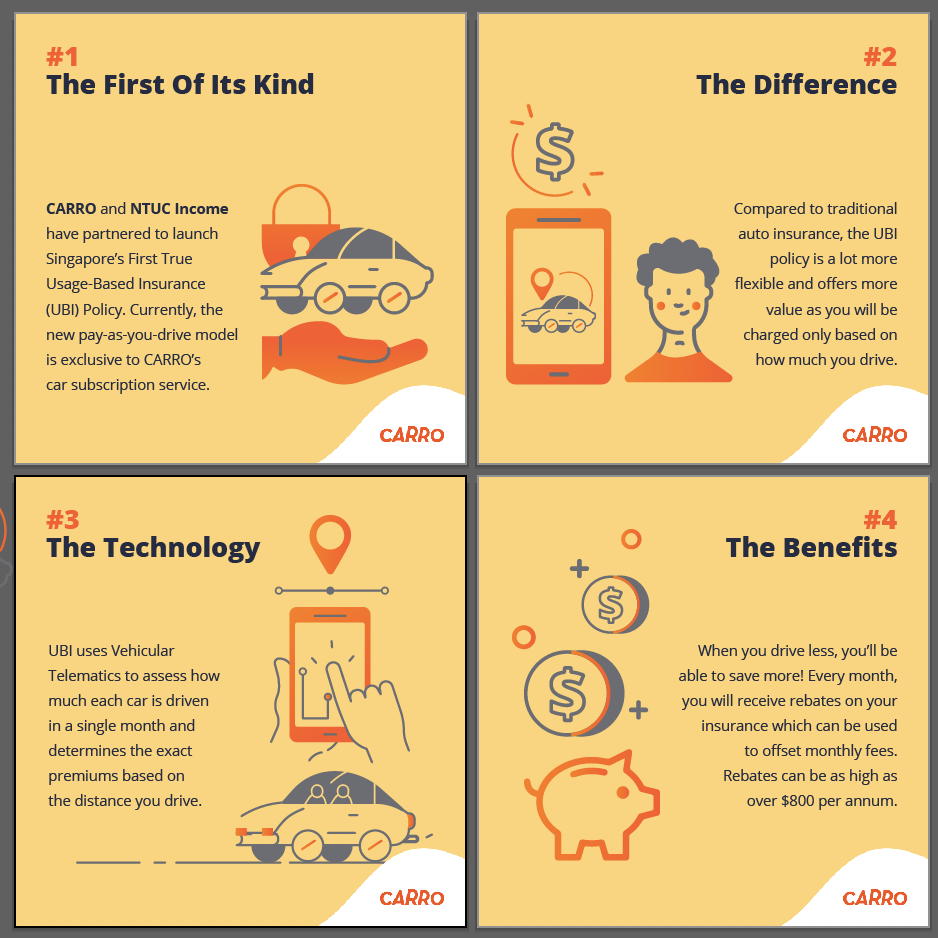 As we continue to improve on our offering, we partnered up with NTUC Income in November to launch a "pay-as-you-drive" Usage-Based Insurance (UBI) program. This first-in-the-market initiative is exclusive to our Car Subscription service and is designed to ensure higher savings with the use of tech and data analytics.
Every month, customers will only be charged the premium amount based on their distance travelled, and they will receive rebates to offset their subscription fee for the following month.
With these new technology-enhanced offerings, we hope to make owning a car in Singapore a more accessible and cost-efficient option.
2. Singapore's Only 1 Year Lease to Own (LTO) Scheme
From the very beginning, empowering drivers with the ability to own a car has been one of our goals. As such, we launched the first and only 1 year Lease to Own (LTO) scheme in Singapore in July. This scheme was introduced to exclusively help private hire drivers own a car and maximize their earnings every month.
In many cases, private hire drivers would have to eat up their earnings every month to pay for their car rental. However, with our LTO scheme, these drivers would be able to earn more as they are now owners of their cars. Not to mention, they will only need to lease for 1 year, instead of 5-7 years, before the car belongs to them. This would greatly enable private hire drivers to take control of their earnings and save more on rental costs each month.
Check out the video and hear from private hire drivers who have benefitted from our LTO scheme:
3. Our Expansion in 2019
This year, we saw a lot of growth locally and regionally.
We have successfully raised a further US$30 million, closing our Series B funding round at US$90 million. We're truly honoured and grateful for the trust and belief our investors have shown us.
In terms of presence, we observed a larger demand for our services in Singapore and doubled our offices. We created a spacious CARRO lounge especially for the comfort of our customers, where they can consult our team on selling, buying or subscribing to cars. 
We also moved our CARRO Care Workshop to a bigger space to better accommodate and render our services to more drivers.
Regionally, we are now present in Thailand, Indonesia and Malaysia.
In August, we acquired Jualo, Indonesia's largest C2C marketplace, to boost the reach of our proprietary technology platform in Southeast Asia.
We also moved into a new market through a $30 million investment in Malaysia-based car bidding platform, myTukar.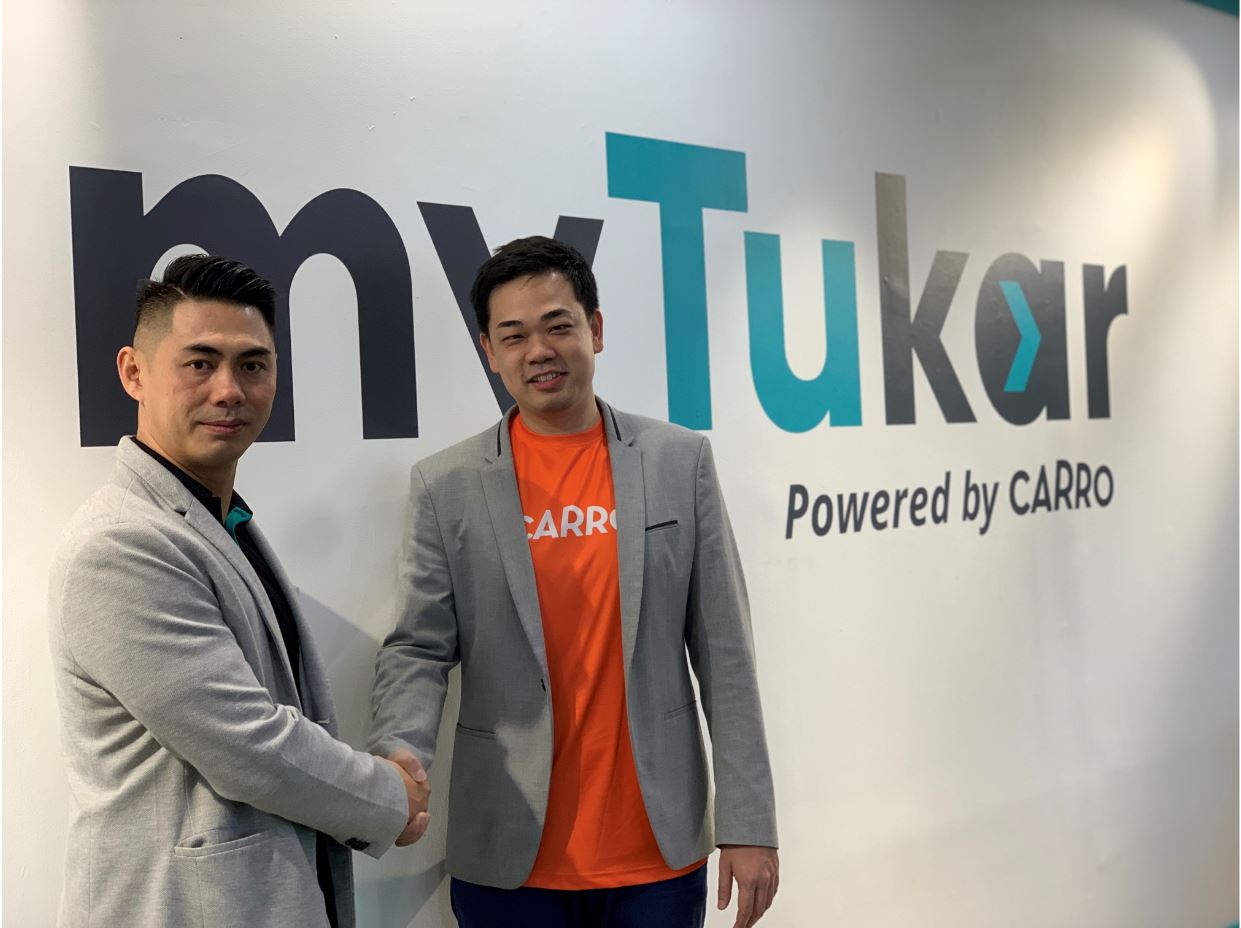 These expansions underscore our commitment to provide better automotive trading experiences for customers and car dealers through digital enablement across Southeast Asia.
4. Hottest Start-Up in 2019
Apart from launching new products and expanding our offices in the region, we were also crowned 2019's Hottest Startup by Singapore Business Review. With this feat, we will venture further in 2020 through expansions across the region and build on our existing products and services to better serve drivers. 
Our exponential growth and achievements so far were only made possible through the unwavering support and trust from our customers, business partners and investors. 
And for that, we thank you from the bottom of our hearts.
People also liked:

SHOULD YOU TRADE-IN OR SELL YOUR CAR?
WHEN TO SEND YOUR CAR FOR SERVICING?
CARRO & NTUC INCOME'S USAGE-BASED INSURANCE FOR 
CAR SUBSCRIPTION: ALL YOU NEED TO KNOW