The COE quota will decrease from 19,954 for November 2020 to January 2021 to 17,511 for February 2021 to April 2021. Despite receiving some of the unallocated quotas from suspended April to June 2020 bidding exercise The COE quota for February to April 2021 will be decreasing from a monthly average of 6,649 to 5,835, a 14.2% decrease.
The COE quota is affected by the number of de-registrations and the unallocated quota from previous rounds of biddings. There was a 10.4% drop in vehicle deregistrations compared to the previous COE bidding exercise which reduces the amount of COE allocated. Despite that, the upcoming bidding exercise received 4,333 in unallocated quota from the suspended April to June 2020 bidding exercise.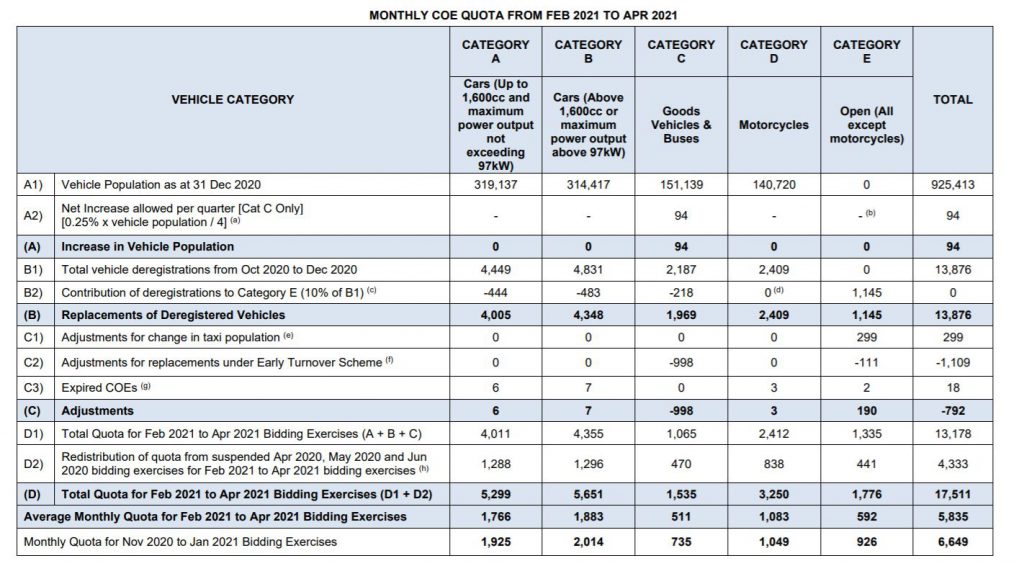 Category A and B will see an 8.3% and 6.5% drop respectively in average vehicle quota. This coupled with the upcoming Chinese New Year celebrations which usually see an increase in demand in new cars make some speculate that COE prices will see a spike in the next bidding exercise.
Does this mean that buying a used car will make more sense economically in the coming months? What do you think? Leave your comments on your thoughts on the COE quota changes below.