Looking for the latest COE prices before deciding whether you should buy your next dream car? Check out all of the latest results here!
---

---
COE Bidding Results (19 January 2022)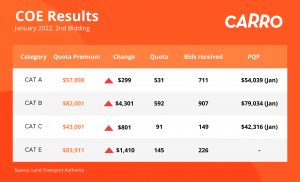 The falling COE quota, as reported by LTA on 14 January, could mean that car prices may rise even further.
One of the reasons for the drop in COE quota could be a lower number of deregistered cars in 2021. With the reduction in car quota, we've observed that the COE premiums increased across Cat
A (+0.5%), Cat B (+5.5%) and Cat E (+1.7%).
If your car has reached the 10-year mark, you may want to consider a used car rather than a new car for your next car purchase.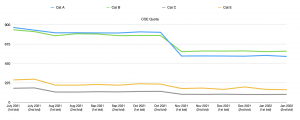 Source: Land Transport Authority
Category A: Cars with engine capacity of 1600 CC and below
Category B: Cars with engine capacity over 1600 CC
Category C: Vehicles that carry goods and buses
Category E: "Open category" — this can be applied to all of the above except motorcycles.
---
Find out more on One Motoring!