In Singapore's Budget 2020, Deputy Prime Minister Mr Heng Swee Keat announced changes that might give drivers more reasons to switch to electric vehicles (EVs). These plans are part of Singapore's ambition to phase out internal combustion engine (ICE) vehicles by 2040, which are significant contributors to greenhouse gas pollution.
In a bid to incentivize drivers, the government is introducing 3 new measures that will make EVs more attractive.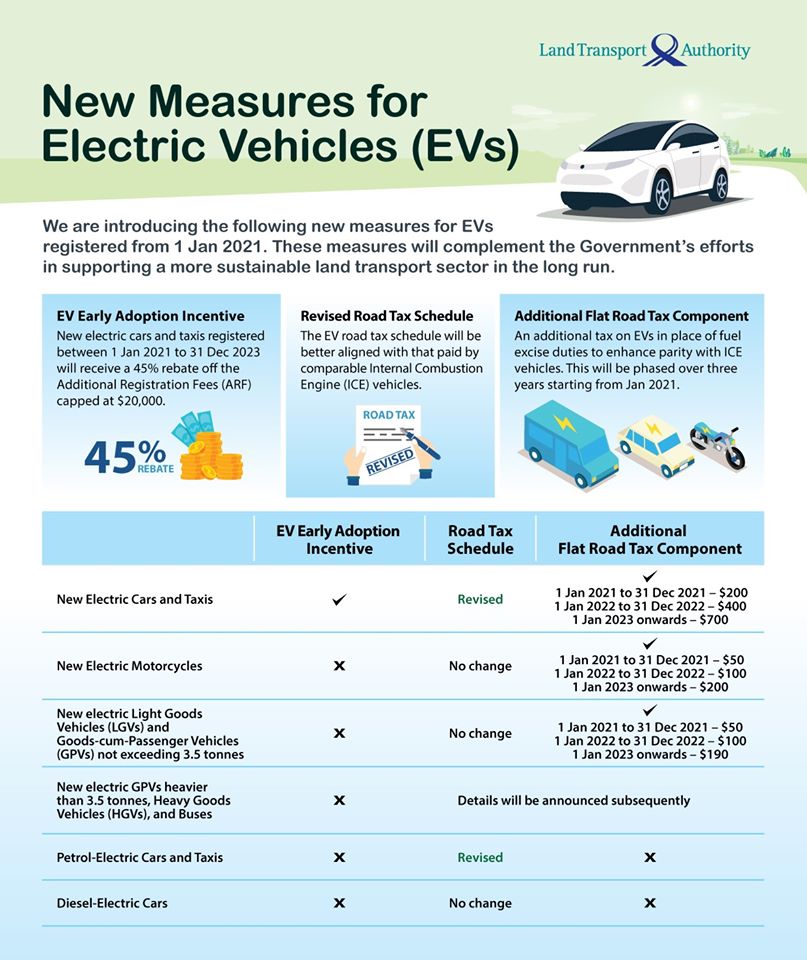 Check out the rest of the article for a detailed understanding of these new measures.
1. 45% Rebate on Additional Registration Fee
The biggest incentive to encourage drivers to make the switch is through the EV Early Adoption Incentive (EEAI). With this incentive, drivers will get 45% off (capped at $20,000) on your Additional Registration Fee (ARF).
Additionally, with the ARF being the main tax you'll pay when buying a car, this 45% rebate might steer drivers into the EV market because it reduces the upfront cost of buying electric vehicles.
The new incentive will kick in next year and will run till 2023. That gives drivers 3 whole years to make the switch if they wish to.
It's important to note that, as your ARF is reduced, so will your Preferential Additional Registration Fee (PARF) rebate when your scrap your car.
While the new ARF rebate sure sounds quite exciting, there are other changes put forth by the government that might negate the rebate altogether. In LTA's official press release, LTA notes that the Vehicular Emission Scheme (VES) might change in 2021. This means that you might not get the $10,000 or $20,000 rebate EVs currently qualify for.
So, in the end, you MIGHT not get to save more by switching to an EV. It really depends on what these changes are and we'll only find out further down the road. We'll keep you posted!
2. Charging Infrastructure for Electric Vehicles
Over the years, one of the biggest inconveniences for EV drivers was the lack of charging points available.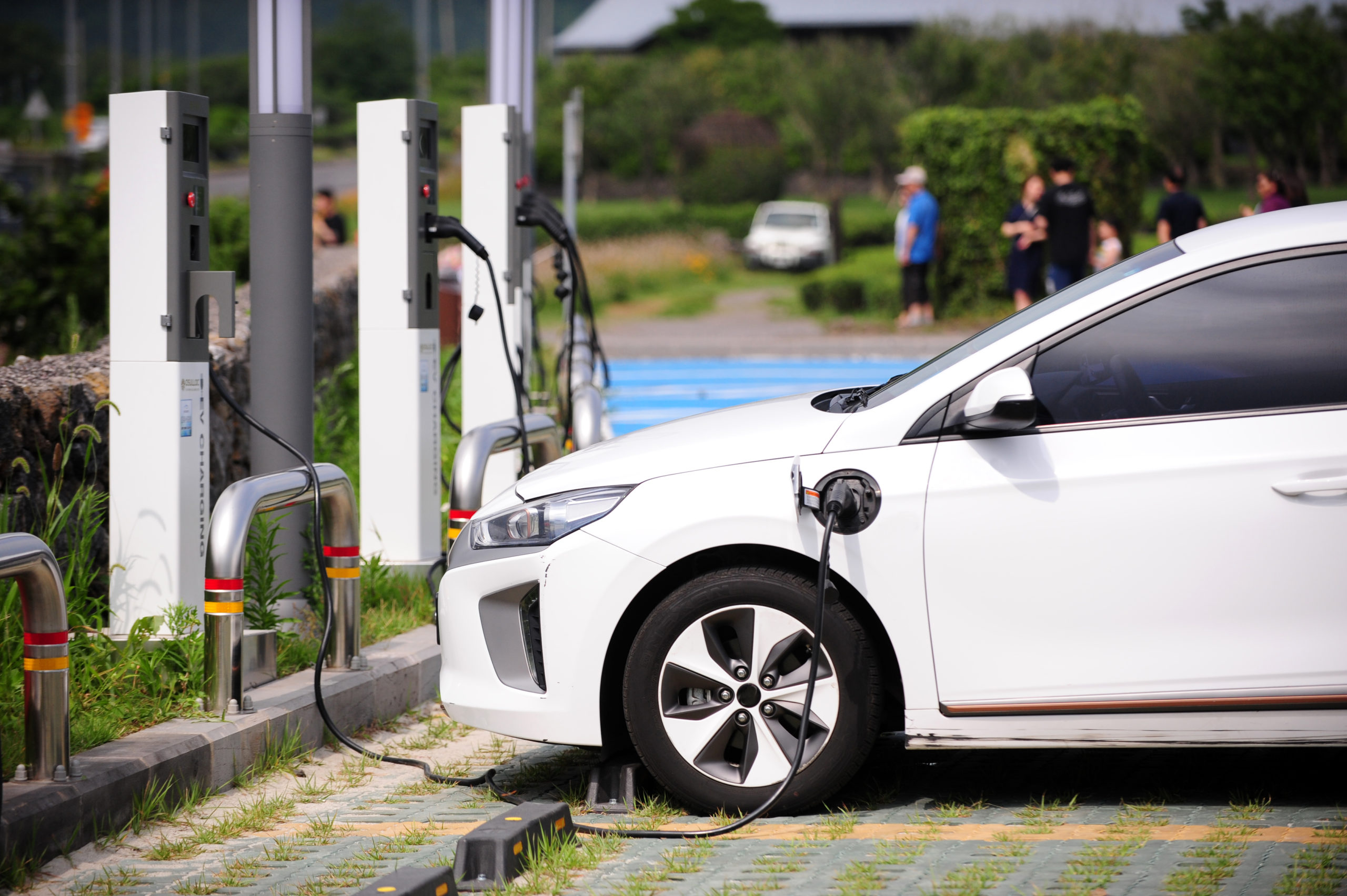 In 2019, the ratio of EVs to charging points was almost 1:1, with 1,036 EVs on the road and only 1,600 charging points. This lack in EV charging infrastructure has deterred many drivers from going green.
However, plans are in the works to deploy up to 28,000 chargers at public carparks island-wide by 2030. Moving forward, this means that more drivers will consider owning an EV because of the increased accessibility.
3. Road Tax for Electric Vehicles
As announced in Budget 2020, electric and hybrid car owners can expect to pay a lesser road tax every year. The road tax revision will happen in January 2021 and will lead to an 'across-the-board reduction'. That's good news for many EV owners have been calling for, especially because they currently pay exorbitant amounts!
Did you know, the road tax for some high-end electric vehicles costs more than the road tax for a supercar?
However, even though the road tax scheme will be revised, the government will also adjust road tax payable for EVs and introduce a lump-sum tax. This lump-sum tax will be built into the road tax schedule for EVs.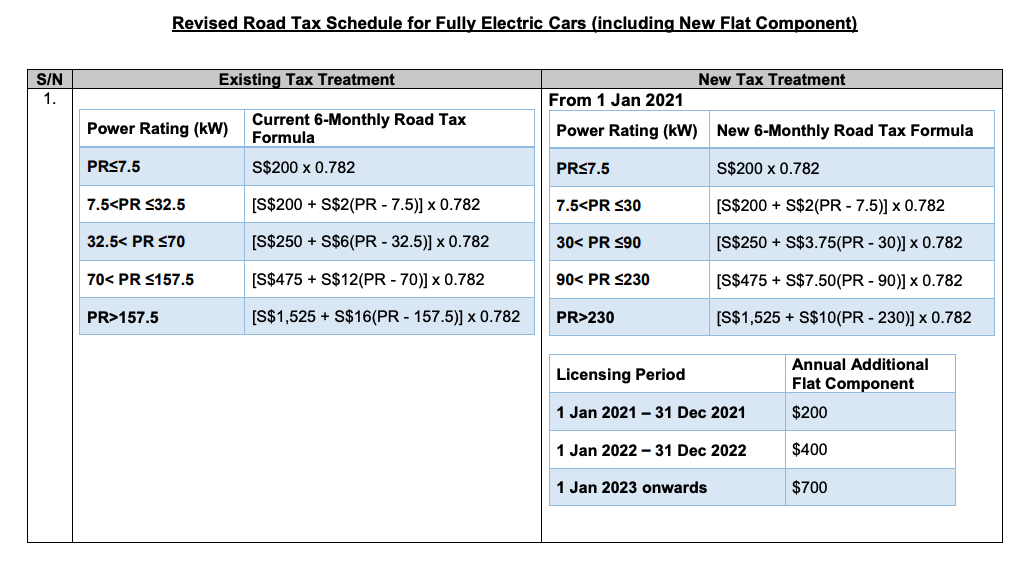 As illustrated in the table, the lump-sum tax will start at $200 in 2021, $400 in 2022 and $700 in 2023. While the introduction of this flat component brings the total road tax amount payable back up, you'll still be able to save – about 9% lower than the internal combustion engine (ICE) cars because of the EEAI.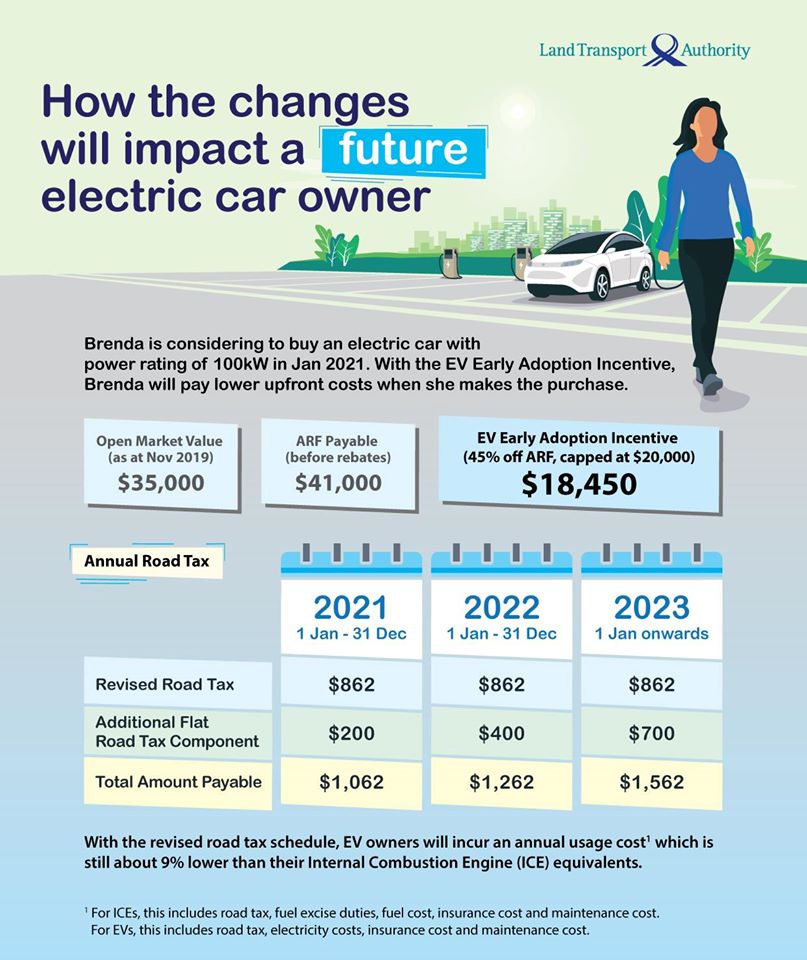 Revised Road Tax for Hybrid Cars
Good news for hybrid car owners. Your road tax will soon be aligned with the new schedule set for electric vehicles. You can now expect to pay around 30% lesser for your road tax, which a significant reduction to what hybrid owners are forking out now.
However, there's a possibility that hybrid cars will be liable for the lump-sum tax component that electric vehicles are facing. While LTA has said that there are no concrete plans to do this, it's still a possibility it could happen in years to come. And if this does happen, it'll bring the cost of owning a hybrid/electric car back up.
Is it worth it to switch?
With the introduction of these new measures, we can see how the government is trying to steer drivers to adopt cleaner and greener vehicles in the future. To date, these measures are the most significant developments in the country's bid to build a more environmentally sustainable land transport sector.
While the huge 45% ARF rebate will get heads turning, the additional flat component pretty much brings us back to (almost) square one. Even though you'll get more savings if you buy an EV in 2021, the initial savings won't be much.
But don't let the small margins stop you from making the switch. Don't forget that you'll be able to save on the running costs. The cost to run an EV is about half of a conventional ICE vehicle, so it's still quite worth it and surely an option to consider.
Furthermore, with the government's plans to expand the charging infrastructure, charging stations will be even more accessible. So you don't have to worry about finding a charging station, which is an issue that drivers consider greatly.
People also liked:

CARRO & NTUC INCOME'S USAGE-BASED INSURANCE FOR CAR SUBSCRIPTION
PREMIUM PETROL VS REGULAR PETROL: WHAT'S THE DIFFERENCE?
9 SEDANS YOU SHOULD CONSIDER