Trending
BlueSG: Reducing the Need to Own a Car?
If you're asked to choose between public transport or a personal car? Without a doubt, many Singaporeans will choose a car.
But what about a personal car and a shared car? Which would you choose?
The two have their pros and cons. It's a tough choice and difficult to predict which option is better. With the launch of the recently acquired BlueSG, could car-sharing be the future of traveling around the country, and effectively, diminish the need for personal cars?
Car-Lite Singapore
Singapore has made moves to transform the country into a car-lite society.
The country recently announced a zero growth rate for its car population from February 2018. Citing land scarcity and development plans for its public transport structure, it's a step forward in realising the vision of a car-lite nation.
With existing plans to expand the rail network, promoting alternative forms of transport (like cycling) and car-sharing services, it seems like the country has covered all bases in an attempt to push the agenda.
However, many Singaporeans are still doubtful of the car-lite vision. With many citing the unreliability of our public transport system and inconveniences other options pose.
BlueSG
Say hello to the Bluecar.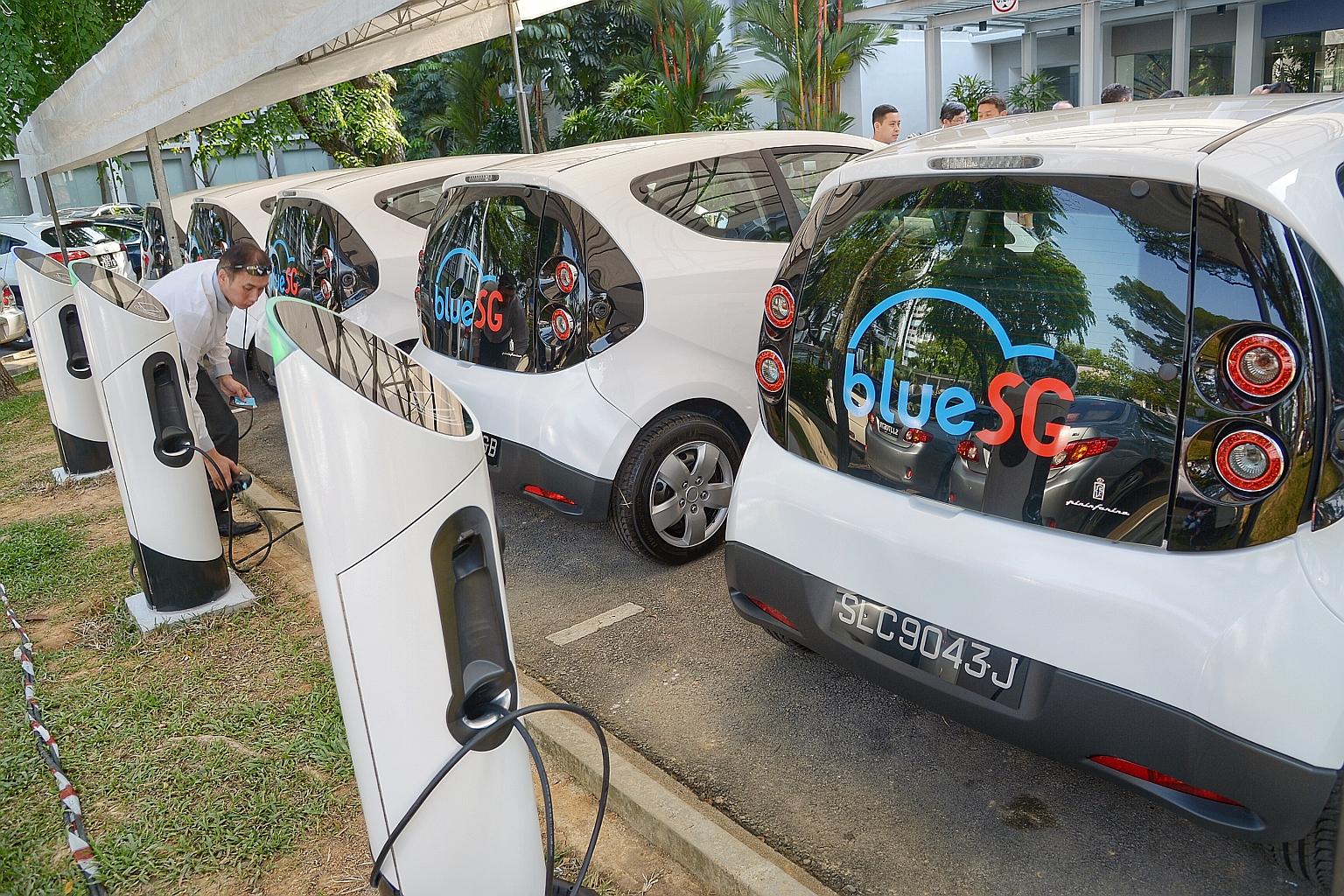 The latest car-sharing service to enter the market, BlueSG's model stands out from the crowd. Even though the idea of car-sharing isn't novel, and there are many other companies that provide similar services, BlueSG's offerings are more attractive.
Compared to BlueSG's competitors, the company's hourly pricing is significantly higher.
While some car-sharing companies offer an hour's rental at as low as $7, BlueSG has theirs priced at $19.80 for premium members and a whopping $30 for weekly members. This will amount to $0.33 per minute for premium plans and $0.50 per minute for weekly plans.
Additionally, premium members will be charged a monthly fee of $15.
So What Makes BlueSG Better?
Most car-sharing services will require a minimum rental period of an hour. With some even demanding a full six hour rental. Plus you'll have to fork out parking charges during the rental period.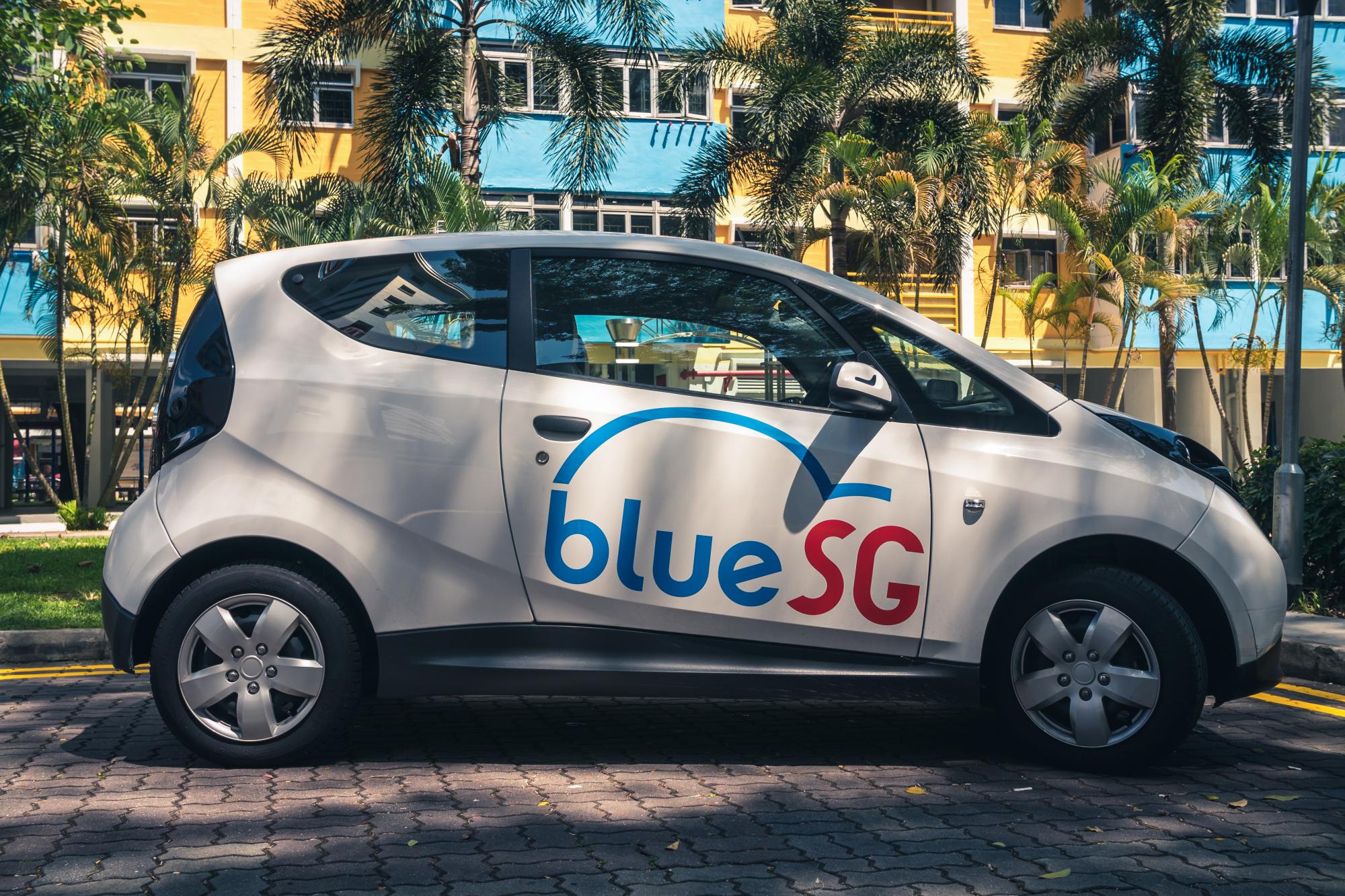 Whereas, the minimum renting period for a Bluecar is just 15 minutes. And you don't have to pay a single cent for parking.
Therefore, the Bluecar's perfect for your everyday commute to work and short trips from point to point.
Already commanding a fleet of 80 cars, 30 stations and 120 charging points, the company has plans to expand by more than 10 times in just over two years. Which effectively builds a network of Bluecars that will make taking trips easier.
Could this be the answer to the country's vision for a car-lite society?
Giving BlueSG A Go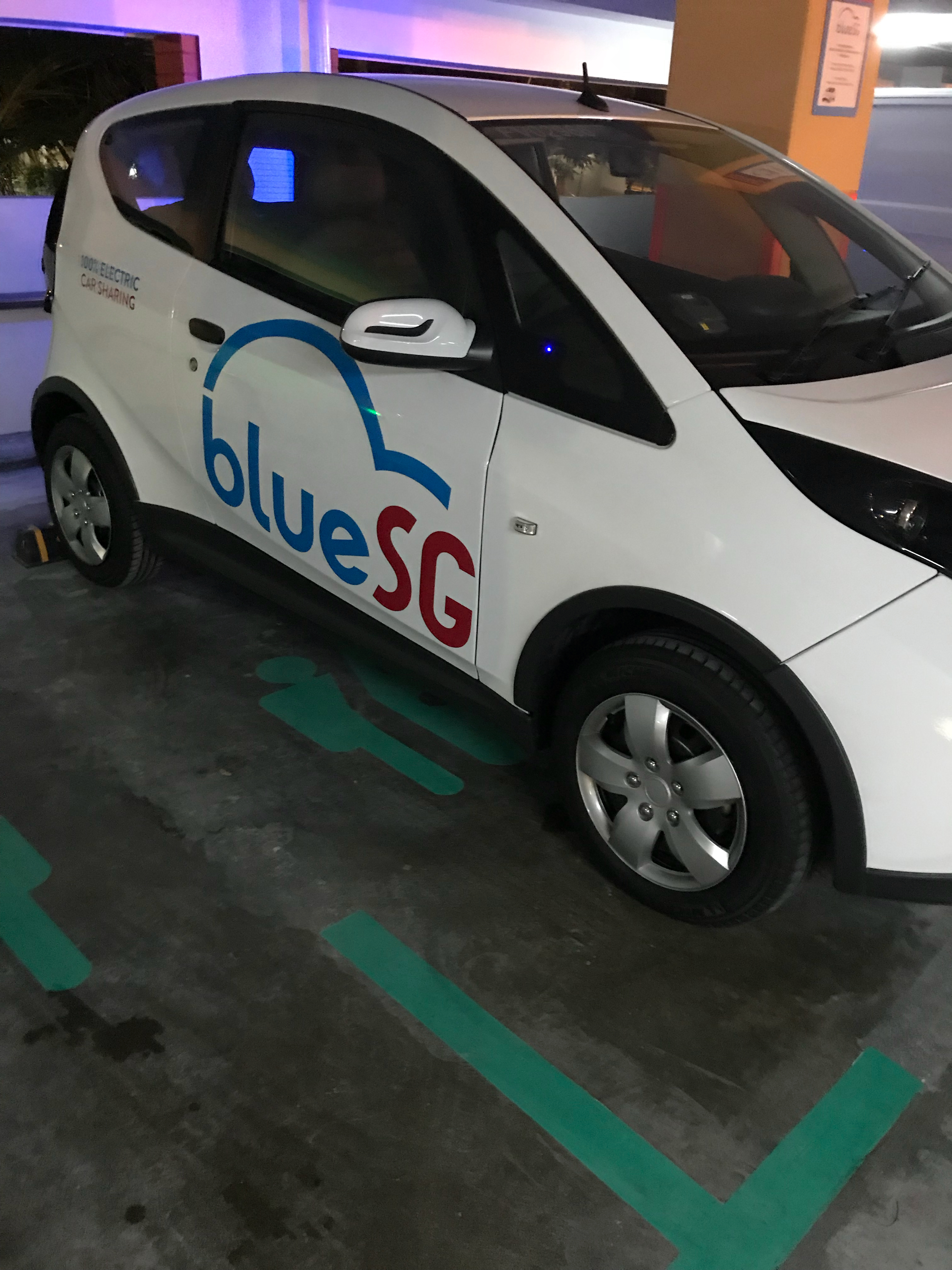 The Carro team gave the Bluecar a try on its first week of launch.
After two failed attempts at unlocking the vehicle and waiting for more than 10 minutes to get a hold of customer service, we finally unlocked the car.
Despite the initial troubles, the whole process is easy enough to navigate on your own. The nearest Bluecar available was about 3KM, or four bus stops away.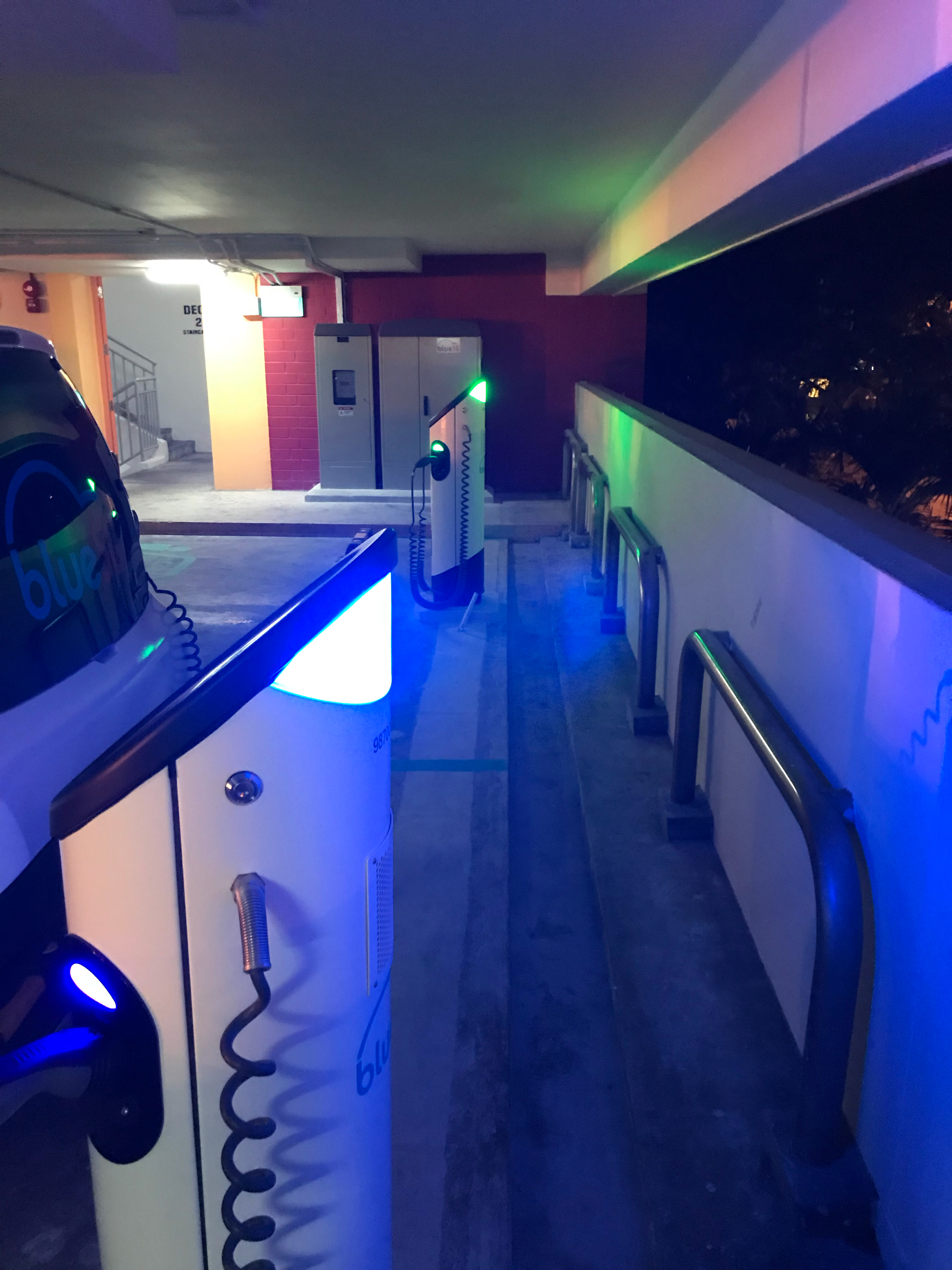 To unlock the car, you'll have to tap your EZ-Link or BlueSG card on the charging station, key in your pin, tap your card at the front of the car before you can unplug it. Quite a hassle, eh?
The charges begin immediately. There's no buffer time to adjust the seats and mirrors or get familiar with its functions. As a result, our whole trip from Bishan to Pasir Ris took place without the air conditioning switched on. (We only realised halfway through the trip. Thank god it was raining!)
The Bluecar drives decently but there's nothing to rave about, it does its job.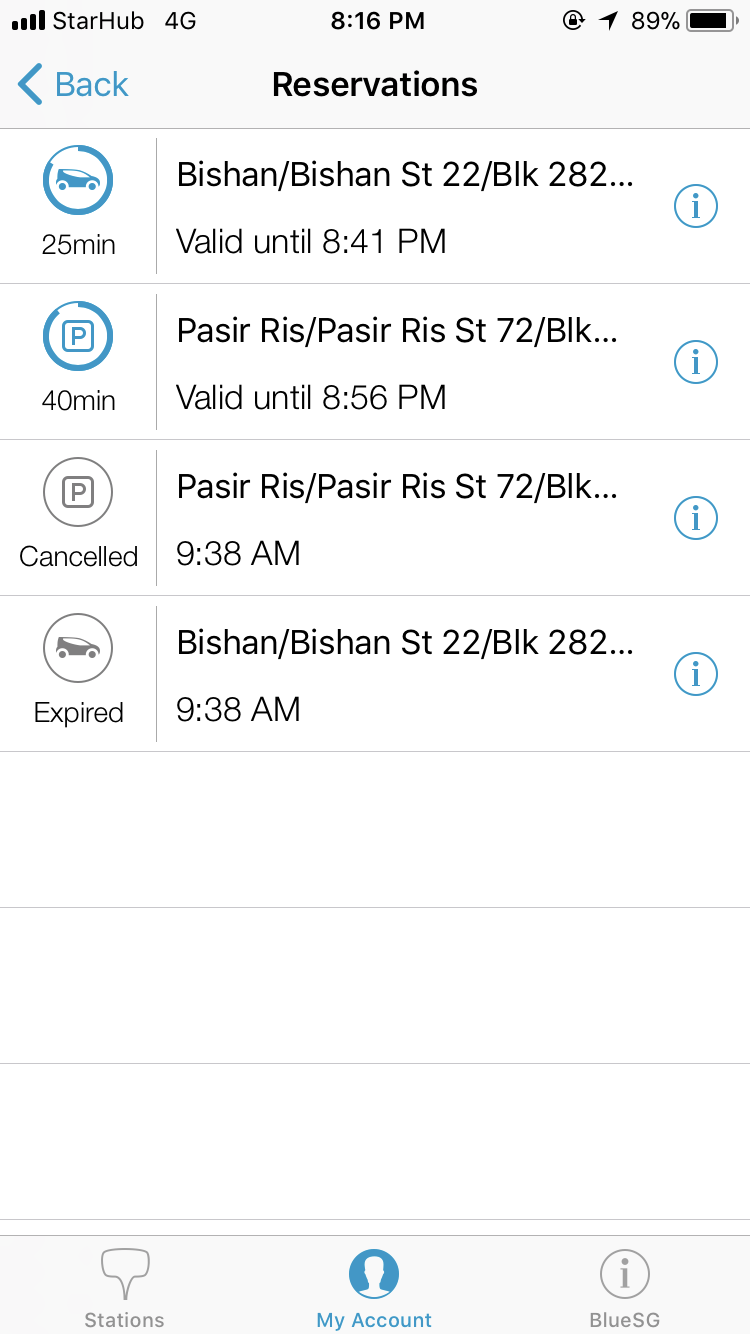 Being able to reserve your parking lot at your preferred destination is a great option. But the timings are a bit off.
The car and parking space will be reserved for 30 minutes and 45 minutes respectively. Considering that you'll likely need some time travelling to the station before starting, it'll leave you with about 30 minutes to get to your destination. This is possible, as long as there's no jam or congestion.
As the account was signed up on a premium plan, the trip amounted to about $12.33 for a 37-minute drive. Though a good part of it was spent in the car park.
Worth It?
When you compare the prices between BlueSG's services and ride-hailing apps or even taxis, they're pretty competitively priced. Depending on the time of day, surge pricing and peak hours, taking a Bluecar can be cheaper.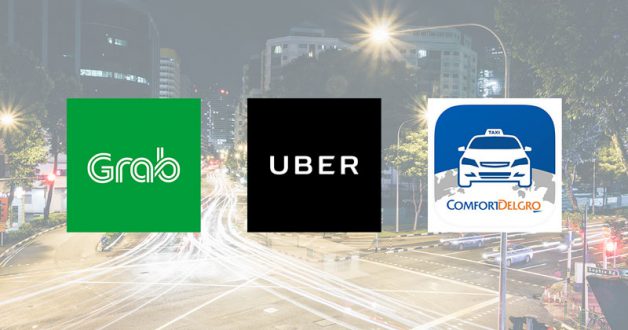 A typical GrabHitch ride from Midview City to Pasir Ris costs $12, without applying any promo codes. And an average Grab/Uber ride (without surge) costs about $18.
With Bluecars being charged by the minute, a heavy traffic jam could cost you a bomb. Unlike ride-hailing services, where you're charged a flat fare.
Most of all, if a BlueSG station isn't at your doorstep or your office building, you'll still have to spend additional time and money travelling to these stations.
Personal Car VS Shared Car
When it comes to price, a shared car will obviously be the smarter choice.
On average, you'll fork out about $1,200 every month for a basic secondhand car. This is an estimate and is inclusive of average fuel and parking costs. Even if you only drive to and from work.
Whereas a Bluecar – if engaged for 1.5 hours a day, 5 days a week – will amount to $609 on the premium plan and about $900 on the weekly plan.
But as previously explored, price is not the only deciding factor when getting a car. Most Singaporeans view convenience as a big reason.
A Matter of Convenience
In the current situation, with 80 cars and 30 stations, BlueSG isn't the most convenient option. The likelihood that you'll have to spend extra time and money getting to a station is pretty high.
Apart from the extra travelling time and money spent, its still a gamble as to whether there are available cars or lots at the nearest station and your destination.
Even with plans to expand the BlueSG network – 1,000 cars and 2,000 charging points – we doubt they'll be as convenient as a personal car.
Why?
It's impossible for the company to install a station in every neighbourhood. Even if a station is available 10 minutes away, it's still time you'll waste to get there and 'fight' with other consumers for a car. It's an inconvenience to many.
Having your own car will still be more convenient. Which is especially important for families with young children or elderly folks. Shuttling your kids around for lessons over the weekend or fetching them from school, it's difficult to see how a Bluecar can satisfy all your needs.
Time Will Tell
It's been only a week since BlueSG launched. Yet, booking a car and a parking spot from Bishan to Pasir Ris is already tougher.
But in due time, it could all change. Only time will tell if BlueSG will help transform Singapore into a car-lite society.
For now, a personal car will still come out on top because of the convenience and greater accessibility it offers.
Looking for a car? You can find a wide selection of used cars on carro.sg, Singapore's trusted online car marketplace. Carro ensures transparency and trust in your car purchase experience without the hassle of paperwork and sneaky fees.