From October 2019 onwards, all foreign-registered vehicles entering Malaysia will need a Vehicle Entry Permit (VEP). If you have not applied for the VEP, you should do it as soon as possible. Failure to apply and collect for the tag will result in a fine!
Don't know how to go about the VEP application process? Or are you facing problems during your application?
Don't worry, we're here to help!
Learn more about the VEP process, the reasons behind the implementation and Frequently Asked Questions (FAQs) behind the most common problems that your fellow Singaporeans face.
What is the VEP for?
According to Malaysia's Transport Ministry, the VEP is meant to tackle car theft, cloning syndicates and prevent vehicles with outstanding fines from leaving the country. With the Radio Frequency Identification (RFID) embedded VEP sticker, Malaysian authorities can easily access your information and your car's information.
So, if you have any outstanding fines, the authorities will be able to stop you from leaving the country. It's basically like a Visa for your car which makes it easier for authorities to identify.
What happens if I enter Malaysia without a VEP?
From October 2019 onwards, it is an offence to drive into Malaysia without the VEP-RFID sticker. Therefore, you'll receive a RM150 fine if you don't display the sticker!
But of course, with it being a transition period, there's a bit of leeway given.
To "escape" the fine, you'll need to have completed the online application and have registered to collect the sticker. However, as collection dates for September are fully booked, you can use the confirmation slip as an alternative.
How to Apply for VEP?
The application process is really simple and straightforward. You'll be able to complete the application in just a few simple steps.
However, there's a chance that you might face some issues while applying for the VEP. But don't worry, we'll cover them below!
Step 1 – Registration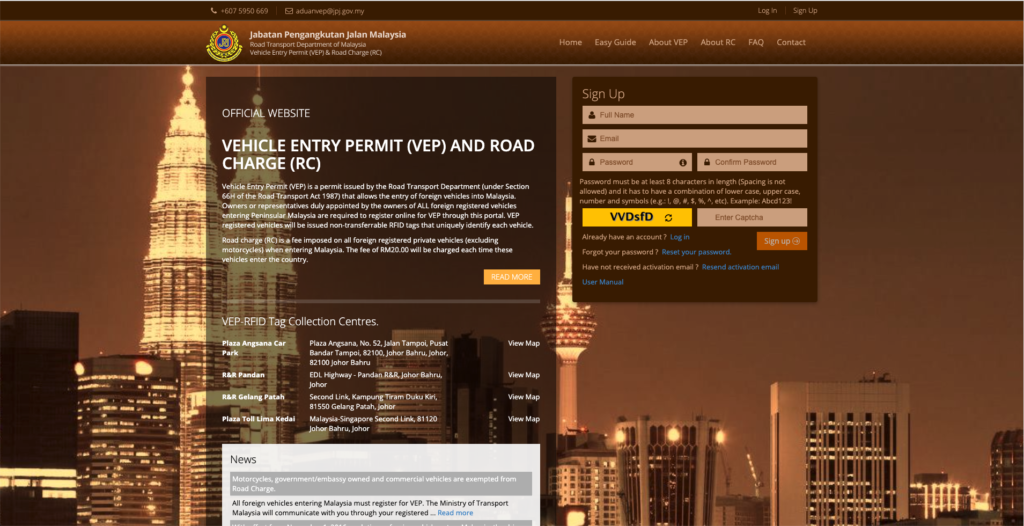 Visit the official VEP portal and create an account before starting on the application process. After creating your account, you'll need to fill in the form with your personal details and your vehicle information.
For a quicker and more convenient experience, you should download your log card from One Motoring before starting on your application. If you are able to download the log card, you can simply upload it to the VEP portal and the system will automatically pick up the information.
Please note that if you are trying to register a secondhand car when the previous owner had already applied for the VEP, the previous owner has to register the car for you.
After submitting the application form, you'll receive a confirmation email. While waiting for the confirmation email, you should proceed to Step 2.
Step 2 – Set Up E-Wallet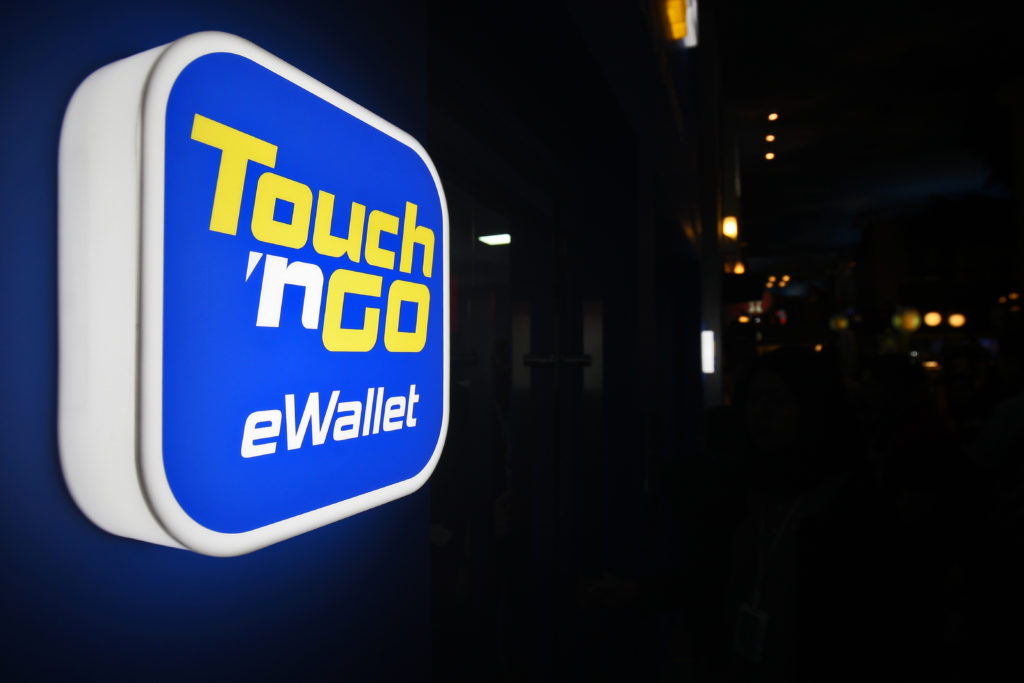 An important step in the whole application process is to set up your Touch 'n Go e-wallet. Without completing this process, you won't be able to get an appointment to collect your VEP-RFID sticker.
To set up the e-wallet, download it on your phone from the Apple or Google App stores. Your e-wallet will be linked to your VEP-RFID tag and the e-wallet will be linked to your credit card. So you'll be able to automatically pay for your road charge in Malaysia and automatically top up your Touch 'n Go card as and when you need it. Convenient!
But while setting up your e-wallet, make sure you select the correct ID type.
For Singaporeans, please choose NRIC as your ID type and for Foreigners or Permanent Residents (PRs), choose Passport.
Selecting the wrong ID type may cause your e-wallet and VEP to not sync up. This might even delay the collection of your VEP-RFID tag. If you happen to make a mistake, don't worry! You can simply create a new account and choose the correct ID type.
[Updated on 9 October 2019]
You should try creating another account to change the ID type. As you won't be able to use the existing number that you've registered, you'll need to get a new phone number from (preferably) one of your family members.
Once you've got the new number, here's what you need to do:
Update the new number on your VEP account
Create your new Touch 'n Go eWallet account
Select the correct ID type – NRIC for Singaporeans
Verify your identification
The verification process typically takes a day or two to confirm.
If you're still facing issues, you should contact the Touch 'n Go's customer service hotline immediately.
**Please note that for Singaporeans setting up the eWallet, the field "National ID" will be automatically chosen for you. There won't be an option for you to choose your passport or any other field during your set up. If, for some reason, you NEED to use your passport ID instead, please contact the Touch 'n Go's customer service hotline.
Step 3 – Schedule an Appointment
While finishing up the set up of Step 2, you'll receive an email from Malaysia's Ministry of Transport, inviting you to collect your VEP-RFID tag.
The email should look like this: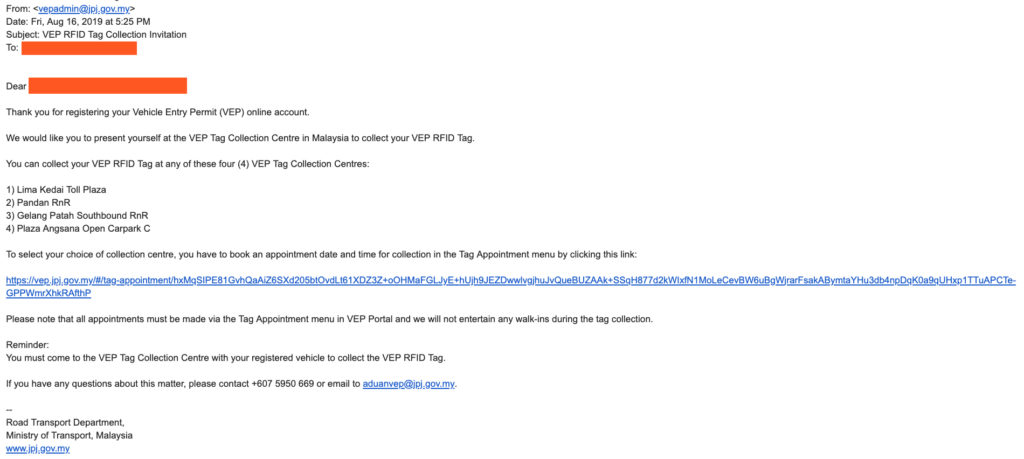 Follow the link provided and you'll be directed back to the VEP portal where you can book a slot to collect your tag. Do note that without an appointment, you won't be able to collect the tag.
The collection points are as follows:
Pandan R&R (Nearer to Woodlands Checkpoint)
Angsana Open Carpark C (Nearer to Woodlands Checkpoint)
Gelang Patah Southbound R& (Nearer to Tuas Checkpoint)
Lima Kedai Toll Plaza (Nearer to Tuas Checkpoint)
Sultan Abu Bakar Complex (Nearer to Tuas Checkpoint)
There's no one collection point that's better than the other, so the choice is yours. After you're done scheduling the appointment, you'll receive an appointment confirmation email which looks like this: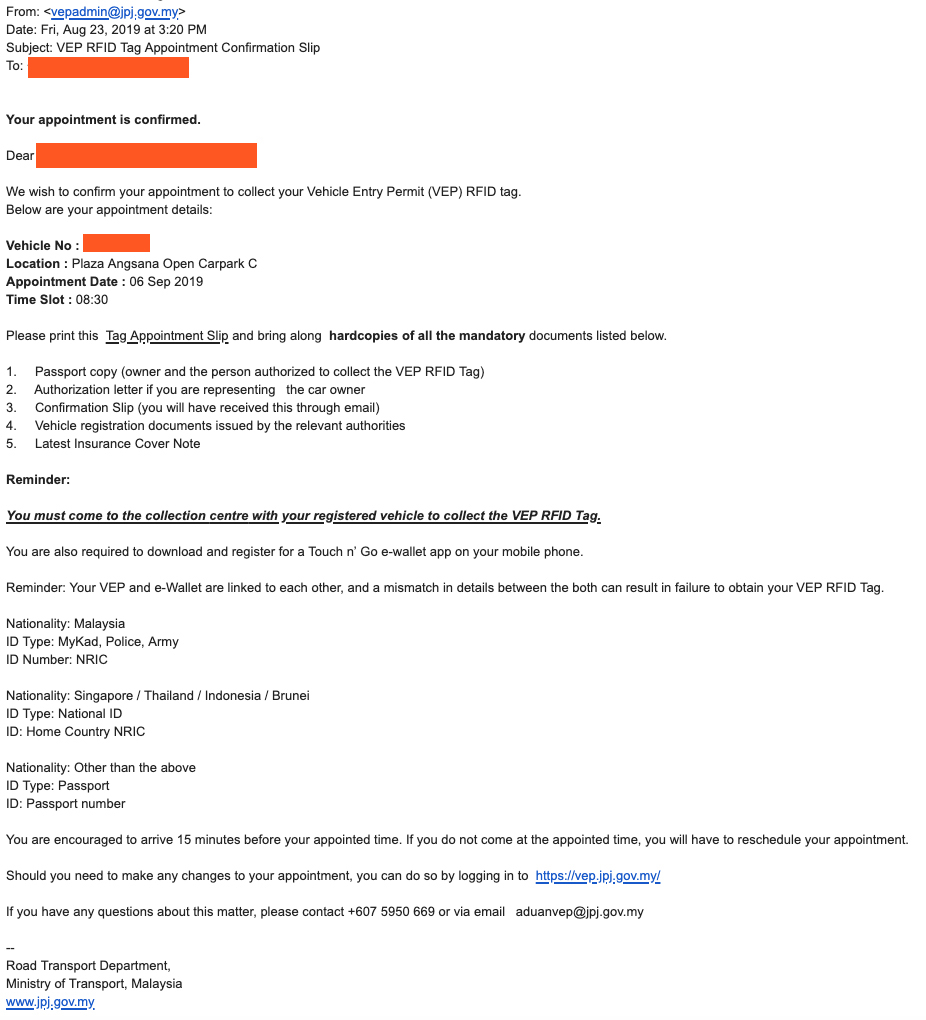 And that's it! You're done with the application process. Now, on to the collection.
How to Collect your VEP-RFID Tag?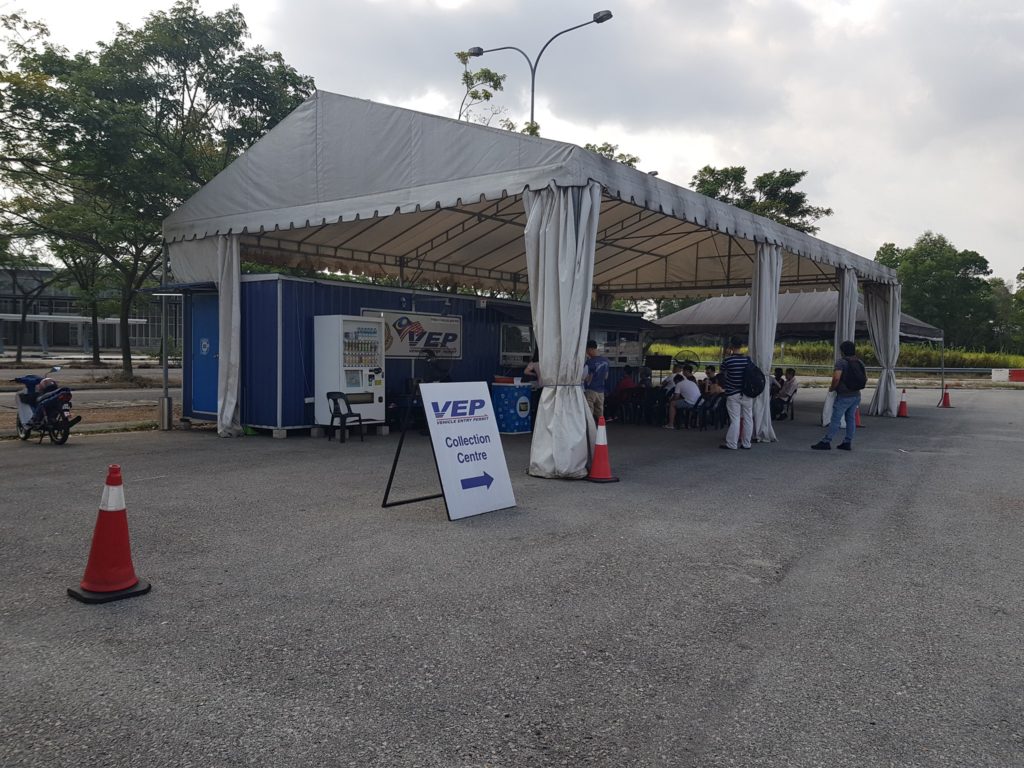 On your scheduled day, head down to the location you have chosen to collect the tag. But before you cross the border, don't forget to bring these things along!
MUST Bring:
The Registered Vehicle (obviously…)
Processing Fee of RM10
Photocopy of Passport
Account Confirmation Slip
Hardcopy Appointment Confirmation Slip (as attached above)
Hard Copy Vehicle Log Card (Download it from one.motoring)
Photocopy of Latest Vehicle Insurance Cover Note
If you are not the owner of the vehicle, you must also bring an authorization letter.
At the collection point, there's a queue system in place. But before you can get a queue number, the authorities there will first check and verify your documents to ensure that everything is in order.
When your number is called, submit your documents and wait. Shortly after, you'll have to make the payment of RM10 and return your documents.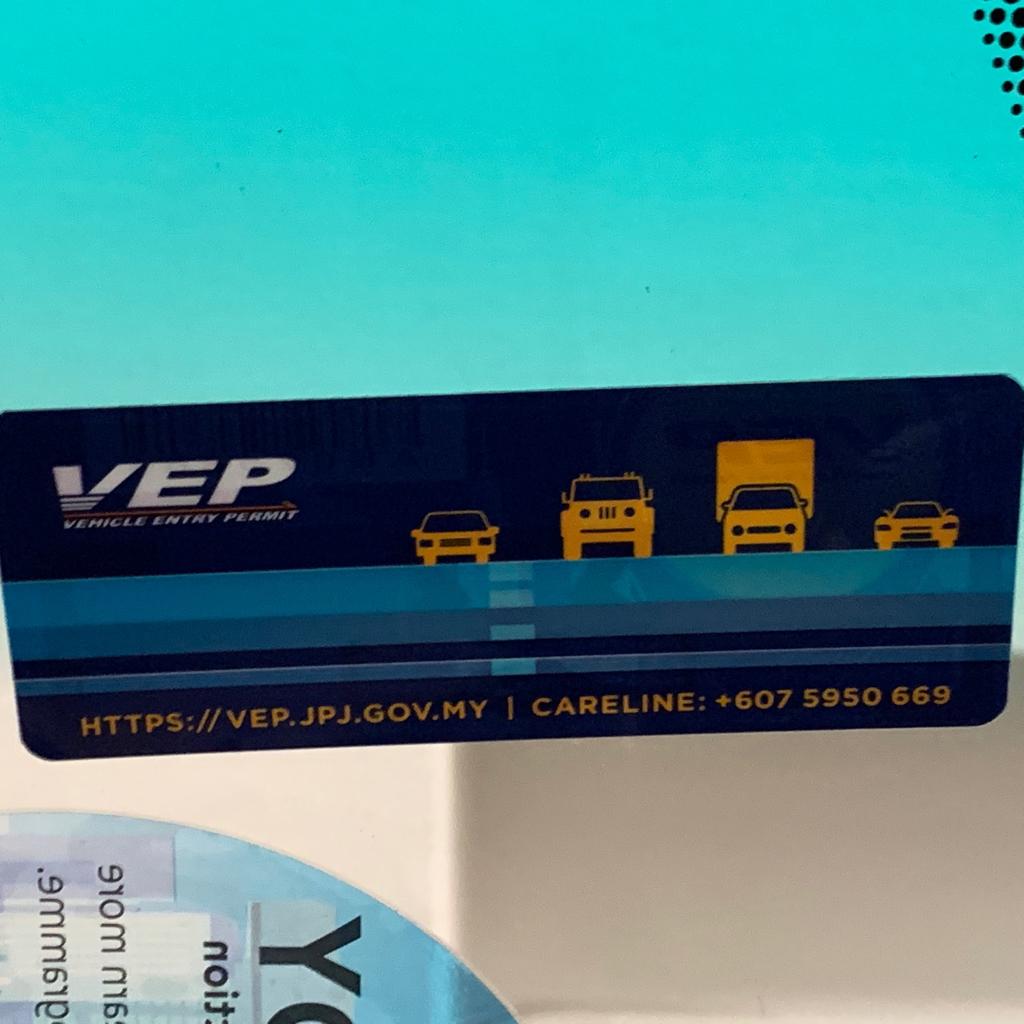 Next, you'll have to drive your car to the 'pasting' counter. The staff there will check your car's windscreen to see if it's suitable to paste the VEP tag.
They'll then test the tag to see whether it's readable. If they're not able to read your tag, they'll paste the sticker on your headlights instead.
Frustrations & Frequently Asked Questions
The processes of applying for a VEP has got many Singaporeans scrambling to get it done.
No Appointment Slots
Because of the rush, appointment slots are scarce. But don't worry, if you are unable to collect your VEP tag by the implementation date, you won't be fined! You'll just need to make sure that you have applied online and received the confirmation slip.
You can use the confirmation slip as a "makeshift" VEP tag until appointment slots free up and you can collect your tag.
VEP Portal Crashes Often
The website crashing is one of the biggest complaints by users and a huge pain to experience. When we were trying to create our account, the website crashed a good 4 to 5 times in a span of 30 minutes.
Unfortunately, this is beyond our control and we can't so much about it. You just have to stay calm and keep patient.
Your NRIC was Used for Your Previous Car
If you have registered for VEP for your previous car, you won't be able to register for VEP for your new car. However, it's pretty easy to go around this issue. Simply log in to your previous account and update your details.
So, if you sold your car, you would have to update your old account with the new owner's details.
Your Previously Registered VEP has Expired
If you had previously registered VEP has expired, all you need to do is sign up for a new one.
Did Not Receive 'Invitation to Collect' Email
If you did not receive this vital email, it could mean a few different things. For one, you might not need to collect the tag as your car is registered under a sole proprietorship.
It could also be because you chose a category other than the Private (Individual) category. While all vehicle would require the VEP, it is only open to vehicles under the Private (Individual) category for now.
If that's not the case, you should call the Malaysia Road Transport Department at +60 75950669.
Have any further questions? Let us know in the comments below!
[Updated 3 January 2020]
On 3rd January 2020, Malaysian authorities have confirmed that the enforcement of it's VEP scheme will be put on hold as only about a quarter of the Singapore vehicles registered for the VEP scheme have installed the tag.
The Road Transport Department plans to complete the installation of the RFID tag within the first six months of 2020. To help facilitate the process, an additional RFID centre at Sultan Abu Bakar Complex (nearer to Tuas Checkpoint) will be opened.