Will eco-friendly cars be popular in Singapore? We certainly think so.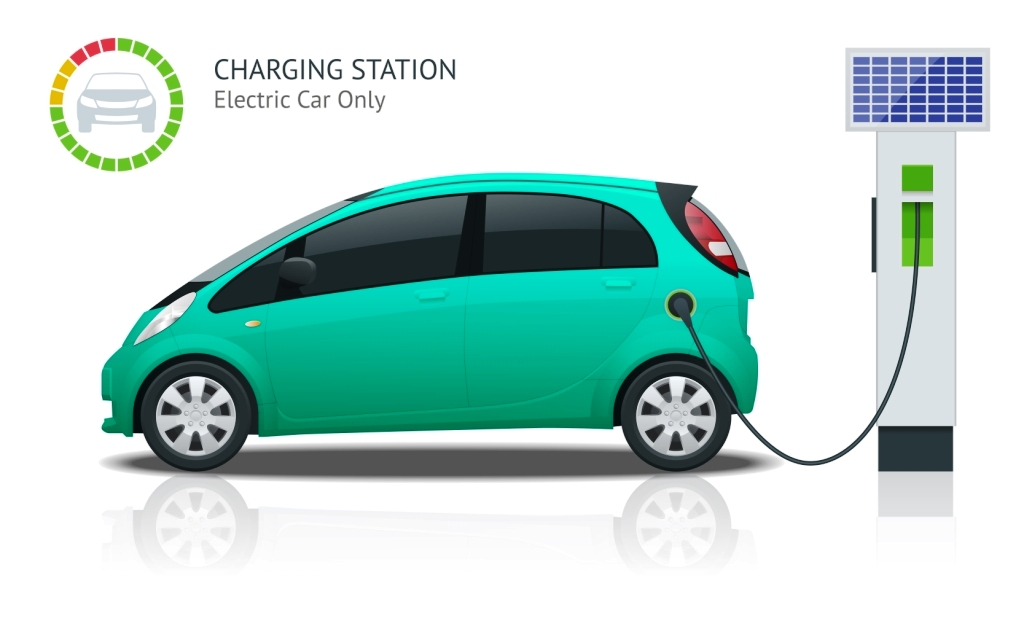 Labeled as the future of driving, electric and hybrid cars could soon take over the roads in Singapore. Additionally, the government has increased efforts to cut greenhouse gas emissions caused by car pollution, implementing various schemes to encourage these eco-friendly options.
Even though electric and hybrid cars have been around for some time, they're not popular in Singapore. There are only 132 plug-in petrol-electric hybrids and 12 pure electric vehicles out of 606,000 cars in Singapore.
Shortage of Electric Cars
The unpopularity of electric and hybrid cars can be attributed to a couple of reasons. First of all, there's a lack of affordable options. Electric cars usually come from brands like BMW and Porsche. Which is usually out of reach for the everyday consumer.Even though electric and hybrid cars are easier to maintain, they tend to cost a lot more.
The idea of 'range anxiety' plagues the minds of many Singaporeans too. The thought that the electric car dying mid-commute sounds scary, right?
But with technological advancements, their improved range makes it almost impossible for this to happen. Additionally, an extensive number of charging points will be erected in the coming years. Which effectively crushes the idea.
Let's take a look at how electric and hybrid cars will rise to popularity in 2018?
BlueSG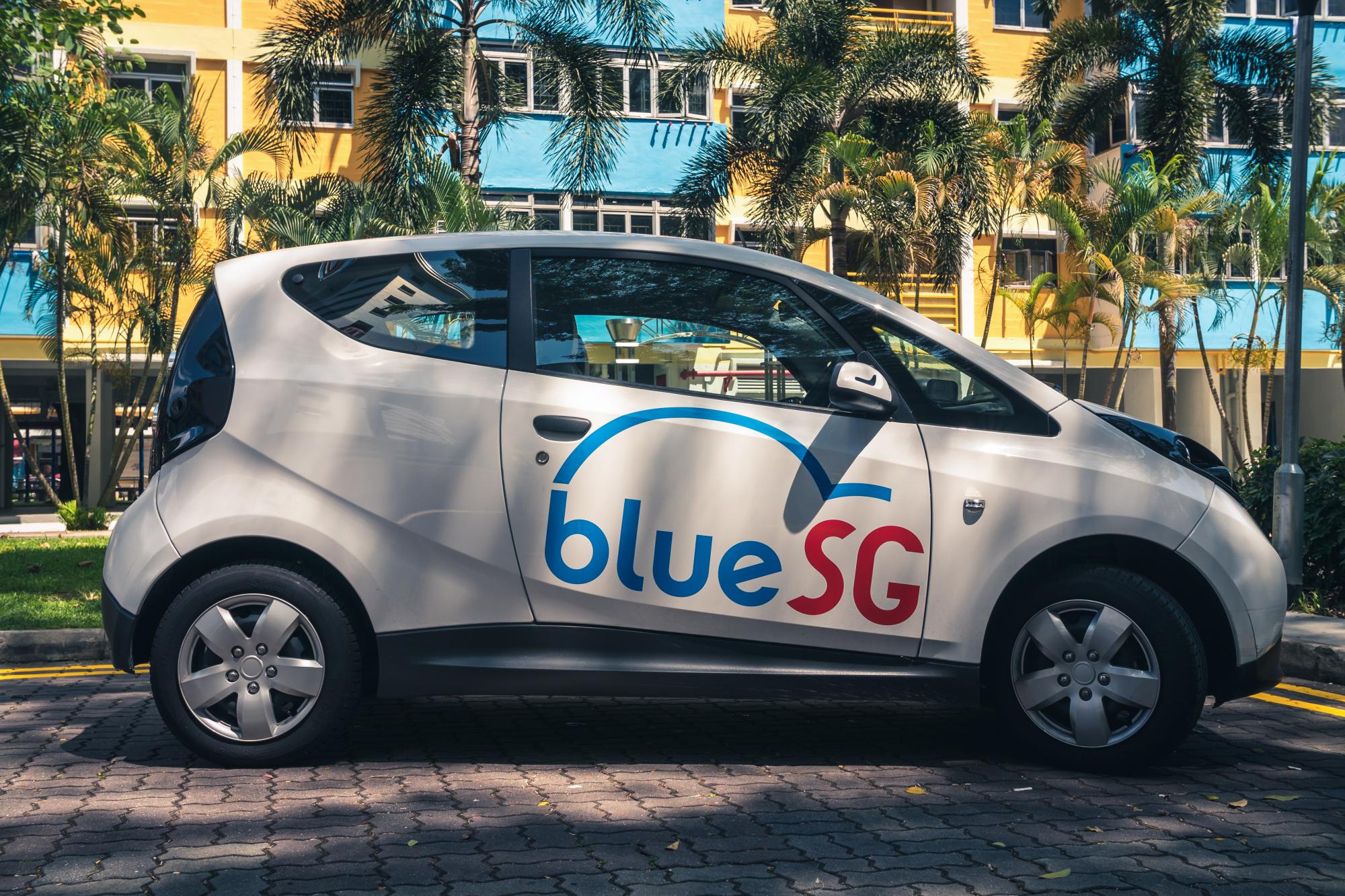 Efforts by the government to promote electric vehicles and reduce the number of cars on the road have been rather successful. The introduction of BlueSG, an electric car-sharing programme, in December 2017 has been well received.
Only three weeks since its launch, the company has seen 5,000 successful rentals and 3,300 members. While they're still at a rather premature stage of the programme, BlueSG plans to increase its fleet to 1,000 cars with 2,000 charging points.
The success of BlueSG is encouraging. With zero vehicle growth kicking off in February 2018, it could push the success of BlueSG even further.
Additionally, 20% of the charging points built by the company will be made available for public use. This would give potential electric car owners an added incentive to make the switch. With more convenient access to charging points, it'll further support the idea of going eco-friendly.
Vehicular Emission Scheme (VES)
As of 1 January 2018, the Vehicular Emission Scheme (VES) will be in full effect, taking over from the Carbon Emission-Based Vehicle Scheme (CEVS). With higher emission standards, the new scheme aims to encourage car buyers to choose lower emission vehicles to improve the country's air quality.
Vehicles are classified into different bands based on the their worst performing pollutant. Each band will permit varying amounts of rebates and surcharges depending on the vehicle's emissions.
Check out the full comparison between CEVS and VES here.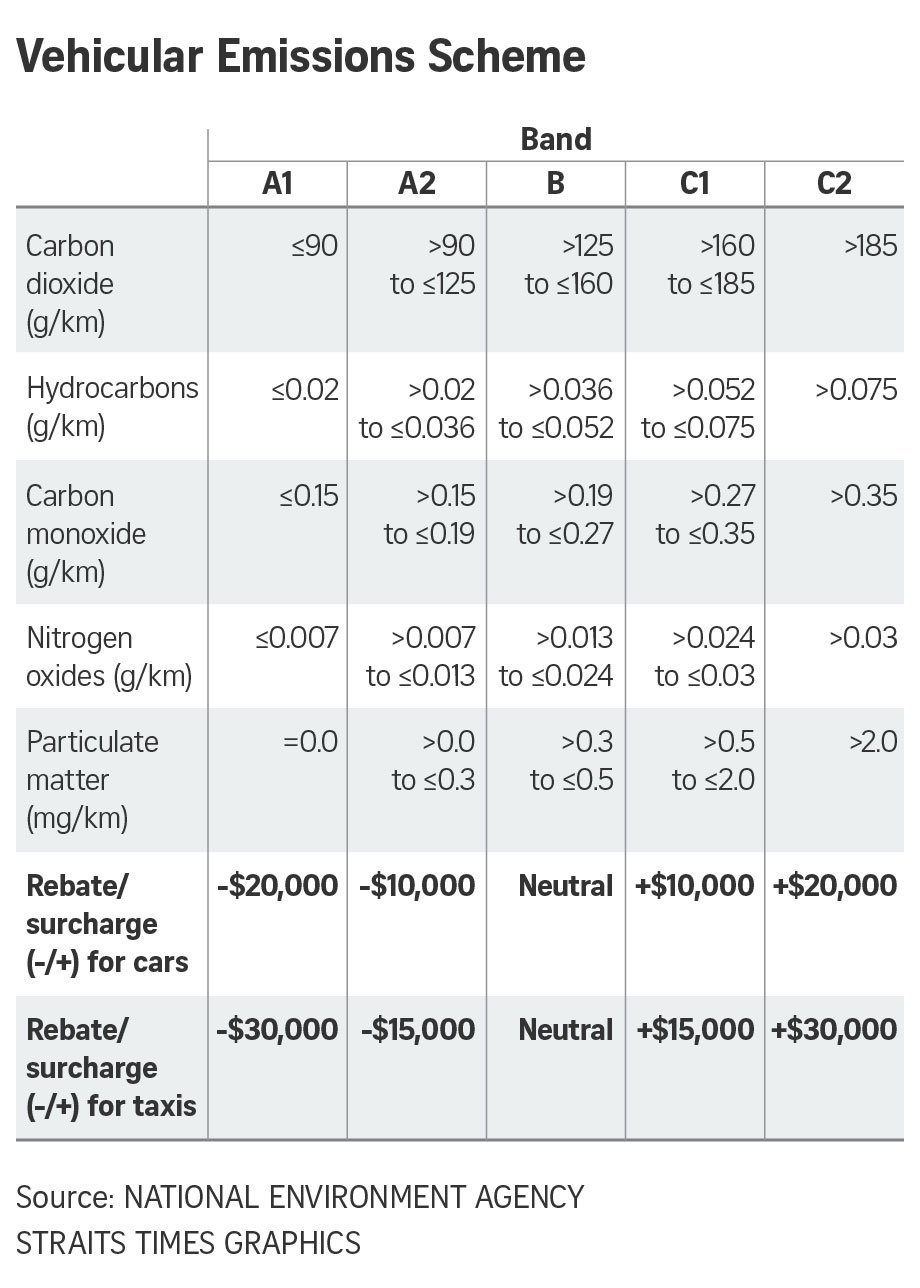 Photo Credit: Straits Times
With the implementation of VES, we can expect motorists to go for eco-friendly options to qualify for rebates. Consequently, the price of an eco-friendly car could skyrocket due to increased demand.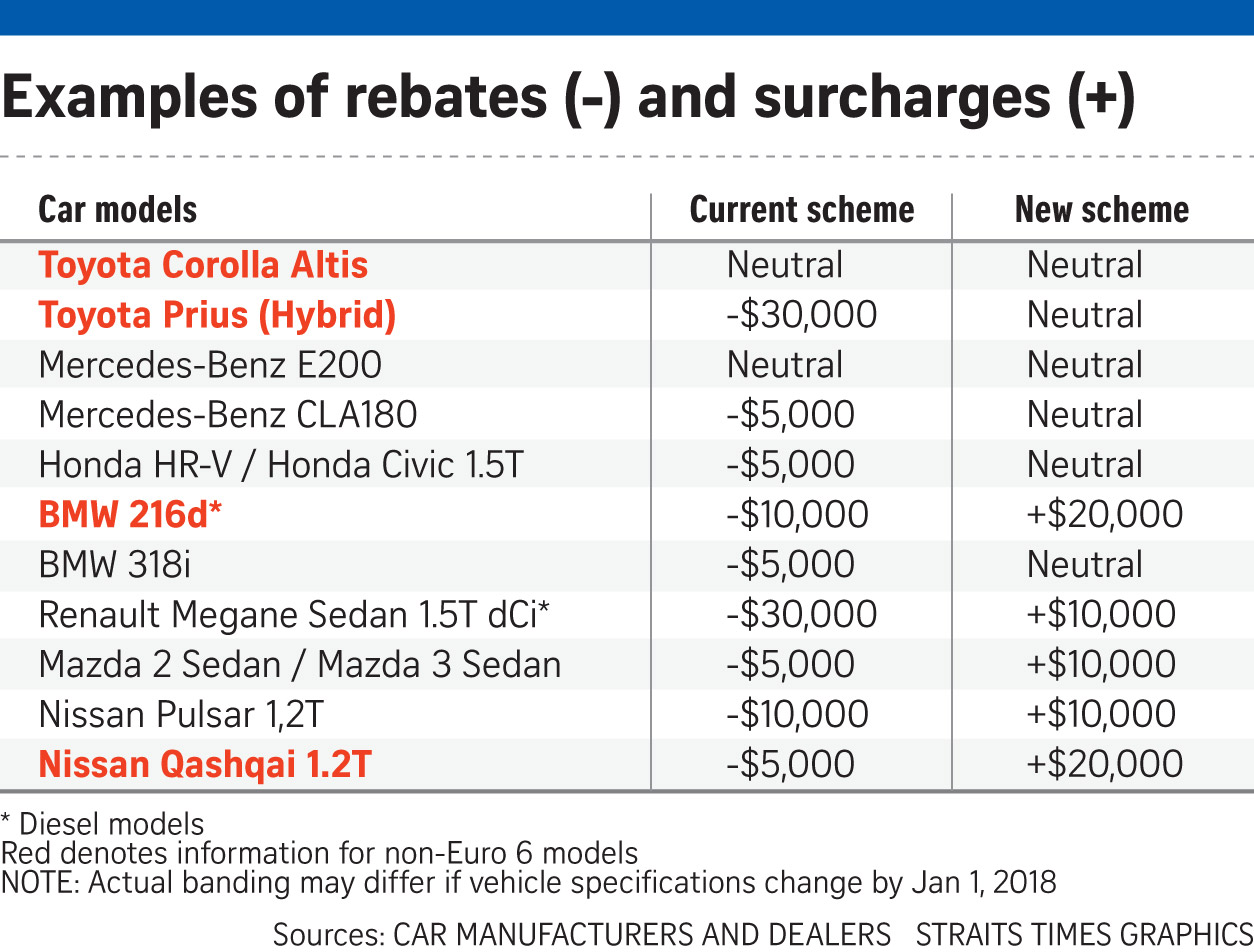 However, not all hybrid cars will enjoy rebates. Under the new scheme, the Toyota Prius (Hybrid) will fail to qualify for any rebate.
It's likely that only electric cars will benefit the most, enjoying the highest rebate from VES.
Electrical Expansion
Electric cars in Singapore used to come from luxury brands. There were barely any options for buyers to choose from.
But it will all change in 2018.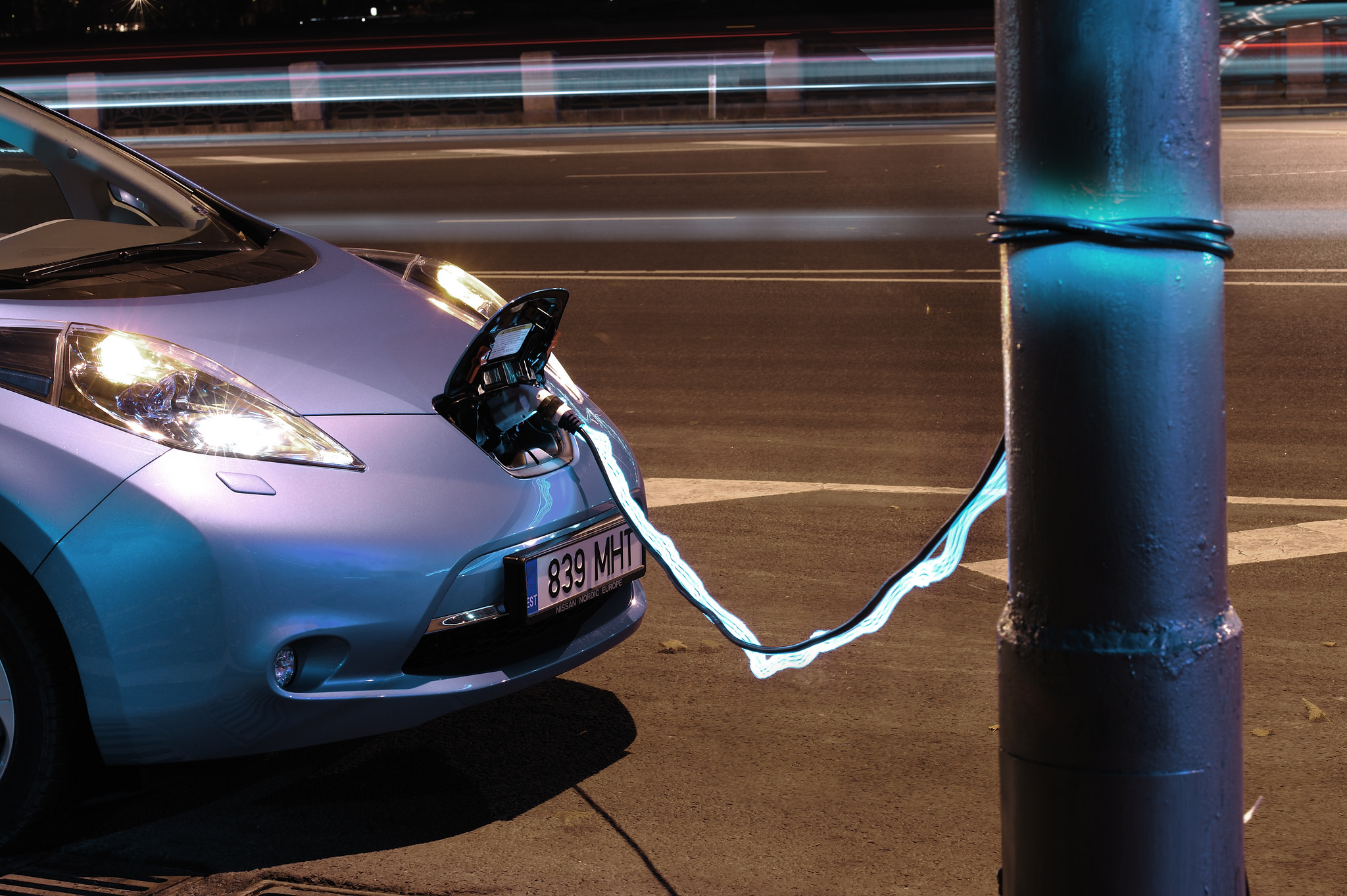 More than six brands will be introducing electric car models to the Singapore market in 2018. The likes of BMW, Volkswagen, Tesla, Renault, Hyundai and Nissan are expected to make inroads into the country.
With a wider range of electric cars available in Singapore, it could see a rise in popularity of these eco-friendly vehicles.
Eco-Friendly Countries
Even with the launch of different schemes and programmes, Singapore's still lagging behind other countries.
For instance, Norway has the highest per capita number of electric vehicles. With more than half of new vehicle registrations belonging to electric and hybrid cars. The staggering numbers can be attributed to generous subsidies for these vehicles.
China has been dubbed the world leader in sales of eco-friendly vehicles and has seen a 52% jump in sales of these vehicles. While France, home to a 4,000 strong electric car sharing service, has plans to ban the sales of all petrol and diesel vehicles by 2040.
Even though Singapore's behind in some areas, she's still doing alright. With the introduction and implementation of various schemes and programmes in 2018, the popularity of eco-friendly options is bound to grow.
People also liked:

CEVS vs VES. WHAT'S THE DIFFERENCE?
5 THINGS YOU DIDN'T KNOW ABOUT ELECTRIC CARS
3 SIMPLE REASONS ON WHY YOU SHOULD DRIVE AN ELECTRIC CAR