Whilst we can be incredibly thankful for our reliable and state of the art infrastructure here in Singapore, let's take a look around the globe to see how other drivers are faring on their own national roads. Many of the world's deadliest roads are situated at high altitudes or remote locations, where the lack of government intervention, rehabilitation, or supervision can cause fatal road accidents. Surprisingly, most of the dangerous roads we discovered appear to originate from Asia.
Here is a list of the 10 most dangerous roads around the world that you should probably stay away from. Or for the adventure junkies out there, this just might be your next travel destination.
1) Bolivia: North Yungas Road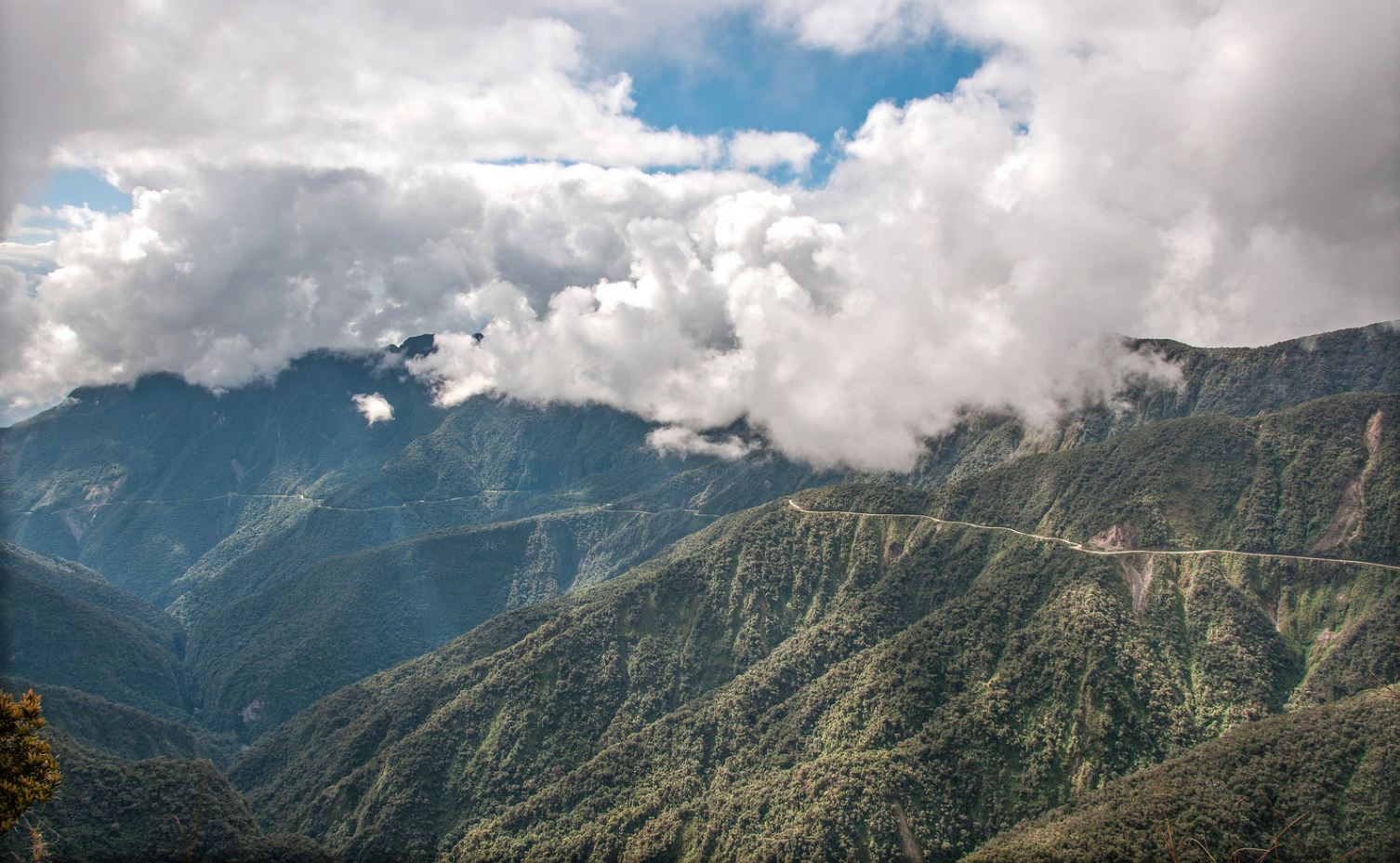 The old world's most dangerous highway (alternatively known as Death Road) climbs up a famous Bolivian mountain pass, La Cumbre, at an elevation of 15,260 ft above the sea level.
The road is especially dangerous because it is only 3 metres wide and navigated by trucks and buses from both directions. It comprises constant sheer drops of at least 600m without any barriers or guard rails. The extreme dust clouds from vehicles in the summer and fog all year round often reduce visibility to almost zero. This is further exacerbated by the fog and the rain in the winter months that often washes away parts of the road, reducing visibility as well as causing mudslides and the loosening of rocks from the hillsides above.
As a result, the original North Yungas Road is currently much less used by traffic, although an increasing number of adventure travellers bike it for the thrills. [Source]
2) Alaska: James Dalton Highway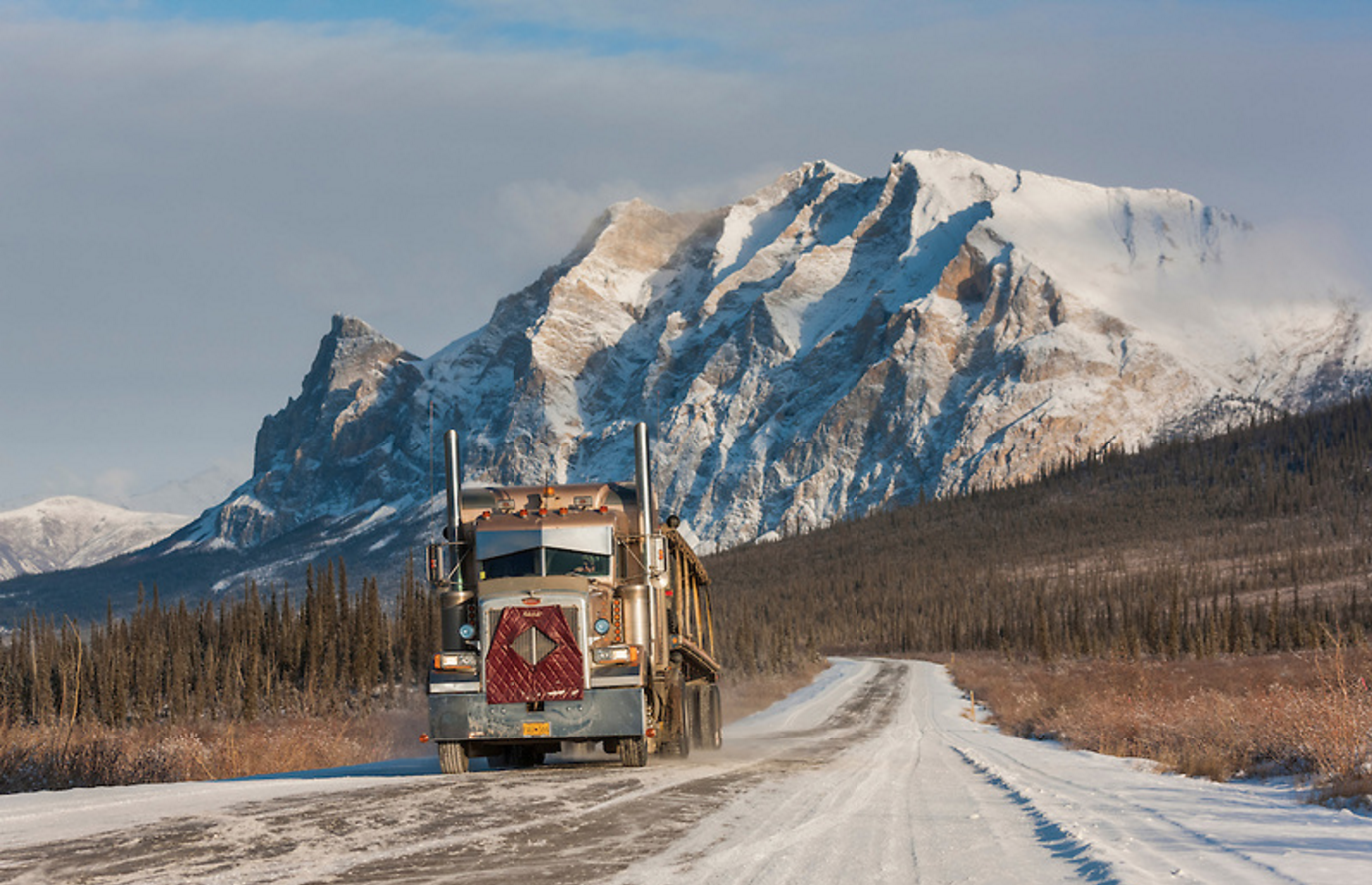 The James W. Dalton Highway slices through the wildest and northernmost portions of Alaska. It is nothing if not remote. Chiefly made of loose-packed dirt and gravel, it shudders over 414 miles from the flyspeck town of Livengood (population 13) to the grim industrial oil fields that mar the frigid shores of Prudhoe Bay.
The highway boasts the longest stretch of unserviced road on the North American continent. For 240 miles, from Coldfoot to Deadhorse, there are no gas stations, no flush toilets, no auto body shops, no restaurants, no medical facilities, no hotels, no motels, no state police posts, no cellphone service, no Internet connections, no radio reception — nothing at all, for a seven-hour span, but the thoroughfare itself.
Today, the Dalton is primarily a haul road for trucks transporting everything from apple sauce to Therma-steel panels to the oil-field workers living in Deadhorse. In winter, the climate can be brutal: The coldest temperature ever measured in the United States — minus 82 degrees — was said to have been recorded on the highway in 1971. [Source]
3) India: Zojila Pass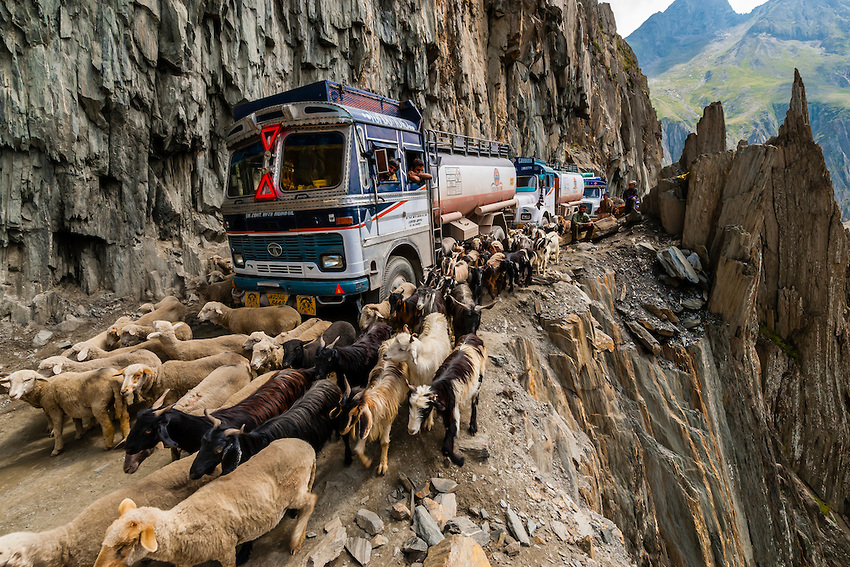 Used as a route between Ladakh and Kashmir, the Zojila mountain pass is located at a staggering 11,580ft above sea level and is enclosed by Kashmir valley on one side and Drass valley on the other.
It is said to be one of the most dangerous passes in the world, not just because it is extremely narrow and has no barriers, but also because of the vicious winds and heavy snowfall that often affect the region.
During and after a storm, the road may be impassable. Even with a four-wheel-drive vehicle, it can easily get muddy as rain makes it challenging to get through. The zone experiences high winds and heavy snowfall, which render it impassable for much of the winter. Even when it is sunny out, the roads are narrow, the drops are steep and there are no barriers between you and the abyss. [Source]
4) China: Sichuan-Tibet Highway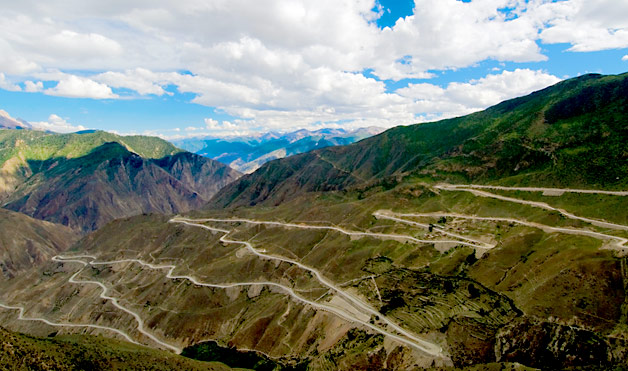 The Sichuan-Tibet highway traverses 14 high mountains and spans dozens of famous rivers. It makes 99 harrowing switchbacks along a 38km stretch as it journeys down the mountainsides.
The Sichuan-Tibet Highway is infamously known for bad driving surfaces and sharp mountain-side hairpins. Driving along single track sections in bad weather can be a great challenge, especially to a less experienced driver. The trip may take around 15 days for those who drive at an average pace, and is susceptible to landslides and rock avalanches.
Travellers will also often come across thousand car jams stretching for miles. The danger does not lie in getting stuck in the jam, but the hostilities that crop up among bored drivers. There are constant fights, theft, harassment, and even kidnappings for money when drivers are stuck in the mud for weeks. [Source]
5) China: Guoliang Tunnel Road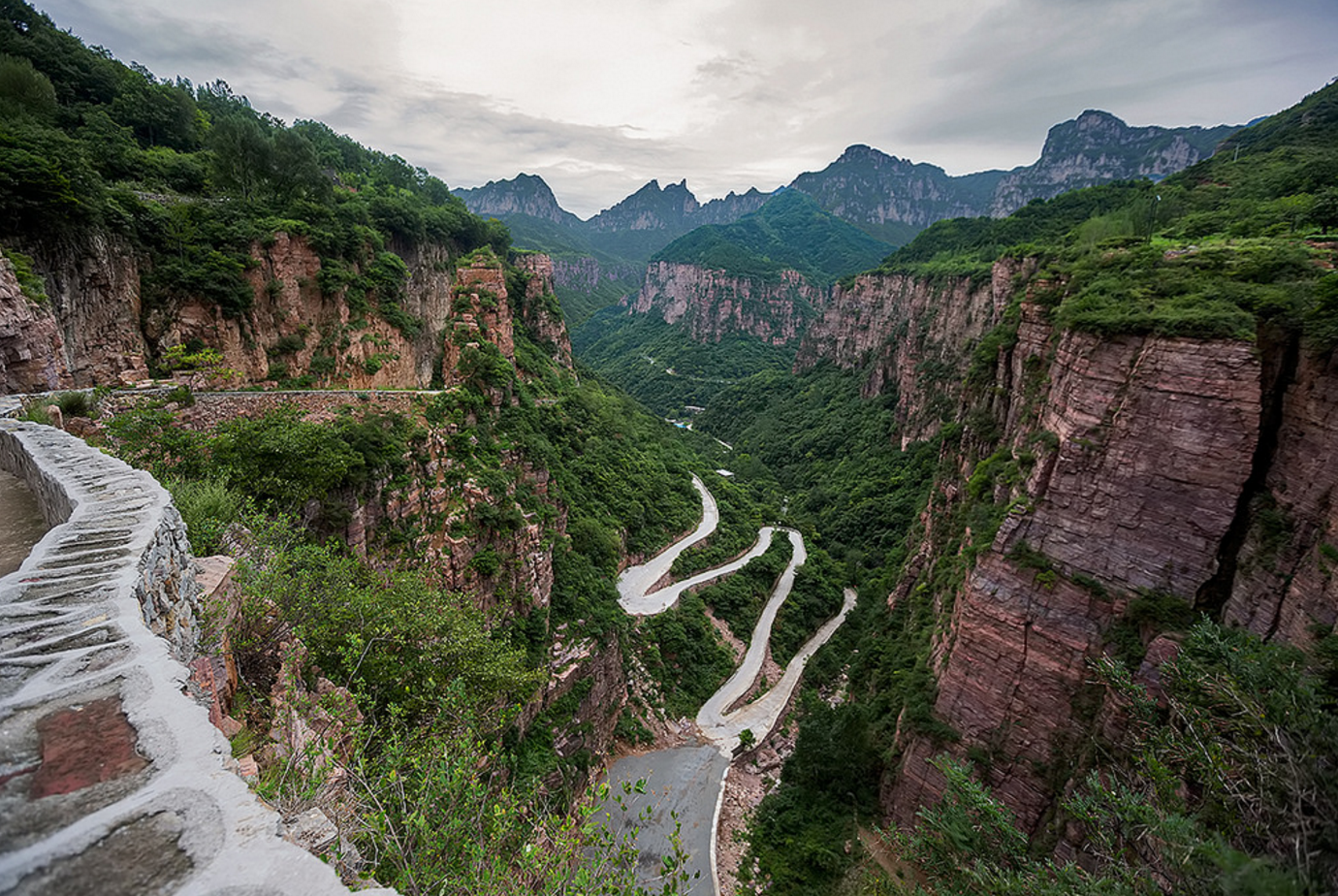 Just thirteen villagers worked on the Guoliang Tunnel project and it took them five years to finish the 1,200-metre-long tunnel, which is about five metres high and four metres wide. It was made to be wide enough to be driven along, during which time they used up more than 12 tons of drill rods and 4,000 hammers.
On May 1, 1977, the tunnel was opened to traffic. The wall of the tunnel is uneven and there are more than 30 'windows' of different sizes and shapes. Some windows are round and some are square, and they range from dozens of meters long to standard-window-size. Popular amongst tourists today, it is also known to be one of the ten steepest roads in the world. [Source]
6) Philippines: Commonwealth Avenue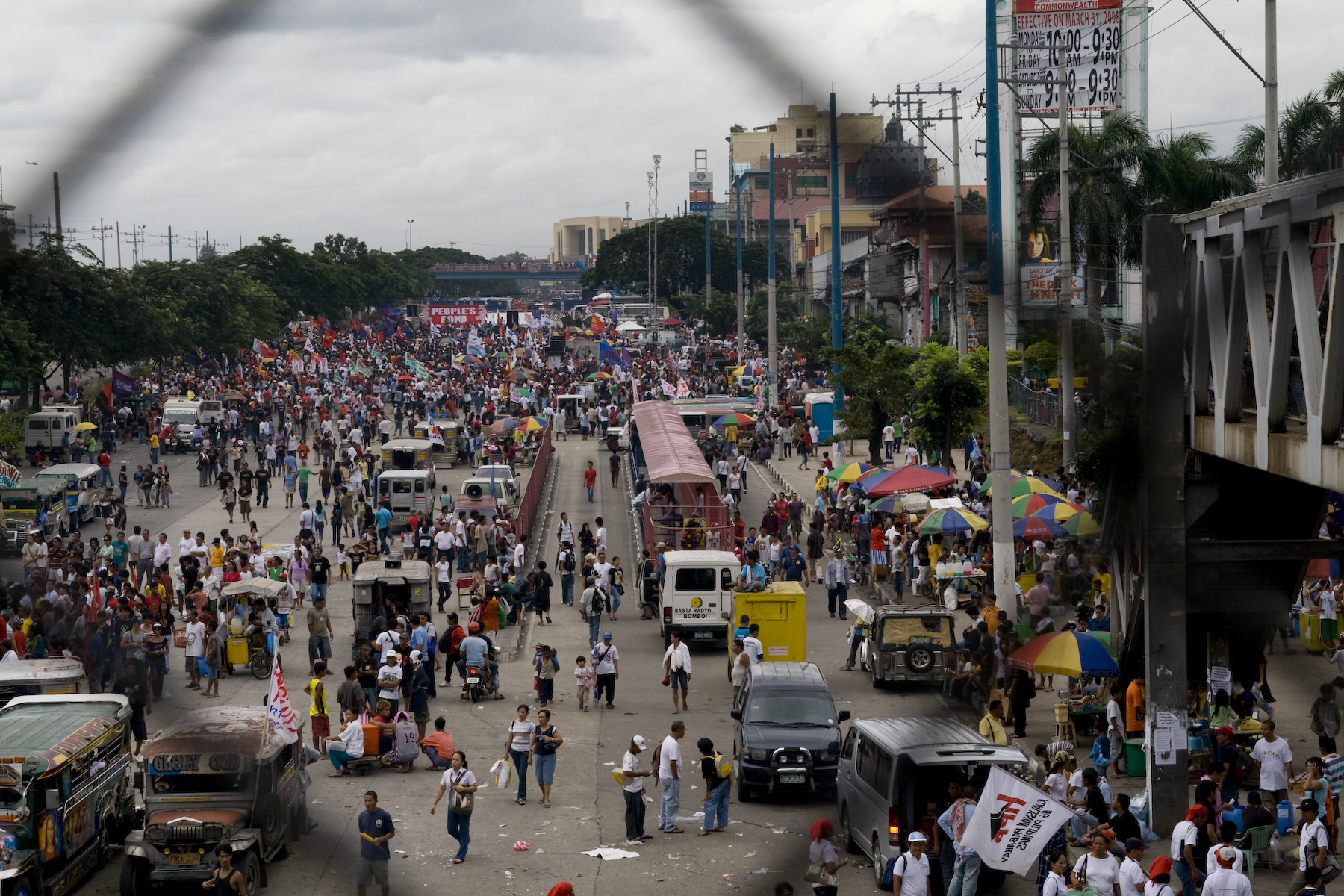 Located in the heart of Quezon City, Commonwealth Avenue is nicknamed the "Killer Highway" of the Philippines. The road has terrible to non-existent regulations, along with its extremely heavy traffic, which leads to many hundreds of accidents amongst cyclists, pedestrians and motor vehicles each year.
The asphalted road is 12.4km long and spans from 6 to 18 lanes. It is also the widest road in the country. The road has seen numerous pedestrian, cyclist, and vehicular deaths over the years due to awful regulations and enforcement of traffic laws. [Source]
7) India: Rohtang Pass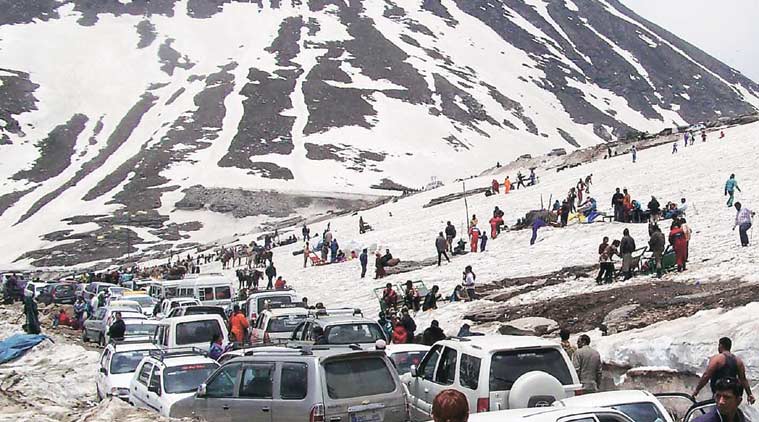 Rohtang Pass is a high mountain pass at an elevation of 13,054 ft above sea level, located on the eastern Pir Panjal Range of the Himalayas. The name Rohtang refers to 'ground of corpses' due to the number of people who have lost their lives trying to cross it.
The pass has become infamous for long traffic snarls with jams that last up to 12 long hours. The road constantly remains jam-packed and delays are inevitable. Traffic jams are common as military vehicles, trucks, and goods carriers try to navigate the tight roads and rough terrain, compounded by snow and ice at certain periods in the year and the large number of tourists vehicles. [Source]
8) Afghanistan: Jalalabad-Kabul Road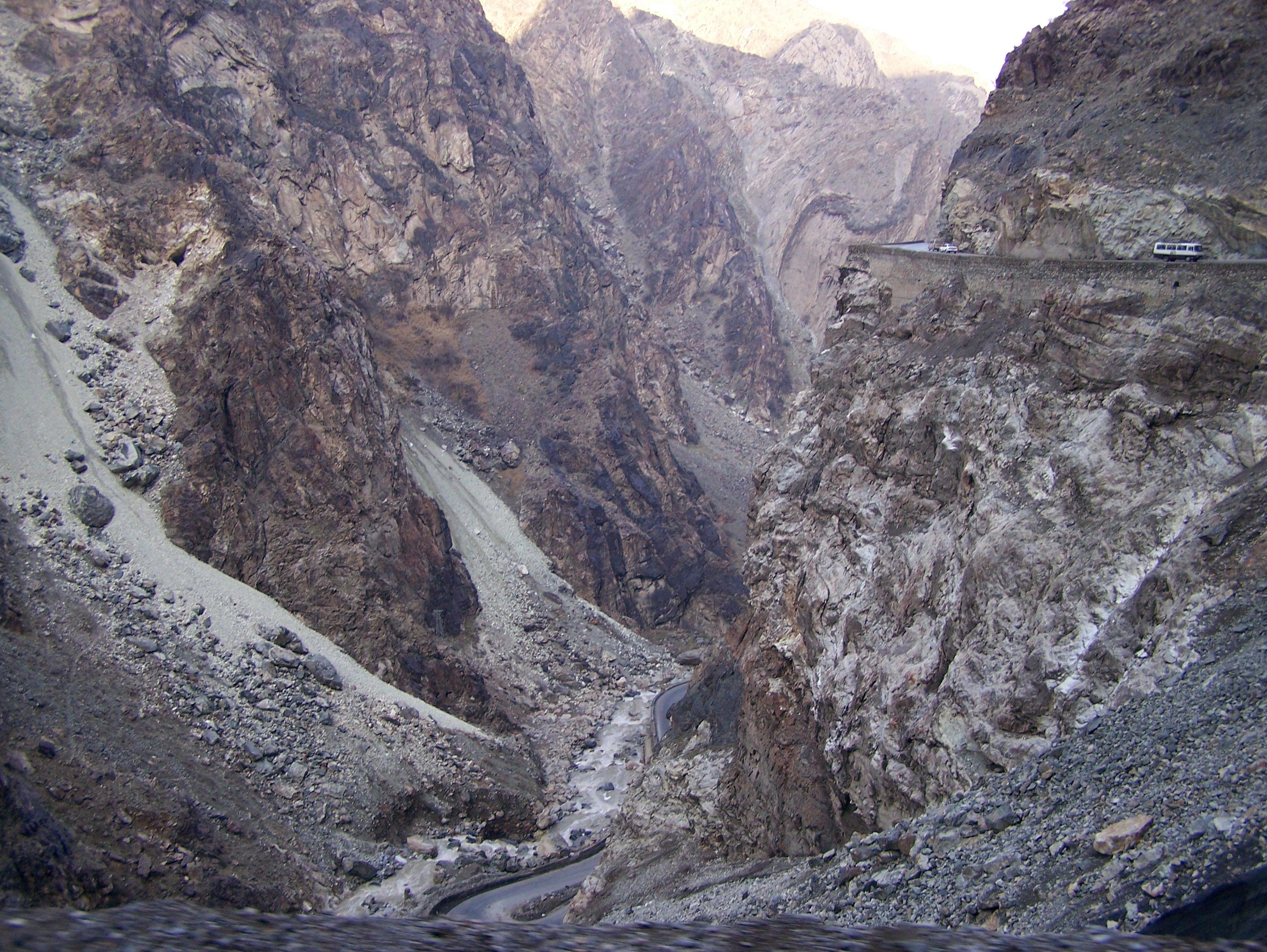 The road is susceptible to Taliban insurgents taking potshots at cars, roadside bombs (especially the first 26 kilometers of Highway 1 have seen repeated IED and suicide attacks), kidnappings, and perhaps the most constant and random danger—reckless Afghan drivers, who believe that the laws of physics neither apply to them nor to their cars hurtling over the narrow road that zigzags across rugged terrain through the Afghan provinces of Kabul, Laghman and Nangarhar.
The two-lane highway, which cuts through the Koh-e-Paghman Moutains to the east of Kabul, is just broad enough for two cars to pass each other. The total number of traffic accidents is difficult to ascertain, but on average around 200 people are killed per year and several thousand injured—death on the highway is an almost daily occurrence. [Source]
9) Taiwan: Taroko Gorge Road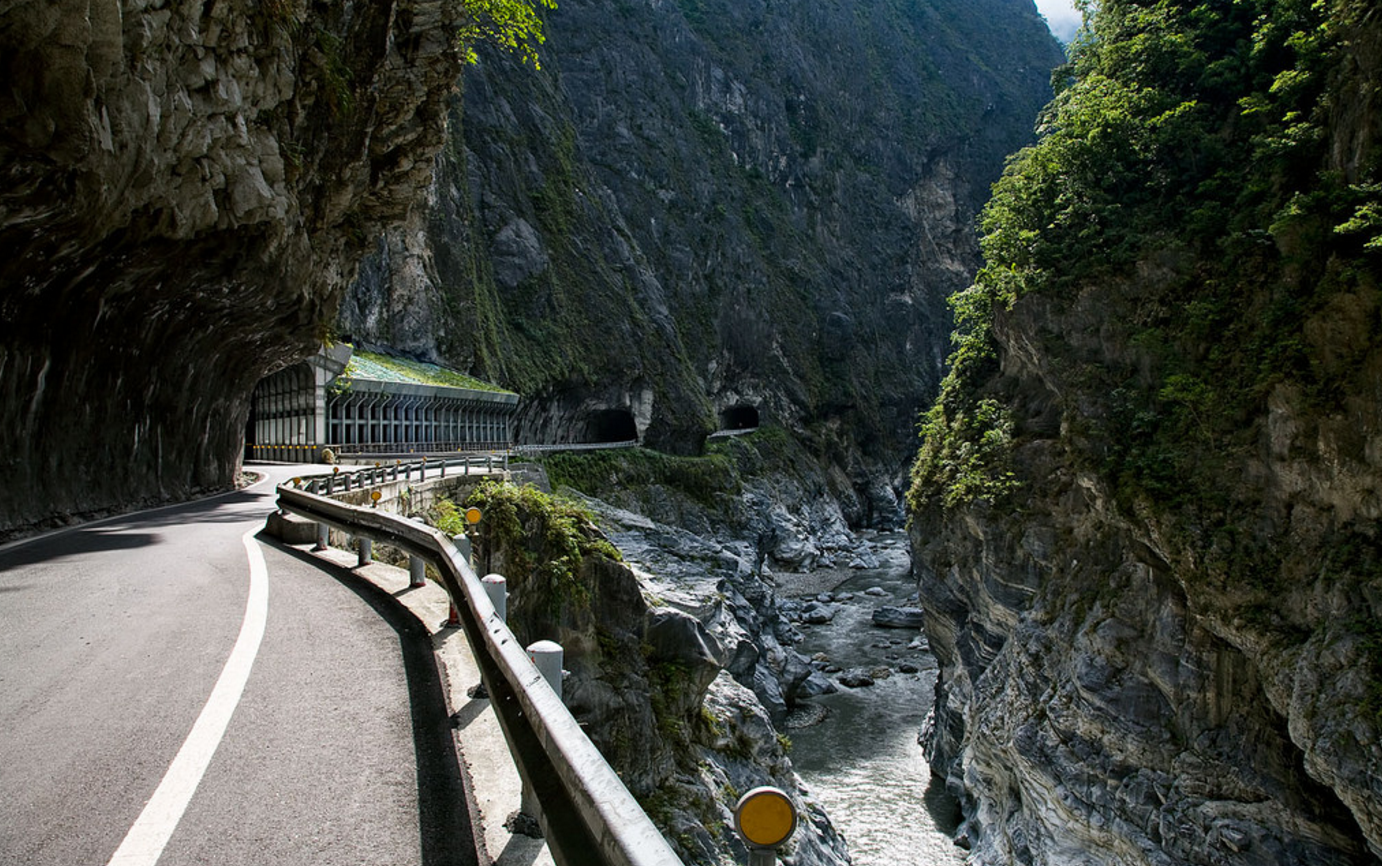 Taroko Gorge is famous for its natural marble landscape. However, the road that runs through the gorge is deadly for drivers because of blind corners, narrow sections and huge drops alongside it. Buses, pedestrians, scooters and cars all fight for space on the narrow road, heavy rain in typhoon season dislodges debris onto the road and walls of the nearby gorge prone to failure under seismic activity.
Portions of the road may be temporarily closed due to road work or inclement weather. The highway route runs through exceedingly rugged and unstable terrain. Heavy rain from typhoons often dislodge soil and rocks onto the highway, making sections of it unpassable. As well, the area is prone to seismic activity which can have disastrous effects on the highway. Maintenance of the road in Taroko Gorge represents a profound challenge to the engineering geologist. The walls of the gorge are composed of deformed marble, gneiss and schist and are prone to failure under the intense seismic activity. Additionally, the area is prone to an average of three to four tropical cyclones per annum [Source]
10) New Zealand: Skippers Canyon Road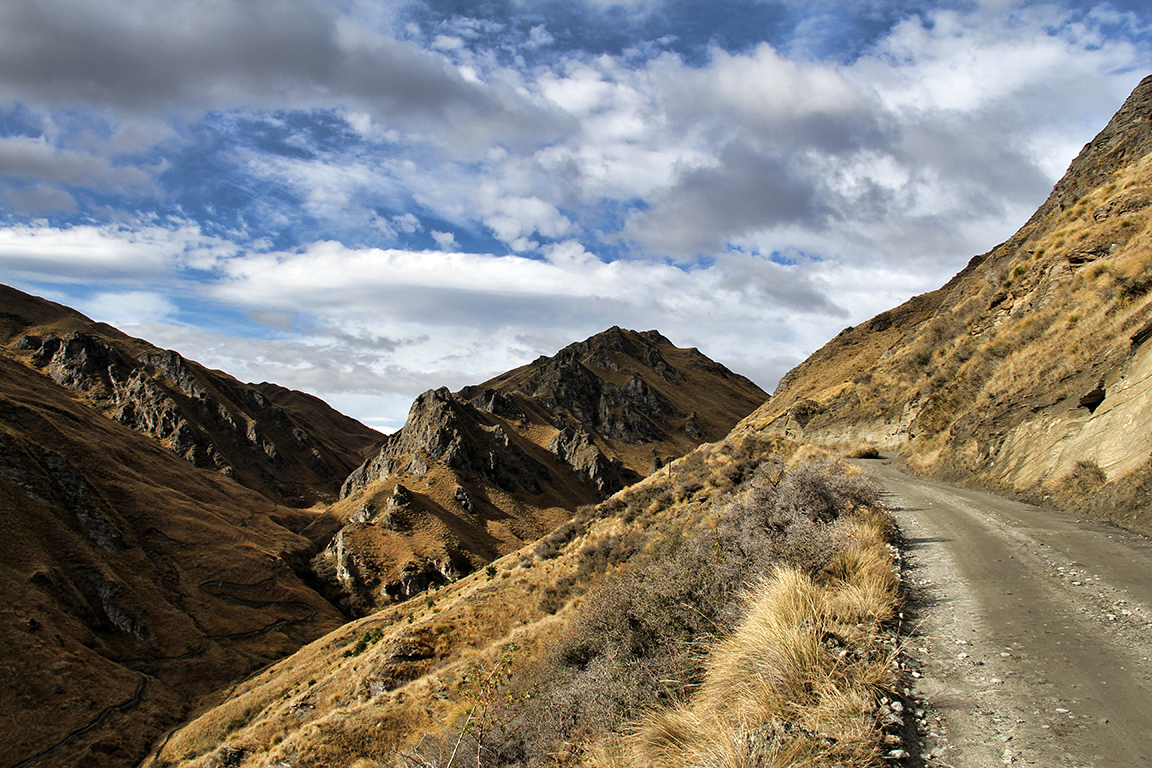 The Skippers Canyon Road, located in in the south-west of New Zealand's South Island, is today one of New Zealand's better known scenic roads. This gravel road, with a length of 16.5 miles, was carved by hand by miners over 140 years ago and is made from a very narrow cut in the middle of a sheer cliff face. The road is known to be so dangerous that rental car insurance will not be honoured for drivers who choose to take this road.
The road encompasses miles of stunning views through twisty hair pin corners, high elevations and steep grades. As this road is closed to rental cars, access is basically by 4 wheel drive vehicles. The road was cut by hand into steep cliffs by early prospectors in their quest for gold.
The road is susceptible to bad conditions, with extremely large pot holes could potentially pop a tire, crack a rim, or damage car alignments. In most parts of the road, it is too narrow for vehicles to pass each other, there are no guardrails, and the drop-offs leave absolutely no room for error. [Source]