When you think of Asian cars, what are the brands that first pop into your head? It's probably all the Japanese brands like Toyota, Nissan, and Honda. Well, today we're here to show you that South Korea, too, can produce some amazing cars, and no, we're not talking about a Kia… 
Today, we have with us the Hyundai Elantra – a model to compete with the popular Mazda 3 and Honda Civic. With its excellent ability to dampen road noise and external sounds, solid ride quality, and smashing good looks, will the South Korean automakers win the hearts of drivers? Let's find out.
Check out our video review of the Hyundai Elantra at the end of the article!
The Hyundai Elantra Excels in Comfort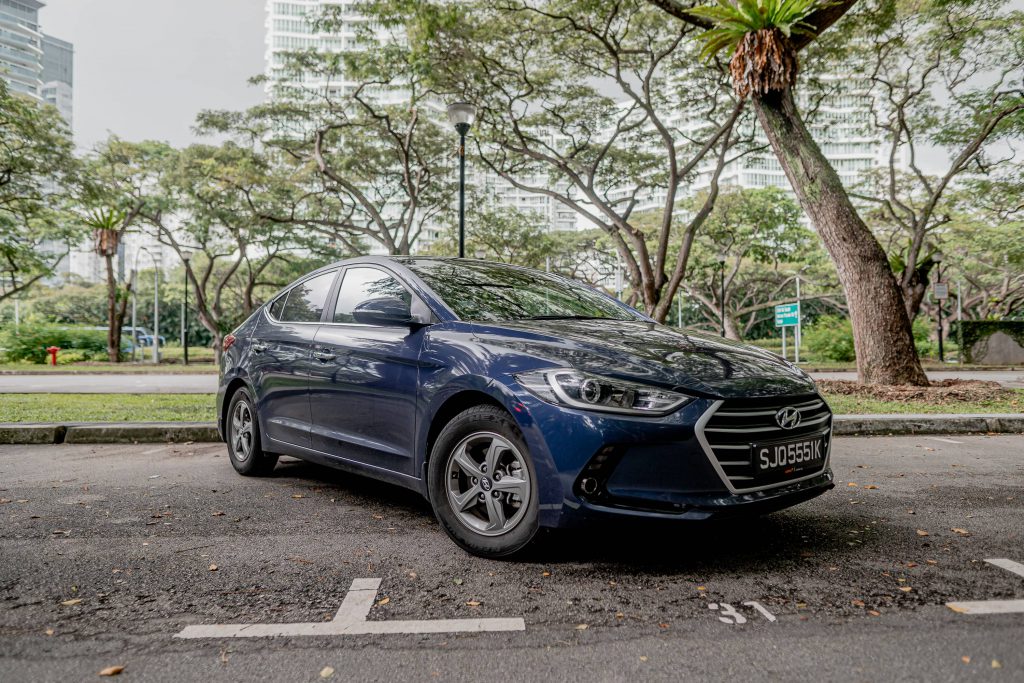 The Elantra is powered by a 1.6 liter 4 cylinder DOHC Dual CVVT that produces 126 horsepower and 155-newton metres of torque. The is capable of pushing the Elantra to a top speed of 196km/h, which is more than enough for roads in Singapore. These figures are really about the same across competitors such as the Mazda 3 and Honda Civic. 
While the driving experience in a Civic might be sporty and the tech in some Mazda 3s are modern, the Elantra excels in comfort. The seats are much more comfortable, the cabin is much quieter and the ride is a lot smoother compared to its competitors. However, the Elantra could do better in its fuel economy. It's rated at 10 – 11km per litre which isn't exactly bad but for a car that doesn't offer a sporty drive, it could be better.
Driving the Elantra might not exhilarate you but it gets you to point A to point B comfortably. Navigating through tight spots feels like a breeze because the steering is very accurate and sits nicely between light and medium. There's also enough power to overtake but it isn't as quick as some would like it to be. But space and comfort is definitely where this car excels.
Spacious Cabin
The seats in this car are all leather and the seats on the side are cut out to fit the passengers nicely, which makes it feel like a bucket seat. The seats in the rear and the front are generally super comfortable, however, passengers might find issues with the middle row at the back. It's really hard and can be super uncomfortable for a full-grown man, especially on long trips.
Also, the back windows are smaller because of the sloping roofline this car has. It isn't as bad when compared to other cars like the CH-R, but your passengers will definitely notice this. 
The dashboard is classy and practical. The 4-2 inch infotainment display offers the basics, plus a little more. It allows you to pair your phone via Bluetooth, so you can make use of the 8 speaker system to play your tunes from your phone and also sync your contacts for easy access and convenience.
Unique and (somewhat) Futuristic Design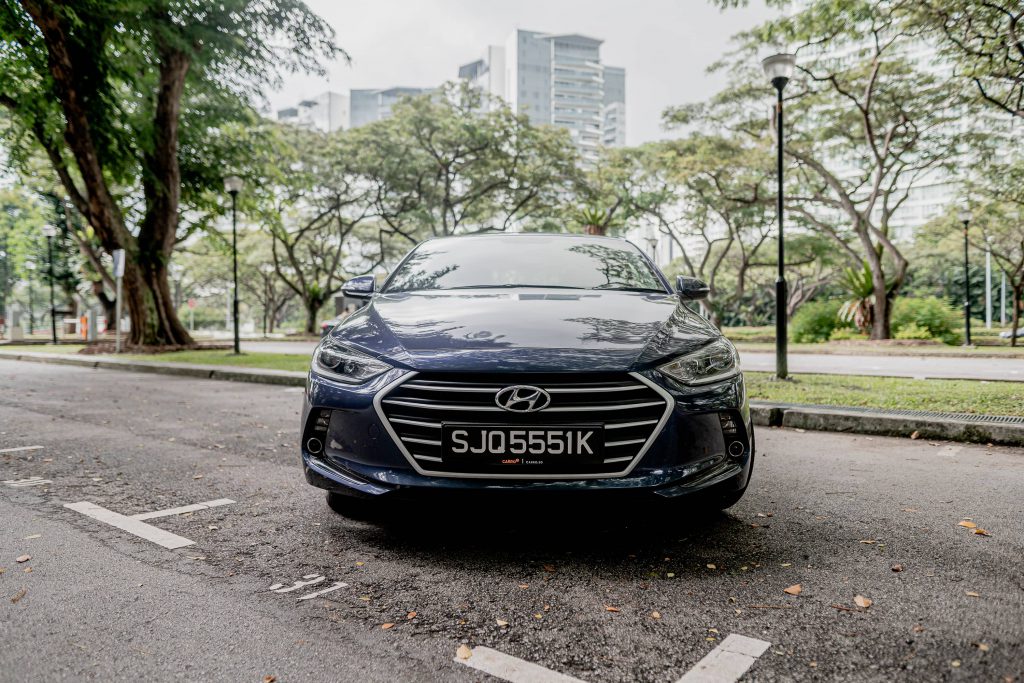 At first glance, the Elantra may seem like just another normal sedan. But when you take a closer look, there are actually many great design features that are unique and hard to come by at this price point. Like the elongated headlights that end really high and far up to the bonnet, and taped down towards the ends; it reminds me of a cat's eyes! Another signature Hyundai styling found in the Elantra is the use of swooping lines in its design. You can find them on the bonnet, on the side doors, and even in the interior.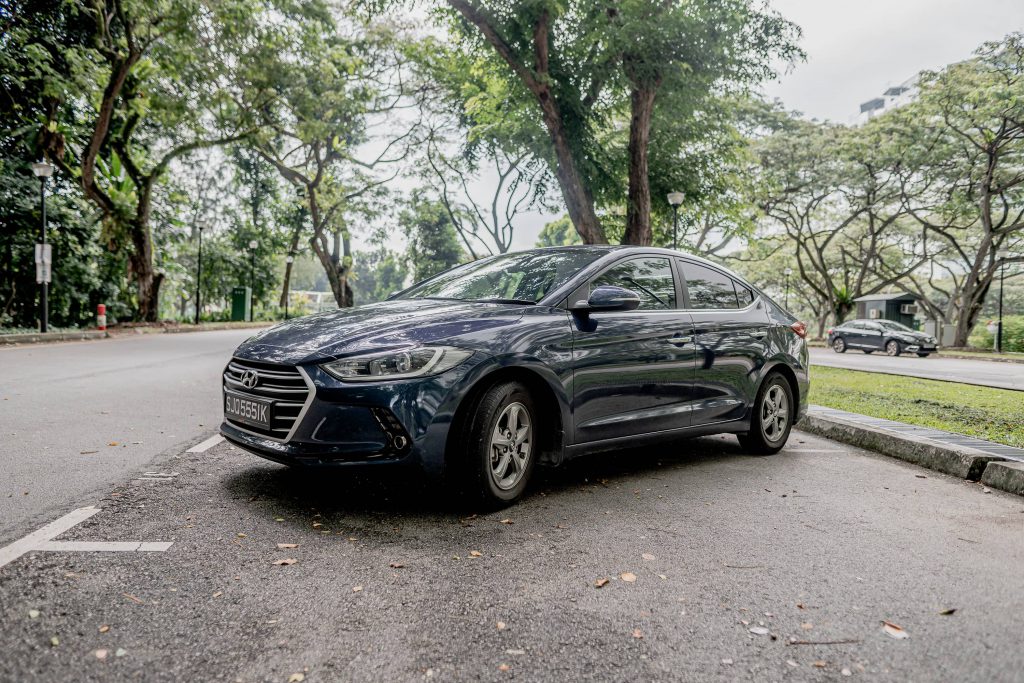 Everyone knows the recipe for a sleek and sexy-looking car – low profile rims and thin tires. But here, we have the opposite. Why? That's because these thick tires serve a purpose that you'll be thankful for on long trips! They insulate sound much better so it is so much quieter in the cabin. I'll choose practicality and comfort over good looks any day!
The rear also gives off a sleek vibe and looks pretty massive in my opinion. It actually kinda reminds me of a hatchback because of how high the boot is!
If you're looking for a used Hyundai Elantra, check out CARRO.sg today! Enjoy peace of mind through our 'no regrets policy' where you can return the car within 3 days if you decide the car's not right for you. Get full access to our workshop for any wear and tear issues you might find in your car for 30 days after you've made a purchase, free of charge too!