Cars donning the famous three-pointed star are known to be luxurious, technologically advanced machines that focus on performance and offer a world-class driving experience. And the Mercedes-Benz CLA 200 is no exception.
For a car that's said to be for "entry-level" buyers, the CLA 200 offers a lot of the big Mercedes experience that you wouldn't expect at this price range. It shares a lot of design inspiration from the Mercedes-Benz CLS, and because of this, the CLA 200 is known among many gearheads as the mini-CLS.
You could even say, the CLA 200 is the more affordable younger brother that has given drivers a chance to enjoy the luxurious experience at an accessible price point, making it one of the leaders in the compact luxury sedan market.
You'd Love to Be Caught Driving in One
Cars in the German automaker's lineup tend to follow an interesting precedent – they all look like they're the same size as each other. From the A-Class, C-Class, S-Class, and even E-Class, you can't really tell that the sizes are different at just one glance.
So when you look at the CLA 200 and the S-Class, you would think that they're probably the same size. But the S-Class is actually 600mm longer, 100mm wider, and a tad bit taller.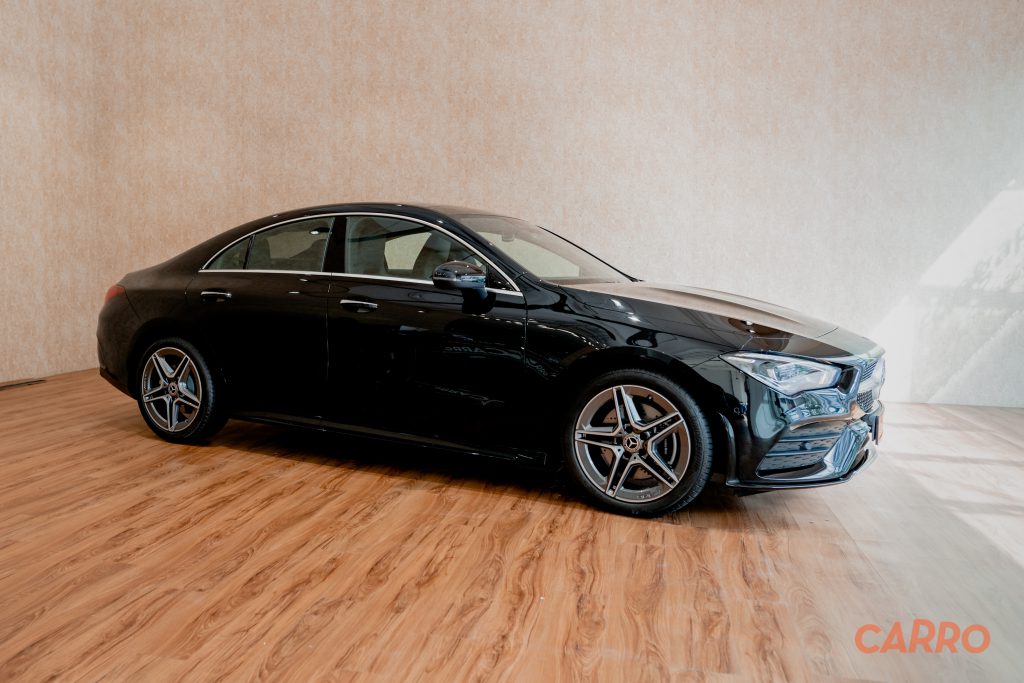 When you first lay eyes on this car, it's easy to understand its appeal. Just look at it, it looks super cool and edgy with the sloped roofline, low stance, and muscular shape.
These features give the CLA 200 such a sensual silhouette and enhance the car's coupe feel. And the coupe look is so prominent that many even call the CLA 200 a 4-door coupe!
Coupe? A 4-door Coupe?
Yes, many call it a coupe. I know, coupe's are supposed to be 2 door vehicles with a sloping roofline.
But this 4-door coupe term was actually made popular back in 2005 when Mercedes released the CLS.
And since then, many European models have adopted this term too, like the BMW 2 Series Gran Coupe, Audi S5 Sportback, and even Porsche's Cayenne Coupe… yes, SUVs can also be called a coupe!
Sleek yet Aggressive Looks
From the front, the handsomeness and aggressiveness of the car truly shine through. With 2 power domes and a clamshell bonnet, it's sculpted to perfection.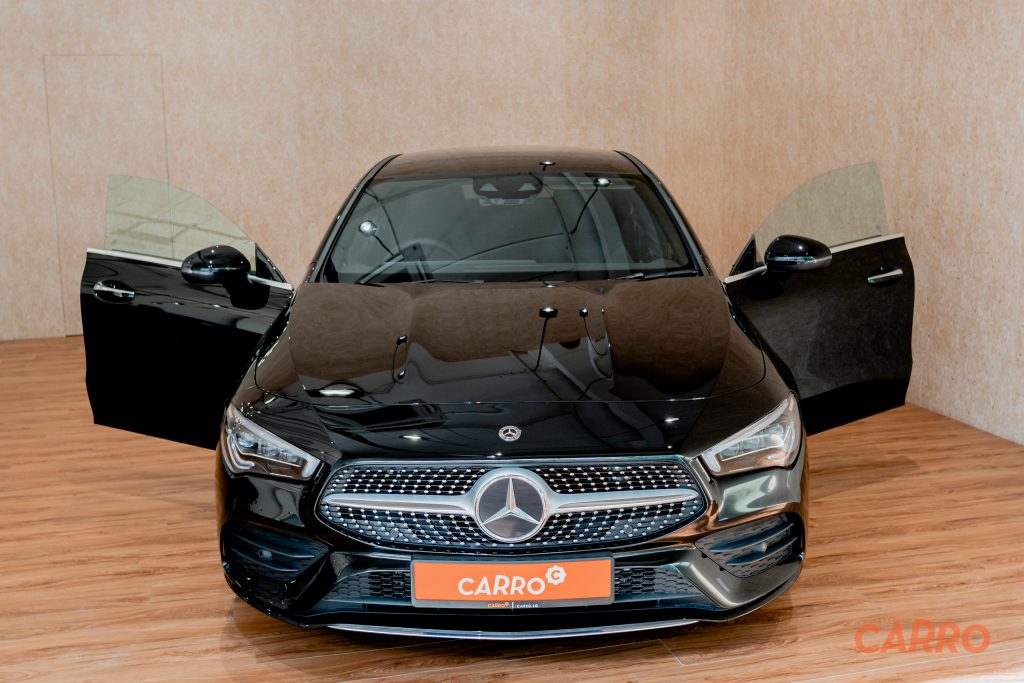 And when you take a look at the nose, some of you might find it familiar. It's called a shark nose and was first introduced by the German automakers in the CLS and S-Coupe.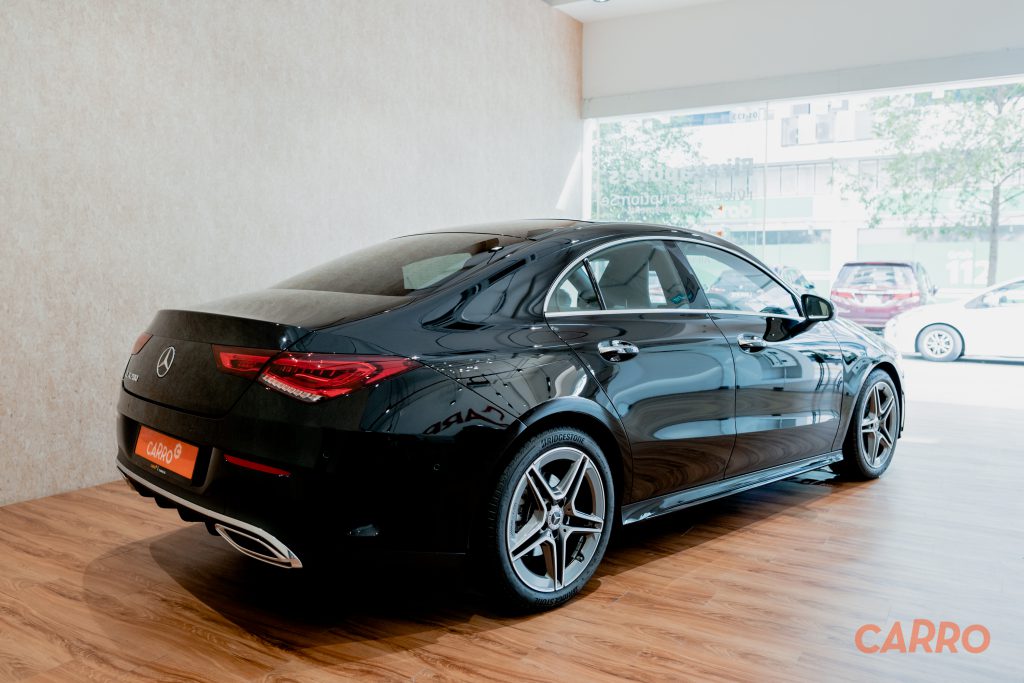 One of the best parts about the whole exterior is the new rear. It now looks super clean where all the smooth lines running through the car neatly meet in the rear. Again, it looks similar to the CLS… 
The CLA also benefits from having a thinner boot line that incorporates a longer boot. You also get a shorter boot lip so lugging in heavy items won't be such a struggle.
Expect Luxury in the CLA
Getting inside the car, it's what you'd expect to see in a Mercedes… You get lots of leather and high-quality materials used, elevating that premium-feel drivers crave.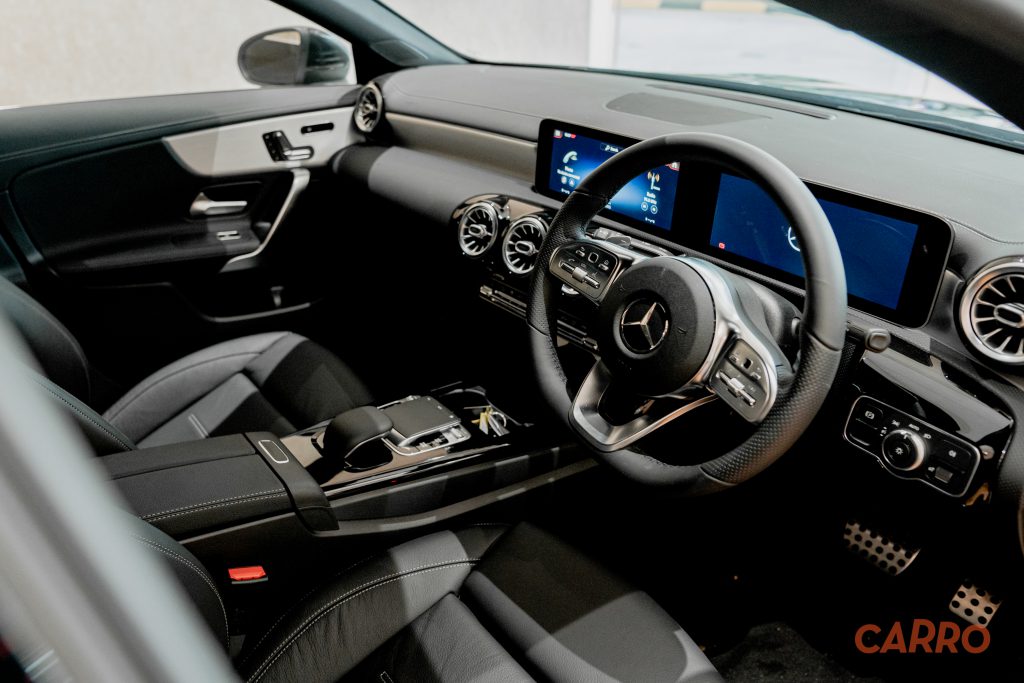 And even though there are a lot of buttons and functions going on, everything is designed super cleanly and neatly. It doesn't feel overwhelming or cluttered.
The entire cabin is superb, really. Everything is super user friendly and designed with the driver in mind. Even the signature turbine-style vents don't look out of place, actually, they add a really cool vibe to it.
From the fully digital instrument panel and infotainment display that comes with a clean interface to the steering wheel controls that give you the ability to control everything conveniently.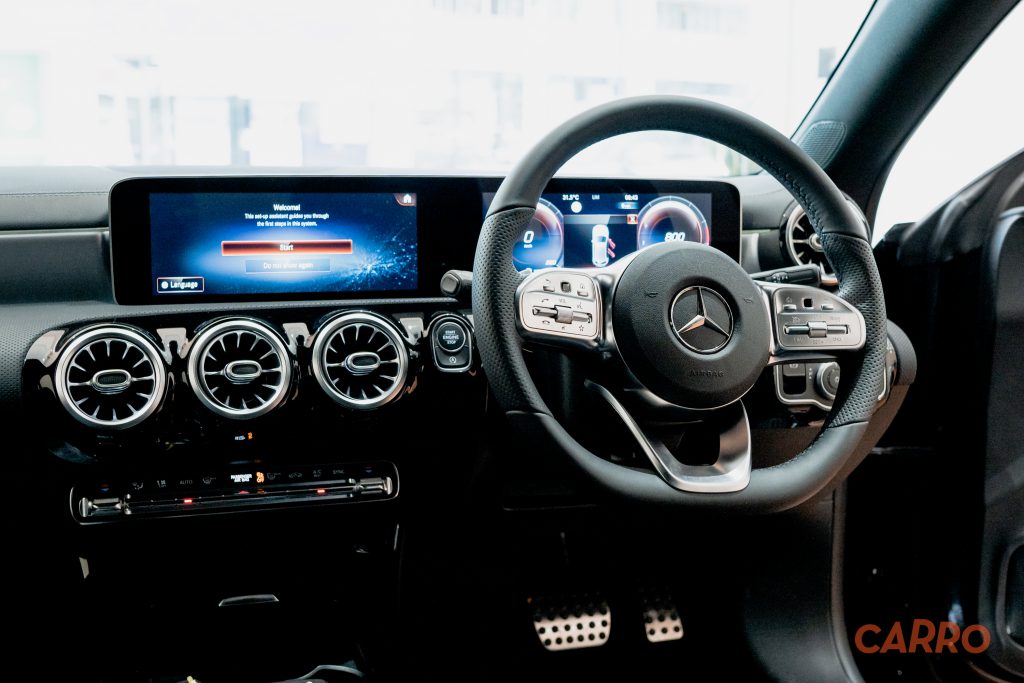 The Excellent MBUX System
The CLA also comes with Apple Carplay and Android Auto which is standard across all Mercedes cars in addition to the excellent Mercedes-Benz User Experience (MBUX) system.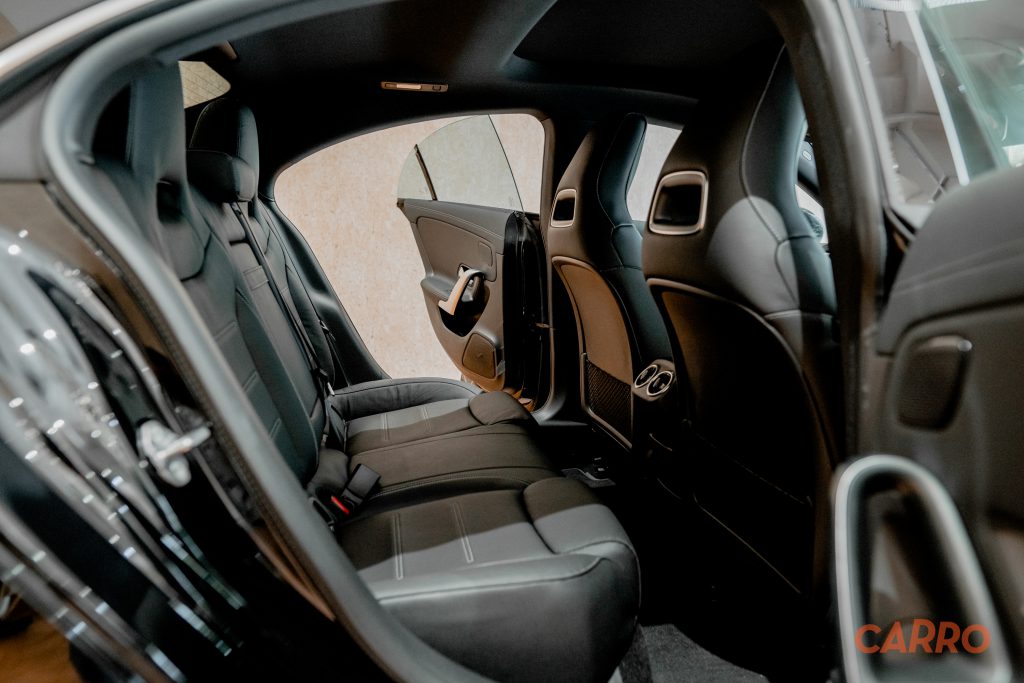 Typically, buying a coupe means that you won't have a ton of space for your passengers. Sedans like the Mercedes-Benz A200 tend to be more comfortable and spacious, but that's not the case here.
As the CLA is longer and wider, it's actually quite spacious and there's definitely more legroom here than in the A200.
How Does it Drive?
The CLA is packed with a 1,332cc 4-cylinder inline 16-valve turbocharged engine that produces 163bhp and 250Nm of torque, which slightly faster than the previous-generation.
You can clock a top speed of 229km/h and completes a 0 – 100 sprint at 8.2 seconds. The gearbox is a 7-speed auto transmission, so changing gears is supposed to be smoother, and did you know Mercedes created the first-ever 7-speed auto transmission?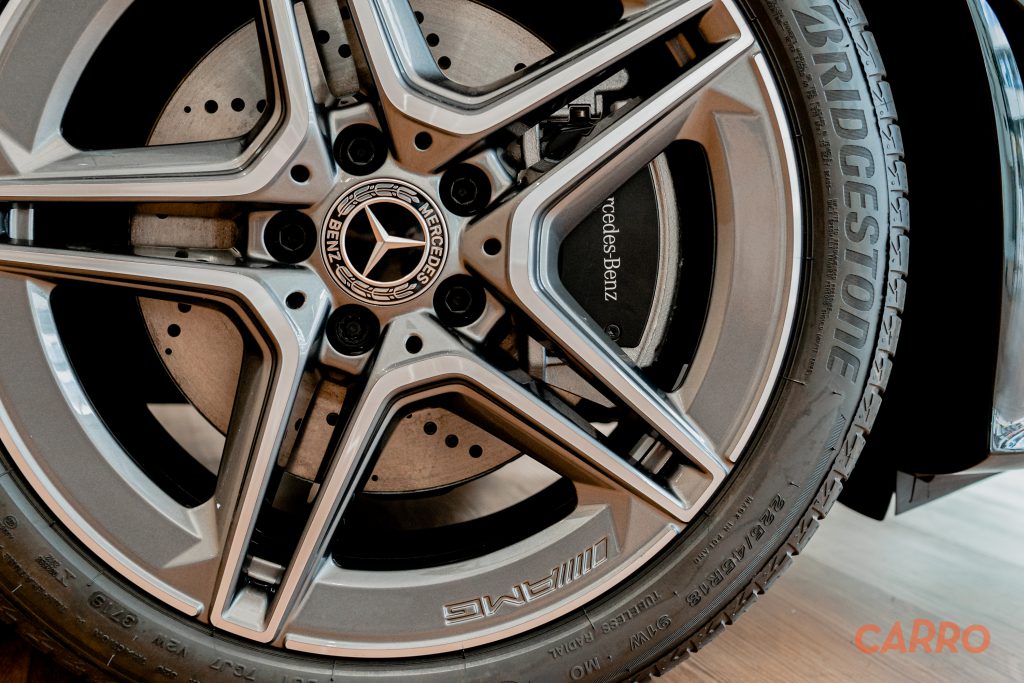 Something that you might need to get used to is the location of the gear selector. It's located behind the wheel, so it might be a little awkward at first.
Not only is the gear selector located behind the wheel, but so are the paddle shifters! So if you want to have a bit of fun while driving, you can always switch to manual transmission for that supercar feel.
The coupe is built on a pretty solid suspension system that makes turning corners a breeze. You don't get a lot of body roll even when you turn at speed, which is something I really like.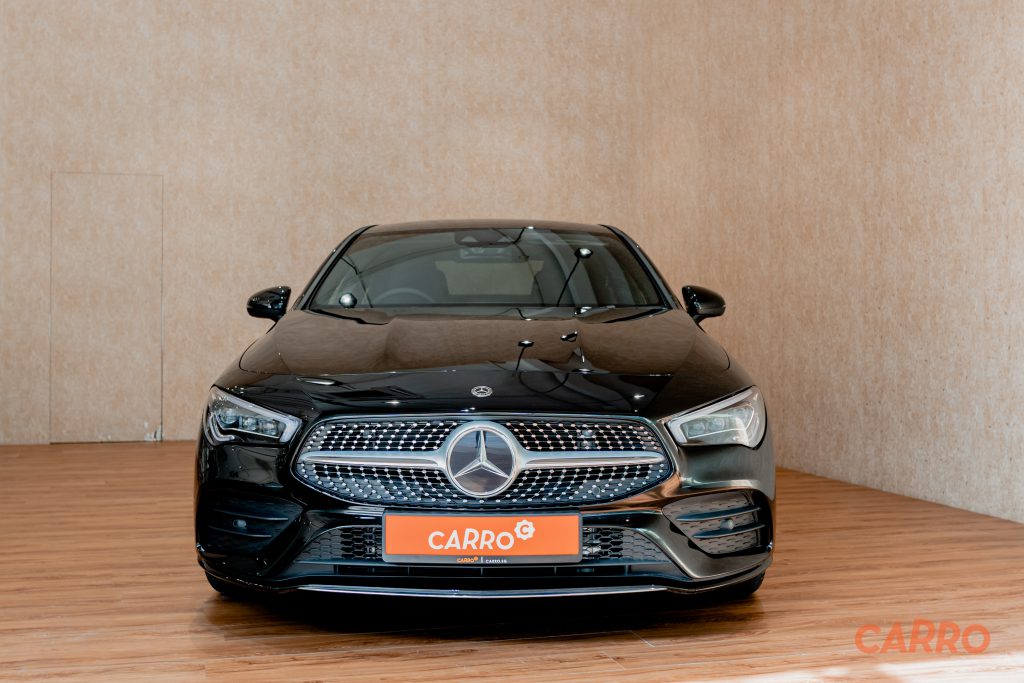 The CLA 200 comes with a lot of the standard features from the Mercedes Benz Intelligent Drive that makes driving easy and less stressful.
The car comes with a 360 Degree camera so you have a bird's eye view of your car and its surroundings, blindspot assist and many more. This especially useful when parallel parking!
The CLA also comes with an Adaptive Brake with Hold Function, it adds ease and convenience to the entire driving experience. Just step hard on your brakes when you're stationary to activate this feature and you can rest your foot at the red light!
This feature offers a more comfortable drive and makes it a lot less tiring when you're stuck in traffic jams.
Yay or Nay?
There's not a lot of 4-door coupes out in the market, and for the price, the CLA 200 is in a league of its own.
With a stunning design, excellent build, and power on the throttle, it's no surprise many drivers in Singapore would love to be caught behind the wheel of this German machine.
So, if you're interested in driving this car, don't forget to visit CARRO for a flexible and affordable alternative through our CARRO Leap car subscription program.