Everyone knows buying a car in Singapore costs a pretty penny. That's why, especially when COE premiums are high, many shift their attention to used cars due to the price difference. However, there are a lot more considerations a buyer must make before buying a used car in Singapore.
From choosing a reputable and credible dealer to properly checking the condition of the car so that you don't get a lemon, the entire process can be quite overwhelming. But don't worry, that's where we can help. Simply follow CARRO's Used Car Buying Guide and you can say goodbye to a worry-filled car buying experience!
In this article, we'll be going through a number of key steps to take to ensure you're not buying a lemon:
Where to buy a used car
Choosing the right car
Inspection and test drive
CARRO's Used Car Buying Guide
Where to Buy a Used Car?
There are three main ways to buy a used car: from a dealer, from a consignment agent, and from a private seller. But how are they different?
Pros
Cons
Dealership
- Wide range of cars available

- A lot of dealerships to choose from

- Would help you with the paperwork required
- Usually more expensive due to dealer mark-up

- 'Bad apples' might sell you a lemon
Consignment Agent
- Would help you with the paperwork required

- Popular consignment agents will have more cars available
- Arranging for a test drive/viewing the car in person could be troublesome
Private Seller
- No dealer markups, cheaper option

- More room to bargain
- Requires you to have some car knowledge to know what to look out for

- Have to do the paperwork yourself

- The condition of the car is questionable
As seen from the table, buying a used car via different avenues will present its own set of pros and cons. So how do you choose which way to go? Well, it depends on your needs and what you value most! Is convenience or price more important? Only you can answer that!
But which is safest?
While it's important for you to have a certain degree of car knowledge when buying a car so that you don't miss out on important problems the car might have, each 'method' requires different levels of expertise.
For instance, buying a car from a direct seller requires you to know the car inside out to catch issues that the seller might not be forthcoming about, or might have missed as they too aren't experts.
So, if you're not super knowledgeable about cars, then you should at least bring along a friend who is, or send the car to a trusted workshop to have it checked!
It's a little different for consignment cars and dealerships. The people who work here are experts and can diagnose issues quickly. So depending on the dealer you engage, the experience might be simpler and transparent. But of course, you cannot be 100% certain because they're businessmen after all.
So, continue reading this article to find out what you should do during the inspection and test drive portions of the car buying process!
Choosing the Right Car
The most important piece of advice anyone can give you when shopping for a used car is — do your research.
The work that needs to be done to decide on a used car is different from deciding on a brand new car. There are a lot more considerations to take note of and if you're new to this,  so it can easily be overwhelming. But don't worry, before starting on your research, make sure you ask yourself these questions and you'll be okay!
Step 1: What type of car?
First and foremost, you'll have to decide on the type of car you'd want to get. Will it be a sedan or an SUV? Japanese or continental? 5-seater or 7-seater?
Once you answer these questions, the pool of available cars will narrow down, making your research a tad bit easier.
Step 2: What's your budget?
This is undoubtedly the most important question you'll be asking yourself because only you can answer this! It's always good to start with a price range in mind and work from there because the type of cars you can get for a range of $30,000 – $50,000 and $80,000 – $100,000 will be super different.
So, answering these questions will surely narrow down your options and you'll be able to formulate the kind of cars to go for. However, while these will help you narrow your options, there's still a lot of work to do. Additionally, you'll definitely find multiple listings of the same car. So, how do you choose the best of the bunch?
Car buyers tend to look at a number of things to understand the condition of the car and whether it offers good value.
This includes:
1) Depreciation
The depreciation figure that you get is a rough estimate of how much you will be paying for the car each year. So, do pick a car using your wallet and not to your heart's desire.
Most online car portals would already have the depreciation value on there, but if you'd still like to calculate the car's depreciation on your own, you can use this handy formula right here.

2) Scrap value
The scrap value is the amount that you receive when deregistering your car.  This includes the car's body value, COE rebate, and PARF rebate (if applicable). While you could call a scrapyard to get an estimate of how much your car is worth, the actual figure is usually for the same model. You could ask your salesman for an estimate of this figure.
You should also look at the car's mileage, no. of previous owners, past maintenance and servicing records, accident records, and overall condition. For an in-depth guide on each of these, check out this guide on the things to check before buying a used car!
---

---
Used Car Inspection and Test Drive Tips
When buying a used car, the inspection process is pivotal. You can never be 100% certain and should still know what to look out for to ensure that the car you're buying doesn't turn out to be a lemon!
For someone who's not a car expert, it's easy to miss out on certain issues, especially if you rush through the inspection. So, take your time and have a thorough look at the car.
First off, you should get the maintenance records to dissect and digest the information. These records are super helpful in telling you whether there have been any major fixes or issues in the car and if it has been well taken care of over the years.
Next, do a thorough inspection of the car. Here's what you should pay close attention to:
Exterior condition for scratches or dents
Electrical components – radio, aircon, windows, wipers
Signal lights
Warning lights
Oil levels – engine oil, coolant, transmission fluid level, and colour, etc.
Condition of the tires – check the thread depth
Look out for fresh oil on the engine bay
Leaks under the car
What to Look Out For During a Test Drive?
While doing an inspection is super important, some issues will only appear once you're on the road. So, don't be shy, take your time, and bring this car out for a spin! While on the road, ensure that you focus your attention on key components like steering, suspension, braking, and the engine.
Here's a list of parts to take note of:
Tire alignment
Easy handling
Resistance while turning
Smooth/easy gear shifts
Smooth suspension
Smooth transmission
Check for noise

Engine noise
Braking noise
Knocks and rattles while driving

Stiff steering while reversing
Brake lights
Learn more about test drives and what to look out for here.
If you find any issues with any of these parts, bring it up to the owner/dealer and try to get them to fix it for you. Otherwise, use these issues as leverage for your negotiations!
Quality Assurance, Guaranteed!
Doing your due diligence during the inspection and test drive is essential. However, it's also a lot of work… That's why you should choose to buy your used car from CARRO!
As all secondhand cars listed on our platform go through a rigorous 150-point inspection check, you can rest easy knowing that quality assurance is guaranteed!
This comprehensive process covers a variety of parts like your tires, aircon, battery, and more. Additionally, if we find any faulty parts during the inspection, we will replace them with brand new components too — only CARRO does this for you! You'll also be able to access the entire inspection report conveniently on our website, so you'll know exactly what's the condition of the car before even heading down for a test drive.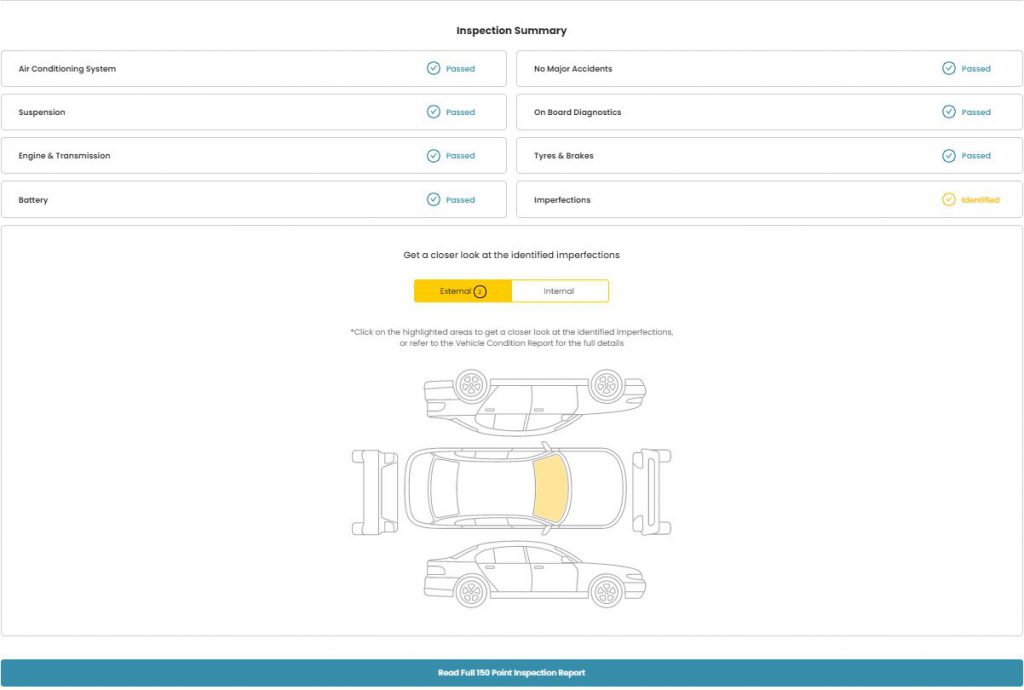 For even more assurance and peace of mind, you'll also get full access to our workshop for any wear and tear issues related to any of your car's safety components for 30 days, free of charge. Plus, if you happen to change your mind, no problem. With our special return policy, you can return the car within 3 days and pick another, no questions asked — that's why we're the better place to buy cars!