September is here and all you Formula 1 (F1) fans will surely be gearing up for the race in Singapore! The roaring of engines and screeching of brakes is going to reverberate throughout the city, are you ready for this heart-stopping experience?
Already in its 12th instalment, the Formula 1 Singapore Airlines Singapore Grand Prix will be held from 20 – 23 September 2019. Like every year, you can expect a host of activities and promotions lined up over the course of the month.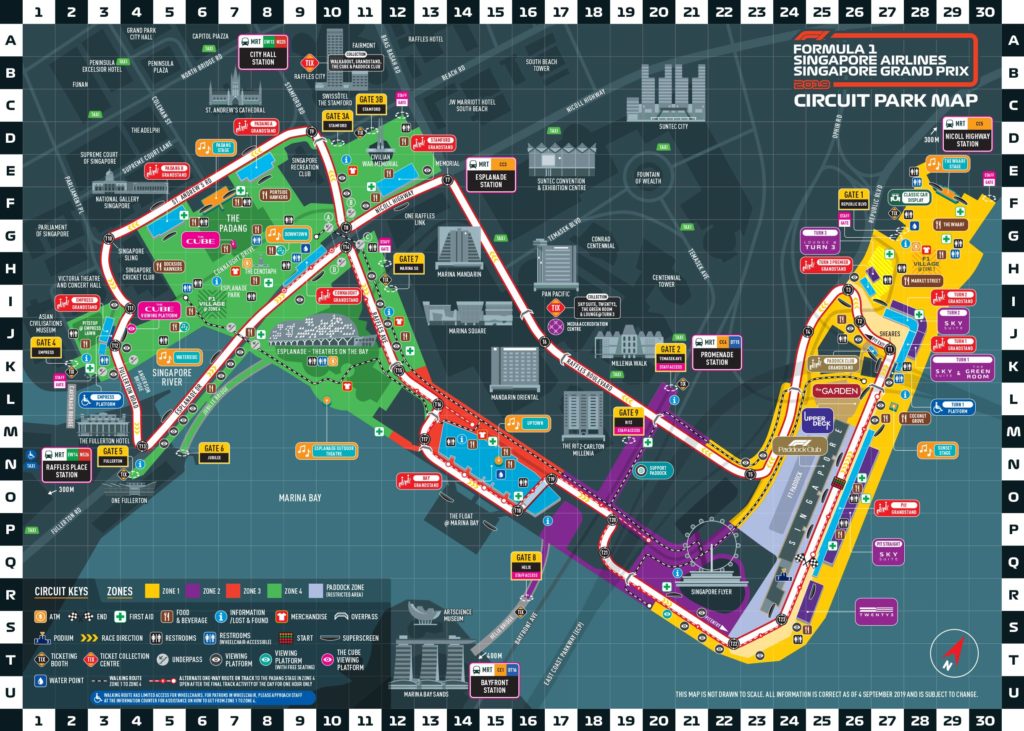 Here's a guide of what you can expect, transport tips and road closure information.
1. Entertainment
From the Red Hot Chilli Peppers and Gwen Stefani to Swedish House Mafia and even acclaimed composer Hans Zimmer, if the race is not something you're really excited for, you can always catch one of these superstar acts! These acts will be scheduled over the F1 weekend, so be sure to check out their timeslots if you plan on heading down.
You can also try out free race simulators at the Fan Village or try changing tyres of a replica F1 car at the Pit Stop Challenge. If you don't fancy these activities, don't worry!
You can always have some fun with Singaporeans' favourite activity – shopping. Scattered around the Fan Village, you'll be able to grab some exclusive F1 merchandise for your friends and family.
The Singapore Grand Prix 2019 Race
Over the course of the weekend, there will be a total of 3 races happening! Starting on 20 September 2019, you can soak in the adrenaline-pumping action from 2 pm onwards. Along with the main event – the Formula 1 race – there will also be a Ferrari challenge and Porsche Carrera Cup too.
So race junkies, better prepare yourselves for the a lot more racing action!
2. Road Closure
Just like every year, to accommodate the race, roads around the Marina Centre area and the Padang will be closed for about a week. You can expect road closures to begin from 18 Sep, 12.01 am till 24 Sep, 5.30 am.  These road closures are meant to help facilitate the setup of race infrastructure.
Additionally, the road closures will help control traffic in and out of the area. Road corridors will also be opened periodically at selected hours.
Check out the timetable below.
To get to the Marina Centre area, vehicles will be given access through a single lane along Raffles Boulevard via Nicoll Highway or Temasek Boulevard from 12 am to 1 pm on 21 and 22 Sep.
Taxis will also be able to use the single-lane access at all times, except when the race is on.
3. Transport
Getting into the Marina Centre area might be quite troublesome if you plan to drive. Because of the high amount of foot traffic and vehicles you can expect to be there. But if you do decide to drive, you can park at the nearby Suntec City, Millenia Walk or Marina Square car parks.
However, we suggest using public transport instead. Further supplementing this suggestion is the extension of MRT operating hours on race days (20 to 22 Sep)!
Additionally, feeder buses services will also be extended to match the last train services. Plus, there will also be free shuttle buses between Lavendar MRT station and Gate 1 of the circuit park on race days. The shuttle bus service will run from 2.30pm to 12.30am on 20 and 21 Sep, and from 3.30pm and 12.45am on 22 Sep.
People also liked:

TOP 5 HYBRID CARS FOR PRIVATE HIRE DRIVERS
HOW TO BE A GRAB CAR DRIVER IN SINGAPORE
4 WAYS CAR SUBSCRIPTION IS BETTER THAN CAR OWNERSHIP