Connecticut is a smaller state in the North-eastern corner of America. Located just north of New York, this state experience moderately cooler temperatures. With a large coastal access, it gives way to beautiful beaches and views of the Atlantic Ocean. With roughly 90-125cm of snowfall a year you can expect subfreezing temperatures in the winter (roughly -3 degrees Celsius) and hot humid summers between 32 and 38 degrees. A mere 3.591 million people call Connecticut home making it a less populated state that packs a punch. Hartford is the state's capital city located in the north.
We recommend starting your trip in the south west corner of the state where you will find nicer weather and many beaches.
Stamford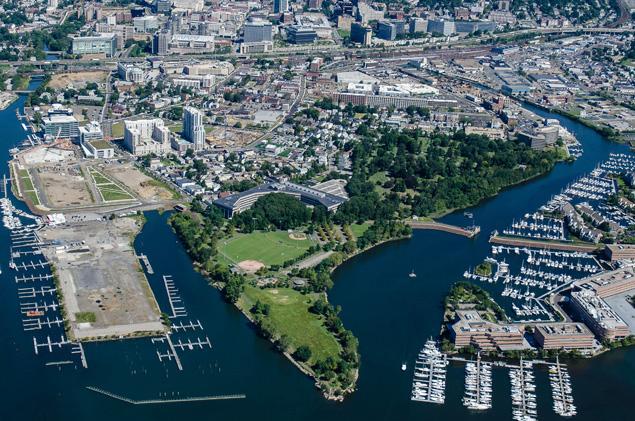 This city is close to the New York state border and only a short 64km drive from New York City. With lots of cities close by, this is the place to go for a natural escape into some beautiful coastlines. An excellent place to visit in the spring and summer, Stamford is a great place to go for a hike during the day and visit any number of the bars and clubs when night falls. A stop at the Stamford Museum and Nature Centre will give you a chance to stretch your legs while taking a beautiful forest walks. Cove Island Park is a great place to take photos and go for a walk on the boardwalk. Also, be sure to visit the wildlife sanctuary where you can learn about all the marine animals that have been saved in the area. Afterwards, relax and take a tour of the brewery at night-time for a laid-back experience.
From here you can head east to the larger, more bustling city of Bridgeport.
Bridgeport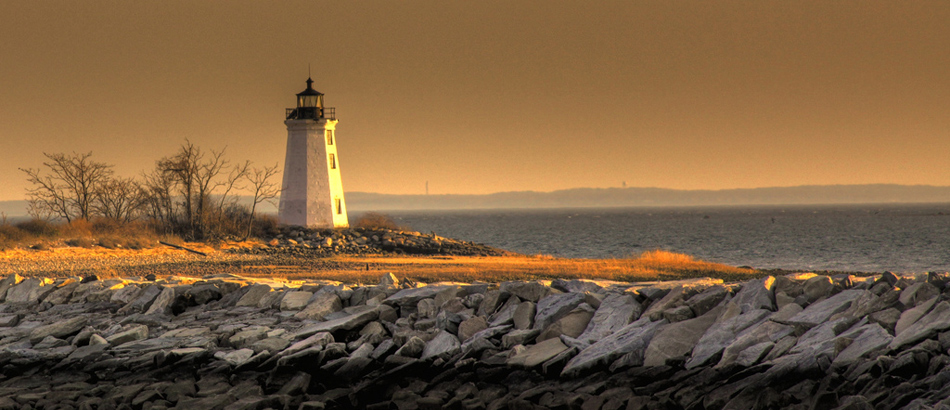 This city is a major seaport for the state but also has some pristine beaches. Taking a trip to Seaside Park is a must – you will find over 5km of sandy beaches leading you to the cold Atlantic waters. This is very welcomed in the summer months when temperatures in this area reach 38 degrees. Take a tour through the city for some great shopping and excellent beach restaurants.
Next, a short drive east will take you to the ever popular coastal city of New Haven.
New Haven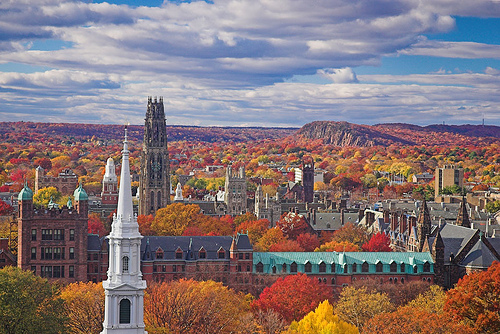 This city is a big one to visit for just about everyone. From scenic forests to arguably the most prestigious Ivy League in America, New Haven is home to it all. This town has a largely young population because of the university and therefore has a lot of life. A trip to the Knights of Columbus Museum will give you an interesting and informative look into history. Home to many bars and a thriving nightlife, there is much to do here.
Connecticut is home to one of America's most prestigious Ivy Leagues, Yale University. A trip to this city wouldn't be complete without taking a tour through the old historic buildings at this famous campus.
Close to the water there is an excellent place to go when travelling with kids called It Adventure Ropes Course. This will give kids a place to get their energy out as well as testing the limits for thrill seekers. Not just a kids' activity, this can be a great bonding activity for the whole family.
Located 13km north of New Haven you will find Sleeping Giants State Park. This is a must see for any nature lover. With over 48km of hiking trails and some impressive cliff structures, including one that looks like sleeping human, this is a great escape from the city.
After you have spent the time to thoroughly explore this city, travel further east for a trip to the city of New London.
New London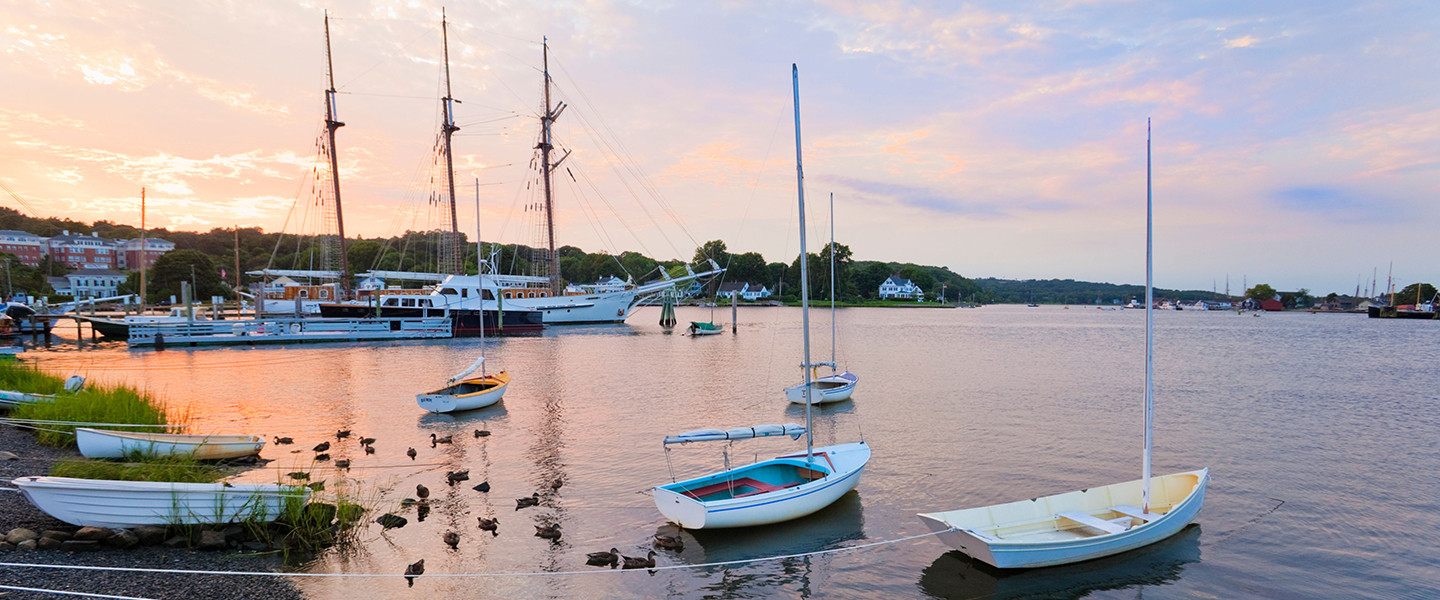 This stop marks your last coastal town before heading north within the state. Take advantage of the beaches in this area as well as the rich culture that resides here. This smaller city is home to many museums and historical societies that are incredibly enjoyable to visit.
A short drive east will take you to the small town of Mystic, an area well worth the visit. A beautiful aquarium and nature centre make this town an excellent visit for the whole family. For a more relaxing experience try a trip to one of the many beaches or take a romantic sunset cruise with the Argia Mystic Cruises.
From here you can head north to the state capital of Hartford.
Hartford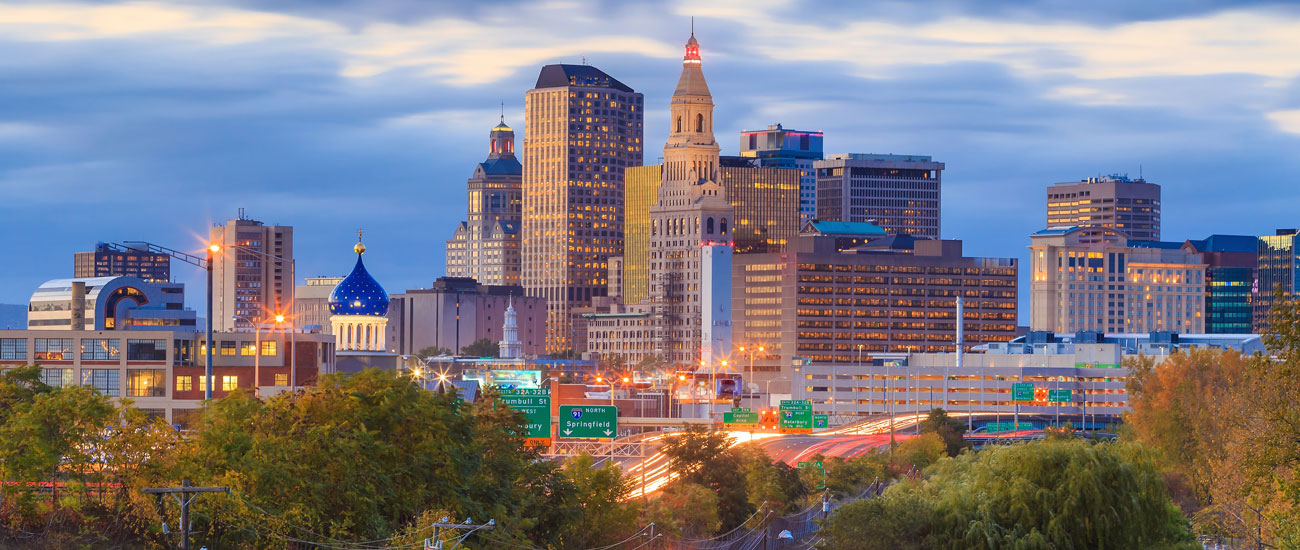 The capital city in Connecticut, Hartford is beautifully located around the Connecticut river giving the city a beautiful view. For those who enjoy a good read, a visit to the Mark Twain House and Museum will show you the birthplace of the infamous Tom Sawyer and Huck Fin.
Another surrounding city to see in this area is Middletown located just south of Hartford. Here you will find the beautiful Wadsworth Falls State Park where you can take a dip in the many swimming pools, waterfalls and rivers.