Test Drives
Mazda 3: Hottest Look From Mazda's Compact Sedans
Ever since Mazda started cutting ties with its former stakeholder, Ford, things started to look up for the renowned Japanese manufacturer. One of the brightest examples is the new Mazda 3 which is the third and the best yet generation of the compact middle-class model.  New Mazda 3 comes as a 5 door hatchback and a practical 4 door sedan, and for you, we are reviewing this newcomer in the highly competitive market segment.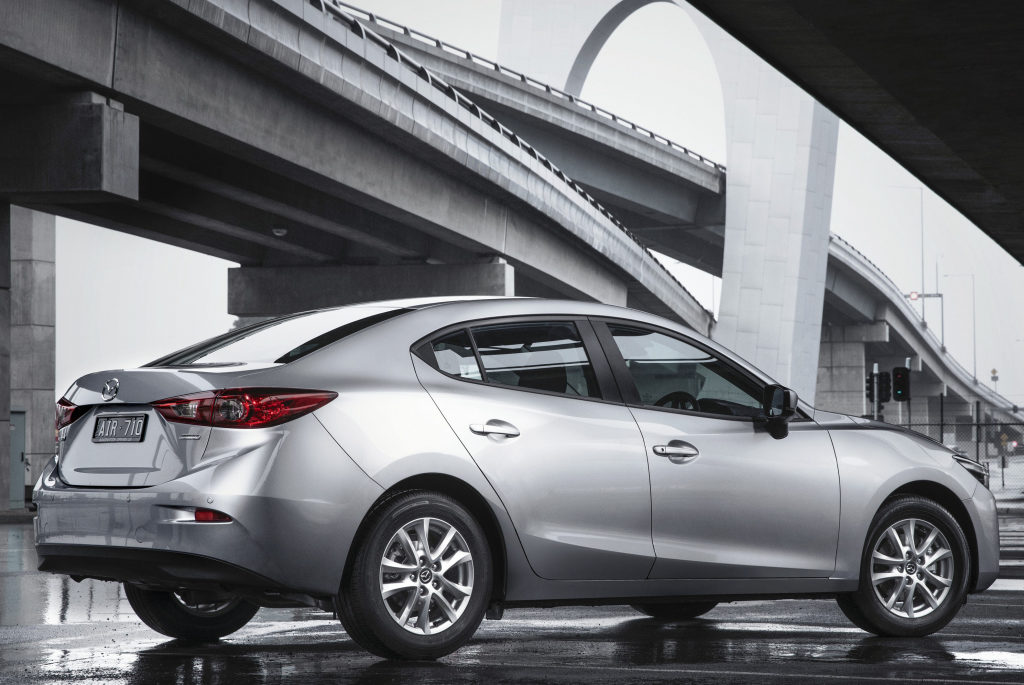 At A Glance
Upside:
Downside:
Lack of torque
No manual option
Standard equipment could be better
Design: 5.0 / 5.0
We have to admit that the new Mazda  looks amazing in both forms, with an elegant yet aggressive front end and a low silhouette. Often the sedan offerings of models that are mainly designed as a hatchback might not look as good but this is not the case for Mazda 3. Looking at the new design as a whole, the Mazda designers have put in tremendous effort in the details of the front grille and headlights. In general, the Mazda 3 Sedan resembles a bigger Mazda 6, of the most beautiful models in its class.
Engine And Drive Train: 4.0 / 5.0
The new Mazda 3 Sedan is offered with two engines and one transmission type. The engines are both gasoline powered with direct injection technology and double overhead camshaft design. The smaller one is 1.5-liter displacement with 120 bhp and 150 Nm of torque and the bigger is 2.0 liters with 165 bhp and 210 Nm of torque. Power levels of those two engines are decent and with a 6-speed automatic transmission (no manual transmission is available), the new Mazda 3 has very solid performance. Fuel consumption averages about a good 5.7 to 5.9 liters in combined driving conditions.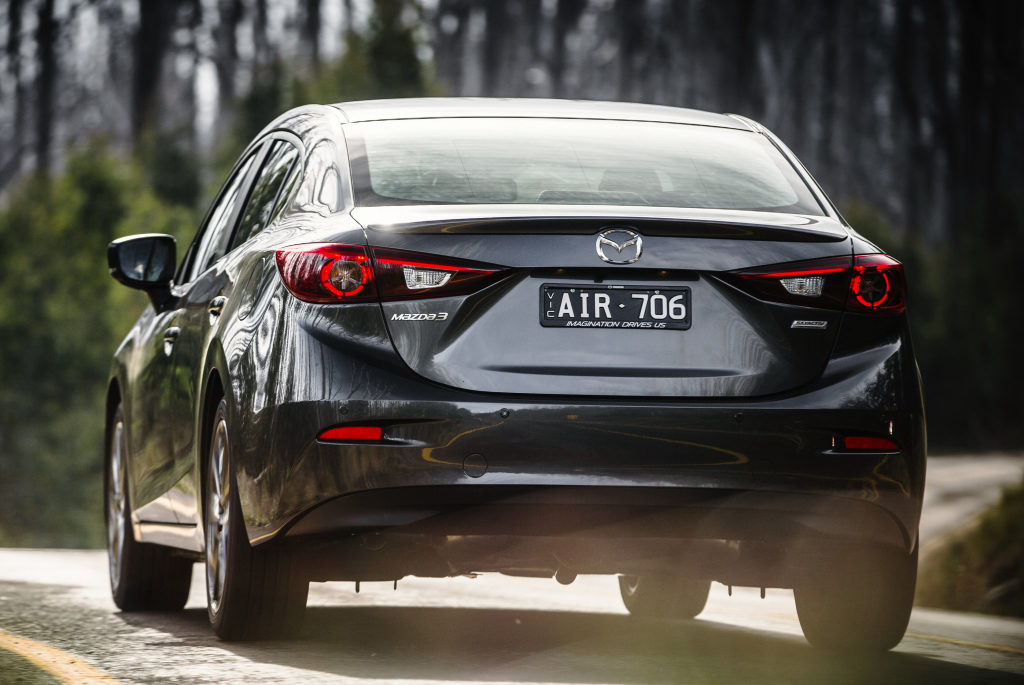 Trim Levels: 3.0 / 5.0
Mazda offered three distinctive trim levels for new sedan in Singapore's market. The base one is Standard which will give you enough equipment such as leather steering wheel, Bluetooth, dual zone AC and a sunroof. The next level is Deluxe which will add LED headlights, 7-inch color display on the dashboard, and rear parking sensors. The highest trim level, Sport, is only available on the 2.0-liter version and will include bigger wheels, paddle shifts on the steering wheel and leather interior. All versions are available in a choice of 9 colors.
Performance: 3.0 / 5.0
Mazda 3 Sedan is capable of accelerating to 100 km/h in 11.7 seconds with the smaller 1.5 engine and 8.9 seconds with the bigger 2.0-liter unit. The interesting thing to know is that the sedan version is even slightly faster in 0-100 km/h than the hatchback. However, despite the numbers and the power output, both of these new Sky Active engines lack torque and the car will not deliver as strong punch as expected, and you will have to rev it high in order to get the most of it. This is not a performance car by any means, but its power is amazingly outstanding.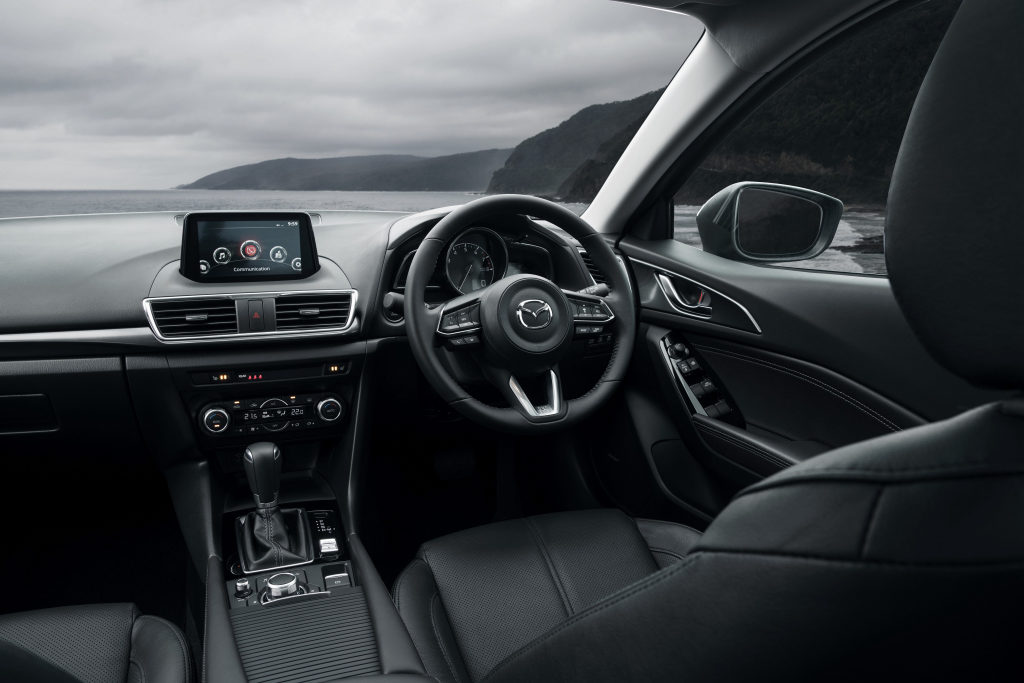 Safety: 4.0 / 5.0
The base standard trim level gives you two airbags, but other two offer 4 airbags with side skirt protection. The good thing is that all the models have Traction Control System (TCS) and Dynamic Stability Control (DSC) as standard and that really helps in complicated driving conditions.
Conclusion: 4.0 / 5.0
The new Mazda 3 Sedan is a nice addition to the very crowded mid-class compact segment. Battling the European, Korean and Japanese competitors on Singapore's market, Mazda 3 Sedan offers its customers a fresh and beautiful body, nicely trimmed interior and decent performance at an affordable price. However, there are some things that could be better like more torque from the engines and slightly better standard equipment, but the overall experience is good and the 3 Sedan is one of the best offerings on the market for people who appreciate good design and modern technology.