Trending
COVID-19 Circuit Breaker: Important Information for Car Owners
With the COVID-19 Circuit Breaker measures in full force from 7 April 2020 to 4 May 2020 and putting Singapore in "lockdown", what does it mean for car owners in Singapore?
Due to the Circuit Breaker regulations set out, there are a lot of changes that will take place which will affect car owners islandwide. These include COE bidding exercise to road tax renewal, ERP charges and more.
So, to keep you informed, here's a guide of important information every car owner should know.
OneMotoring Services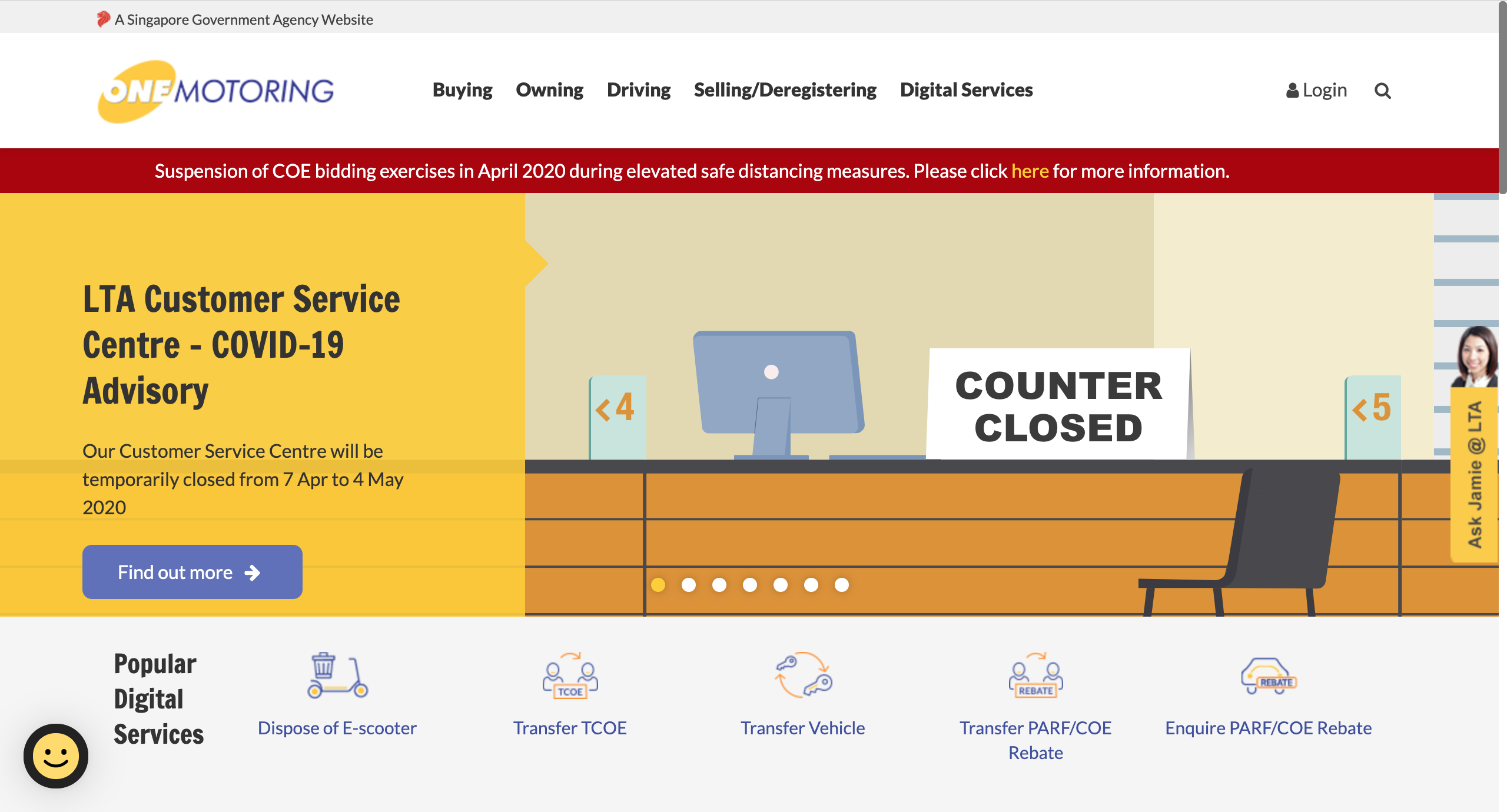 One of the Circuit Breaker's rules is that only essential services will remain open during this "lockdown" period. So, non-essential services like the Land Transport Authority's (LTA) Customer Service Centres and e-Lobbies at Sing Ming Drive will not be open till 5 May 2020. Luckily, LTA's services are still accessible through the OneMotoring website.
So, you'll still be able to access services like vehicle deregistration, transfer of vehicle ownership and pay for traffic fines among a slew of other services.
ERP
Following the announcement of the Circuit Breaker measures, LTA announced that charges at ERP gantries islandwide will be suspended. This is due to the expectations of significantly lower traffic volume due to the elevated set of safe distancing measures announced.
The suspension of ERP charges will take place from 7 April to 4 May 2020, and will resume on 5 May 2020.
Car Loans and Deferment of Instalments
As loan providers are deemed to be non-essential services, these companies will be closed during this period. However, loan applications will still be accepted as long as these companies offer digital services.
For instance, our sister company, Genie Financial Services, will still be operating online.
As for your car loan instalments, there's no official news from the Monetary Authority of Singapore as to whether these payments will be deferred. We recommend checking with your loan provider on whether these instalments will be deferred.
COE Renewal & Bidding Exercise
LTA has announced that April's COE tenders will be suspended, meaning there's no bidding exercise throughout the entire month. As such, you won't be able to register a new car until the next exercise in May.
However, you can still register a new vehicle if the dealership already has temporary certificates (TCOE) on hand.
If your COE has expired, you won't be able to renew your COE because there are no bidding exercises taking place this month.
An important point to remember is that the law still applies, no matter the circumstances. So, don't drive your car if your COE has expired as it is against the law.
Vehicle Deregistration
If your COE has expired or is expiring soon and don't intend on renewing the COE, you are required to deregister your car. But, can you still do it during this period?
The short answer is yes, you can still deregister your car through OneMotoring. However, as all LTA-authorised scrapyards, Export Processing Zones and other exporters are closed, you won't be able to dispose your vehicle.
As such, LTA has provided an extension for disposal of vehicles by 2 months. Previously, you had to dispose your vehicle within a month.
Vehicle Inspection
If your private car is due for inspection, the routine inspection will be deferred. But do note that you must do the inspection immediately after the measures have been lifted.
Also, vehicles that fall under certain categories are still required to go for their periodic inspections. Authorised Inspection Centres will remain open to facilitate the inspection for these vehicles:
Goods Vehicles
Buses
Taxis
Private Hire Cars
Motorcycles
For Off-Peak Cars, the annual seal inspection will be waived until after these measures have been lifted.
Road Tax & Insurance
Typically, if your private car is due for inspection, you can only renew your road tax after sending it to an Authorised Inspection Centre. However, LTA will allow a renewal of 6 months for private cars as long as you have valid insurance coverage.
You can do the road tax renewal on OneMotoring. Please remember that it is an offence to keep or drive your car without a valid road tax. This offence might cost you up to $2,000!
As for car insurance, there will be no disruptions to the process. So, you can still renew or purchase your car insurance conveniently in the comfort of your homes.
Car Workshop Services
As long as a car workshop has applied for exemption, they can remain open. However, only essential and emergency repair services will be rendered. Routine servicing and cosmetic-related works will not be allowed.
Additionally, car workshops will be required to practice safe distancing measures to ensure the safety of everyone present. So, walk-ins won't be entertained. You'll be required to make an appointment before coming down.
If you require essential and emergency car repair services, our CARRO Workshop will be open to assist you. Please remember to book an appointment before making your way there.
How About CARRO?
Abiding by the new measures rolled out, CARRO's showroom will only resume operations on 5 May 2020. However, our operations are still ongoing online! Do check out the CARRO website to find out more.
Similarly, Genie Financial Services will still be operating online. So, if you require any help with financing or insurance, don't hesitate to contact Genie!