The COE Bidding Results (9 Oct 2019) are in and COE premiums closed HIGHER across the board! Find out the final prices below.
COE Bidding Results (9 Oct 2019)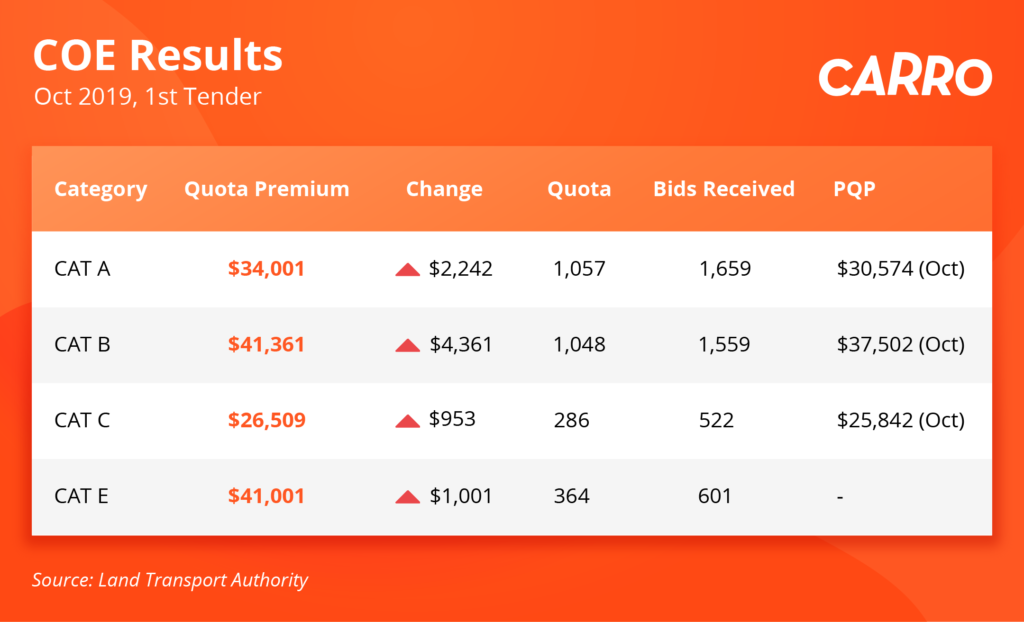 For Category A cars, or those 1,600cc and below with horsepower not exceeding 130bhp, premiums closed at $34,001, up from $31,759 in the last exercise.
Also rising were premiums for larger and more powerful cars in Category B. These premiums closed at $41,361, up from $37,000.
Additionally, open category COEs rose to $41,001 from $40,000. Premiums in this category can be used for any vehicle type but end up being used mainly for large cars.
COEs for commercial vehicles, which include goods vehicles and buses, rose to $26,509 from $25,556 in the previous bidding exercise.
There were a total of 5,377 bids received, but only a quota of 3,520 COEs available.
People also liked: 

5 PAIN POINTS OF CAR OWNERSHIP FOR EXPATS IN SINGAPORE 
4 WAYS CAR SUBSCRIPTION IS BETTER THAN CAR OWNERSHIP PROS AND CONS OF 
CAR SUBSCRIPTIONS 
WHAT'S THE DIFFERENCE BETWEEN LEASING AND CAR SUBSCRIPTION?