In the latest round of COE Bidding Results (20 March 2019), premiums across all categories closed higher! Check out the prices below.
COE Bidding Results (20 March 2019)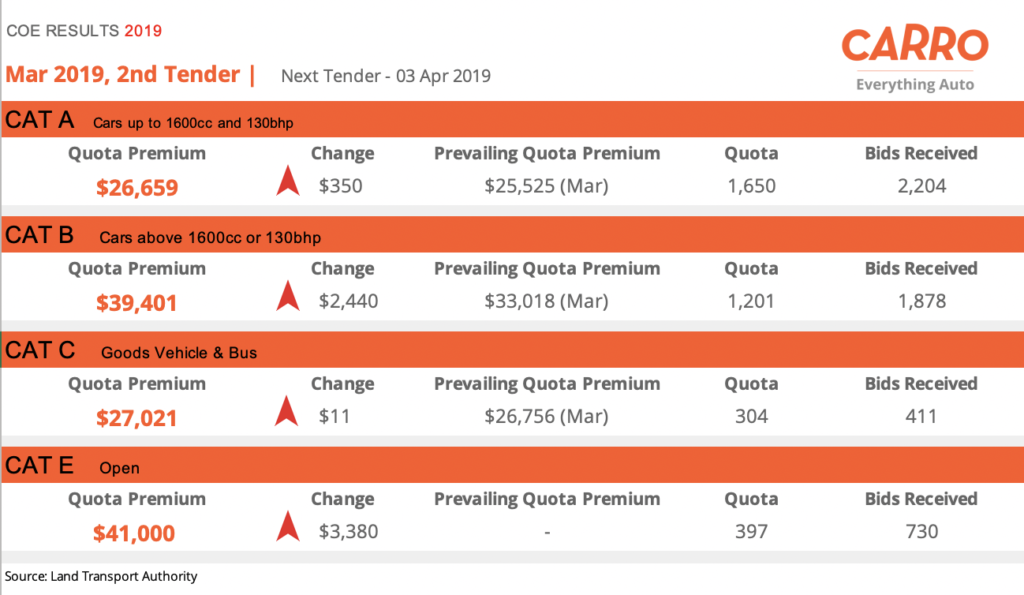 Cars in Category A closed at $26,659, up from $26,309 in the last exercise. COE premiums in this category are meant for cars 1,600cc and below with horsepower not exceeding 130bhp.
Following the upward trend, premiums for larger and more powerful cars in Category B rose to $39,401 from $36,961.
The biggest increase came in the Open category COEs. In the last exercise, premiums in this category closed at $37,620. However, for the COE Bidding Results (20 March 2019), it closed at $41,000!
A total of 6,262 bids were received but only a quota of 4,386 COEs available.
Over the past few bidding exercises, we've seen an upward trend. Is it going to continue going up? Or will it go back down? Only time will tell!
Check out the full list of prices here.
People also liked:

10 THINGS YOU MUST KNOW BEFORE YOU RENEW YOUR COE
WHICH IS BETTER; CAR WRAPPING OR SPRAY PAINTING?
HOW TO MAKE YOUR CAR SELLING EXPERIENCE EASY?