Different types of cars at different phases of your life. Although many say it's hard to get a car in Singapore, I will say that it is actually possible to own a car at the different points in your life, just that it depends on what car is it. It is also amusing how a certain age group will have a certain type of car, something similar to a car stereotype in that sense. Only at Carro, you can get a higher end car with a smaller budget! Shall we begin?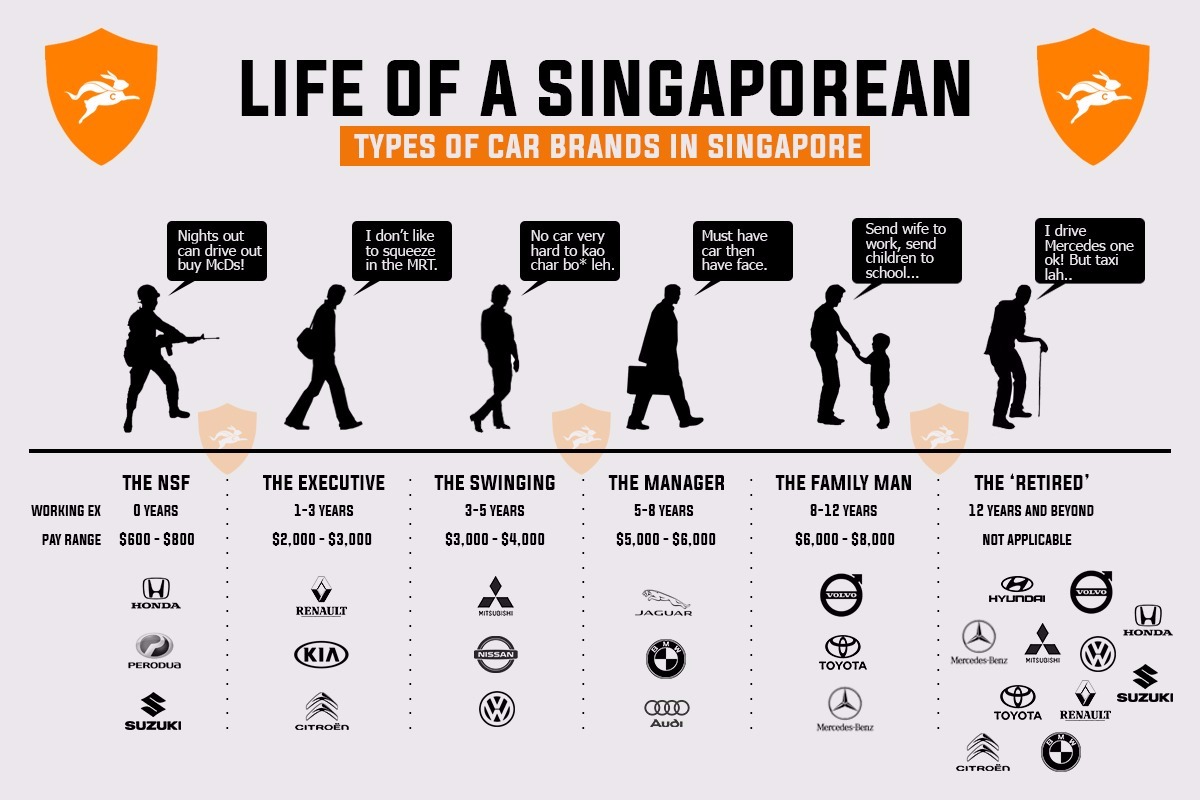 The NSF
$600-$800. How to buy car!! Don't be so ambitious and start small first. With a little planning and being a little more stingy with your money, you can get a Honda or maybe even a Suzuki. It is possible to satisfy your midnight drive to get McDonald's after booking out.
Don't be disheartened. With a small budget, you can still get your next car reasonably. Only here at Carro! Here are some recommended buys:


The Executive
There is no denying that entering the workforce can take a huge toll on you. Not only do we have a battle at our workplace, we enter two other war zones called the morning rush and the after-work rush daily. Most executives who just enter the workforce will then buy a car and for starters, most of them will get the typical Renault, Citroen or Kia. After a hard day at work, they just can't wait to drive home and sleep.
For the price range, you can get the below cars only at Carro:


The Swinging
After settling down at your workplace and getting yourself comfy, the next "thing-to-do" to tick off will be to get a partner. Love is in the air… In order to do so, most people think that they need a car to not only show off but also to bring their dates around for different thrills. Time to impress! The typical cars that are practical and a little showy will be Volkswagen or even Toyota.
With more money at hand, slightly better cars are within your reach! These better cars are only within your budget here at Carro.


The Manager
Now that you have subordinates under you, there is another thing you have to take care of. And no, we are not talking about the team under you. We are talking about your face (your reputation). Yes, with status, most people will try to get a car that speaks volumes about the status they hold, Even if they are not some big shot, they will try to get a luxury car to build up their reputation. Do you spot any BMW or Jaguar in the car park near your workplace? Be careful not to scratch it as it is likely to be your manager's car.
Higher end cars at lower prices at Carro:


The Family Man
At this age and with the money you have saved over the years, you can probably get your next high-end car. However, now that you are settling down with a family, you can no longer fit your entire family in a high-end two-door convertible. Family cars are not cheap either but you need to do what you need to do. Ask any Toyota Wish drivers and you will realise two things: 1) They are married with children. 2) They bought the car to accommodate their family.
Recommended buys at the best prices


The Retired
After drawing out your CPF, you probably have a whole lump sum to get really high-end cars but that is assuming that you are not caught up with paying your own debts or funding your children's education. Even if that is the case, don't fear as with the number of "taxi" transportation services provided (aka the rise of Uber and Grab), you can literally change cars every other year. High-end cars or normal cars, no problem!
Here at Carro, we help you get your dream car at the different phase of your life, at the best prices. Visit carro.sg today!