Electric vehicles. Electric vehicles. Electric vehicles. Haven't we all heard it before? Not quite! Not when it comes to buying one at least! But before we jump into getting an EV, we need to consider what is classified as an electric vehicle.  
What is an Electric Car?
Electric vehicles (EVs) are cars that are powered partly or entirely by electricity and there are 2 different types buyers can choose from — all-electric vehicles (AEVs) and plug-in hybrid electric vehicles (PHEVs).
AEVs depend solely on electricity to power themselves while PHEVs have a dual option of plug-in charging and petrol to power themselves.
PHEVs are different from standard hybrids as standard hybrids cannot be charged. Instead, they derive their electrical power from regenerative braking and their internal combustion engine (ICE). Therefore, standard hybrids are not considered EVs.
Confused about the difference between AEVs and PHEVs? Here's a simple table breaking down their benefits and features. 
AEV
PHEV
Engine(s)
Only electric motor
Combustion and electric motor
Range
Shorter
Longer due to its gas option
Flexibility
Less

Reliant on charging only

More

Access to both gas and electricity. Drivers will have more power options.

Maintenance
Not as frequent as ICE engines if needed at all.
Needed for ICE engine. The older it gets, the more maintenance it needs.
Rebates and incentives
Eligible
Not eligible for all benefits
Eco-friendliness
Yes*
Not as eco-friendly
*if the source of electricity is from renewable resources
4 Reasons Why You Should Buy an Electric Car
Besides doing your part in saving the environment and feeling better about it (although that might not always be the case), in practical terms, you'll see long-term savings!
1. Costs of electricity vs petrol 
Electricity is definitely the winner here, hands down!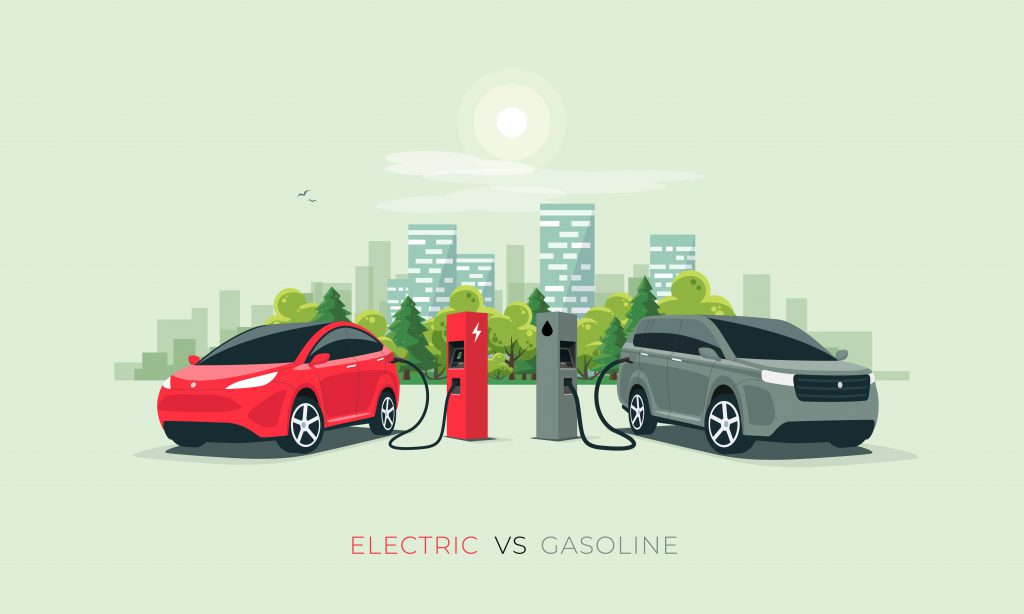 In fact, according to a 2018 study, it costs roughly half as much to power an EV compared to an ICE car. Exact figures may vary due to the differences in electrical costs with our Open Electricity Market and fuel prices deferring from petrol stations.
However, overall, you'll still net in savings!
A quick check on several EV car sites will also inform you of how much you'll save by driving the particular EV you choose. Also, even if you can't afford the luxury of having an EV charger installed in your home, charging stations will still be vastly cheaper than pumping petrol across the span of 10 years.
2. Lower maintenance cost
Maintenance is an important and expensive cost to keep your car running smoothly. That's if you own an ICE car!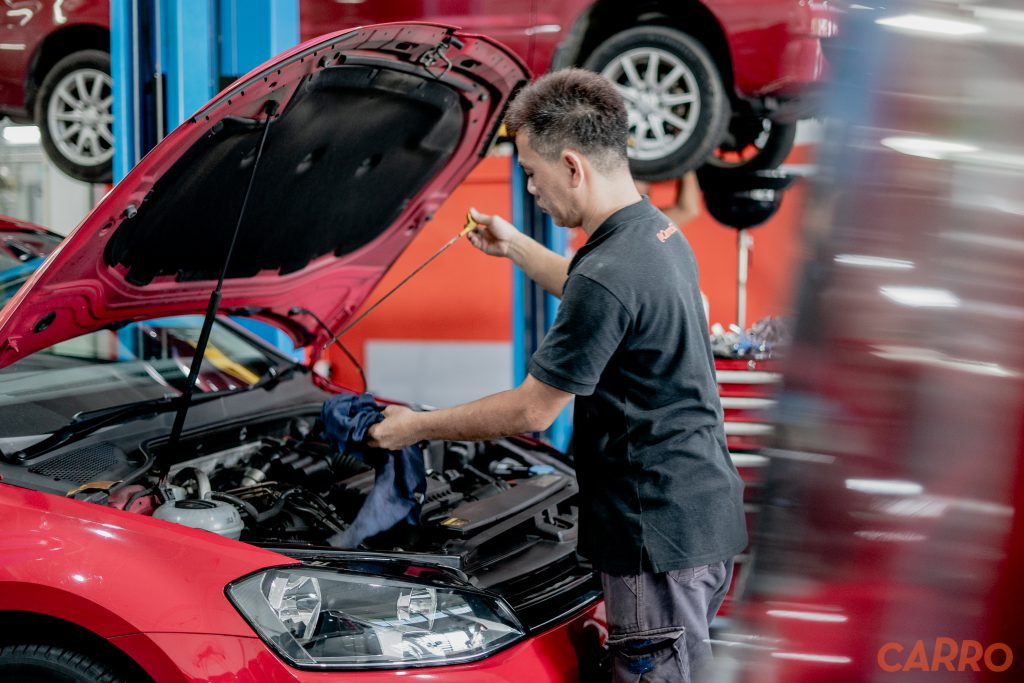 Fortunately for EVs, they come without the complicated parts of an ICE engine. Instead, they have their huge battery pack to power the electric engine and that's the only "engine part" you'll need to replace if necessary.
It's noted to be expensive to replace but with many car companies making battery warranty a standard in the industry, with many offering warranties for 6 – 10 years, you won't be slapped with a $10,000 battery replacement fee anytime soon.
So… say goodbye to regular visits to your car workshop that'll cost a bomb!
 3.
No ICE cars by 2040 
With the deadline set for the phasing out of ICE vehicles, Singapore is serious in its stance to push for EVs to take over the roads. And for the everyday driver, perhaps we should make the shift early before the dealerships get overwhelmed by the demand which could potentially drive prices up!
4. Save money with Government rebates
You've probably heard it before, but Budget 2021 has plenty of perks for EV buyers!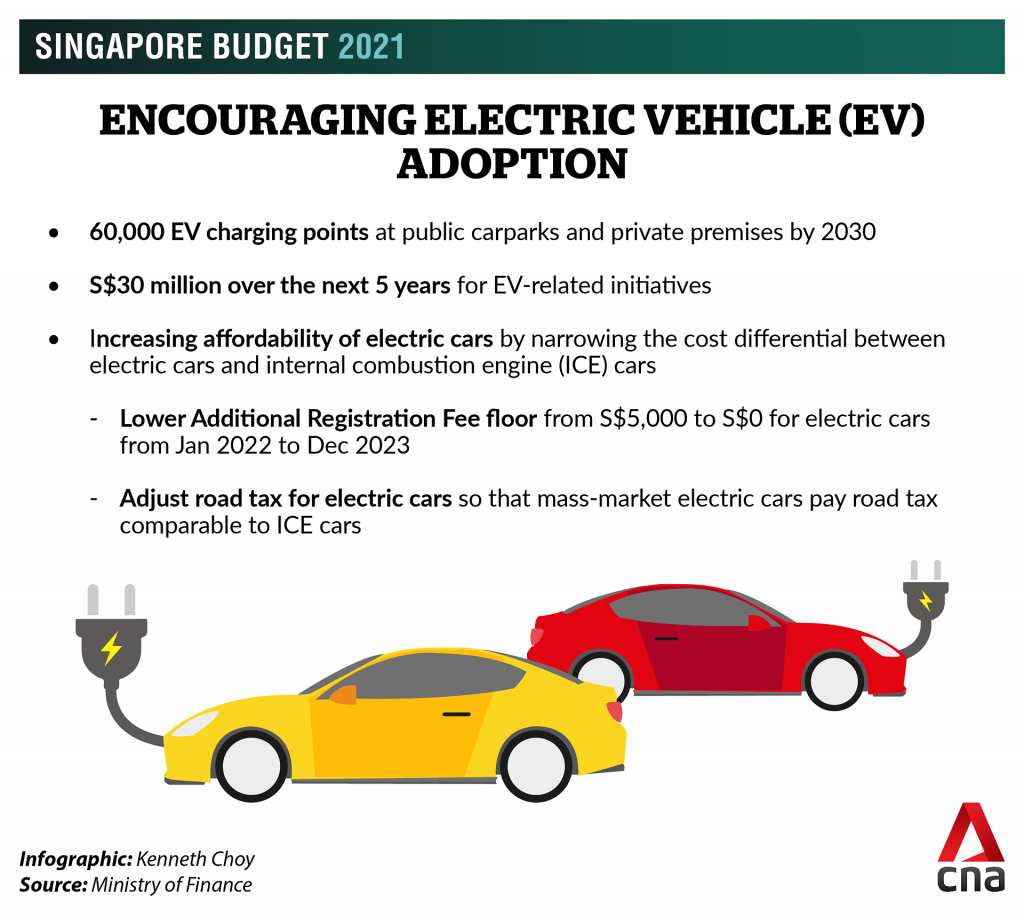 Some of these benefits include no Additional Registration Fee (ARF), a 45% rebate on your ARF for full-electric cars (capped at $45), and a further rebate of $5000 on the Vehicular Emission Scheme (VES)! 
So if your EV qualifies under the A1 band you'll get a total of $25,000. Vehicles under A2 will still enjoy a $15,000 rebate. This will only take place from 1st July 2021, so you might want to buy your EV in the second half of this year to enjoy these benefits!
Which Electric Car to Buy?
Convinced? Then the next step is to consider which model to get! Just like getting a petrol car, it's best to consider your lifestyle and the purpose of your car before narrowing down your choice of models. 
But when it comes to electric cars, there are a few additional points to take note of. In our evaluation criteria, we considered its range and charging rate along with traditional markers such as price, features and functions, and driver experience. 
So here's our pick of the best EV options that are available in Singapore right now! 
Jaguar I-Pace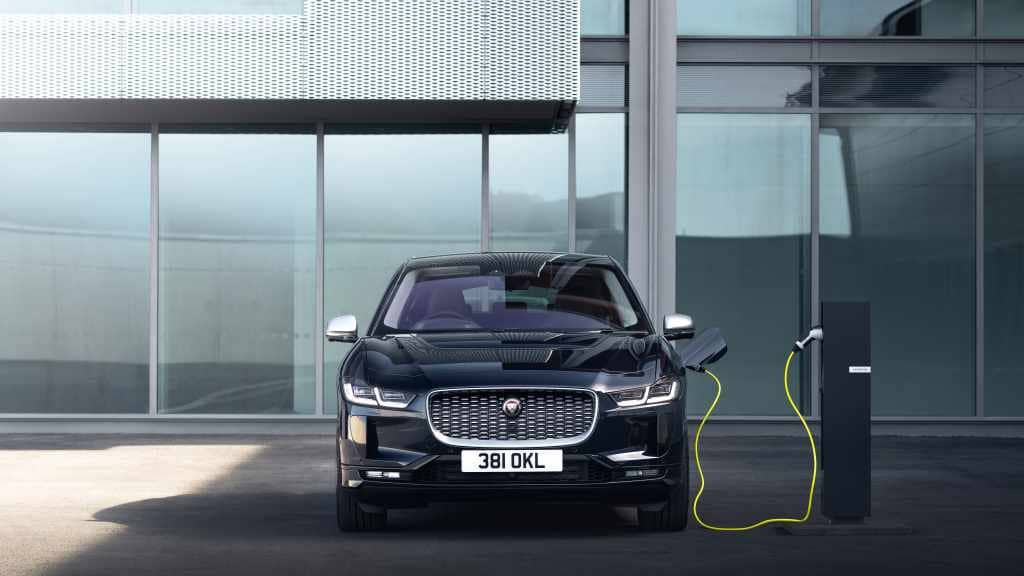 Range
470km
Charging Time
DC Charger 50kW
1.5 hours
DC Charger 100kW
45 mins
Cost
$358,999
Features
Torque vectoring by braking, active air suspension, adaptive dynamics, configurable dynamics, adaptive surface response, all surface progress control, low traction launch, enhanced brake regeneration, heavy traffic braking, heavy traffic braking, heat pump.
Tesla – Model 3 (Performance)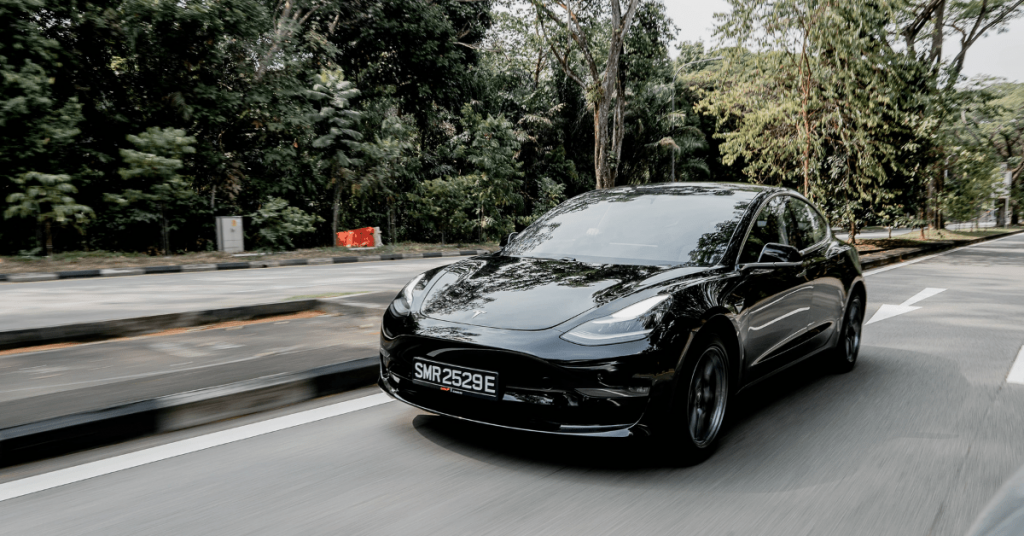 Range
567km
Charging Time
Supercharger
40 mins for 80%
Cost
$154,815
Features
Autopilot, over-the-air updates, wireless charging, all-glass roof, wifi connectivity, voice command, Nextflix, games
MG ZS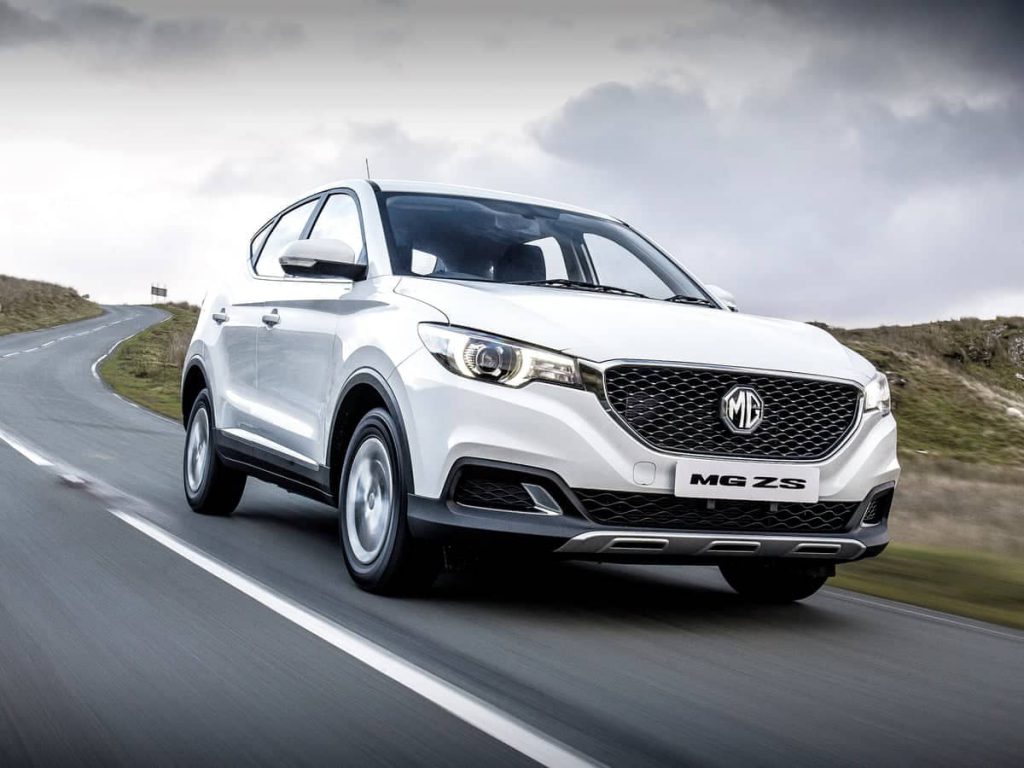 Range
335km
Charging Time
DC Charging
40 mins for 80%
Cost
$116,888
Features
Apple CarPlay and Android Auto, Bluetooth hands-free system, 8" console
Want more options? Check out these electric cars you should look out for this year! 
Where to buy an EV?
Dealerships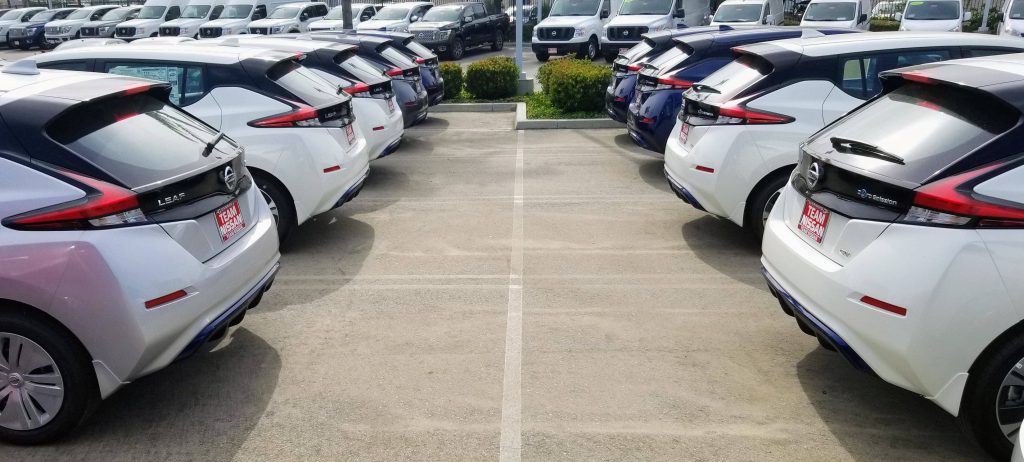 Buying an EV is pretty much the same as buying ICE vehicles! You could just pop into your usual car dealerships, talk to your salesmen and test drive the EV you've been eyeing.
However, there are some dealerships that are better prepared and maybe even 'experts' in EVs. So, do your research!
Buying Online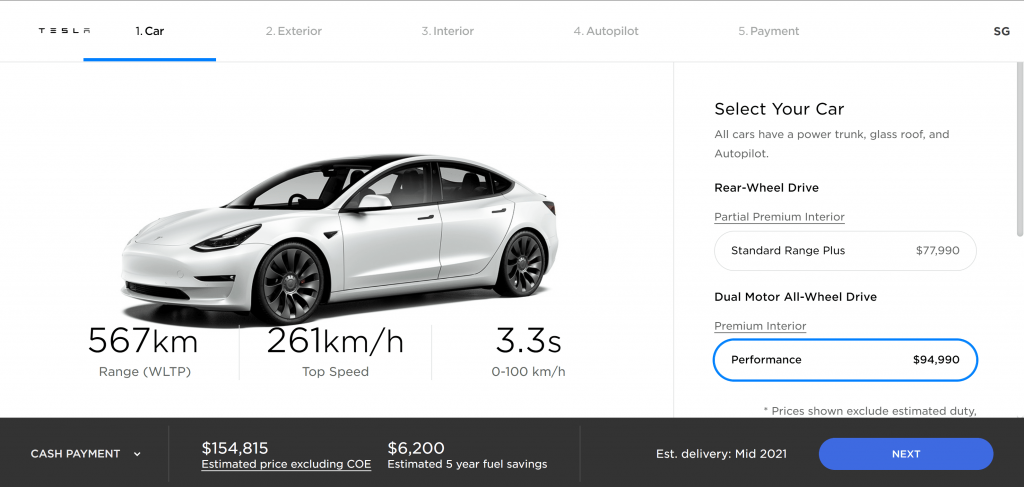 Or if you're buying a Tesla, it's even easier! With Elon Musk swearing off car dealerships, you'll just need to visit the Tesla website and pick your car. You can even customise your model with a few simple clicks and see what it'll look like.
Other car brands are not to be beaten in the online race!
In fact, most established car brands have the option of purchasing their cars online. So if you hate bargaining for the best price or just talking to salesmen in general, you can avoid all that.
And if you're worried about missing out on their all essential test drive, just arrange for one online as well. So you won't have to miss out on trying out the instant acceleration first hand. 
It's basically the same as getting a conventional ICE car!
So… Petrol or Electric?
Costs 
Although EVs come with plenty of savings in terms of petrol, they're still quite costly!
In general, the initial cost of buying an EV (not including the rebates) is higher than a regular ICE car. This is due to the lack of economies of scale which ICE cars definitely enjoy right now.
However, it's important to note that the price of an EV battery is super expensive too. These can cost up to $10,000, and if your EV battery life starts to decrease over time after the warranty is over, replacing it would be painful for your wallet (and your heart)! 
But over time, and with technological advancements, these costs will eventually reduce! To provide a better picture of the situation, here's how a similar ICE compares to an EV in terms of cost. 
Do note that many price lists tend to include the subsidies to the cost of the car, so make sure to read the terms and conditions when calculating how much you'll have to pay for your EV!
| Type of car | ICE | EV | ICE | EV |
| --- | --- | --- | --- | --- |
| Car Model | Mitsubishi Outlander CVT | MG ZS electric | Mazda 3 Hatchback Astina | Renault Zoe |
| Cost of car | $134,999 | $148,888 | $141,888 | $184,999 |
| Fuel cost | $150.57¹ | ≤$15² | $121.89¹ | $22.50² |
| Range | 520KM³ | 335KM | 600KM³ | 367KM |
| ARF | $19,9676 | $0 | $30,829 | $0 |
| VES | $0 (Band b) | $25,000⁴ | $15,000 (Band A2) | $25,000⁴ |
| EEAI | $0 | $11,449⁴ | $0 | $14,376⁴ |
| Road tax | S$314 | $831⁴ | $314 | $306.94⁴ |
¹Assuming petrol price as of 16 march from SPC at $2.39 per litre and a pumping a full tank
²Assuming DC charging with a price of $15/h 
³Assuming city driving conditions 
⁴From 1 January 2022 to 31 December 2023
Not THAT environmentally friendly?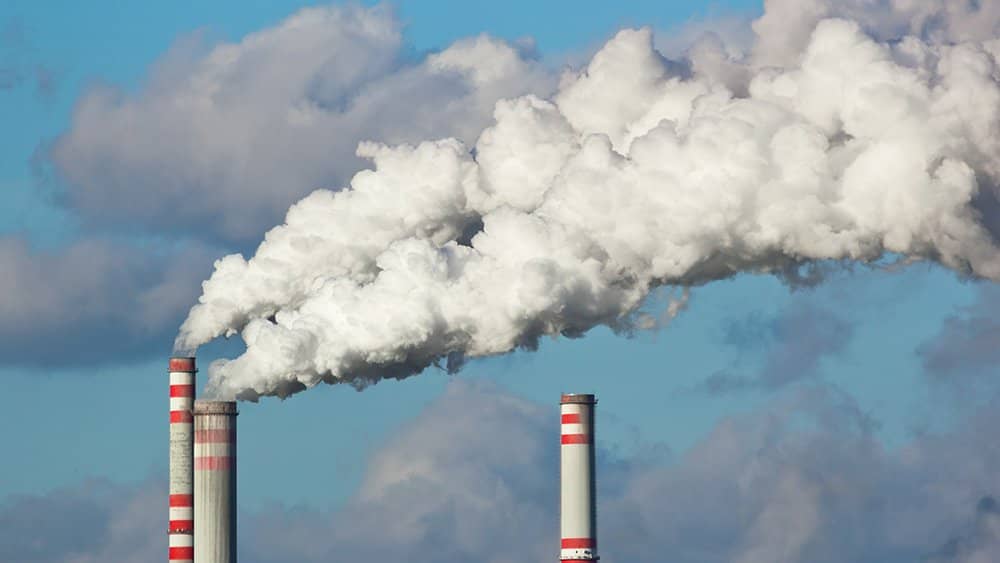 Although the push for electricity-powered cars may seem like a better alternative to ICE cars, Singapore does not get electricity from renewable sources. Instead, we still burn natural gas to generate electricity so it's still polluting the environment.  
Moreover, the life cycle of the EV isn't that great, mining for lithium, the main component in its batteries, is harmful to the environment too. 
Lack of good hard options
The idea of the EV is definitely not new. But in Singapore, we're still warming up to the idea.
Thus, newer and better models are not available here due to the lack of demand. But they are ready for sale in other countries, so it might be better to hold out on buying an EV for now, at least until better options appear on the market!
Models to look out for include the 2021 Hyundai Kona, Renault Zoe 5.0 battery, and Tesla's Model S.
For a more comprehensive list, check out 7 Best Electric Cars to Drive in Singapore and 6 of the Best New Electric Cars Coming in 2021! 
Inadequate charging system
Right now, the charging infrastructure in Singapore is pretty weak. While there are plans in place to solve this, it'll still take some time for these plans to be realised.
And with most of us in HDB flats, overnight charging is practically useless because chargers have to be shared. Although the government is promoting the sharing system, the time taken to charge is longer than pumping up at the gas station. This thus requires more planning and potential queues at these charging spots look to be intimidating when some cars require up to 2 hours for an 80% charge! 
So, buy or don't buy?
If you live in a landed house with access to overnight charging, have plenty of money, just really like electric cars or have the patience to wait at charging stations, by all means, go for it!
But if you don't have any of the above, we don't recommend it, at least not for now! Instead, wait a little longer for the charging infrastructure to be built before jumping into an EV.