Car Bites
BMW & Audi Are Singaporeans' Favourite Car Brands During Circuit Breaker
Over the last two months of the circuit breaker period, there's one thing that many Singaporeans do at home: going online more often than usual. Since groceries and household necessities are what first come to mind when shopping online, it comes as quite a surprise that cars also fall under this category.
Data has shown that the stay-at-home routine did not dampen Singaporeans' enthusiasm in cars. The most popular type of car searched online is SUV, followed by MPV/WGN, Hatchbacks, Sedans, and Coupe.
When it comes to car brands, it seems like Singaporeans' hearts mostly gravitate toward either German or Japanese manufacturers. Out of the top 5 world-renowned car brands with the highest search volume in Singapore, three of them are regarded as the pride of Japan while the other two automobile manufacturers hail from Germany.
German Sibling Rivalry: BMW and Audi Witnessed a Leap in Search Interest
iPrice has taken a look at Google search data and found a prominent surge in searches for BMW by 22%. Its German counterpart and rival, Audi, saw a slightly higher 23% jump between the month of March through April and January through February.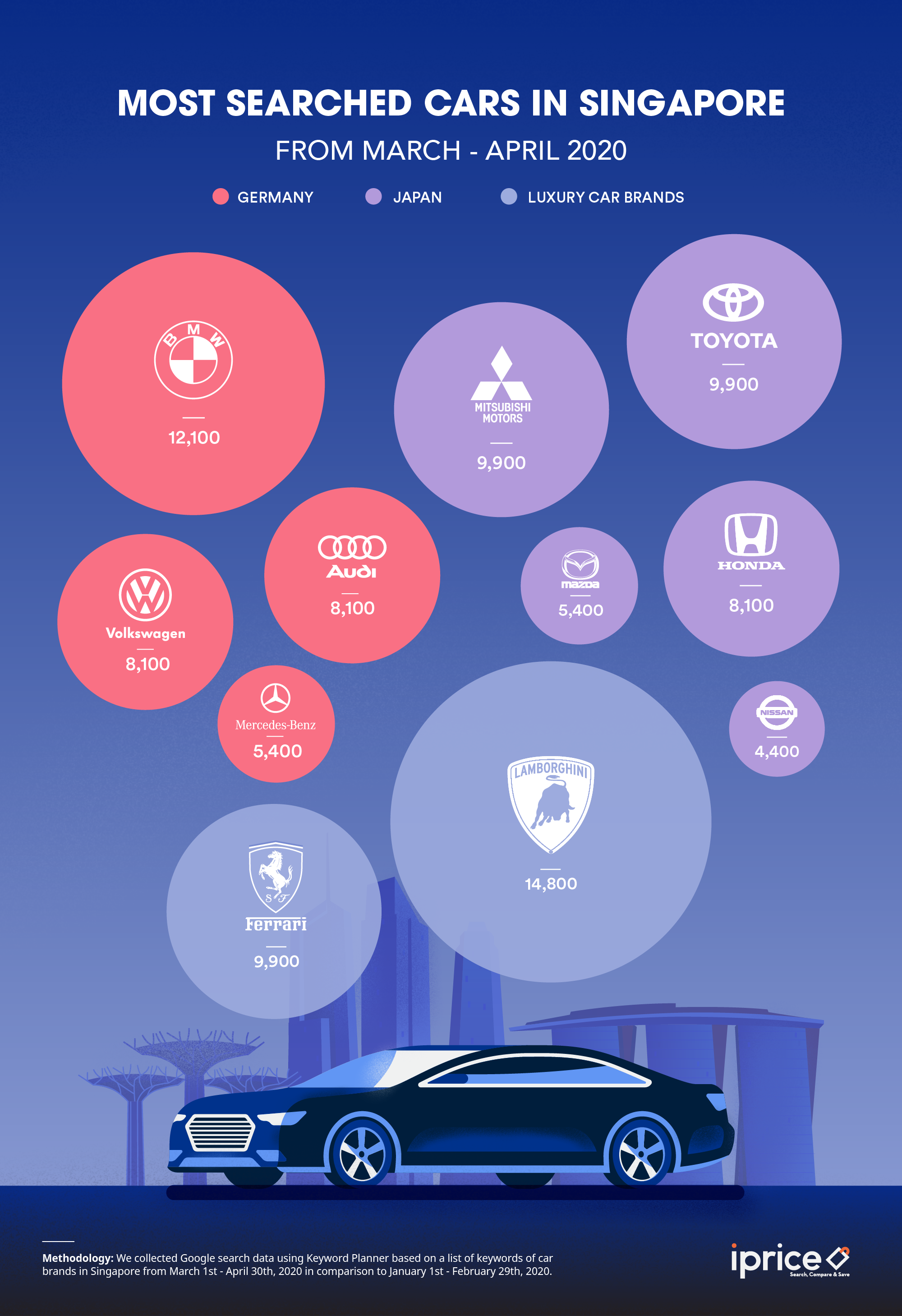 What Made Audi a Trending Topic in Singapore?
This could be attributed to the unveiling of the fourth-generation Audi A3 Sportback on March 3. Equipped with the most advanced technology, the fuel-efficient A3 can save around 0.4 litres of petrol every 100 kilometres driven. Its luxurious interior sports a 10.25-inch digital dash and a 10.1-inch touchscreen display that provides real-time parking availability and traffic light information when connected with external signals or data.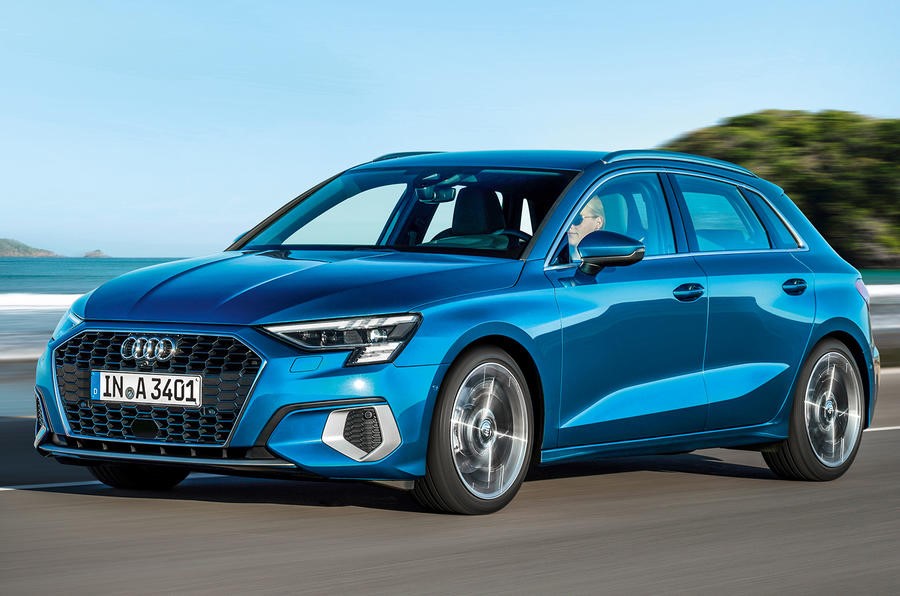 Audi didn't stop there with its new car launch but went on to reveal the saloon variant of the Audi A3 on April 21. Even though this sportier car comes with a dashboard and 7-speed automatic gearbox identical to those of the Sportback variant, it's relatively firm and feels solid when driving over potholes.
Toyota, Mitsubishi & Honda Snag the Runner-Up Spots
While there isn't a significant jump in searches for these three Japanese car brands, they still garnered nationwide attention from March through April. In particular, Toyota and Mitsubishi share a similar search volume of 9,900 during that period of time.
On the other hand, the search volume of Honda is just 1,800 short of the aforementioned brands with 8,100 searches. It's also worth noting that both Honda and Toyota racked up the largest sales in Singapore last year, which explains their perennial popularity in the country.
Lamborghini and Ferrari: Strong Contenders in the Luxury Cars Category
In terms of luxury cars, we make comparisons between Ferrari, Rolls-Royce, Bentley, Lamborghini, Aston Martin, and McLaren. Of these six luxury brands, Lamborghini and Ferrari take the lead in the high search battle. Both sports car manufacturers saw a jump in search by 22% in March through April when compared to January through February.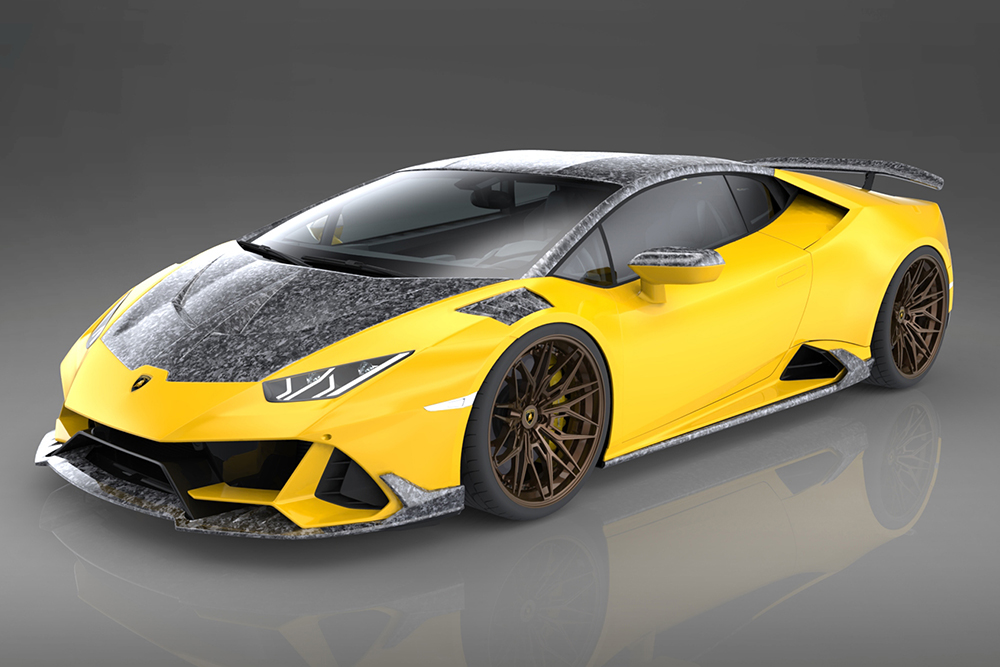 News pertaining to Lamborghini producing surgical masks and face shields circulated at the beginning of April, alongside its launch of the first-ever 100% carbon-fibre Huracan Evo whose material enhances stability at high speeds and its power has been boosted to 650hp.
As for Ferrari, it was announced on April 24 that the Italian-Dutch luxury sports car manufacturer plans to launch two new car models by the end of 2020 upon releasing five models in 2019. Currently, Ferrari is aiming to tap into different segments and produce a car that aligns with the company's position in the market.
Did any of the findings surprise you? Did you search for any of these car brands during the circuit breaker period? Let us know in the comments!
Methodology:
We collected Google search data using Keyword Planner based on a list of keywords of car brands in Singapore from March 1st – April 30th, 2020 in comparison to January 1st – February 29th, 2020.  Data on the type of cars were obtained based on the keywords such as "SUV," "MPV," "WGN," "Hatch," " Sedans," "Coupe."
This article was written by Yen Lyn Goh from iPrice Group.
About iPrice Group
iPrice Group is a meta-search website operating in seven countries across Southeast Asia namely in; Malaysia Singapore, Indonesia, Thailand, Philippines, Vietnam, and Hong Kong. Currently, iPrice compares and catalogues more than 500 million products and receives close to 20 million monthly visits across the region. iPrice currently operates three business lines: price comparison for electronics and health & beauty; product discovery for fashion and home & living; and coupons across all verticals
People also liked:

COVID-19 CIRCUIT BREAKER: IMPORTANT INFORMATION FOR CAR OWNERS
TOP 5 REASONS FOR ACCIDENTS IN SINGAPORE
HOW DO CAR SUBSCRIPTIONS HELP YOU SAVE MONEY