As a first-time car buyer, it's likely that you won't be able to afford an expensive car or have buckets of cash lying around. Therefore, the two things that you'll be looking at when buying a car is low downpayment and low monthly instalment.
While it's close to impossible to lower your downpayment, you can lower your monthly instalments through Balloon Scheme Financing!
What is Balloon Scheme Financing?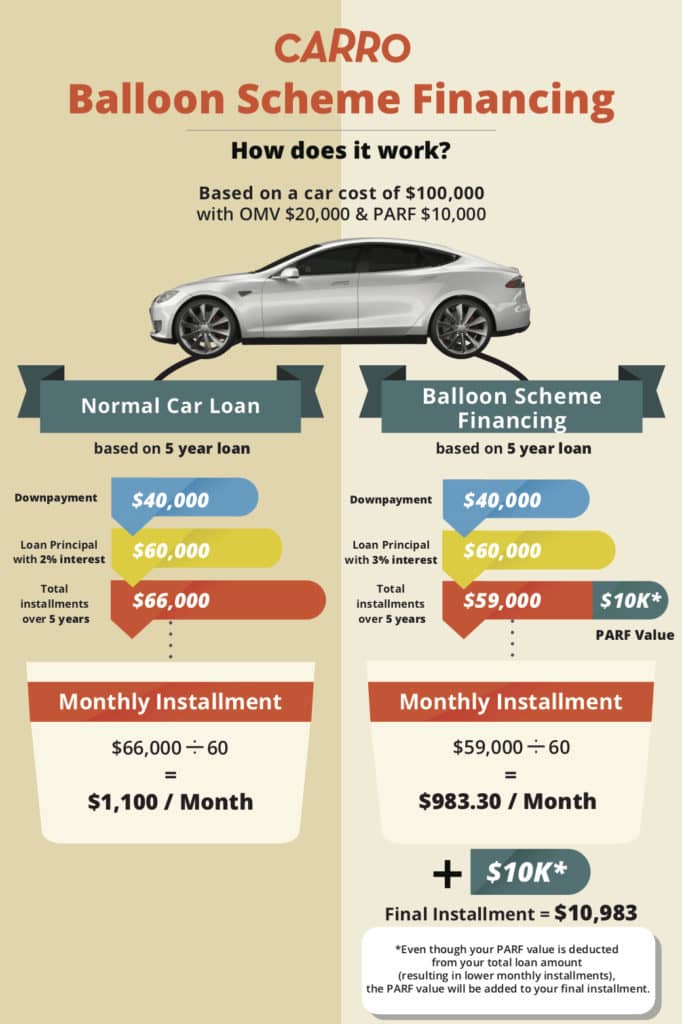 Balloon scheme financing is basically a loan on the car's price without the car's PARF value but at a higher interest rate. The amount is then divided into your monthly instalments. This will then result in a lower monthly instalment. However, your PARF still has to be paid which will be collected at the end of the loan tenure.
To better understand the scheme, here's an example of how the calculations work.
Take a car with a PARF value of $10,000 and costs $100,000 brand new. In a balloon scheme, at an interest rate of 3.78%, after paying the 40% downpayment and deducting the PARF value, your monthly instalments will amount to $1,022. This means that your total loan amount, including interest, will amount to $61,340.
However, there's a catch. Your PARF value that was deducted will be included in your final instalment! See below for the difference between a normal car loan and balloon scheme financing.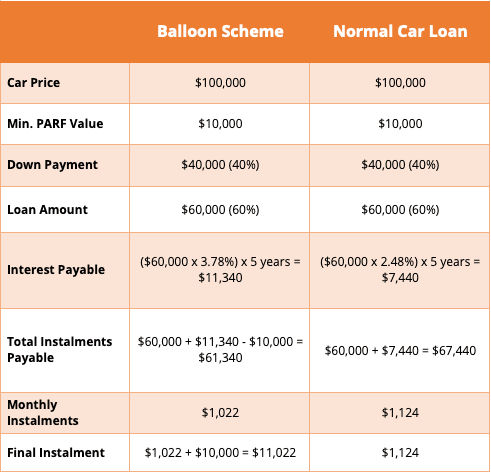 Many people think that balloon scheme financing is more worthwhile. However, the benefits are mostly in the present. With the higher interest rate and PARF value payment at the end, it's going to be quite a strain on your pockets when you need to fork out a five-figure sum.
Additionally, you'll incur a much higher penalty for repayment. Which forces you to stick with the car until the end of its 10-year tenure.
While it seems like you shouldn't take up balloon scheme financing for your car, there are some benefits to it.
Benefits of Balloon Scheme Financing
Besides the lower monthly payments, balloon scheme financing has some benefits. These benefits are especially useful for first-time car buyers.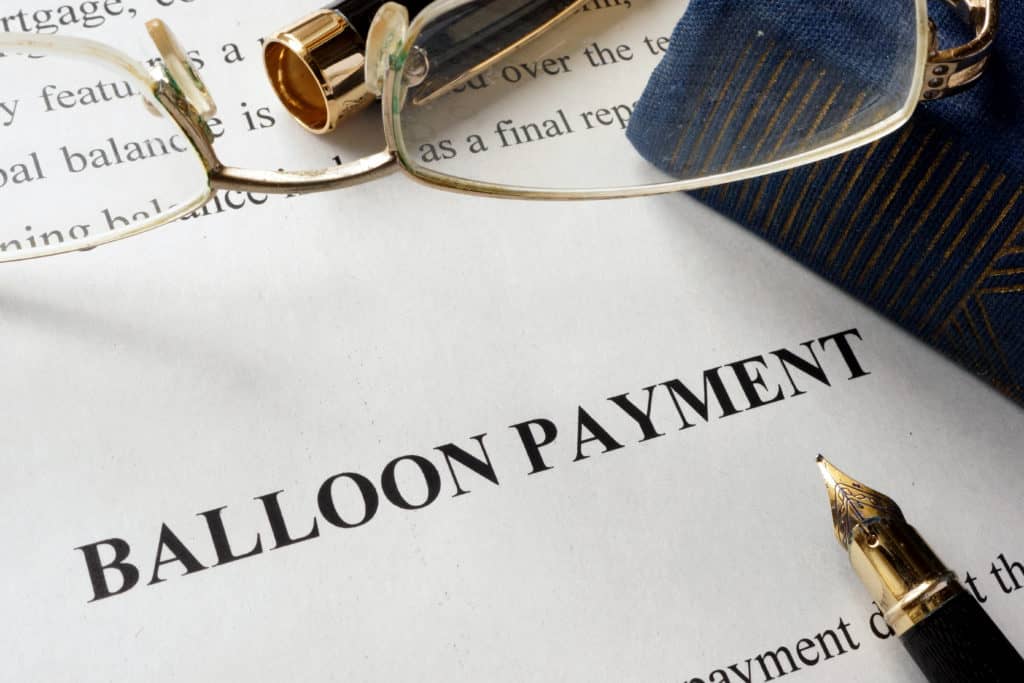 1. Time
With lower monthly repayments, it gives you more time to save and pay off the entire debt at the end. This would be ideal for a first-time car buyer that has just started working because it's likely that the buyer won't be earning a lot and his salary will go up over the years.
2. More Cash
Through the balloon scheme financing, you'll have more money for your other commitments. The lower monthly repayments leave you with more cash which can be used for your other payments or investments.
3. Better Car
The main advantage of balloon scheme financing is the lower monthly repayments. This means that you're more likely to be able to afford something out of your price range. Whether this is actually a benefit is up to speculation, but with this scheme, it's easier for you to 'afford' a higher-end car.
4. 1 Car for 10 Years
Getting the balloon scheme financing is more worthwhile if you're 100% sure that you're going to stick to this one car throughout the tenure. This is because the PARF value you get back from the government will help you pay off the final instalment. But you'll definitely lose out if you decide to sell your car before the 10 years.
But like everything in life, it's not all rainbows and butterflies. Check out the dangers of balloon scheme financing below.
Dangers of Balloon Scheme Financing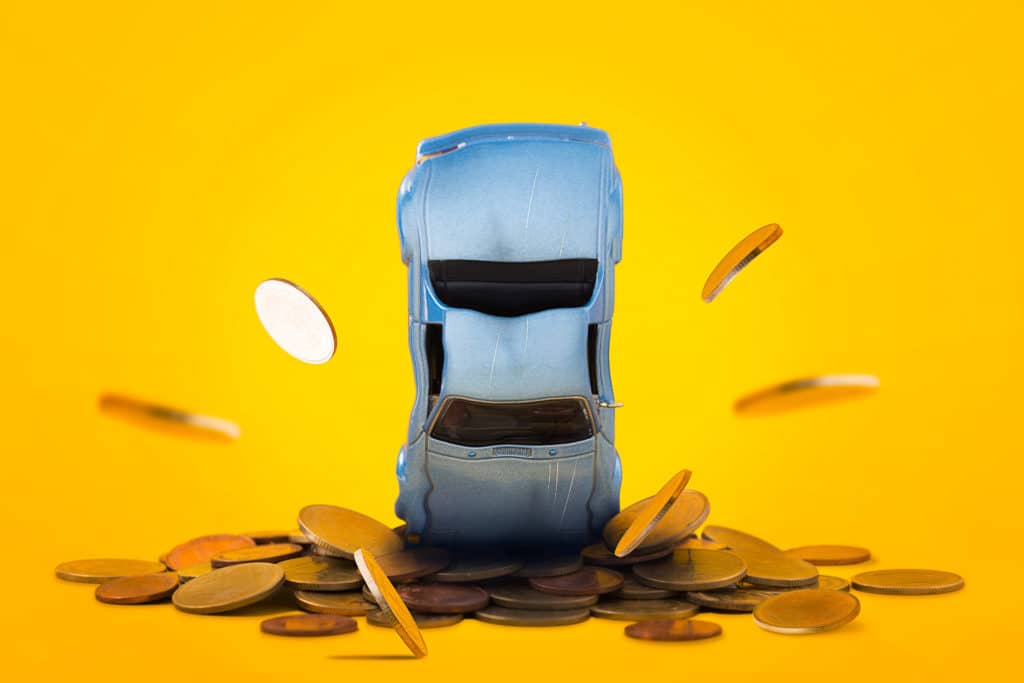 1. Too Hopeful?
It's good to have hope and be optimistic about ourselves and our future. But sometimes, we can be overly optimistic about certain situations. Especially when it comes to our career and financial situation. It's a big concern that you must address, especially if you're looking to take up a balloon scheme. Sometimes it's just better to live within your means and not burden yourself with more bills to pay.
2. Higher Interest = More Money Spent
With this scheme, the interest rates incurred can be as much as 1% more. Which means that you're paying a whole lot more for your car. So don't be blinded by the lower monthly instalments! At the end of the day, you're still going to pay a significant amount more.
3. Too High of a Risk
There's always a possibility of a bad economic downturn and if you don't have extra cash, you will have an even bigger problem because of the higher principle sum and interest! By selling your car earlier, you will not only face high penalties for early repayment but you have to continue paying the loan's extremely high interest rates.
What should you do?
When it comes to buying your first car, there's no one-size-fits-all approach to it. It's really dependent on your financial situation and whether you're willing to fork out a good sum of your monthly salary for a car. That's why many people see balloon scheme financing as a good route to take when getting your first car.
Lower monthly repayments give you the financial freedom and mobility to do more now. It's really worthwhile if you're going to stick to that same car for 10 years or plan on getting a secondhand car. You have to make these decisions early on and not change your mind. Because if you do, you're in for a whole world of pain with the crazy amount you'll have to pay.
But on the other hand, interest rates are significantly higher and you'll be paying a lot more with the balloon scheme. So is it really worth it? That's the question you must ask yourself.
It's best you get expert advice to help you make an informed choice. So if you need help deciding on which financing option fits you best, our sister company Genie Financial Services is here to help.
Genie offers a full range of financing options that make auto financing quicker and simpler. The best part is, Genie will approve your loan in just 1 day with an approval rate of 100%!
---
Looking for a car? Browse our wide selection of high quality used cars and enjoy peace of mind with a slew of CARRO assurances like a 3-day return policy and 30-day wear and tear guarantee that grants you full access to our workshop for 30 days after you've made your purchase, free of charge!