Jaguar's XE compact sedan went into sale in 2015, aiming to bring its owners all the benefits of driving a luxurious sports car with four doors, but on a smaller scale. In Singapore, the XE comes with both 4-cylinder diesel and petrol engines, as well as supercharged petrol V6, but today, we'll put a spotlight on its range of 2-liter diesels.
At A Glance
Upsides:
Sporty design
Performance
Efficiency
Safety
A long list of options
Downsides: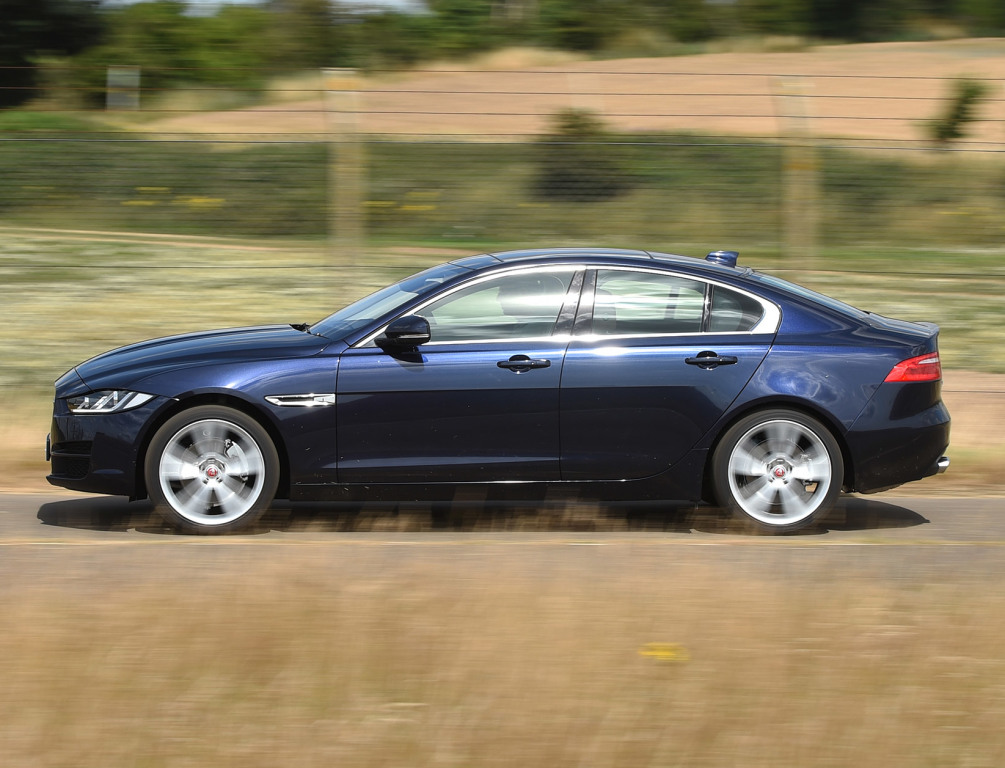 Design 5.0 / 5.0
To all lovers of traditional Jag styling, it came as a shock when the new XF was unveiled, followed by the new XJ flagship sedan and the F-Type sportscar. In short, the XE follows the same design language, and it is unmistakenly a modern Jaguar. Its aluminium body is pretty traditional, but aerodynamic, elegant and aggressive when looked from the front. That's where the XE shows it sporty side, with discreet bonnet pleats which lead the eye towards the big grill. Some features from other cars can be recognized, such as chrome side vents and horizontal tail lights which mimic the design of the F-Type. The interior also perfectly blends sportiness and luxury, but we'll get to that later on.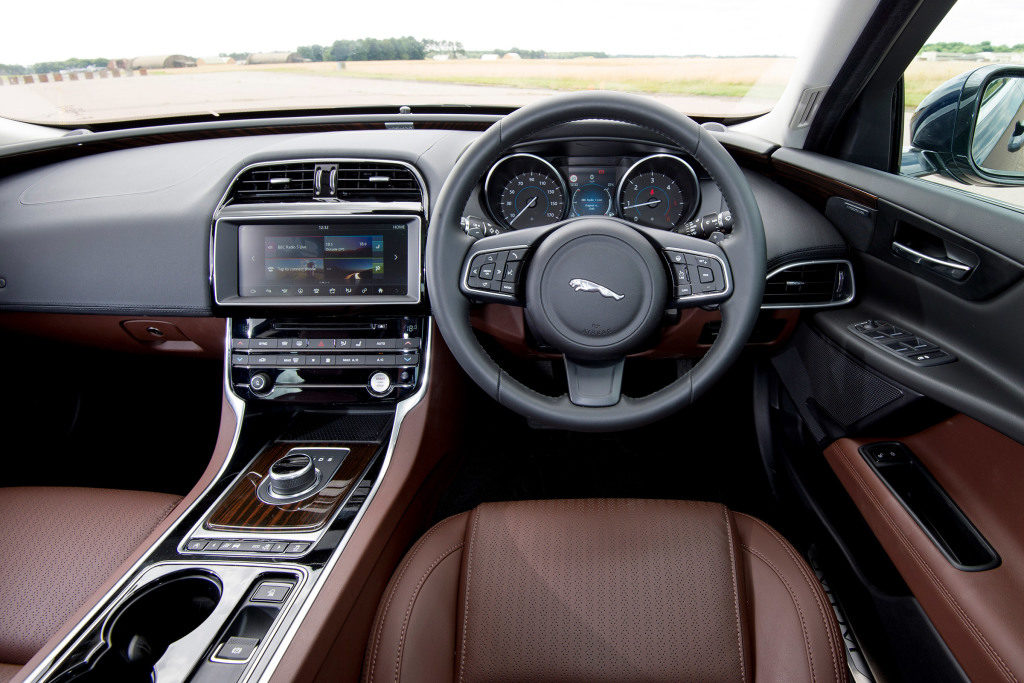 Engines, drivetrain and performance 4.0 / 5.0
The Jaguar XE comes in three available diesel options. The first one is the 2.0L turbocharged E-Performance diesel with 163 horsepower 380Nm of torque. The other two feature the same 2.0L turbocharged diesel with 180 horsepower and 430Nm of torque, but with rear wheel drive or all wheel drive. The E-performance engine puts emphasis on less emissions and better fuel consumption, but that also reflects on its performance. With manual transmission, the XE accelerates from 0 to 100km/h in 8.4 seconds with the top speed of 227km/h, whereas with an automatic, it gets 8.2s sprint and the same top speed. The emissions and consumption are 99g/km and 3.8l/100km for manual and 106g/km and 4.1l/100km for the automatic. Regular 2.0L diesel with rear wheel drive gets 7.8s and 231km/h with manual transmission and 7.8s and 228 with the automatic, whereas the AWD XE has 7.5s and 225 km/h, with no manual option. The RWD sedan's consumption is 4.2l for both the manual and automatic, with 109-111g/km of carbon dioxide emissions. For the AWD sedan, the numbers are a bit different – 4.7L/100km and 123 g/km of CO2. The transmission options are the following: six-speed lightweight aluminium transmission and eight-speed automatic with paddle shifters. In conclusion, whatever diesel engine you decide to choose, you'll be rewarded with respectable performance, superb handling and good fuel consumption.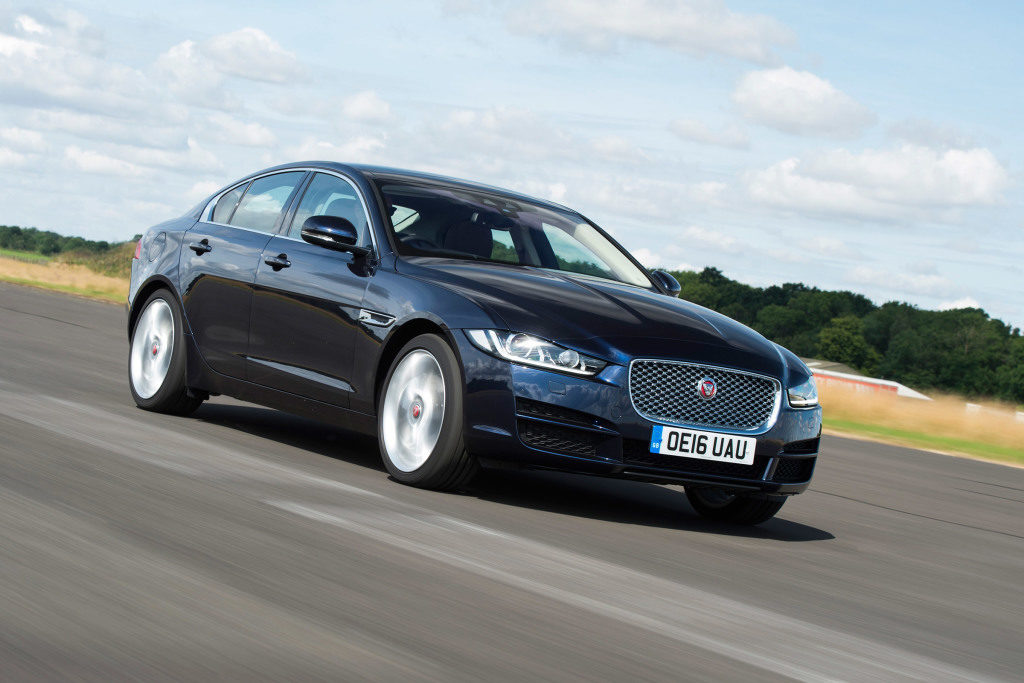 Trim levels 5.0 / 5.0
Jaguar XE diesel is offered in four distinctive trim levels. The base one is Pure, and among other things, it offers the multifunction leather steering wheel, heated door mirrors, cruise control, speed limiter, halogen headlights and 17" rims. Prestige adds leather seats, brushed aluminium trim and a rear armrest, while the most luxurious Portfolio trim has 18" rims, 10-way electric perforated leather seats, leather-wrapped dashboard, embossed aluminium trim, Bi-function Xenons and headlight washers. R-Sport is a sportier trim, and it offers 18" rims, the aerodynamic R-Sport bodykit, R-Sport branding throughout the car, sports suspension and manually adjustable mesh sports seats. 8" InControl Touch infotainment system and two-zone climate control comes as a standard in all trim levels, as well as keyless entry, Bluetooth connectivity, and other things. In addition to that, Jaguar offers a long list of optional equipment, that includes the 10.2" InControl Touch infotainment, 380W or 825W sound systems, head-up display etc.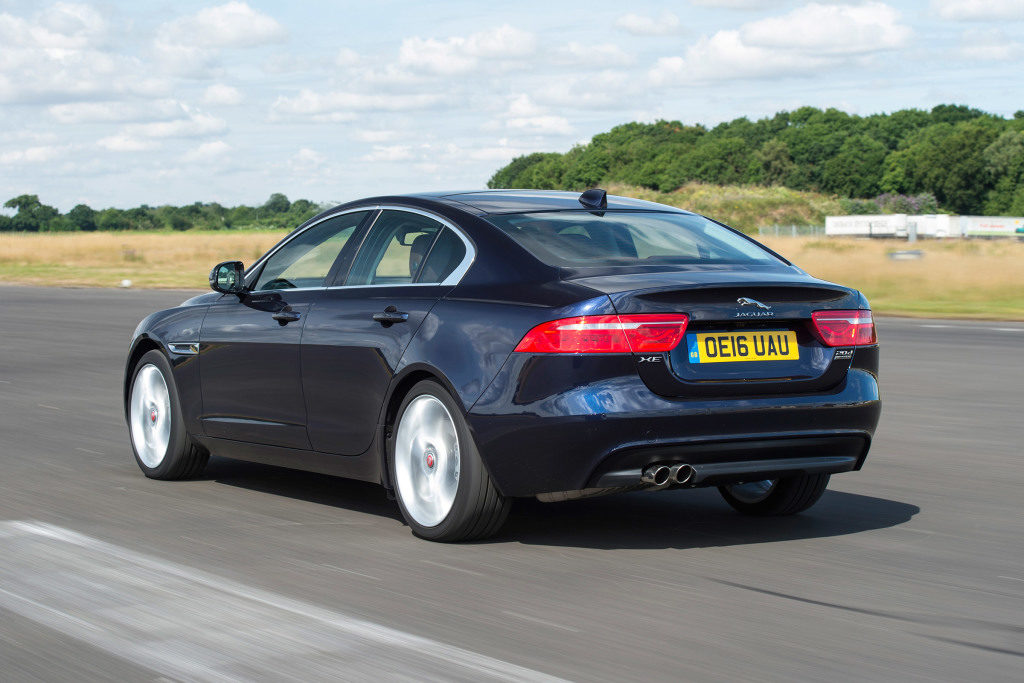 Safety 5.0 / 5.0
As a luxurious and expensive compact sedan, , Jaguar offers front airbags, side airbags and full-length curtain airbags as standard. Also, autonomous emergency braking and line departure warning come within the standard safety equipment. Some optional safety features include traffic side recognition with an adaptive sped limiter, surround view, adaptive cruise control, blind spot monitor etc. Also, there are many other optional safety features included, which will make the XE an ever safer car to drive everyday.
Conclusion 4.5 / 5.0
Even as a diesel, the Jaguar XE ticks all the right buttons when it comes to design, trim levels and safety. While all the engines provide grant you sub-10s sprints and top speeds upwards of 200 km/h, diesel XE sedans are sporty cars, but not proper sports cars. However, they are elegant and luxurious, yet efficient daily drivers with more than enough equipment and conveniences to enrich your driving experience and make it more interesting day by day, which secures their place at the top of the compact sedan market.