Test Drives
Maserati Ghibli: Raising the luxury bar to the next level
The last time Maserati downsized their Quattroporte sedan was in the 80s, while under DeTomaso. The result was the ill-fated 2.0l V6 Biturbo, which is only now starting to appreciate, thanks to the global classic car craze. More than two decades later, Maserati brought the idea of a smaller sedan back to life, also reviving the name Ghibli, but this time, the company has given it some more thought. In Singapore, gasoline-powered Maserati Ghibli is offered with 3.0l V6 Biturbo engines, producing 330HP for the base model, or 410HP in S and S Q4 trims. Today, we put the base Ghibli under the spotlight.
At A Glance
Upsides:
Luxurious interior
Performance
Great standard equipment
Safety
Fantastic engine sound
Downsides: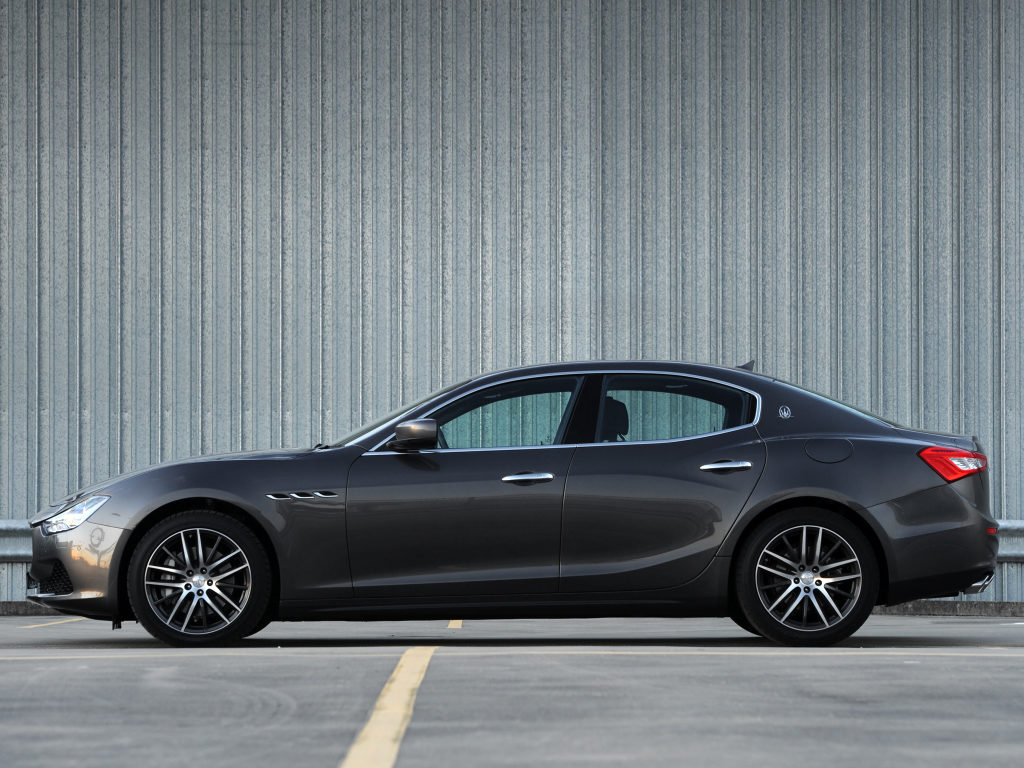 Design 4.0 / 5.0
Although the Ghibli is an unmistakable Maserati, this generation of Tridents brings aggressiveness over elegance, which was never this company's style. Throughout its history, Maserati has had a gentlemanly feel to its cars, but in recent years, the company has made a switch towards the flashy, giving its sedans the Granturismo coupe look. And even though the Ghibli is still beautiful, it has lost one point on true elegance, or lack thereof. However, as Ghibli is aimed at younger audience who want a sporty, flashy sedan but feel no need for a Quattroporte, the aggressive design seems fitting.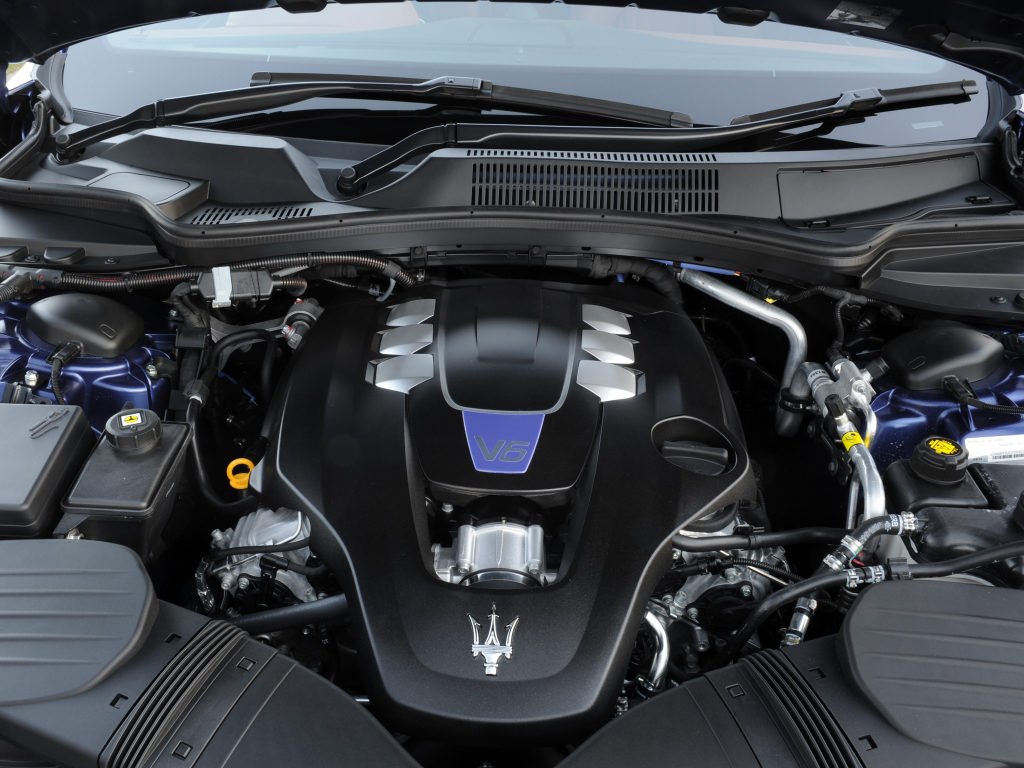 Engines, drivetrain and performance 5.0 / 5.0
In base trim, the 3.0l 60°V6 engine produces 330 horsepower at 5000RPM, which is more than enough for this 1810kg sedan to go to claimed 263 km/h with a 0-100 sprint in 5.6s. The engine is mated to a 8-speed automatic transmission with paddle shifters. In combination with the engine displacement and power output, that comes at a bit of a cost: claimed fuel consumption is 13,9 l/100km, or 8,9 combined. 18" rims come as standard, but performance packages include 20" and 21" rims. As expected, road handling is superb, as Ghibli has the ideal 50/50 weight distribution. But, the really best thing about this car is the fun and enjoyment it provides while driving, especially when exhaust pipes start to sing. At that exact point, you realise why does this car cost more than most of the competitors, or even bigger sedans.
Trim levels 5.0 / 5.0
Even in its base version, and even though it's not a flagship sedan, Maserati Ghibli is as luxurious as it may be. There's leather just everywhere, from the sporty seats, to the three-spoke steering wheel, dashboard and door panels. The 7" infotainment comes as standard, and there's also the famous oval-shaped clock, Maserati's signature interior feature. On top of that, Maserati offers even greater luxurious updates, such as Poltrona Frau® leather in five colours, Bowers&Wilkins sound system, and wood or carbon trim. Maserati also offers predefined packages, significantly increasing the possibilities of customisation.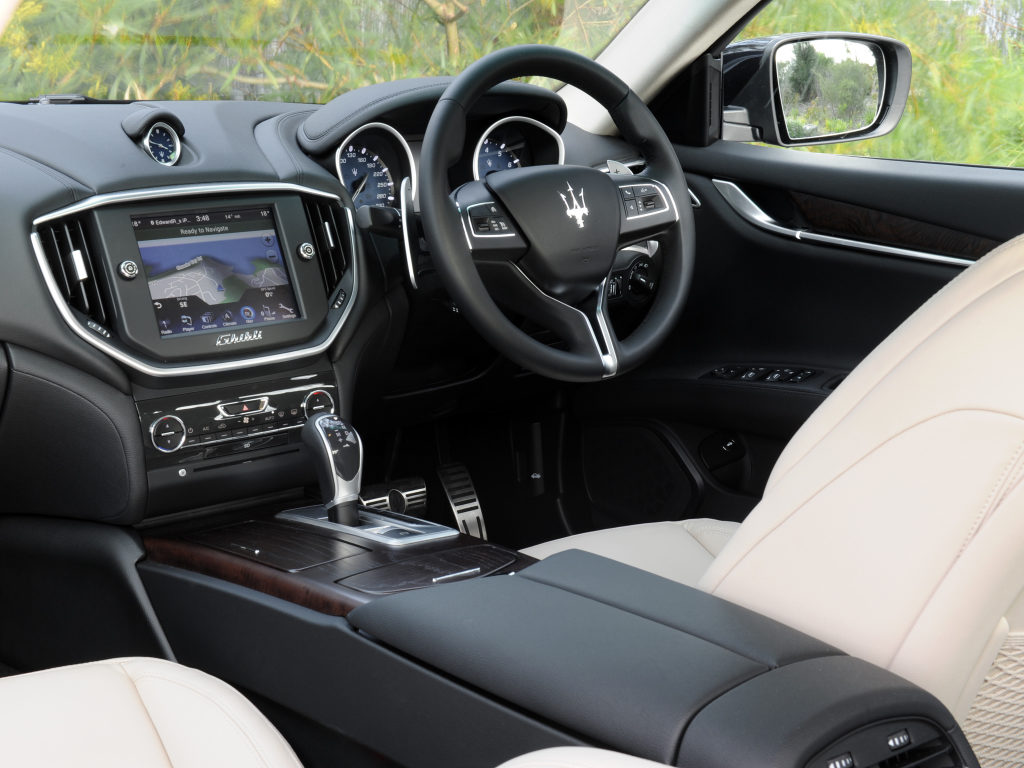 Safety 5.0 / 5.0
As a compact sedan with a significant power output, Maserati Ghibli is well equipped when it comes to safety. Its Euro NCAP safety rating is a five-star one, and the car comes equipped with various electronic assists, and both front and side airbags. Ventilated front and rear discs also ensure good stopping power, so Ghibli is ready to tackle all the challenges.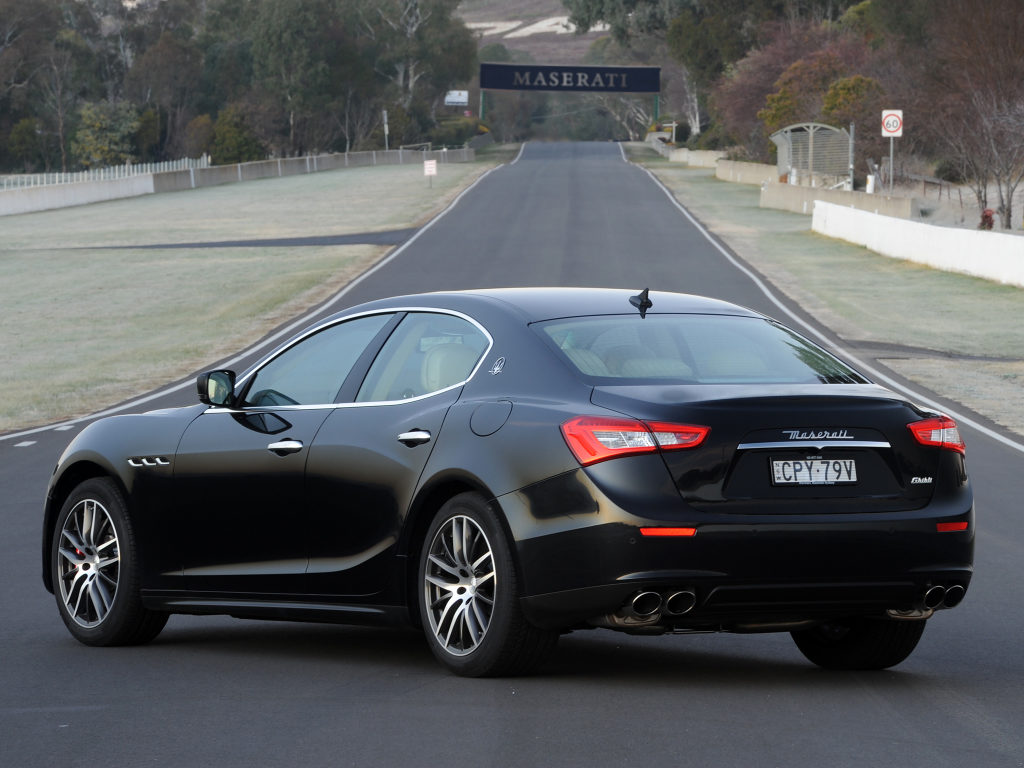 Conclusion 5.0 / 5.0
Maserati Ghibli is a superb compact power sedan, which is incredibly fast for its class. Depends on what you ask of it, it can be both luxurious and sporty, and it can definitely provide loads of fun in any version, even the base one. The car is rear wheel drive and its powerful V6 sounds great, which are some good buying points to start with, provided that you have the budget.