Create A Lemon Car Competition
Are you able to come up with something that will wow the public constructed using recycled materials?
If so, you are the right person for this competition!
How to enter this competition?
Form a team not exceeding 6 members via http://bit.ly/buildlemoncars and send in a proposal no longer than 3 pages to us via [email protected] by

12 July 2017, Wednesday, 2pm

with the subject "Lemon Car Competition – <Team name>".
Round 1 (

starts 19 July 2017

): There will be 30 teams shortlisted to proceed with their design and do up a 3D model of the lemon car (see below for the guidelines of the sculpture). Shortlisted teams will be notified via email. Submission of the completed lemon car will be on

6 Sept 2017, Wednesday, 2pm

.
Round 2 (

starts 13 Sept 2017

): The 3D model of the shortlisted teams will be displayed across various public locations in Singapore and will be covered on media.
Round 3 Online Voting (

13 Sept 2017 – 20 Sept 2017

): The art piece with the top 3 most number of votes from the public will be able to win the top 3 prizes, while the rest of the exhibiting teams will be awarded other attractive prizes.
Conditions
The proposal should include:
Short write-up (max. 3 pages) of how the structure will be made
Types of materials that will be used
Estimated cost of production
Rough sketch of the art
The sculpture should:
Be able to stand on its own and have a height of 1.4m to 1.6m, width not exceeding 1.7m and length not exceeding 5m.
Be original
Be made of 90% recycled materials
Be shaped like a lemon with four wheels
* Raw material costs will be reimbursed up to an amount of $150 for each team
Criteria of Participants:
Each team should have at most 6 members
Submitted art piece will become the property of Carro
Aged between 15-25
Attractive Prizes
1st Prize: $1500 cash prize
2nd Prize: $700 cash prize
3rd Prize: $300 cash prize
Consolation Prizes: Goodie bags worth $200 each!
There will be goodie bags worth more than $200 each for 3 lucky voters!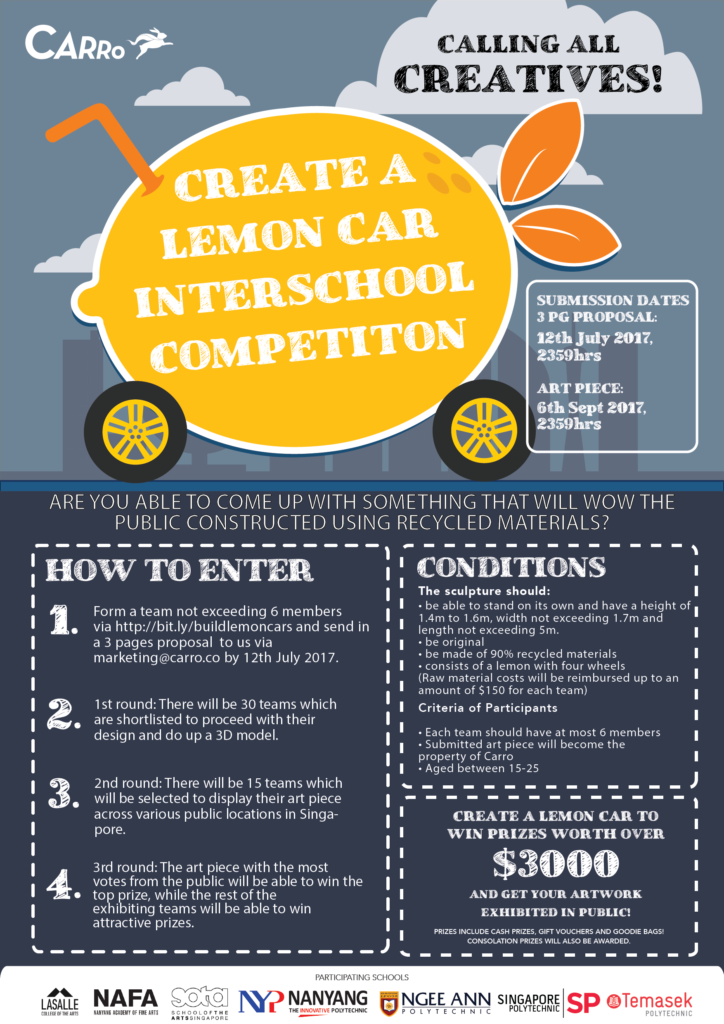 This competition is in collaboration with the following sponsor: