Car Bites
HDB Parking Guide: All You Need to Know
For inexperienced drivers, HDB parking can be a huge hassle and cause for confusion. From fumbling through your stack of colourful parking coupons to applying for HDB season parking and even peering over your dashboard to see if there's enough funds in your cash card, it's an endless affair of fuss.
That's why we're here to clear up the confusion and set our facts straight today. No more questions such as "Does this colour mean the lot is free on weekends?" or "Which parking coupon do I tear?". With this HDB parking guide, you'll be able to understand HDB parking in no time!
Time is Money
Before knowing how much it costs to park, you'll first have to determine how long you'll be parking for. In general, it's classified into short term parking and HDB season parking. For short term parking, you'll have to pay through coupon parking, the parking.sg app or the electronic parking system.
As for season parking, its basically long term parking that you'll have to apply for online! After applying successfully, you'll receive a car decal which will allow you to park at any car park in certain HDB car park groups at any time, without having to display parking coupons. However, do note that it is sold on a calendar month basis. As such, it usually only applies to residential or industrial parking.
Types of Parking Lots and their Costs
Now that you're familiar with the types of parking, short term or season parking, do you know how much it costs?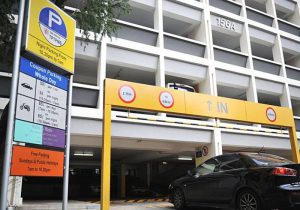 Although some parking lots are equipped with electronic parking systems, not all are! So our tip for short term parking is to look at the colour of the demarcated lot lines!
According to HDB, every colour carries a different meaning and price. So save yourself the parking fine and pay attention to the colours before the eagle-eyed traffic wardens catch your mistake!
If you see a parking lot with white lines, this means that short-term visitors can park here during the operating hours of the car park!
Encountering a red lot means its off bounds for short term visitors! Stay clear of these lots even on Sundays and public holidays unless you hold a season parking pass.
So what does a red and white or bi-coloured parking lot mean?
These are generally reserved for season parking holders from 7:00 pm to 7:00 am, Mondays to Saturdays, and the whole day on Sundays and public holidays.
For short term visitors, you'll be able to park outside those hours. However, as the time does vary between car parks, it's better to take a quick look at the supplementary sign plates near the reserved parking lots or the wordings painted in front of these parking lots if there's any.
For these lots, the prices are as follows in the table below:
Outside Central Area
$0.60 per half-hour
Within Central Area
$1.20 per half-hour

(7.00am to 5.00pm, Monday to Saturday)

$0.60 per half hour
Source: HDB.gov
Yellow lots are prime parking spots. So be prepared to pay more before sliding into these lots! On Mondays to Saturdays, it costs $1.20 per half hour if you park at these lots between 7:00 am and 5:00 pm. After 5 pm the normal parking fee of $0.60 per half hour will be charged at these lots after 5:00 pm, including Sundays and public holidays.
If you can't remember all these prices, a sure-fire way to get the most accurate parking fees is to check the signboard display! Prominently displayed at all car parks, so you won't miss it.
Parking.sg App
However, if you're deterred by the cumbersome parking coupons and want a more eco-friendly alternative, just use the parking.sg app!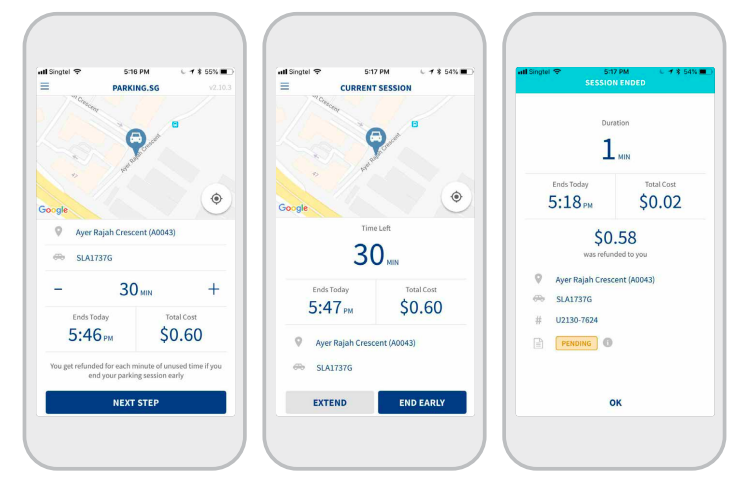 Available on the App Store and Google Play, it's perfect for digital natives who don't want to lug stacks of prepaid coupons in their car. All you have to do is to key in your vehicle number, select the car park and indicate your parking duration! The app will automatically calculate the charges you have to pay using your credit or debit card.
For HDB season parking, prices are relatively fixed as you pay a lump sum when you apply. The rates are as follows in the table below.
Location/ Type of Car Park
Season Parking Charges
Car
Commercial Vehicle *
Motorcycle
Motorcycle
(requiring 2 lots)
Tier 1
Tier 2
Restricted Zone
(Surface/ Kerbside)
$80
$165
$185
$15
$30
Restricted Zone
(Sheltered)
$110
$190
$185
$17
$34
Designated Area
(Surface/ Kerbside)
$80
$150
$185
$15
$30
Designated Area
(Sheltered)
$110
$170
$185
$17
$34
Rest of Island
(Surface/ Kerbside)
$80
$90
$185
$15
$30
Rest of Island
(Sheltered)
$110
$120
$185
$17
$34
Special Precinct
$95
$105
N.A.
N.A.
N.A.

Industrial Park
(Multi-Storey Car Park)
$110
$120
$130
$17
$34
Industrial Park
(Night Parking)
N.A
$65
N.A
N.A.
Centralised Lorry Park
$80
$90
$85
$15
$30
Source: HDB. gov
What about Parking in Non-HDB Lots?
Parking at shopping malls, hotels or attractions generally command a higher cost. From *$6 for the first hour and $1 for every subsequent hour at Marina Bay Sands hotel to *$1 per hour at Katong Shopping Centre, you'll be in for a surprise with every drive. So if you spot an HDB parking lot nearby, it's best to park there instead!
Parking in Singapore might be costly and a little complicated, but not as confusing anymore! If you wish to dodge these prices, check out our guide to completely free parking spots in Singapore to reduce your driving expense!
*Prices accurate as of November 14, 2018