Announced at the beginning of this year, the Land Transport Authority (LTA) has awarded the tender to develop the next-generation Electronic Road Pricing (ERP) system to the consortium of NCS Pte Ltd and Mitsubishi Heavy Industries Engine System Asia Pte Ltd at the cost of $556 million.
What are the changes going forward?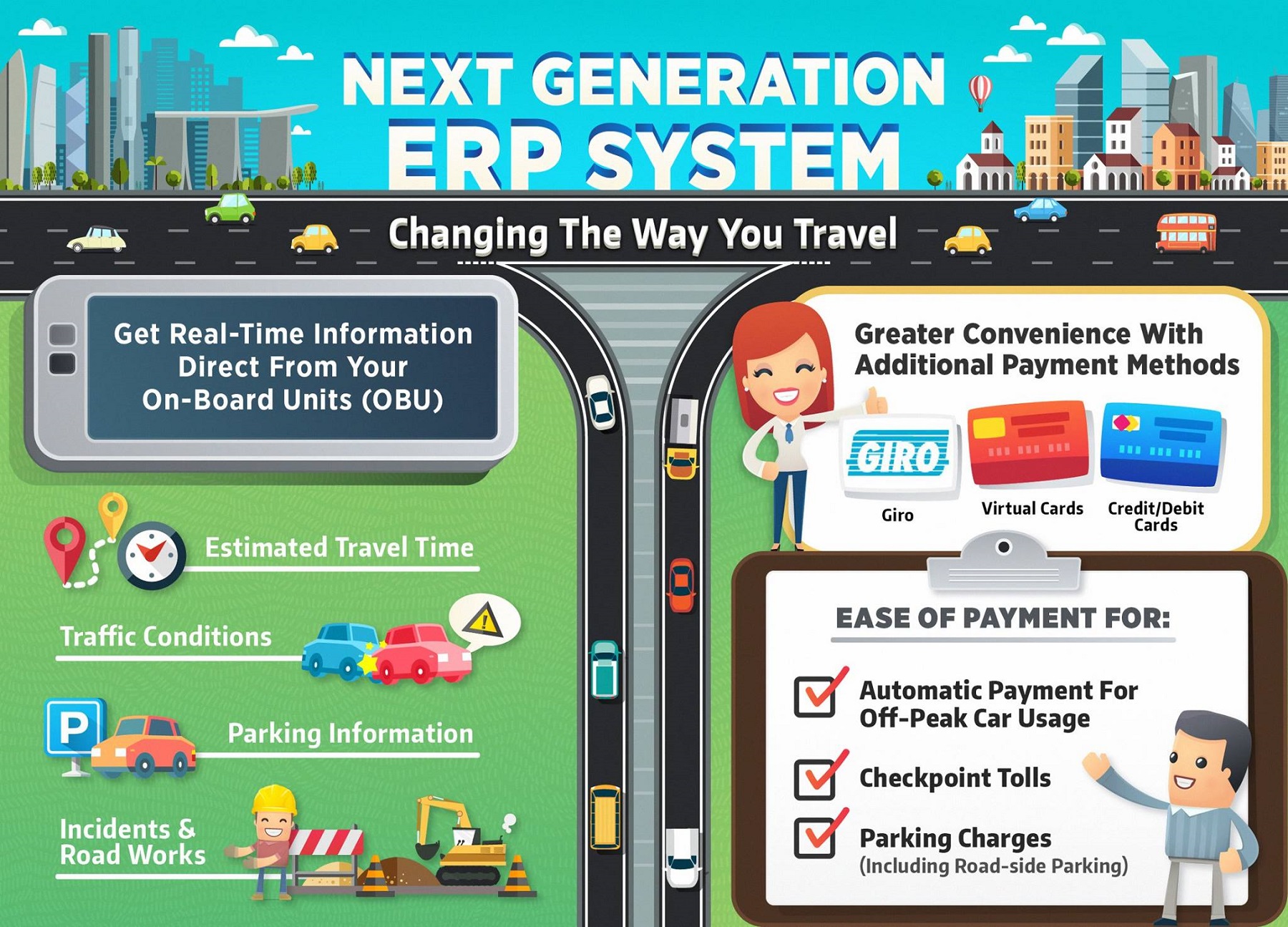 Distance-based road pricing, where motorists are charged according to the distance travelled on congested roads, instead of physical per-entry gantries.
A new On-Board Unit (OBU) will replace the existing In-Vehicle Unit (IU), which can also be used to deliver additional services to motorists. For example, LTA will be able to disseminate traffic advisories through the OBU. The OBU can also be used to pay for parking, checkpoint tolls, and usage of off-peak cars electronically.
The onboard unit will still have a slot for Cepas (contactless e-purse application) card. But users can also opt for Giro, or to be billed via their credit or debit cards.
Potentially allow off-peak car owners to pay only for using their vehicles for short periods, rather than the whole day.
When will the new system take effect?
The new system is expected to be implemented progressively from 2020.  There will an 18-month switchover period to transit from the current ERP system to the new system. The government will also bear the one-time IU replacement costs for Singapore-registered vehicles.
Why is this necessary?
Land congestion is a prevailing problem in our society. The limit placed on the quota of Certificate of Entitlements (COEs) is insufficient as deterrence to curb the increasing number of cars on roads. Similar to the concept of buffets, the unique COE system has ingrained the idea that Singaporeans should drive more to offset the exuberant cost of purchasing the car. To prevent excessive road usage, the LTA is ramping up measures to reduce congestion.
The LTA has also reviewed the current ERP system and concluded that it is infeasible to continue the near-obsolete system due to hefty maintenance costs.
What does this mean for the public?
This could mean significantly higher ERP charges for road-users who clock high mileages, such as taxi-drivers, deliverymen and bus operators. There have also been speculations that driving speeds can also be monitored, which will likely reduce the number of accidents on the road and generate more fines from the stringent speed limits imposed.
With regards to privacy concerns, transport Minister Lui Tuck Yew has said that motorists' privacy will not be compromised as "[they] will anonymise and aggregate the data", referring to methods data collectors use to mask the identity of those tracked.