The latest COE bidding results (19 September 2018) are out and it's a mixed bag of results.
COE Bidding Results (19 September 2018)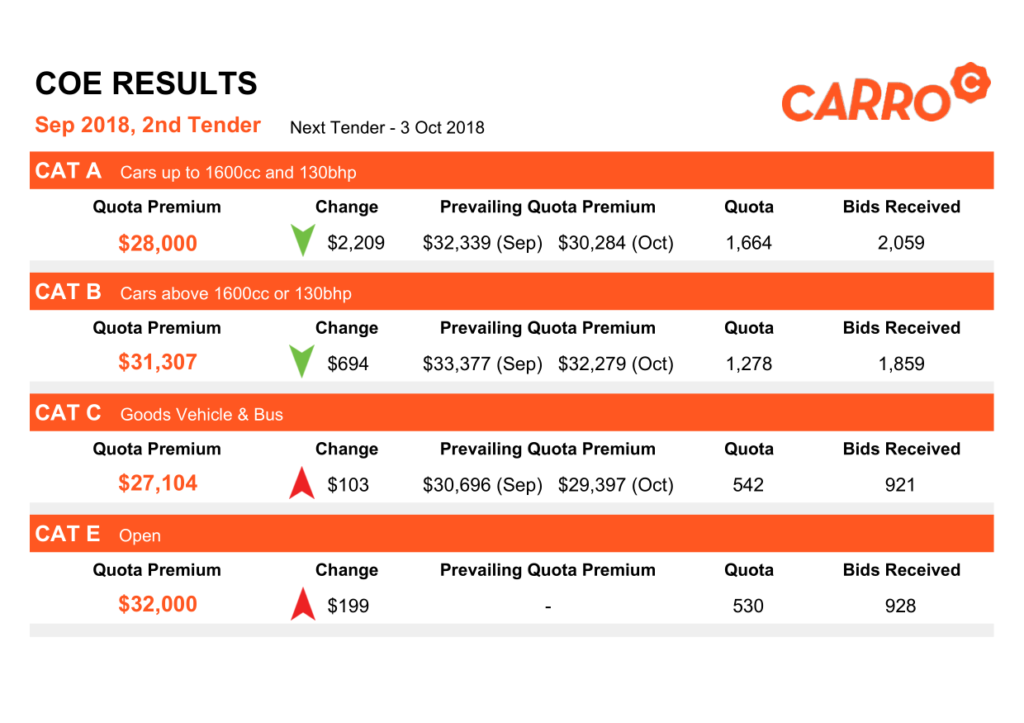 Premiums in Category A closed at $28,000 in the latest exercise, down from $30,209. The COE premiums in Category A are usually used for cars 1,600cc and below.
Also closing lower were the premiums for larger and more powerful cars in Category B. The premiums in this category fell to $31,307 from $32,001.
However, premiums in the Open Category rose by $199 to $32,000. While premiums in this category can be used for any vehicle type, they usually end up being used for large cars.
Motorcycle premiums closed at $4,214, down from $4,390 in the last exercise.
COEs for commercial vehicles, which include goods vehicles and buses, rose to $27,104, increasing by $103.
There was a total of 6,865 bids were received, with a quota of 4,835 COEs available.
Even though the premiums in the latest COE bidding results (19 September 2018) closed mostly lower, it looks like the downward trend might be ending.
So you better get yourself a new car or a used car before it starts to increase again.
People also liked:

IS YOUR AIRBAG LIGHT ON?
WANT TO SELL A USED CAR? HERE'S WHAT YOU NEED TO KNOW!
CARRO REVIEWS: THE ALL-NEW JEEP COMPASS LIMITED