Buying a used car is like buying a bowl of Katong Laksa. There are some good and bad ones. Even though every seller writes "Original Katong Laksa" on their signboards, one hardly knows which is the true one. Similarly, it's difficult to identify which are the 'good' used cars and which are the 'bad' ones (Read to the end to discover a trusted way of finding the perfect used car).
Here is the list of 5 things you should consider before buying a used car:
1. Research on Potential Candidates For Your "New" Used Cars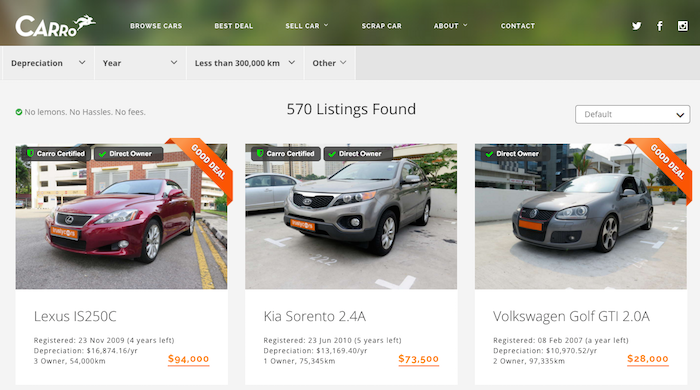 Firstly, you have to know which car suitable for you. What kind is the best for your daily usage? If you only take your car to the grocery daily, a small Cherry QQ may be sufficient. If you stay at Punggol but you work at Jurong Island, a Sedan may be better than a Cherry QQ. If you have 4 kids and often head to Malaysia for a short shopping spree then a coupe would not be big enough right? (right…).
Now that you have in mind your ideal "new" used car, take your smartphone and start researching about the car. Go to forums, Edmunds, magazines, or even Facebook, ask around and start discovering the downsides of that particular model. Look for things like the mileage of the car, when it starts to squeak (squeeeaaaakk…), or when the engine starts to roar (meow…) and etcetera. Look for these, take note and bring this notes with you during your "BIG TEST DRIVE".
2. Research On The Companies
This point would have never make it to this list if everyone, yes talking about you buyers, uses Carro.sg to buy your cars. Why? Because Carro values transparency; Carro lists all the details, even the small little dents that each and every car in our inventory has. Seeing is believing, so check out the detailed listings here. Carro even offers free inspection & warranty to give you that extra peace of mind. Carro also offers insurance, great loan rates & settles all the troublesome paperwork.
Other than Carro, there are many dealers out there in Singapore. Just google "buying a used car" and you will find a never-ending list of websites and listings. You have to do your research about each of these companies – most Singaporeans do not like to sell their cars to dealerships and it is not uncommon to hear of car dealers scamming people (learn the 7 steps to prevent your next car dealer scam) Look them up on forum and see if any meet your needs.
The Real Condition of the Car
This is the part when you meet with your "new" used car. Check all aspects of the car, the small cracks, dents, and scratches on the body, the windshield, the bumper, etc. More importantly, check the interior mechanism like the engine.
Oh ya, often dealers would put the best quality of the car advertisement listings while omitting the bad parts of it. Don't judge the true quality of the car just by the mere words of the seller. Thoroughly inspect the car with your own eyes.
The Test Drive
Use our comprehensive step-by-step guide of how to test drive to find things that you have to pay attention to when you try out a car.  This is important, as this guide will highlight the important things for you to take note before buying a used car. We teach you how to test your suspension, your steering wheel, and this is also the place where you can get to know your new "used" car better.
Download the test drive checklist here.
Don't be afraid to question the dealer about your car and in fact, clarify as much as possible. Do not be bought over by the flowery words of the car dealer. To summarize what you need to know, there are 3 points: Comfort, Safety, Handling.
The Home/ Reflection Time
Finally, you almost ready to buy your next car! Before your goodnight rest, reflect on all the things that you have experienced and researched on, from the first step to the last. Think about whether the car is really "The One". Remember all the problems that you found during the test drive and negotiate accordingly. Use Graph.sg to find the fair market price for that particular model & year!
There are really so many things to carefully consider when buying a used car, and the 5 points listed here just scrap the surface. Lucky for you, Carro is here to save the day. Carro is Singapore's largest online car marketplace that connects direct owners and seller together so both parties get the best deal. So go on, sell or buy your next car with Carro – Trustworthy, convenient, hassle free, no hidden fees. Thousands of people have benefited from their transparent, comprehensive services, and you could be the next one.
If you are not looking at selling or buying a car, that's fine too! Carro still wants to help all drivers! Browse our blog & youtube channel to find more helpful information and guides about all things car related.