Learning to drive and getting a driver's license in Singapore is no easy (and cheap) task. For such a rather high price, you would want to get your money's worth from the best lessons, instructors, service and whatnots. Researching about the driving centres is thus an important first step before you embark on your driving journey. Well, CARRO is here to help!
We paid a visit to one of the top driving centres, Bukit Batok Driving Centre (BBDC), so we can tell you all about it in this article. We got to interview Mr Tham and Mr Lai from BBDC, who was also kind enough to take us on a tour around the centre. (Spoiler alert: with all the facilities and services we saw, we would highly recommend it!)
All you need to know about Bukit Batok Driving Centre
The Structure of BBDC's Driving Lessons
The training program is effectively structured for the customers, as it is a progressive and systematic kind of training. It is divided into two main types of training: theory and practical.
Theory
– Theory lessons
These lessons build up a positive mindset towards driving, which is very important for any new driver.
– Theory practice
This portion is where the preparation for the theory test begins. Answers and explanations will be provided and customers can take as many tries as they want. It is actually a set of test bank questions for students to learn and answer.
– Theory evaluation
Unlike the previous practice, no answers are given for this "pre-test". It is to gauge whether the customers meet the requirement before they can sit for the actual test by the Traffic Police.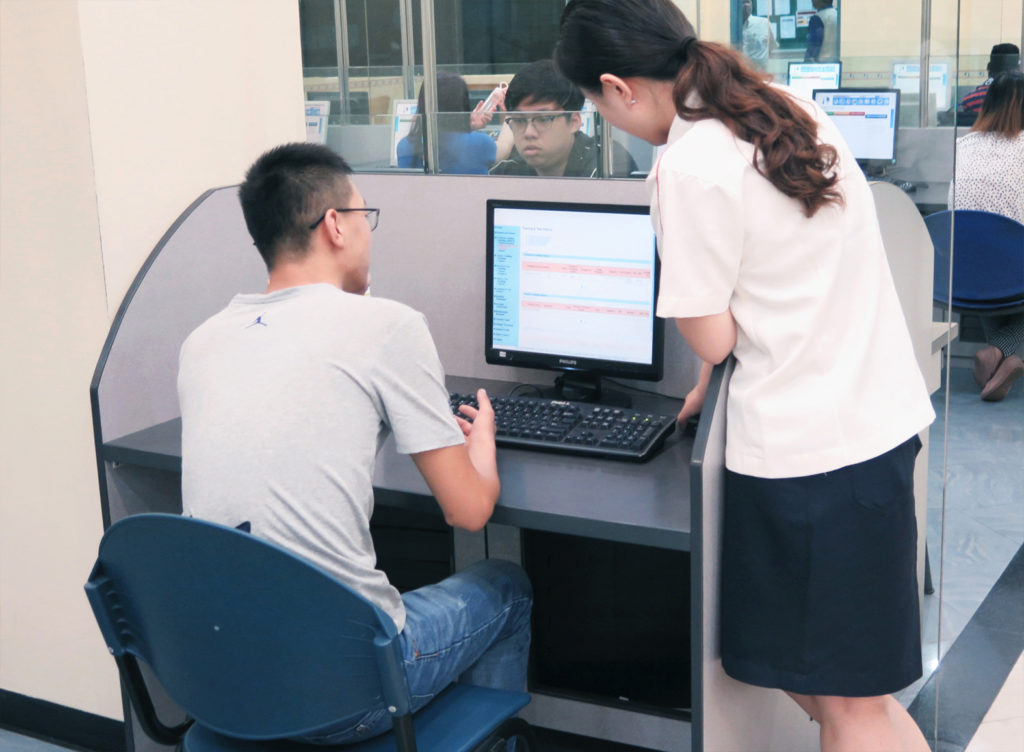 Practical
– Stage 1: Basic control
Includes driving simulator (read more below).
– Stage 2: General driving
– Stage 3: Circuit courses
BBDC has a 30,000 square meter training circuit which allows the customers to practise parking, driving on the slope, etc.
– Stage 4: Defensive training
– Stage 5: Evaluation
Similar to the theory evaluation, the practical evaluation has to be completed before the customers can go for a test by the Traffic Police.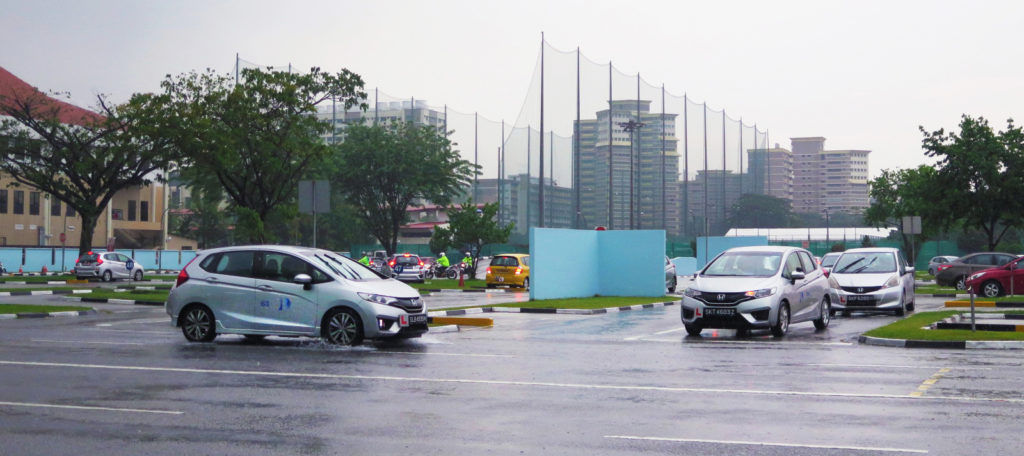 As the whole structure is a progressive one, you'll need to complete one stage before moving on to the next stage and complete the evaluation before going for the test. Moreover, Mr Lai noted that BBDC's lessons are also highly customized to each customer's learning curve and speed. The instructors take everyone's various ability into account and tailor their guidance accordingly.
This system has proved to be successful for BBDC, resulting in their customers doing very well on the Traffic Police tests. In fact, if you see the Traffic Police website, BBDC's theory and practical results are among, if not, the highest.
State-of-the-art Technology and Equipment
Other than the results, what sets Bukit Batok Driving Centre apart is their training equipment. Here are some of the highlights of our visit:
Driving Simulator
As we mentioned, the first stage of practical training includes a driving simulator. At the first glance, you may mistake it for an arcade racing game with a moving seat – like those you'll get when watching a 4D film! This simulator is used to let the students experience what cannot be done on the public road, such as emergency braking. Their reaction times are calculated, recorded, and compared across different scenarios to demonstrate the right speed and distance you need to give between your car and the vehicle in front of you in order to avoid a crash in the event of sudden braking by the vehicle in front. There is no better way to show the importance of safe driving than by imagining your own crash – and this simulator allows an almost real-life-like experience.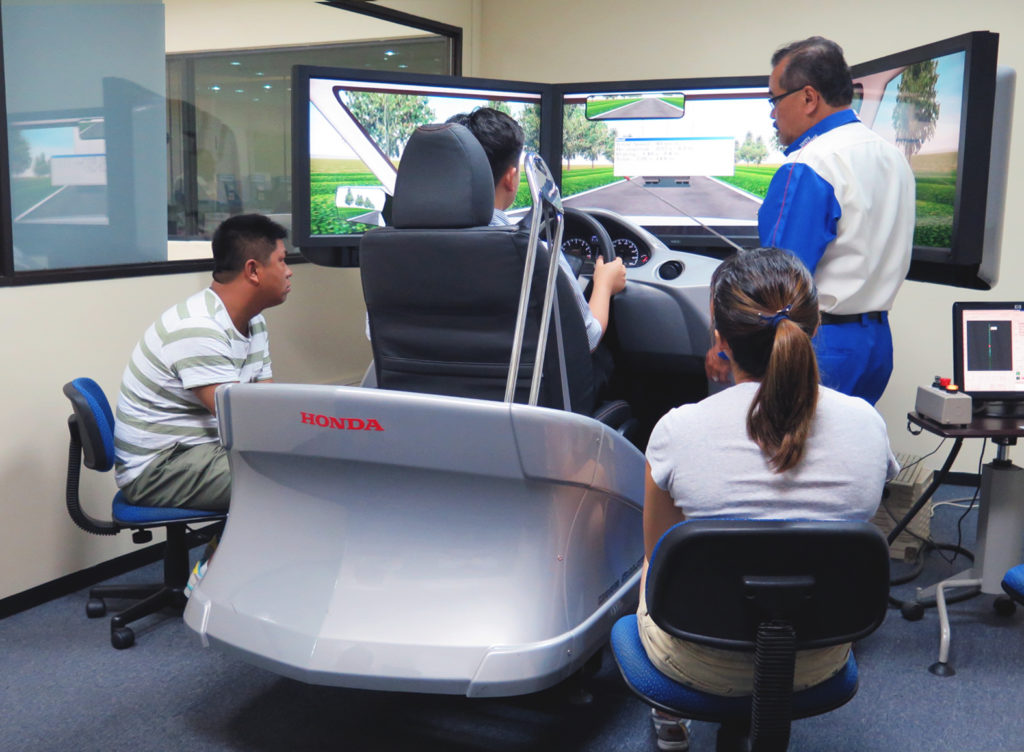 Crash Simulator
We also got to see another simulator inside a classroom that looks like a driver's seat. It is equipped with a seatbelt and airbag which allows customers to experience the impact in the event of a car crash. By experiencing it first hand, it is hoped that they would understand the importance of seatbelts, as airbags alone may not save you.
Risk Forecasting
After finishing all the 5 stages of practical training, customers would attend risk forecasting training. This is meant to protect not just the driver, but other road users as well. The screen in front of the class would show a dashboard view, such that you would feel like to be driving around. Whenever you foresee a risk or danger (such as a pedestrian about to cross), you are supposed to press a responder tool you were given. The instructor would then review the responses and also teach countermeasures.
Driving Tips and Advice from BBDC Experts
Bukit Batok Driving Centre currently has around 200 driving instructors, and we were lucky enough to talk to two of their most experienced ones. Mr Tham and Mr Lai of BBDC have been teaching for 27 and 25 years respectively, accumulating at least 20,000 students each. Seeing how experienced they are, we sneaked an opportunity to tap on their wisdom with regards to driving advice. Here are their answers – you may want to take note if you are currently learning to drive!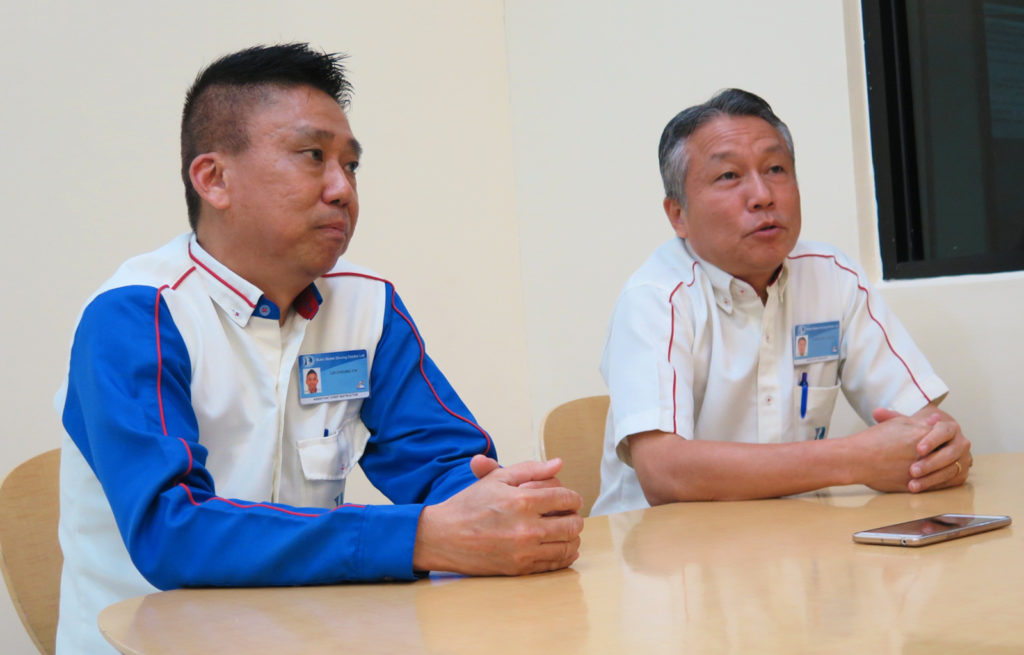 What are the most important factors to take note of when taking the practical test?
I think for the majority of customers when they go for the test, they already meet the requirement. They actually have learnt every technique required to pass the test and more. Our evaluation standard is the same as, or even higher than the traffic police test standard. So, when we recommend them for the test, it means that they've met the requirement.
Usually, it's just that on the day itself they feel nervous, they tend to forget a lot of things and do silly mistakes. To overcome nervousness, they have to plan their training evenly instead of having too long a break between their lessons and test. Then, of course, having enough rest before the day of the test is good.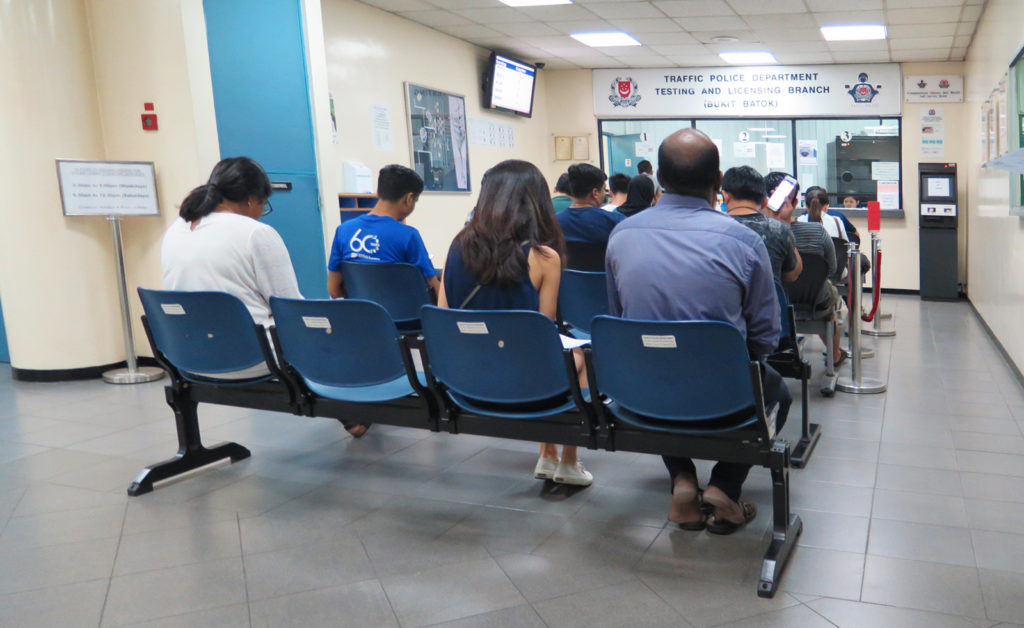 What are some common mistakes that most students make on the day of the practical test?
A very commonly made mistake is the safety check. A lot of safety checks need to be carried out when they're executing their courses. Sometimes they may overlook it, but these safety checks do contribute a point. If they come for regular practice, they should remember all these checks they need to carry out for the tests.
Another one is lane changing abruptly – sometimes when you're rushing, when the tester gives instruction, they tend to rush, forgetting the tips that they've gone through during the training that they're supposed to do. However, the opposite is also a common mistake. Being cautious is good, but being overcautious will result in delays. For instance, when they're in a junction and they would check and check again – this will contribute to delays. So, these are a few areas we always advise our customers – before you go for the test, try to do whatever has been trained, don't try to do something different or even safer, just drive. If they do commit a mistake, our advice is to just carry on and don't think about it.
---
Just got your driver's license and looking for a car? Find your dream car at CARRO today!

Choose from a wide selection of quality assured cars and buy your next car with peace of mind as all our cars have passed a rigorous 150-point inspection check that covers a wide array of parts like the car's engine, tyres, a road test and many more.
Enjoy full assurance with our 30-day wear and tear guarantee that grants you full access to our workshop for 30 days after you've made your purchase — free of charge!
Scared that this car might not be the one for you? Don't worry! Drive the car for 3 days to see if it's right for you and if you are not satisfied with your purchase, return it and pick another. No questions asked.