Next-generation vehicle comes with features like rumbler sirens to alert motorists in front
For three years, Singapore Civil Defence Force (SCDF) paramedic Yeo Ren Jie visited ambulance trade shows around the world to find out how these vehicles were designed by other emergency services. The 27-year-old staff sergeant (SSG) – who visited them while on holiday in the United States, Germany and Australia – took the best ideas such as the ambulance rumbler siren, and put them into SCDF's next-generation ambulance, which was unveiled yesterday at the SCDF work- plan seminar at ITE College East.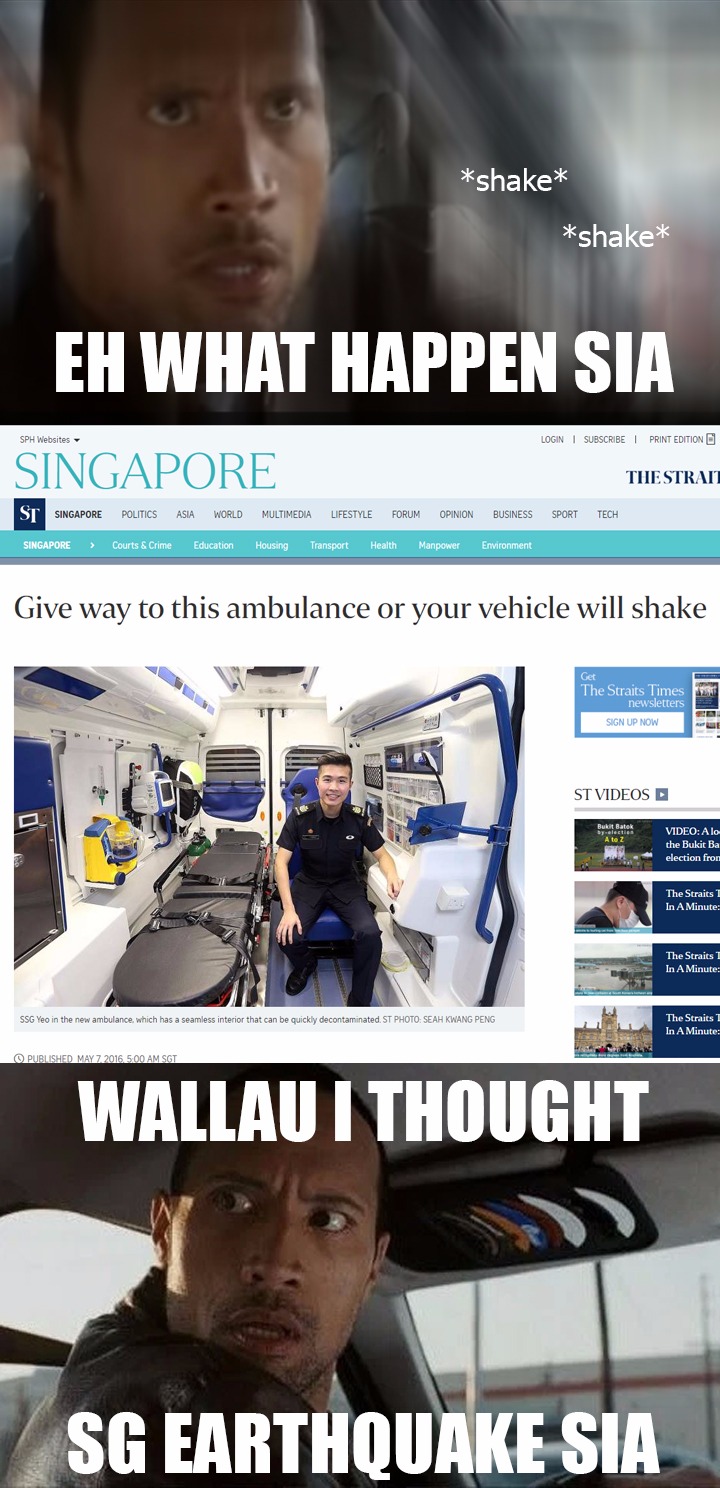 Also unveiled at the workplan seminar were other new SCDF vehicles, as well as a restructured community preparation programme to combat the terror threat.
The ambulance has a suite of new features, including a hydraulic platform with air suspension to cushion shocks for patients with spinal injuries, and a seamless interior that can be quickly decontaminated.
The new ambulance rumbler siren
It is also equipped with a rumbler siren. This emits low frequency sound waves that can penetrate vehicles in front of the ambulance and cause them to vibrate slightly.
The SCDF hopes this will prompt drivers to give way.
According to the Traffic Police, there were seven cases last year in which motorists failed to give way to emergency vehicles. In 2014, the number was 10.
The idea for the ambulance rumbler siren came from US highway patrol cars, said SSG Yeo, adding that it will prove useful as cars become increasingly insulated and soundproof.
Ideas for other features, such as high mobility seat belts which keep paramedics secure even while they attend to a casualty, came from flight paramedics.
"Some of these ideas I got while overseas or from reading journals; some were my wild ideas," said SSG Yeo, who was part of a team of five that designed the ambulance.
The former industrial design student at Temasek Polytechnic (TP) was roped into the design team because of his experience.
He is currently in his second year at the National University of Singapore, pursuing industrial design on a Ministry of Home Affairs sponsorship. His interest in emergency vehicles was sparked at TP when he joined the volunteer Civil Defence Auxiliary Unit.
He loved lifesaving work so much that he signed on with the SCDF after graduating. Working on SCDF's new ambulance has allowed him to marry his passions for design and saving lives.
"In design school, your work stops when you get your grade. When you design an ambulance and you see the final product shipped here, it really gives you a sense of fulfilment," he said.
The SCDF maintains a fleet of 55 ambulances, including private ones, and the new ones will be phased in gradually from next year.
Motorists seem unfazed by the rumbler sirens of the new ambulances.
"This is something new," said cabby Raja Manikam, 66. "As long as the sirens don't affect vehicle handling, I think there will be no problem."