Singaporeans have few common interests: Eating, looking for Pokemon, complaining about the weather, eating, looking for the best bargain at Mustafa…. and eating some more. With the emergence of new restaurants and cafes every other month, some eateries have voyaged into unknown terrains of Singapore in search of cheaper rental to reduce costs. That's where your handy car comes in: To make you that popular friend with the car in your group of friends so that you can guarantee that you'll definitely be invited for the next outing to various restaurants.
Obviously we're not commissioned to advertise these restaurants, and our second love after cars is eating, so you can definitely trust our taste buds when we tell you that these are the top 10 eateries of 2016 worth traveling for:
1) Alkaff Mansion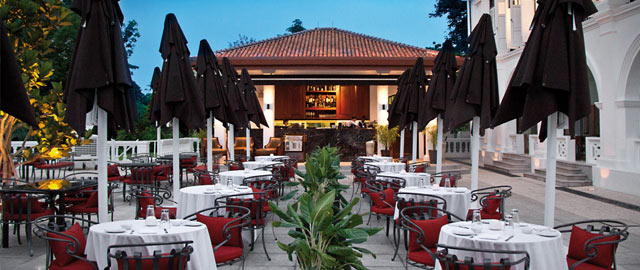 Alkaff Mansion serves up an extremely decent Italian affair, and is popular amongst couples for romantic dates in their dimly-lit and fancy rooms. The majestic two-storey Tudor-style mansion is comfortably perched atop Telok Blangah Hill, and driving will save you the trouble of walking up the hill! We're sure you'll want to look prim and proper for your date as well.
Price Range: $50 – $70
What to Eat: Porcini Mushroom Risotto Superfino Acquerello with Thyme, Oven Baked Sea Bass in Salt
Where to Park: Public car parking at the entrance of driveway before reaching Alkaff Mansion at the top
Parking Charges: Free all day
Tip: Diners heading there for (a romantic) dinner will enjoy complimentary valet services after 6.30pm (although it's always nice to leave a tip!)
10 Telok Blangah Green
Singapore 109178
Mon to Fri: 11.30am – 3.00pm, 6pm – 11.00pm
Sat & Sun: 11.30am – 3.00pm, 6pm – 11.00pm
2) Super Loco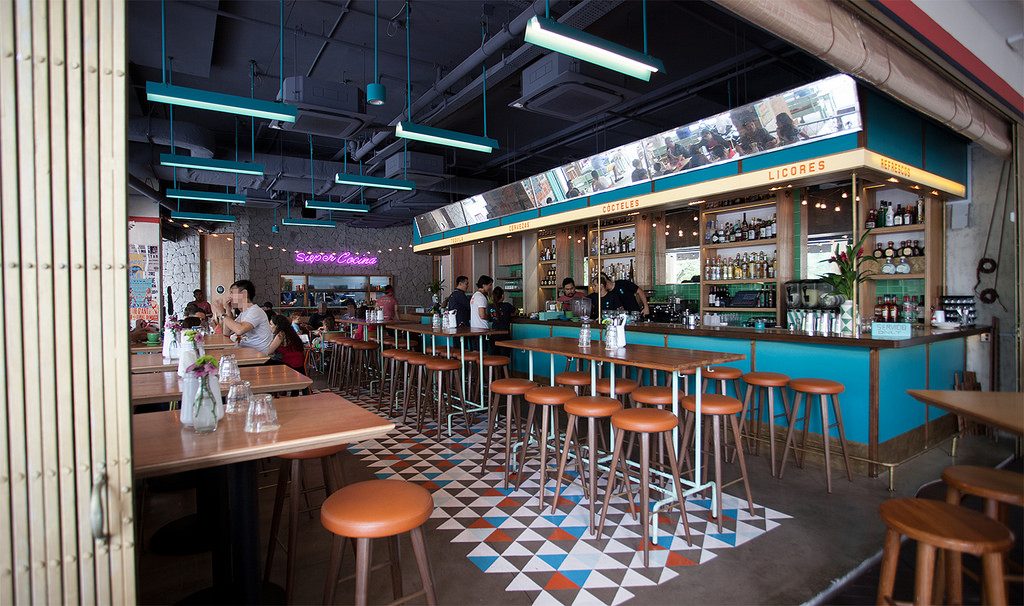 Situated at Robertson Quay, this Mexican bar/restaurant allows you to enjoy your sangria while enjoying the riverside view with your colleagues or friends after work. Super Loco's colourful and flavourful Mexican dishes will give you enough reason to make the drive over, and its popularity amongst expats is testament to its authenticity. Think Clarke Quay vibes, but without the large crowd.
Price Range: $20 – $40
What to Eat: Super Huevos Rancheros, D.I.Y Taco Set
Where to Park: Robertson Quay Hotel
Parking Charges: $0.50 per 30 minutes, or $3.00 after 5pm
Tip: It's not on their menu, but ask for their tortilla chips with salsa and guac on the side, you won't regret it!
60 Robertson Quay #01-13
The Quayside
Singapore 238252
Mon to Fri: 5pm – 12am
Sat, Sun: 10am – 3:30pm, 5pm – 1am
3) Rider's Cafe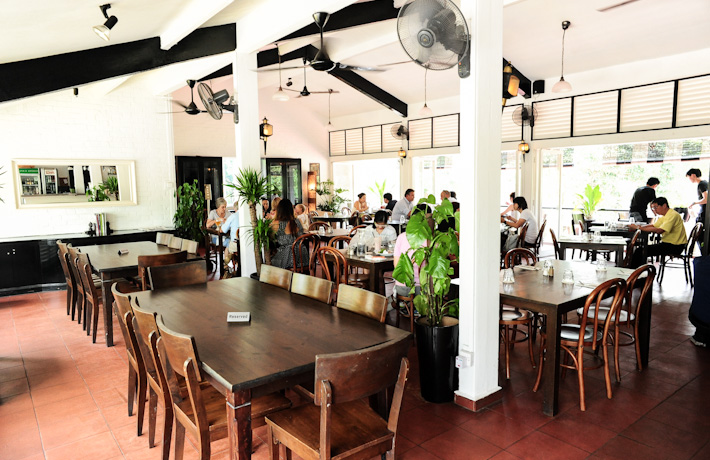 Hidden somewhere behind the lush greenery in the heart of Bukit Timah, Riders Cafe is located in one of the most unique dining venues in Singapore. If you're lucky, you'll be able to see horses galloping at the nearby stable farm! One quip would be that this gem is extremely inaccessible unless you have a car, but instead makes for the perfect getaway from the hustle and bustle for brunch on a weekend.
Price Range: $10 – $30
What to Eat: Death by Chocolate Cake, Riders Burger
Where to Park: On-site
Parking Charges: Free all day
Tip: On weekends, enjoy pony rides at $10/person!
51 Fairways Drive
Singapore 286965
Bukit Timah Saddle Club
Sun to Thu: 8am – 9pm
Fri & Sat: 8am – 10pm
4) The Coastal Settlement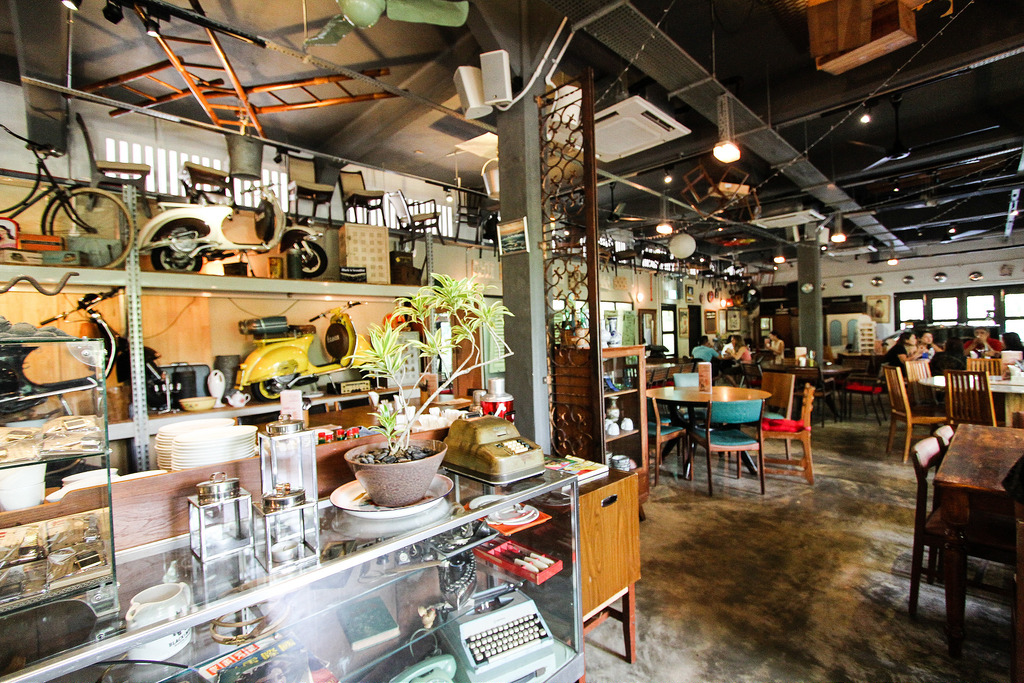 Tucked away at the far East of Singapore in the Changi Village area, The Coastal Settlement s the perfect place to go to unwind with a marvellous view of Mother Nature's plantation of greens and a peek of the sea. Take a break and extricate yourself from your hectic metropolitan lifestyle by allowing yourself to enter an aura of relaxation in a halcyon atmosphere.
Price Range: $20 – $40
What to Eat: Wagyu Beef and Mushroom Pizza, Truffle Fries
Where to Park: TCS Carpark (Limited slots)
Parking Charges: Free
Tip: Opt for the free valet service (and leave a tip if you're feeling up for it!)
200 Netheravon Rd
Singapore 508529
Tue to Fri: 10:30am – 11pm, Mon: Closed
Sat, Sun: 10:30am – 12am
5) Whisk & Paddle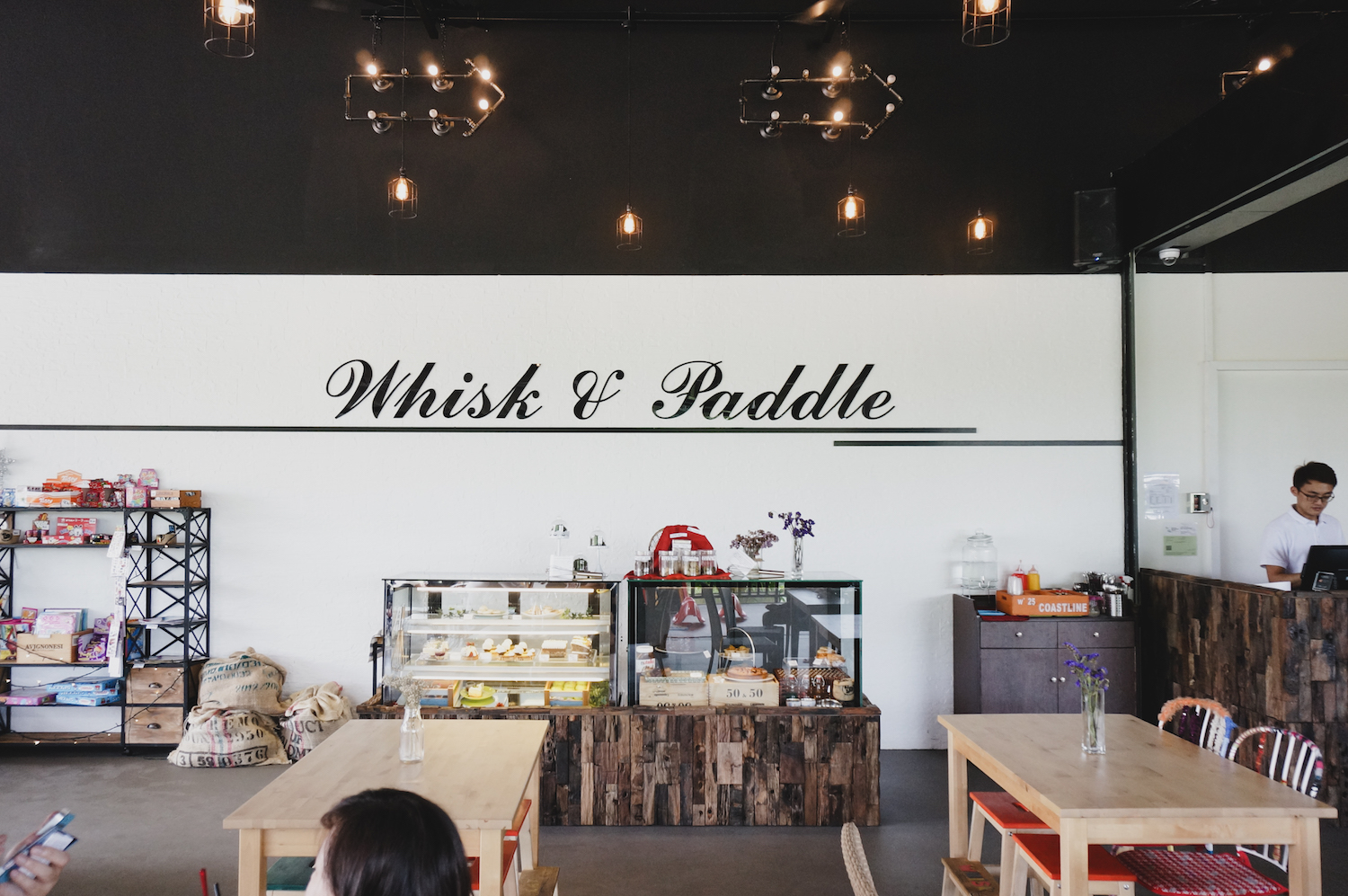 Whisk and Paddle is an open concept cafe that boasts a welcoming panoramic view of the mangrove vegetation and meandering Punggol Reservoir. Relish in the tranquil ambience of this riverside café in the day or enjoy an ice cold beer under the stars at the veranda at night.
Price Range: $15 – $35
What to Eat: Macaroni & Cheese, Cha Yen Krup
Where to Park: Sports Hub@Punggol
Parking Charges: Before 6pm: $0.60/30min After 6pm: $0.90/30min
Tip: If it's not raining, enjoy riverside views or even stargaze by the veranda!
10 Tebing Lane
Singapore 828836
Tue to Fri: 3:30pm – 10:30pm, Mon: Closed
Sat, Sun: 9:30am – 10:30pm
6) Cafe Colbar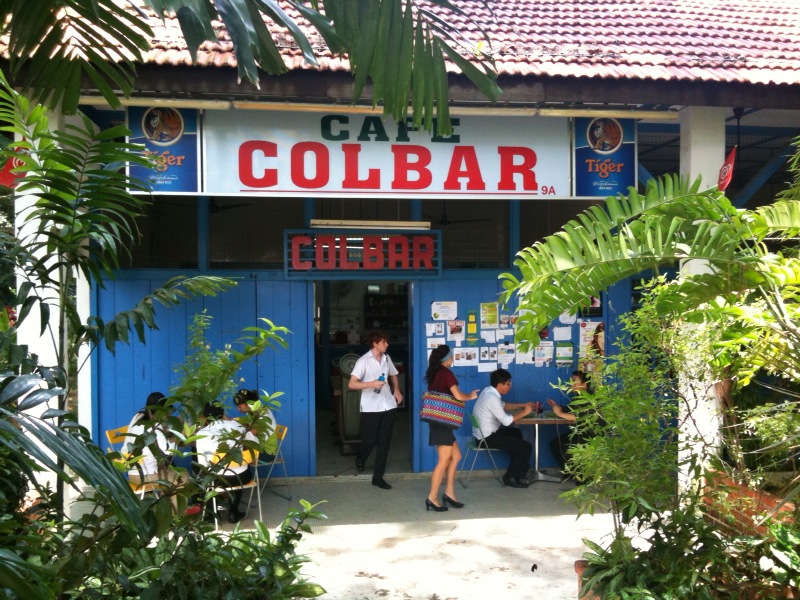 Colbar, an abbreviated form of Colonial Bar, specialises in Western cuisine and its nature is an old school kopi shop and a traditional British fish and chip shop. No frills, no air con, and hearty old school dishes — This place is more popular amongst the older generation and we can definitely see why.
Price Range: $10 – $20
What to Eat: Sole Fish & Chips, Pork Cutlet with Chips
Where to Park: Parking along the road and in the Wessex Estate parking lots
Parking Charges: Free all day
Tip: Ask for their Hainanese/Western fusion food which isn't on the menu!
9A Whitchurch Rd
Singapore 138839
Tue to Sun: 11am – 10pm, Mon: Closed
7) Paddy Hills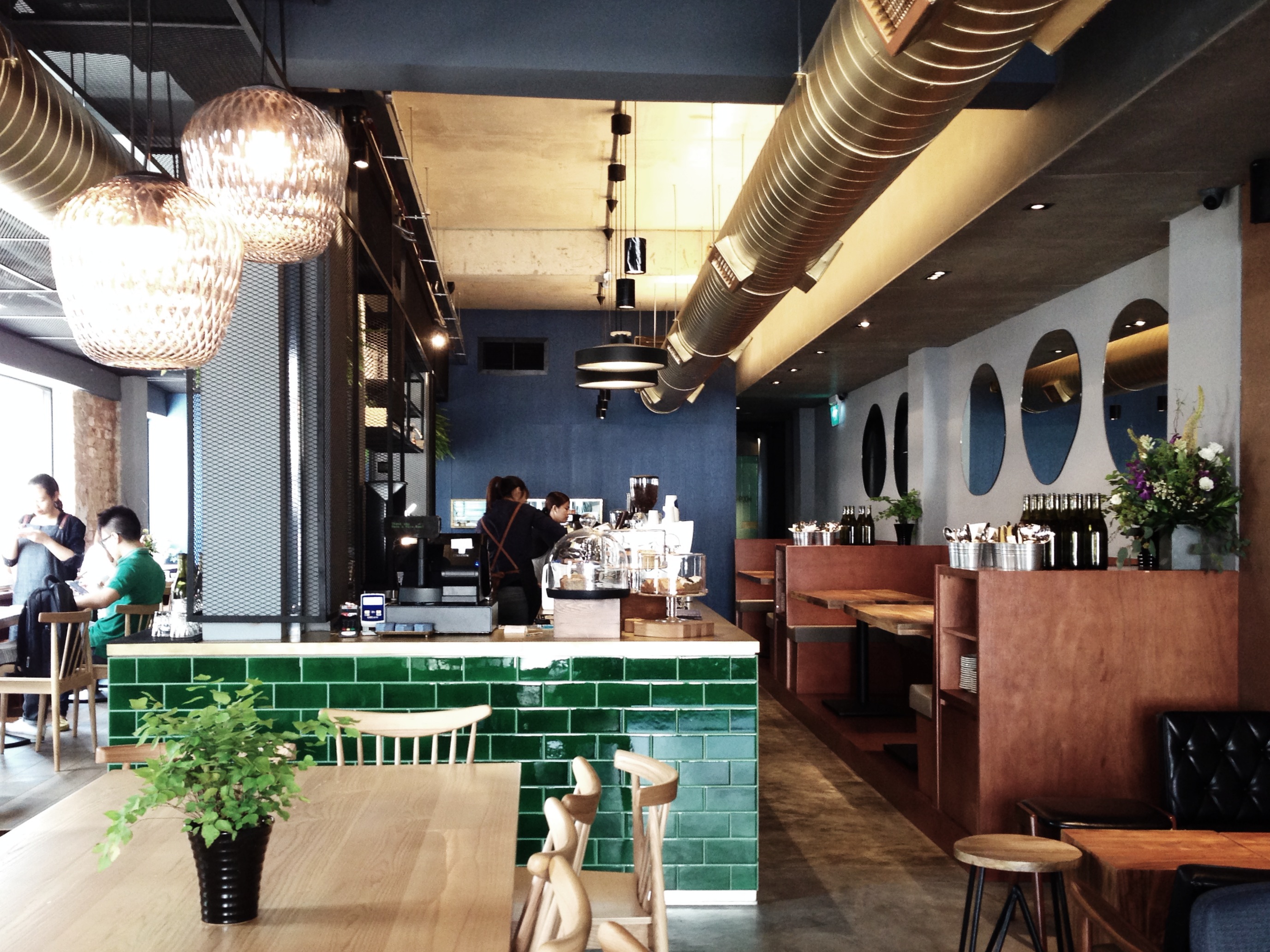 Mention Paddy Hills to any avid Instagram user and it'll definitely ring a bell. From the minimalist interior to its extremely photogenic dishes, Paddy Hills has fast become one of the top brunch spots in Singapore. The only down side is that it is slightly inaccessible in the sense that it's not of walking distance from the nearest MRT station. With a car, however, this will never be a problem for you.
Price Range: $20 – $40
What to Eat: Berry Muffcakes, Squid Ink Garlic Rice
Where to Park: Limited parking in front of shophouses but try looking for lots in the neighbourhood
Parking Charges: Free all day
Tip:
38 South Buona Vista Road
Singapore 118164
Mon to Fri: 10.30am – 5pm, 6pm – 10pm
Sat, Sun: 9am – 5pm, 6pm – 10pm
8) PasarBella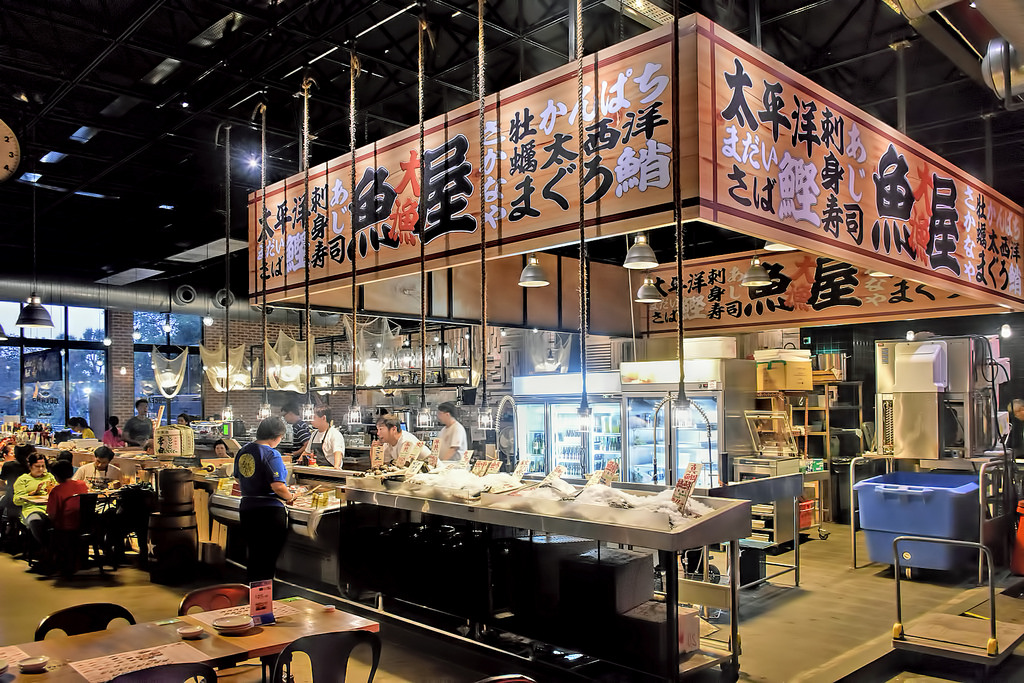 PasarBella houses global cuisines and Singapore's freshest produce, wines, craft beers, and groceries. The only downside is its location, which wouldn't be too much of a hassle if you own a car! The abundance of free parking spaces at The Grandstand shows that this dining haven is meant to be exclusive to those who drive.
Price Range: ~$50
What to Eat: Lobster Platter, Sashimi (Oceans of Seafood), Squid Ink Paella (Papito)
Where to Park: The Grandstand
Parking Charges: Free all day
Tip: Still craving dessert? Head over to Da Paolo Gastronomia to find some spectacular desserts!
200 Turf Club Rd
Singapore 287994
Mon to Thu: 10am – 9pm
Fri to Sun: 10am – 10pm
9) HOUSE @ Dempsey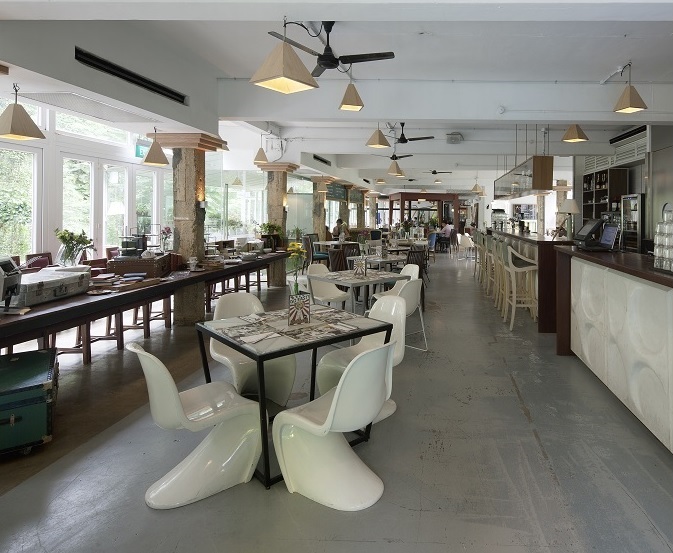 Most Singaporeans are familiar with Dempsey Hill, where clusters of fancy restaurants and eateries serve a wide range of different cuisines. While Dempsey may seem tucked away to some, the dining enclave is always buzzing and full of great foodie options. We picked HOUSE @ Dempsey out of all the dining options there as it is known to be a popular AND affordable brunch destination that offers interesting twists to brunch classics. The interior provides homely vibes and service has never failed to be impeccable each time we're there.
Price Range: $30 – $50
What to Eat: Asian Sliders, Truffle Fries
Where to Park: Dempsey Car Park
Parking Charges: Free all day
Tip:
8D Dempsey Rd
Singapore 249672
Mon to Fri: 12 – 11pm
Sat: 11am – 12am, Sun: 9am –11pm
10) Artichoke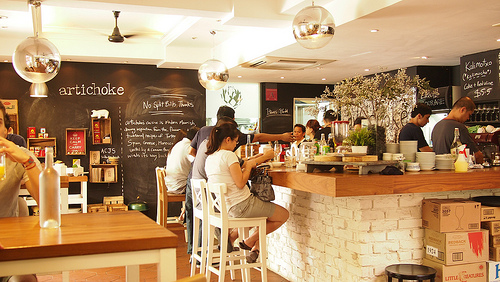 Situated at the junction of Waterloo Street and Middle Road, this little restaurant is tucked away in a nook behind a bright yellow heritage chalet-looking building opposite Fortune Centre. Serving up delectable Middle Eastern food prepared with only the freshest ingredients, Artichoke is definitely worth taking the drive for.
Price Range: $30 – $50
What to Eat: Sticky Date Pudding, Lambgasm
Where to Park: IOI Plaza Singapore
Parking Charges: Before 5pm: $0.04/min, After 5pm: $0.02/min
Tip: The menu changes seasonally so be sure to check what's new!
161 Middle Road
Singapore 188978
Tue to Fri: 6:30pm – 10:30pm, Monday: Closed
Saturday: 11:30am – 3:30pm,6:30pm – 10:30pm, Sunday: 11:30am – 3:30pm
Have you tried any of these restaurants? Do you have any new recommendations that we may have missed out? Comment below!