Car Bites
Things You Didn't Know You Could Do in a Tesla
Tesla is far from a conventional car. Chock-full of features you'd never think a car would have, Elon Musk has been pushing ahead with his farfetched ambitions for the future of cars. Carefully treading the line between ingenuity and insanity, he's done much for the reputation of the humble electric car. Whether you agree with his wild ideas, one thing's for sure, he has the budget to bring it to life and the determination to prove his naysayers wrong.
Fortunately for us, this means exciting, hidden features and easter eggs you wouldn't expect in a car! If you don't know what kind of easter eggs and Tesla functions we're talking about, don't worry. In this article, we'll be taking a look at the different functions and features drivers might not know about!
Tesla Easter eggs
The digital prankster himself has added a few humorous additions to his fleet of Teslas. And that includes the emissions testing mode, or commonly known as Fart Mode! With the help of the easter egg menu, you'll be able to prank your passengers with the classic old school joke that never goes out of style. 
But if you're unimpressed with the loud obnoxious toot, then you might find some fun with the sketchpad! It's perfect for entertaining your kids or just having a nifty tool to unleash your inner creativity while you're caught in the middle of peak hour traffic.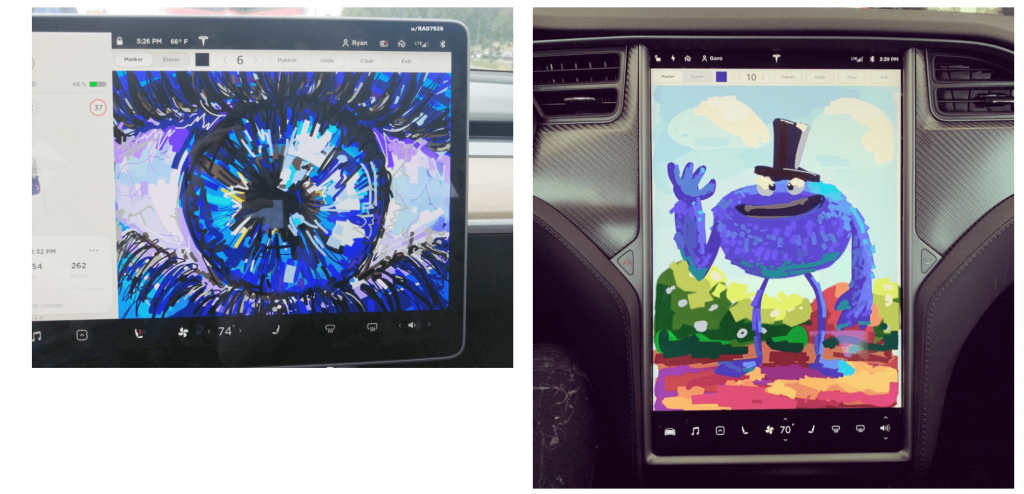 Source: xautoworld.com
Although it's not yet Christmas, those missing the wintery holiday can indulge in Santa Mode! This easter egg adds a Christmas flair to your Tesla with your car transforming into Santa's sleigh, on the dash display! Other cars are not excluded by appearing as reindeer on the screen. With Christmas jingles like Run Rudolph Run and sleigh bells ringing when invoking a turn signal, you'll be in the mood for Christmas in no time. 
For SpaceX fans, you can enjoy the Mars mode feature! While colonizing Mars may not be a feasible idea anytime soon, you'll get a sneak peek of how it's like to explore Mars! With the GPS map transformed from Earth to Mars' rocky surface, you'll see your car traversing the planet as the Mars Rover! 
With these easter eggs, and more potentially coming with every new software update, you can't say that the experience of driving a Tesla will be boring. 
Be your own DJ 
Tesla has nailed its sounds system with 15 speakers in total producing sound quality reportedly rivalling Bang and Olufsen. But did you know, they also have a digital audio workstation?
With TRAX, you'll be able to be your own DJ, right from the comfort of your car! Even music producers such as "The Hyphenate" have managed to create a catchy beat in just a few minutes! And Grammy winner Jack White has joined in, using his Tesla to record music.  
You'll also get to freely access the ever so essential Spotify app without needing to fumble with your phone during your car ride. Just tap on your Tesla's touch screen and you'll be able to access your playlists on demand. Or better yet, use the voice control option and tell your Tesla what song you'd like to hear! 
Your steering wheel = game controller?
If music's not up your alley, then you'll be impressed with Tesla's arcade system!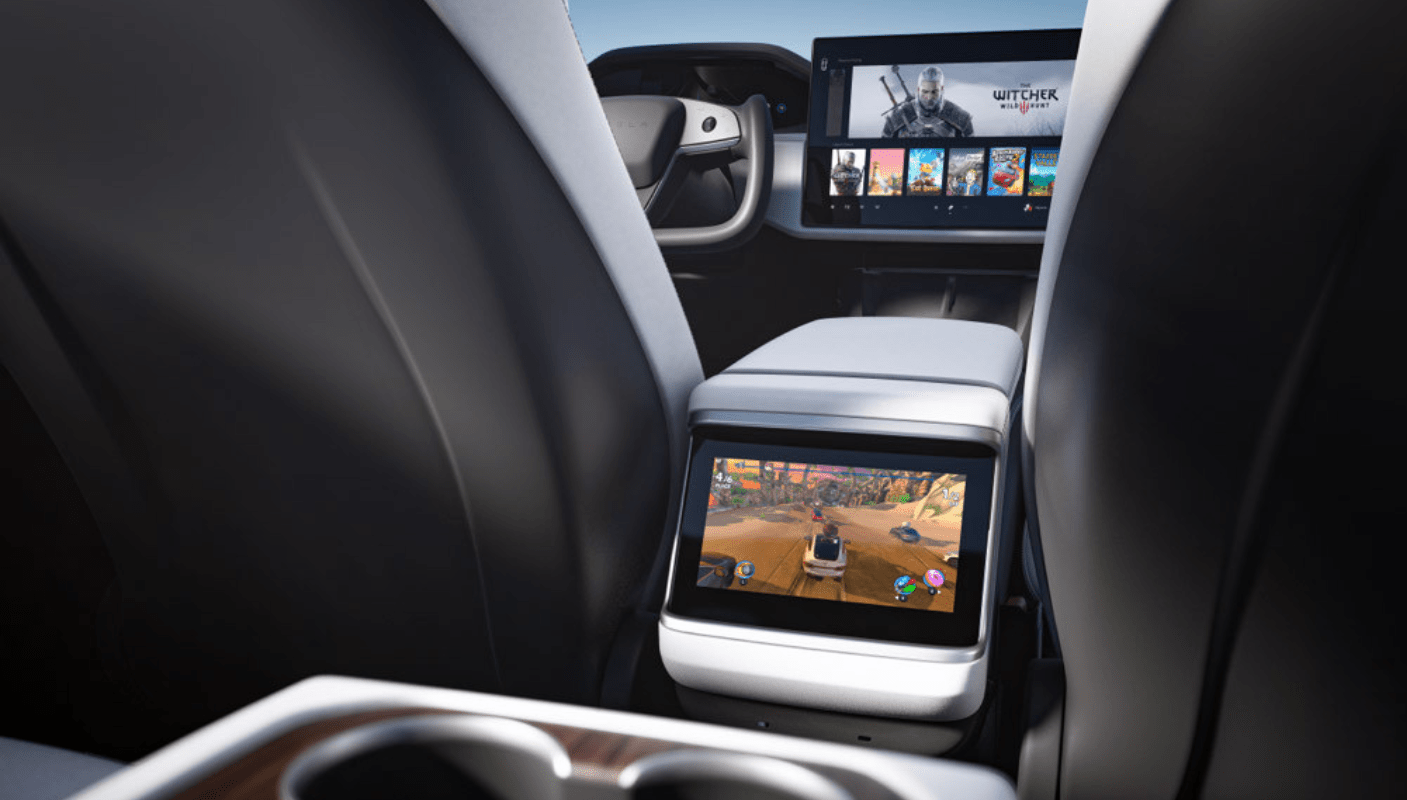 Tesla's arcade system, the equivalent to the App Store but for games, has notable titles such as Cuphead, Stardew Valley, and Fallout Shelter. Wireless controllers are supported along with a separate screen for those sitting in the back seat, so bring your friends for a fun time! But if you prefer the full experience, you can also use the steering wheel as a game controller! Just make sure not to step on the accelerator… 
If you're not convinced, Model S comes with a 10-teraflop gaming computer which is comparable to the 10.28 teraflop PS5 or the 12 teraflop Xbox Series X. Just so you know, terraflops are a direct mathematical measurement of a computer's performance. Of course, there's more than just teraflops to measure performance as a number of different factors must be taken into account. But nevertheless, it seems to be a decent gaming experience for now! 
So look out because gaming with your Tesla is set to be an exciting experience in the future!

Tesla also has streaming functions, so you can watch Youtube, Netflix and Hulu from your plush leather seats! Just tap the touchscreen to access these functions and of course, make sure you're subscribed to the streaming service. And it goes without saying that you'll need to park your car to use these cool functions! So this will come in handy while charging your Tesla or keeping the kids occupied on a long drive! 
Sentry mode 
Getting a Tesla can be expensive, and here's how Tesla helps you out with its security functions! Its Sentry Mode continuously monitors the environment around a car when it's left unattended.
It has 3 states:
Standby: Your car's external cameras will be continuously detecting any potential threats

Alert state: For minimal threats, such as people leaning on your Tesla

It displays a message on the touchscreen warning that its cameras are recording for deterrence 

Alarm state: For more severe threats

 Your car alarm will be detected, and your car will increase the brightness of the centre display while playing music at maximum volume from the car's audio system.

Owners will receive an alert from their Tesla mobile app notifying them that an incident has occurred. They'll be able to download a video recording of an incident.
So car thieves beware! Stealing a tesla might be harder than you think!
Tesla app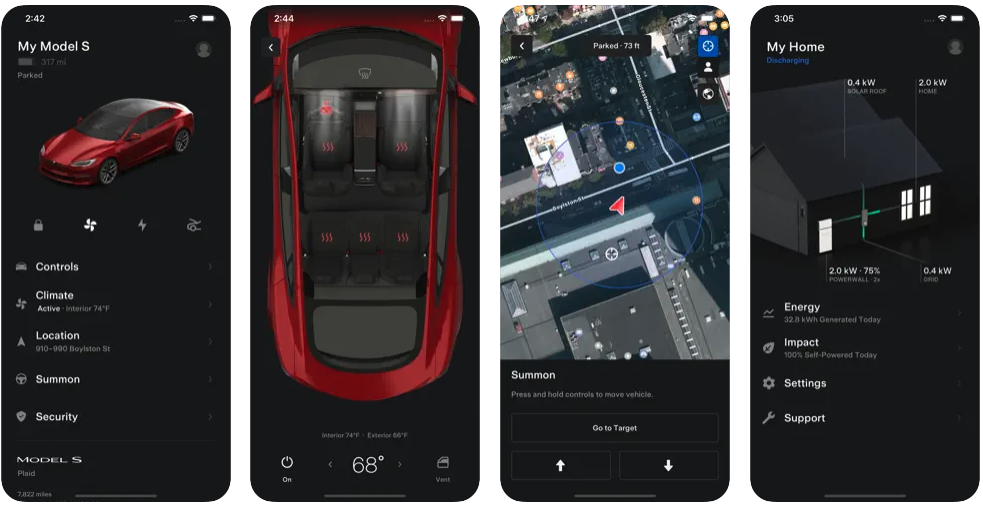 And of course, Tesla has its own app in the app store! Just check out its functions below: 
Check charge progress in real-time and start or stop charging

Heat or cool your car before driving – even if it's in a garage

Lock or unlock your car from afar

Locate your vehicle with directions or track its movement

Send an address from your favourite apps to start navigation in your car

Allow your passengers to quickly control media

Activate Flashlights or honk the horn to find your vehicle when parked

Vent or close the panoramic roof

Summon your vehicle out of your garage or tight parking space (for vehicles with Autopilot)

Update your vehicle software from wherever you are

Engage with Powerwall: monitor how much energy is stored from solar, used by your home, or exported to the grid

Download your solar production and battery usage data
---
Thinking of making the switch to a Tesla? Make sure you don't shortchange yourself and sell your car for the best price, at the better place to sell cars! 
Or maybe you'd like to have a go at a Tesla before committing to a big purchase? Find out what Teslas you can lease with our subscription plans!