Say hello to the new all-electric Lexus UX 300e, officially unveiled in Singapore on 22 April 2021.
The UX 300e marks the start of an electrified era at Lexus as the company aims to transform luxury vehicles of the future in line with Singapore's shift towards electrification. Let's have a closer look at this stunning crossover SUV!
The first Lexus Electric Vehicle (EV)
Being the flagship EV model in the Lexus lineup, the Lexus UX 300e has been created to maintain the distinctive design and utility characteristics of the UX while offering the unique performance that's only available in EVs — namely the instant torque and powerful acceleration.
This refined driving signature will leverage the new electric drivetrain and the GA-C platform, which delivers an exhilarating experience. The platform optimises the crossover's shock absorbers' damping force, which helps to match the dynamic changes of electrification.
Further enhancing the driving experience is the UX 300e's high output motor which offers a natural and lively acceleration.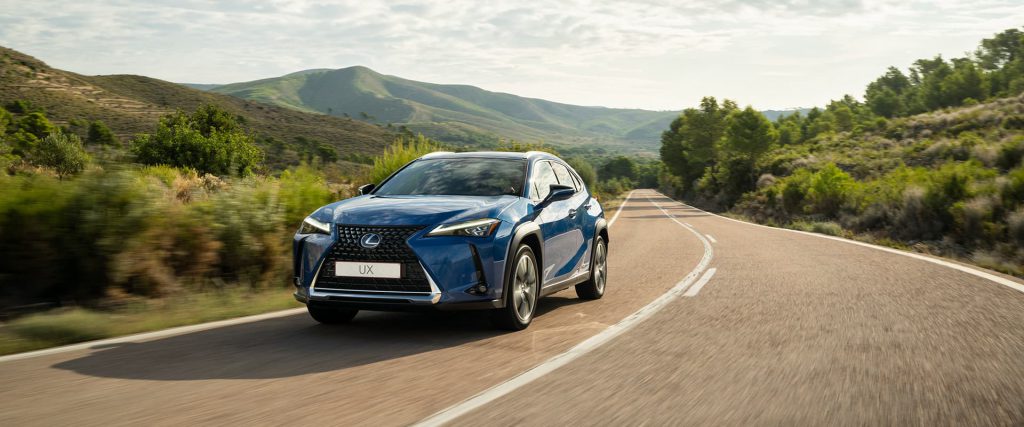 Sitting 67mm lower than the hybrid UX model, drivers will also enjoy smooth and responsive handling, and a stable drive, thanks to the high-capacity batteries anchoring the cabin. This optimizes the front/rear weight distribution and gives the crossover a low centre of gravity, which results in a super fun drive.
Lexus UX 300e's a Stunner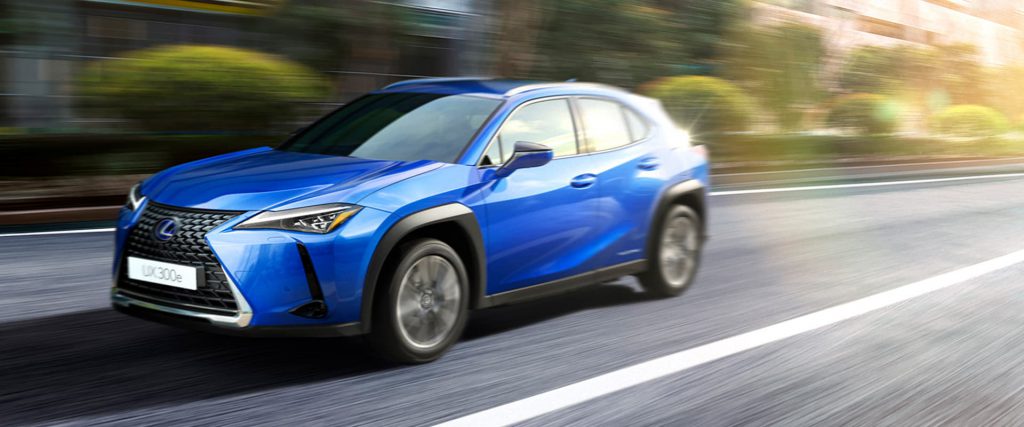 Bold yet sophisticated, this Lexus UX sports a stunning design that emanates an aura of toughness, sportiness, and agility. It's inspired by the traditional Japanese concept of Engawa, which is the essence of Japanese architecture. This concept connects the exterior and interior design, allowing for a harmonious coexistence with the environment.
Refinement and Sound Management Synonymous with the Lexus DNA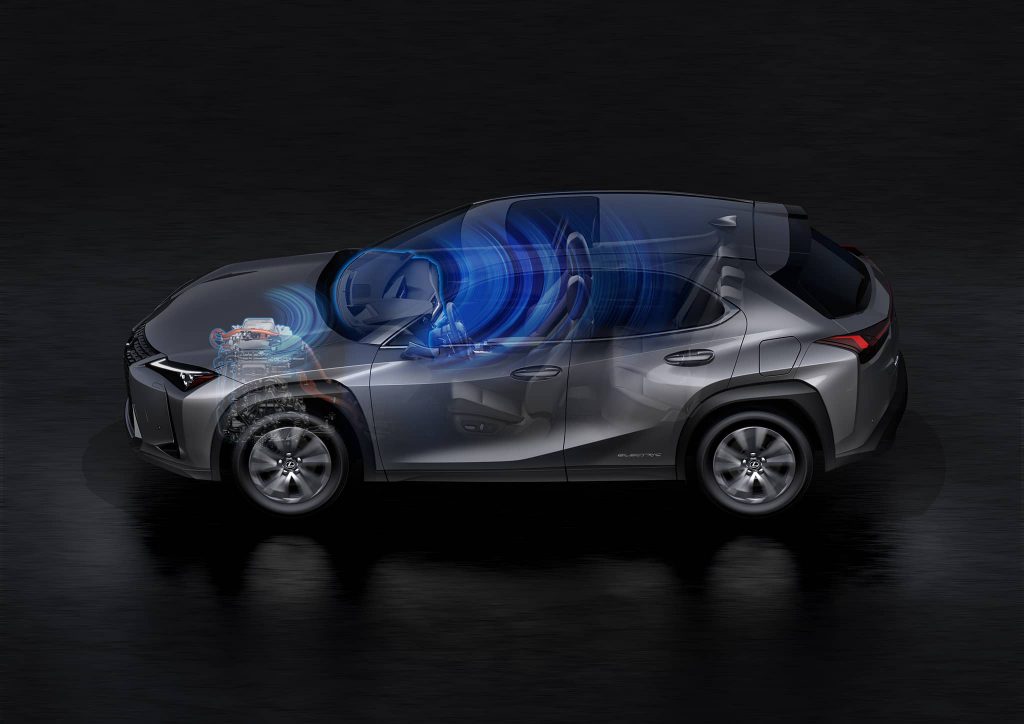 Electric cars are known for being quiet drives, and with the Lexus UX 300e, you'll enjoy even more hushness due to added insulation this crossover receives. The added insulation helps to suppress road noise from wind or pebbles, some things you'd be able to notice as there's no noise from the engine or transmission.
Drivers will also get the Active Sound Control (ASC) feature which transmits natural ambient sounds for a better understanding of driving conditions.
Practical and Reliable
This front-wheel-drive (FWD) 201bhp crossover pushes 300Nm of torque through the car to offer a powerful acceleration that is a highly responsive yet smooth and controllable ride.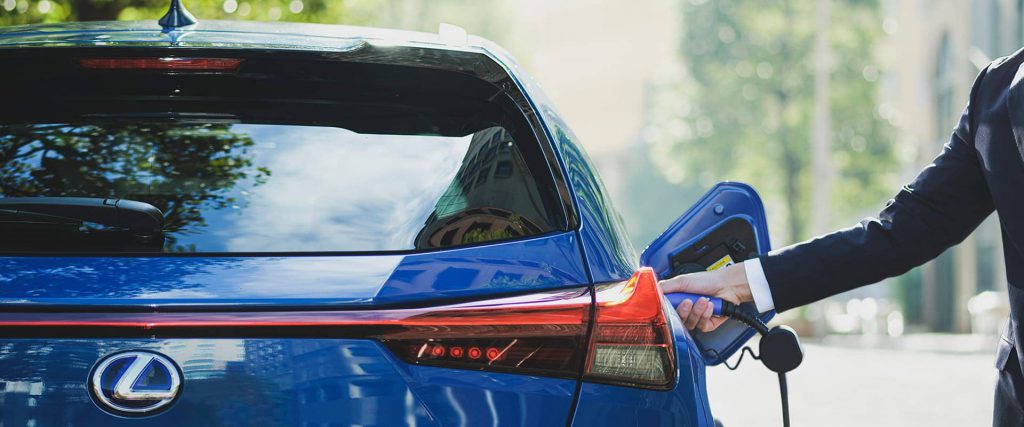 Being an electric car, having practical range and battery capacity is super important.
On a full charge, the UX 300e's 54.3kWh battery can push the car to a range of 300 km, which is roughly 5 – 6 days of driving. These are pretty decent numbers and can easily satisfy the needs of your typical Singaporean driver.
When it comes to charging, the UX 300e can transfer 6.6kW from an alternating current (AC) charger, and a maximum of 50kW from a direct current (DC) charger.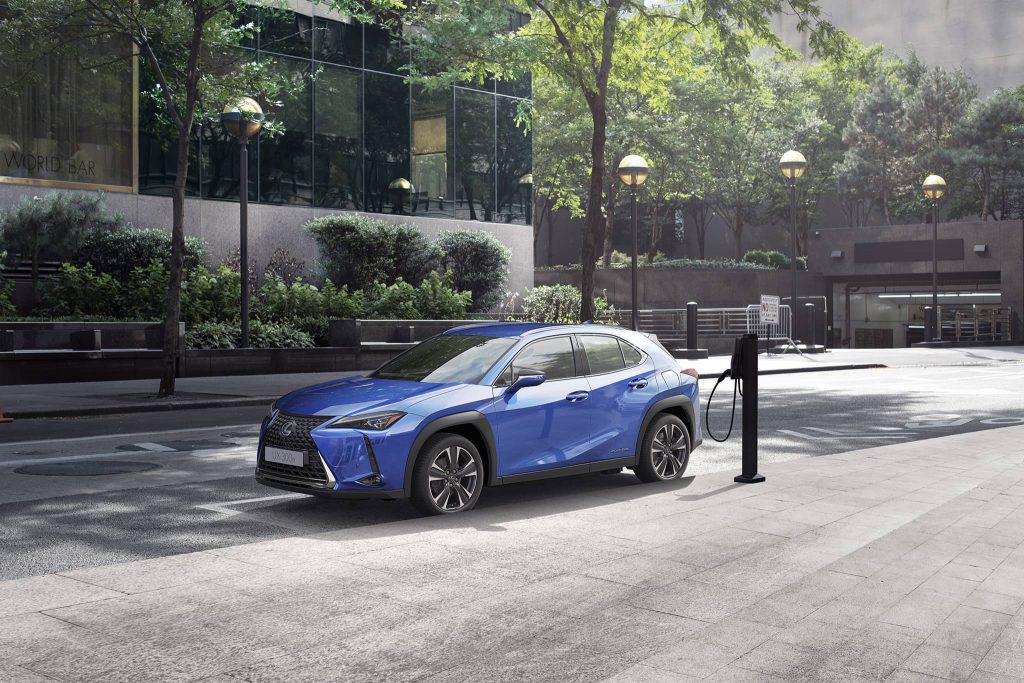 If you need more assurance on the reliability of this crossover, look no further.
Through advanced electrical management systems, the batteries were built with a temperature management system that helps to regulate charging and prevent overcharging. This supposedly helps with maintaining the battery's help and slows down its deterioration.
Furthermore, the company leverages its long history of being at the forefront of hybrid technology to deliver legendary Lexus reliability for added assurance.
Features and Benefits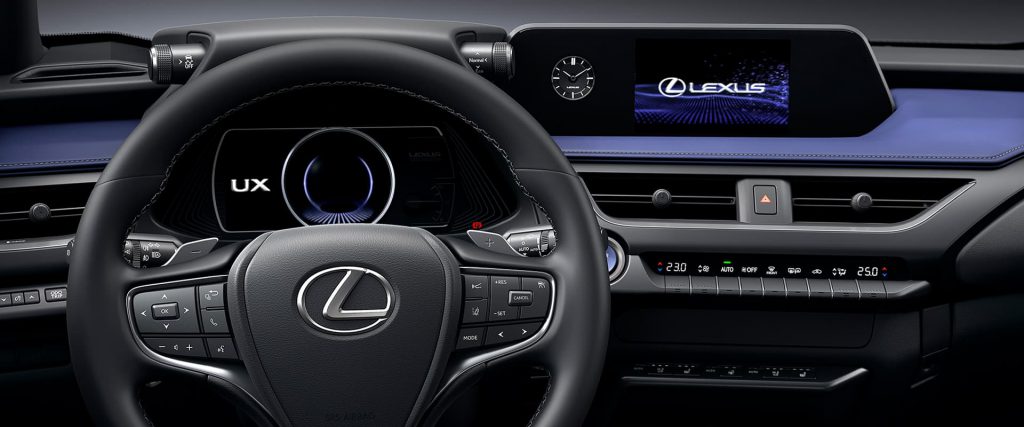 With a slew of premium features, drivers can enjoy high levels of comfort in the cabin of the UX 300e. From a pair of ventilated front seats, a superb 11-channel amplifier that delivers to 13 speakers in the Mark Levinson Reference Surround Sound System, an HD touchscreen that's compatible with Apple CarPlay and Android Auto, what else does a driver need?
Additionally, this crossover is equipped with the Lexus Safety System+. You'll get features like the Pre-Collision System, Dynamic Radar Cruise Control (high speed only), Lane Departure Alert, and an Adaptive High-beam System.
Furthermore, drivers will enjoy the 'Omotenashi' ownership experience which includes:
EV warranty for 8 years or 200,000km mileage
Comprehensive EV high voltage battery warranty for 8 years or 200,000km mileage
Complimentary charging at the Lexus Boutique
Complimentary car swaps to any Lexus Hybrids
Want a review of the Lexus UX 300e? Let us know in the comments below!
---