USA
Put These Places On Your Arizona Road Trip
Arizona may not be the first place that comes to mind when thinking of the US but it should be. This gorgeous state is home to one of the seven natural wonders of the world, the Grand Canyon. Full of natural wonders this part of the country is great for outdoor enthusiasts, geographers, and historians alike.
This desert climate is hot year round which makes it an excellent choice no matter the season. As in any desert prepare yourself for cold nights especially from November to April. The Grand Canyon is most frequented in summer months, June to August, due to water levels and the risk of flash floods during the rest of the year.
For this stunning state we recommend starting your trip in the south where you will get a taste of Arizona's city life. We recommend drinking lots of water as you acclimatize yourself to the hot desert conditions. From here make your way north and prepare to be in awe of some jaw dropping natural wonders.
Tucson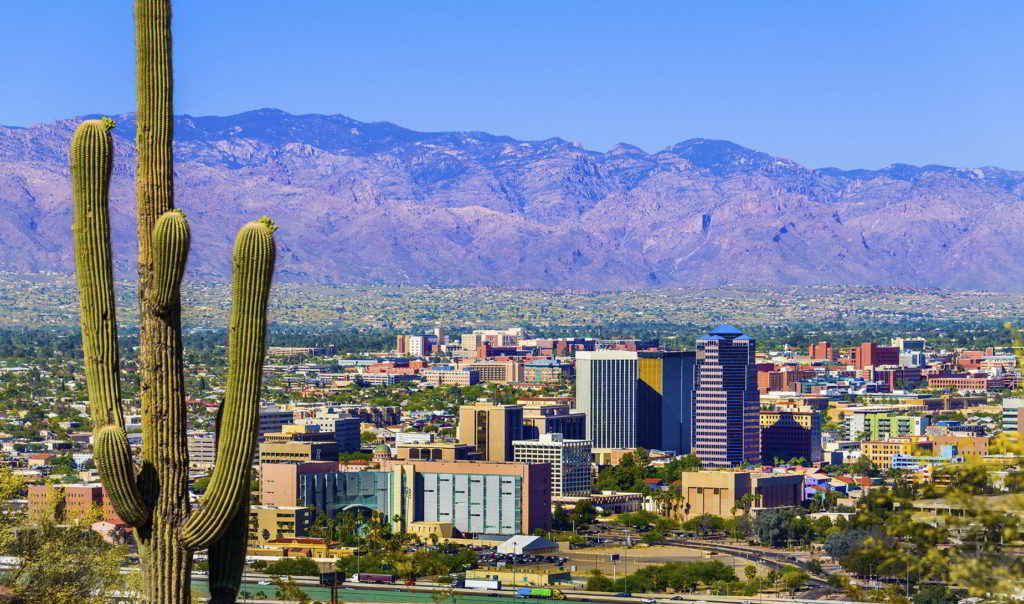 This is a seemingly low key city with a vibrant night life. Be sure to take in the fun and colorful Mexican culture that streams through this city.
Get your first taste of desert life in the Saguaro National Park where you will find tons of cacti and amazing biking trails. Go for a hike with the family and take in the non stop views of this park.
For those who have kids, or have a love for space, we recommend a visit to Pima Air and Space museum. This vast museum has a whopping 300 air and space crafts to peruse over an impressive 80 acres of land.
Phoenix
When ready for a bigger city head north towards Arizona's capital city, Phoenix.

This vibrant city is the biggest in Arizona yet still a smaller city when compared to other major US capitals. It creates a perfect blend of big city convenience and small town charm. Shop till you drop at Melrose shopping district or head to Roosevelt Row, an artsy district in the heart of Phoenix.
Not always common in a big city, Phoenix has excellent places to escape the rat race for a walk in the park. Do just that at Papago park where you will escape the desert feels with a little watering hole and the local attraction Hole in the Rock.
On your drive north towards Sedona, make sure to visit the Montezuma Castle National Monument. Here you will get a taste of ancient Sinagua culture by viewing the remnants of their impressive villages built into the limestone cliff side.
Sedona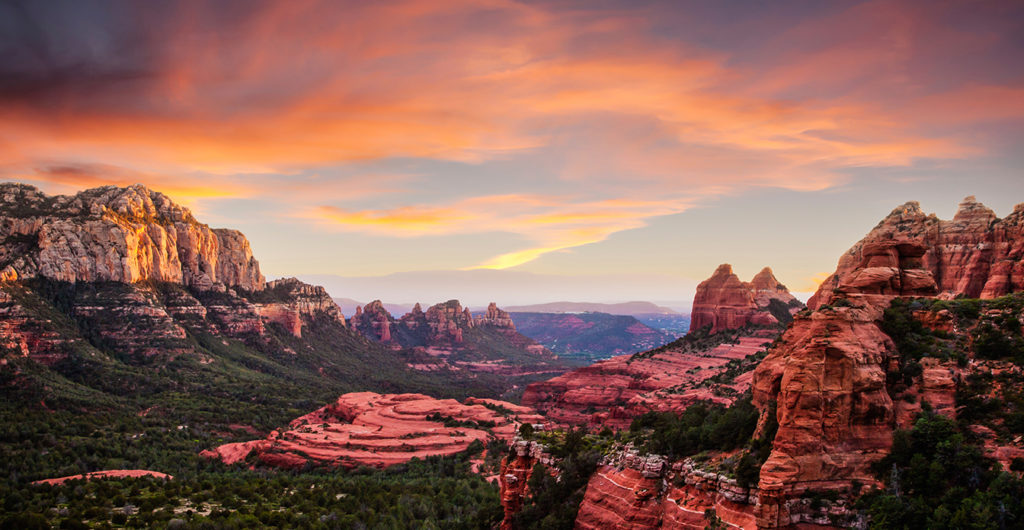 When you get to Sedona make sure you are fully prepared with lots of water, good hiking shoes, and your camera. Start by hitting Red Rock State Park where you will see impressive structures in this arid climate. Impressive views of red sandstone cliffs will overwhelm you as you drive across the landscape.
Cathedral rock is another must see in the area and is actually the most photographed site in Arizona. Having beautiful natural red rock formations, it is no wonder people are so impressed with this majestic landmass.
Chapel of the Holy Cross is a Roman Catholic chapel built in the rock. No matter your religious beliefs you are bound to be impressed with this structure. Head inside to enjoy the incredibly massiveness of your surroundings.
Before you head too far out of Sedona make sure you stop at Oak Creek Canyon. This is sometimes referred to as the Grand Canyons smaller cousin. While it does not carry the vastness of its big cousin it certainly has breathtaking sights that should not be missed.
Antelope Canyon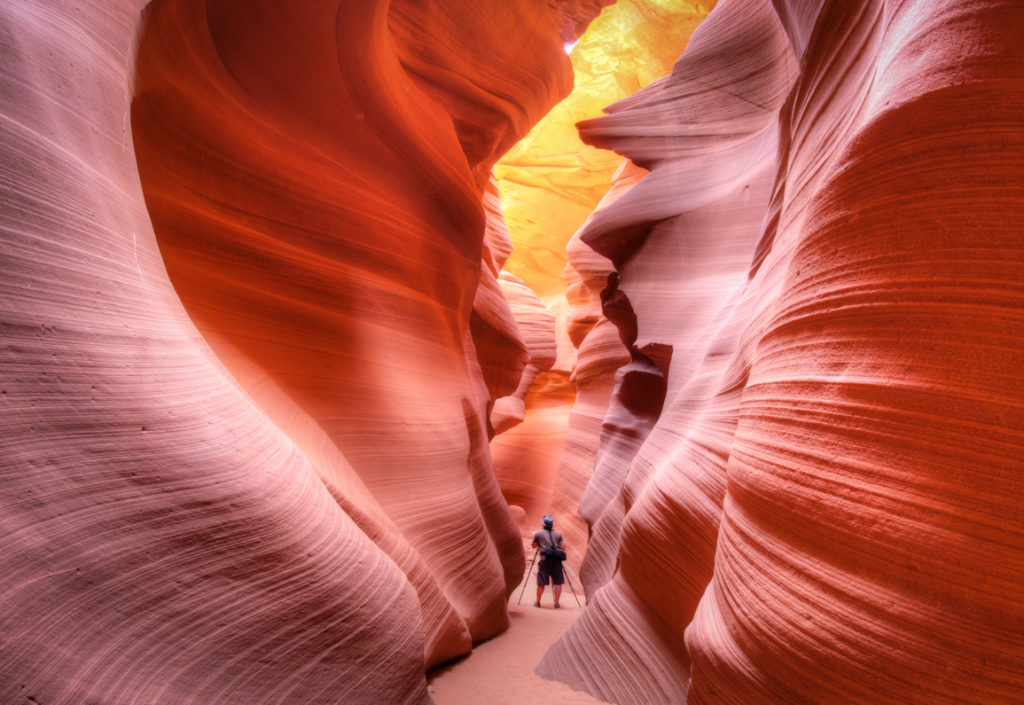 This is located in the northern tip of arizona and while you do have to drive past a small part of the Grand Canyon in order to get to it, it will be worth it. Trust us on this one, this is not somewhere you want to miss. This is one of those places that it is difficult to understand how impressive it is until you have visited it in person.
Prepare to feel tiny as you not only look at this exquisite canyon but climb into it. Prepare for only slits of sunlight as you navigate your way down the sandstone. A tour guide is needed here due to the high danger of flash flood and ease of getting lost.
In this area you will find other impressive wonders such as the Wave. See the impressive sandstone formations that looks like, just as the name describes, a wave. The Glen Canyon Dam is also worth a visit. This is a natural concrete arch-gravity dam that will have you wondering how mother nature creates it.
Once you've gotten a taste of all the rustic natural wonders head east to the world famous, and breathtaking, Grand Canyon.
Grand Canyon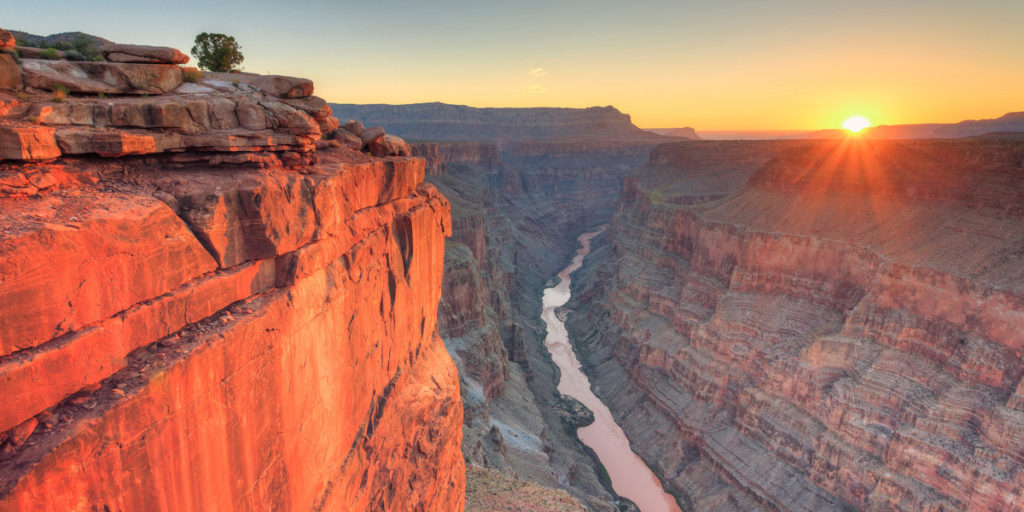 Millions of years of history are found in this 1,902 square mile natural wonder.  A geologist paradise, this ancient red rock will leave you with an overwhelming sense of smallness. Staring at this gorgeous landmass is great, but in some areas go one step further by going down to the bottom and staring up at the enormity of your surroundings. Take a stroll along the grand canyon skywalk. Not for the faint of heart, this is a glass walkway bridging between the two cliff sides.
Perhaps the most famous area of the Grand Canyon is the Havasu Falls. This requires an overnight hike through rivers, up canyons and past many waterfalls. With this breathtaking hike it is as much about the journey as it is the destination. That being said, when you reach the turquoise waters you will understand why this place has the draw that it does.