The Q60 took a hiatus in 2016 but has appeared in 2017 looking stylish in a new redesigned look. Despite the redesigning, Infiniti went to great lengths to keep the 2017 Q60 within its tradition of sporty coupe; with many claiming this to be the second coming of the beloved G35 coupe. Whether you agree with this or not, the beauty and class of this newest creation are undeniable. It has an exciting engine in one of the top trims, and it offers a splendid driving experience. Safety is well catered for, and we all expect this car to compete actively with the likes of Audi A5 and Mercedes-Benz C-Class Coupe.
AT A GLANCE
Upsides:
Numerous standard features
Good trunk space
Modern interior styling
Powerful engine choices
Downsides:
Low fuel economy
Poor steering feedback
Disappointing infotainment system
DESIGN:   4.2/ 5.0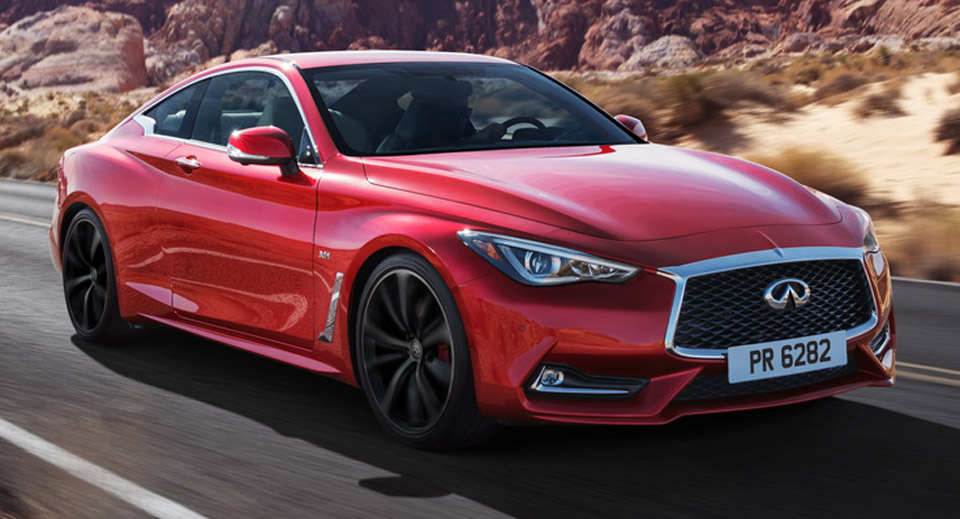 Looks may be this car's biggest asset. It has a big mesh grille with the company logo on it while impressive 19-inch alloys are standard on all trims. Incorporated as standard are fog lights, LED headlights and front door courtesy lights.
ENGINE, DRIVETRAIN, PERFORMANCE:   3.5/ 5.0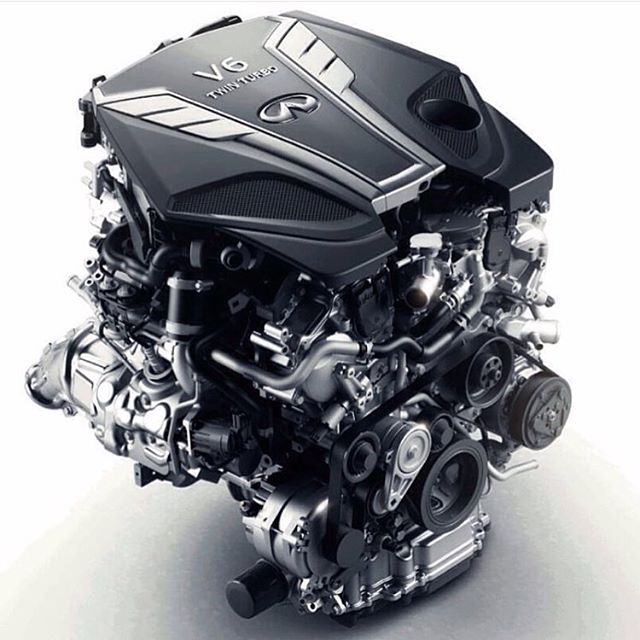 It is not just the aggressive design that sets this beauty apart from the competition, but also the duo engines of choice. The base engine is a turbocharged four-cylinder with a 2-liter capacity, and it is found in 2.0t models. It produces 208 horsepower and 258 lb-ft worth of torque. Couple that with a decent fuel economy of 22mpg city/30mpg highway and you have a smoothly refined choice of an engine.
The second engine alternative for the Q60 is a 3.0 liter twin-turbocharged V-6 that is exclusively found in the 3.0t and Red Sport trims. When this engine is in the 3.0t, it offers 300hp and 295lb-ft of torque while when it is in the Red Sport, the numbers rise to an impressive 400hp and 350lb-ft of torque.
Both sets of engines are coupled with a seven-speed automatic transmission.
TRIM LEVELS:  4.0/ 5.0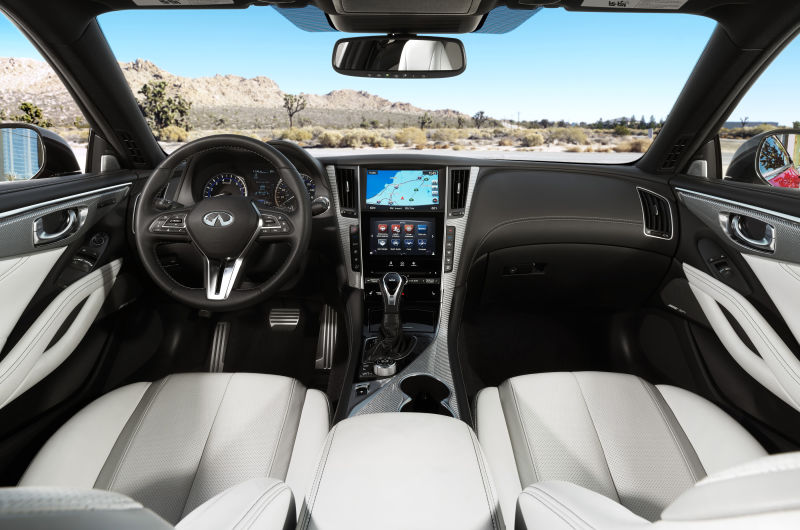 The Q60 offers five different trim levels, with each trim level coming with the option of rear wheel drive or all-wheel drive (so, basically ten trim levels!).
For a basic trim, the Q60 2.0t is anything but basic. The turbocharged 2.0-litre engine offers enough oomph for the ordinary driver while the seven-speed automatic transmission system is aided by INFINITI drive mode selector. The interior consists of leatherette upholstery and brushed aluminum, while the infotainment system includes a 6-speaker audio system. Other features included are a hands-free Bluetooth phone and a rear view monitor.
The engine and other performance package are retained from the lower trim, but a number of safety and comfort features of note are added. Some of the safety systems added include blind spot warning, forward emergency braking, backup collision intervention and predictive collision warning (forward). Other features include center point 2.0 surround system while heated steering and front seats are optional.
The most impressive equipment in this trim level is the 3.0-litre twin-turbocharged engine. The potent engine offers better balance to the driver while offering power the 2.0-litre counterpart can't. Other notable features include an electronic power steering as well as upgraded front lighting. Additional safety features include a lane-departure warning system.
This trim is all about elevated performance, as will attest the dynamic digital suspension and electronic shock absorbers. Many features, however, are also found in the previous trim level.
This trim level has the most powerful and responsive engine, expelling 400hp and 350lb-ft of torque.
SAFETY:  4.0/ 5.0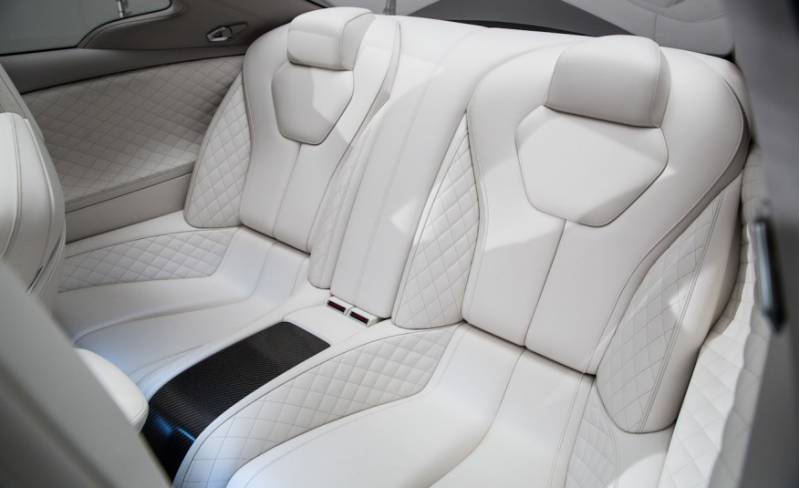 The safety features on the Q60 are amazing, and they vary from one trim to the other. Some of the more impressive ones include lane departure warning, blind spot monitor, daytime running lights, roll over protection system, traction control, child safety locks and numerous airbags among many others.
CONCLUSION:  4.0/ 5.0
Luxurious, Versatile, gorgeous and fun to drive, the newest edition of the Q60 characterizes an impeccable sports coupe for the modern market. It is a must have.