The Infiniti Q50 Red Sport 400 is the sportiest version of the Japanese luxurious sedan. The Q50 came to the market in 2013 and underwent first cosmetic and technical changes in 2016. The Red Sport 400 came as an addition to the line-up with the most powerful engine the company has got, targeting premium sports sedans primarily of German manufacturers. The time will show whether it is a true sports car which can satisfy the speed freaks or just another over-powered luxurious sedan.
AT A GLANCE
Upsides:
Safety equipment
Great engine
Luxurious and sporty feeling at the same time
Downsides:
Gearbox is little below engine's performance
Too much digitalization
Design: 4/5
Infiniti's signature "double arch" grille brings a strong first impression. The grille's three-dimensional, textural quality is provided by elaborate detailing of the waved mesh pattern surface and chrome surround, while the distinctive LED headlights and daytime running lights suggest an expressive form. The Red Sport 400 version is hard to distinguish from the regular version. It features a sport-styled front fascia, small red 'S' tell-tale badging at the car's rear end and unique exhaust tips. It also comes with unique 19-inch aluminum alloy wheels.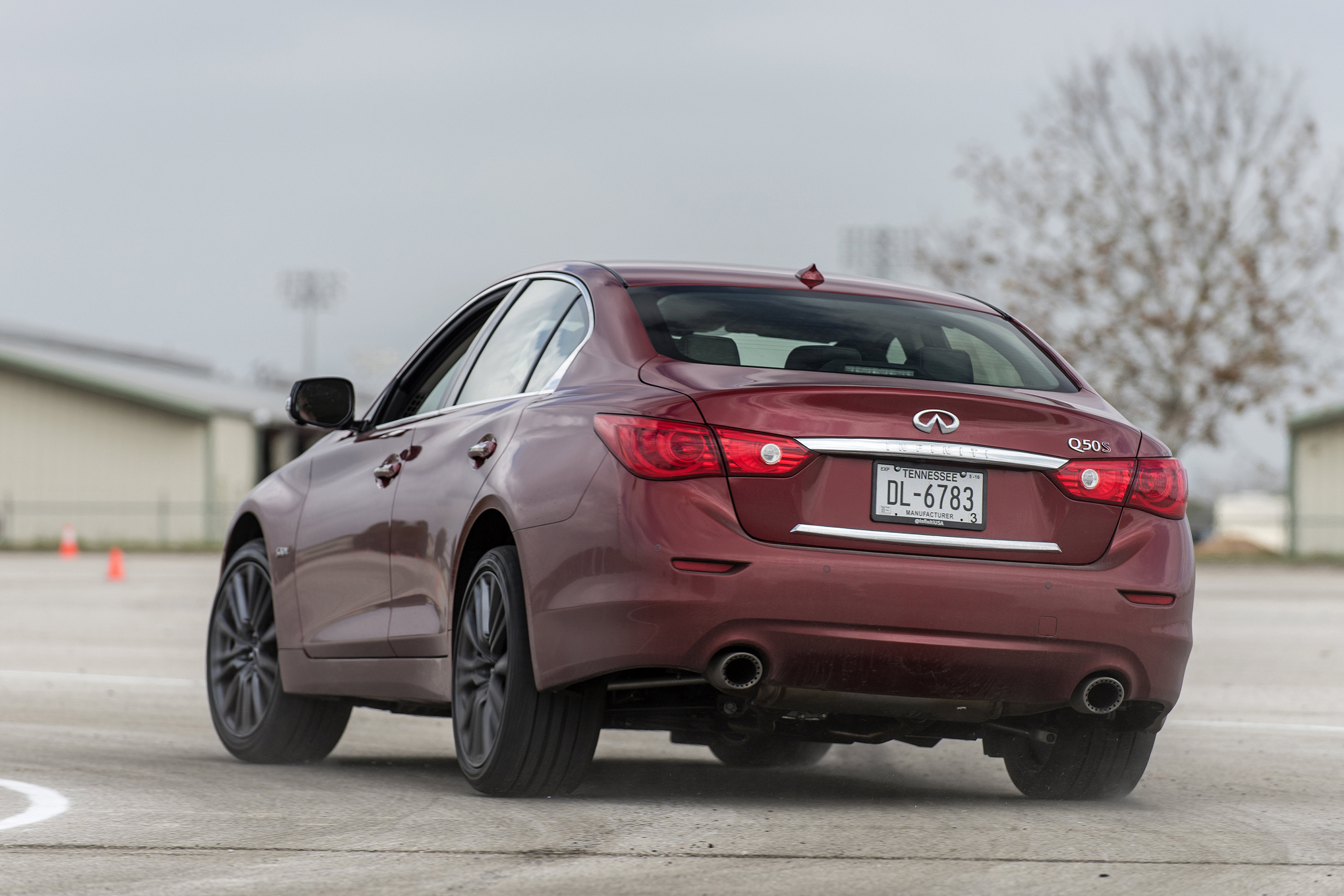 Engine, drivetrain, and performance: 5/5
Q50 Red Sport 400 is based on the Q50 3.0t. Both models are equipped with the same engine/gearbox combination, featuring the brand new 3.0-liter V6 twin-turbo 400 hp engine and 7-speed automatic transmission with manual override. All the power and 475 Nm of torque are transferred to the rear wheels, making this Infiniti a proper front engine/rear drive sports car. It accelerates from zero to 100km/h in 5.4 seconds, reaching the top speed of 250km/h. For superior driving performances, Red Sport 400 has sport-tuned Digital Dynamic Suspension.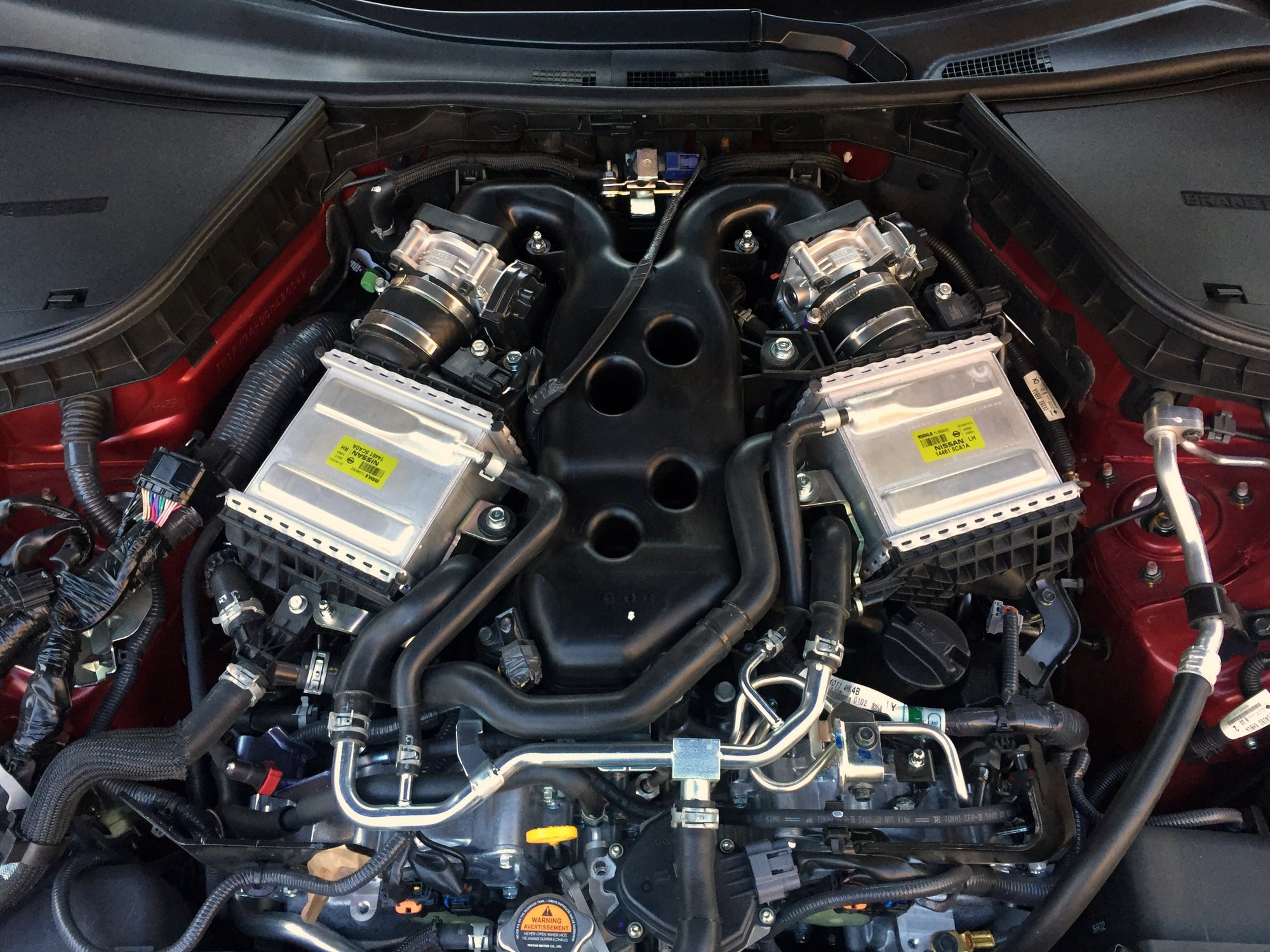 Trim levels: 5/5
Besides styling cues (wheels, exhaust, badge) which differentiate the Red Sport 400 from other models, it also features sport brakes with 4-piston front and 2-piston rear calipers, new rack-based Electronic Power Steering (or optional Direct Adaptive Steering), leather-appointed sport seats, aluminum accented pedals, solid magnesium paddle shifters and performance run-flat tires. A part of a trim package in the Red Sport 400 is also the Around View Monitor.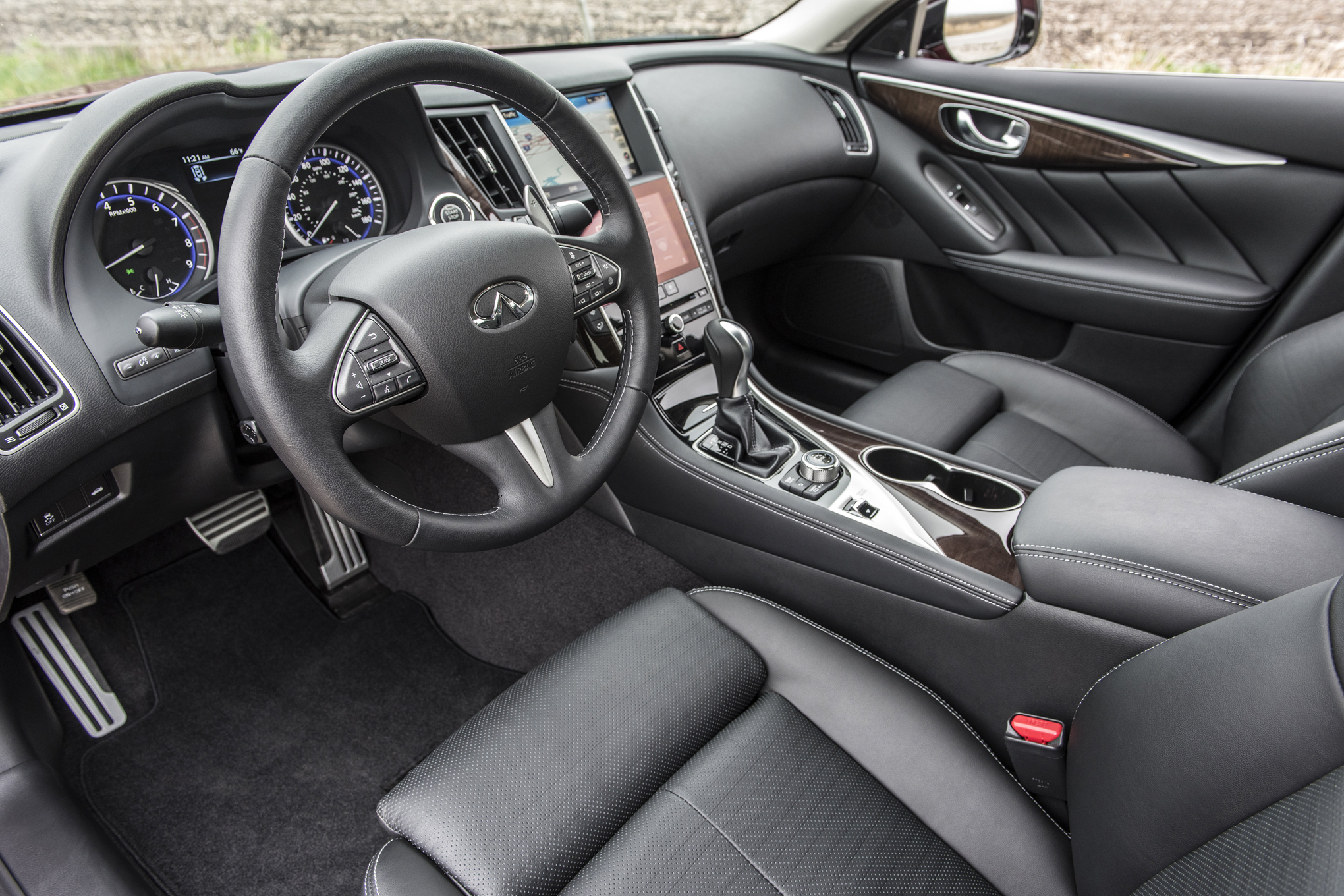 Safety: 5/5
The Infiniti Q50 has many safety and security technologies, just like other models of this brand, keeping it as a leader in its class. In addition to six airbags, the Technology Package also includes Front Seat Driver/Passenger Pre-Crash Seatbelts, Lane Departure Warning (LDW), Blind-Spot Intervention (BSI), and Lane Departure Prevention (LDP) with Active Lane Control. There is also the new Driver Assistance Package, which adds technologies like Blind-Spot Warning (BSW), Forward Emergency Braking (EB), Predictive Forward Collision Warning (PFCW), Back Collision Intervention (BCI) with Cross Traffic Alert (CTA), and Around View Monitor (AVM) with Moving Object Detection (MOD).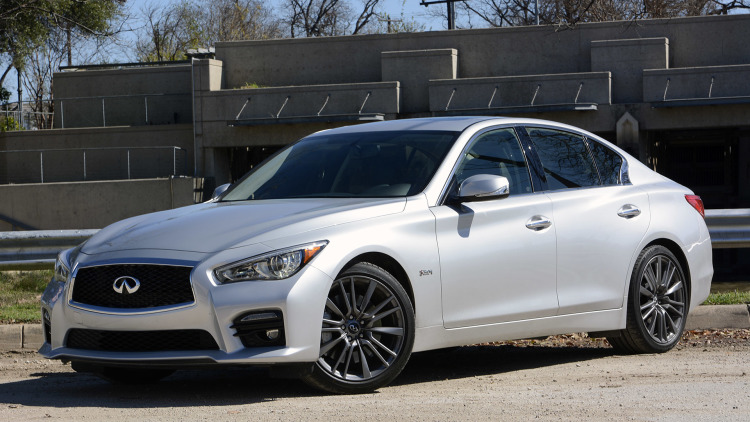 Conclusion: 4.75/5.0
When you have the strongest and the fastest Infiniti in front of you, the only thing you can expect is maximum sportiness and outstanding driving performance. The Red Sport 400 is giving all that and much more. The word 'more' is not always the best thing, because Red Sport 400 offers maybe too much digitalization, so the steering, suspension, and stability control system are killing the real analog feeling of true sports driving. We understand that all that computerization ensures maximum safety but on the other side, it prevents the raw sporty pleasure. To conclude, Q50 Red Sport 400 is still a comfortable executive sedan, not a sports car.