Since its debut at the Geneva Motor Show, the all-new Honda civic type R has been described as the hottest hatchback in its class. True to this sense, Honda has gone all out hardcore with the new civic type R. A brief description of the Honda civic type R would be a combination of brute power, over the top styling and excellent driver assist features. The car doesn't come short in any way. Unlike most of the other high-end hatchbacks such as the Golf GTI which are easy going and adaptable cars, the type R is a genuine high-performance machine.
AT A GLANCE:
Upsides:
Superior performance
Dynamic styling
Engaging drive
Thrilling handling
Downsides:
The turbocharged engine can be a little bit noisy
DESIGN: 4.5 / 5.0
With about twice the power of the previous models, the new type R got a complete redesign of the drivetrain, steering system, suspension and body aerodynamic. Looks are said to be subjective and Honda took a big gamble with over-the-top styling of the type R. Nonetheless, the highly aerodynamic body with awkward angles somewhat make this car look like a beast and it's something many people would love. The interior offers great and comfortable seats which give a good driving position. On the dash, there are quite awkward and complicated displays that may prove a challenge to use but work just fine once you are used to them. The car offers boot space of 500 liters which is also quite decent.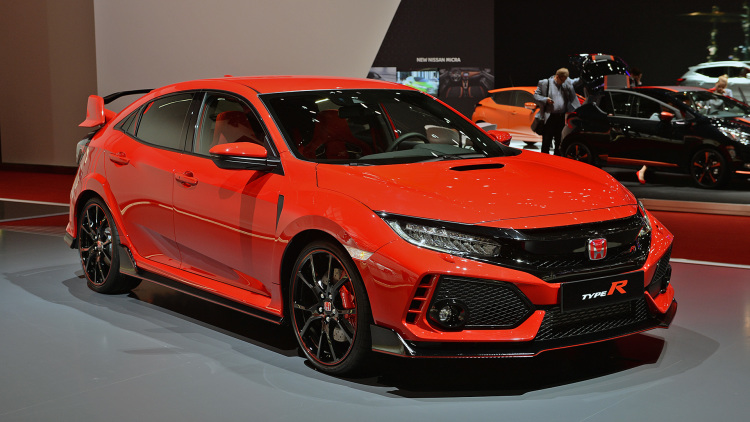 ENGINE, DRIVETRAIN, PERFORMANCE: 4.5 / 5.0
VTEC plus turbo? Well, let's just say this is a dream come true for many Honda fans. The new civic type R is powered by a 2.0-litre turbocharged inline four VTEC engine which churns out an impressive 306hp and 295 lb-ft torque, all through the front wheels. This impressive engine is able to give out neck-breaking torque and at the same time stay within the tight euro-six emission standards. While rivals like the Golf GTR offer a more dynamic all-wheel drive, Honda took a bold move with the type R being a front wheel with standard only, six-speed manual gearbox. All this power channeled through the front tires would present a handling nightmare but Honda has come up with a clever solution in the name of dual-axis front strut setup. This intelligent combination of links and struts is meant to reduce torque steer and hence the car handles just fine.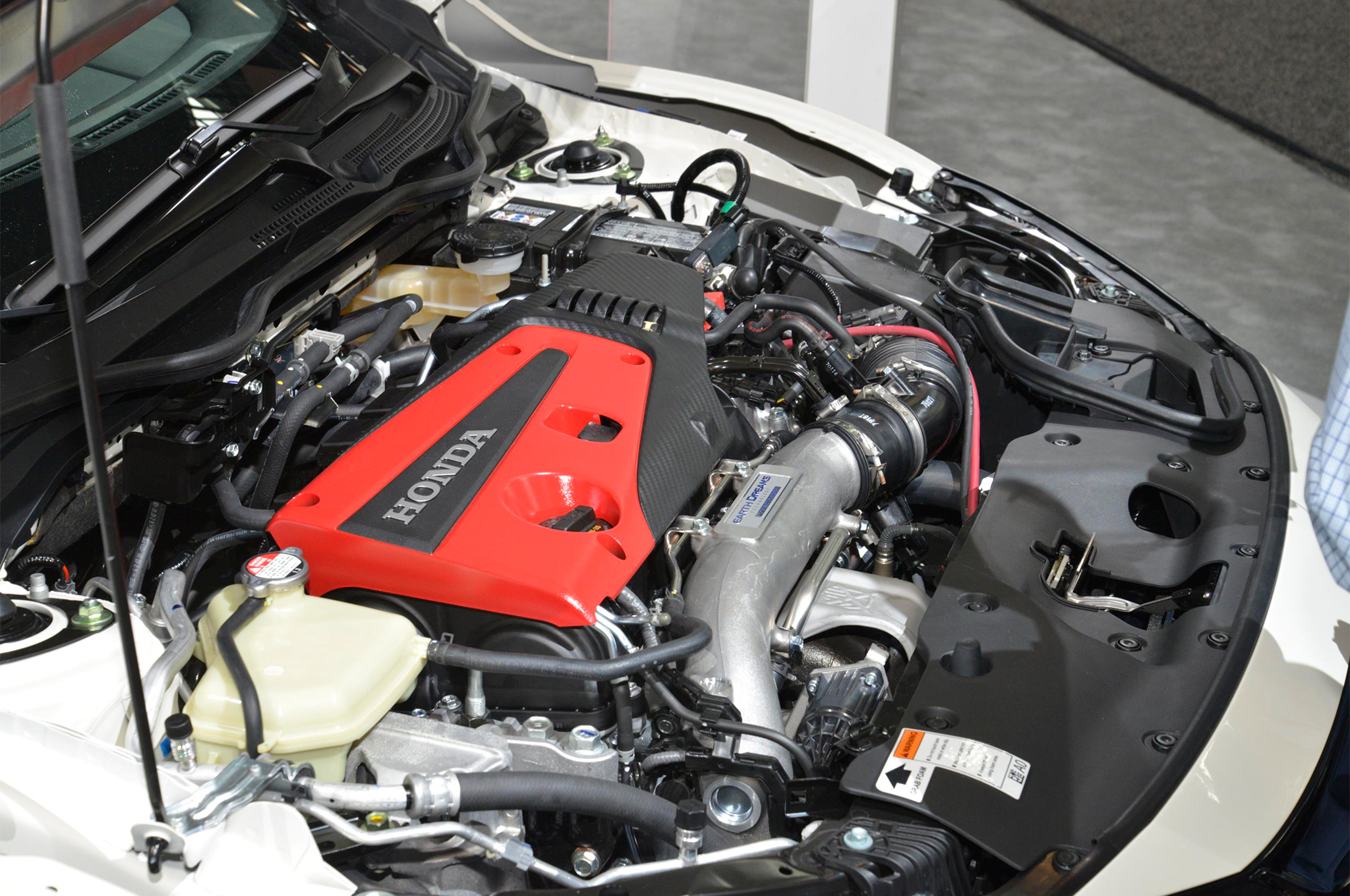 TRIM LEVELS: 4.5 / 5.0
Honda offers the type R in the touring trim level only. This trim features 20-inch alloy wheels, adaptive dampers, adaptive electric power steering system, Android Auto and AppleCar play compatibility, navigation and 12 speaker audio system. In addition to these, the car has all the other features available in the Honda civic hatchback sports touring trim.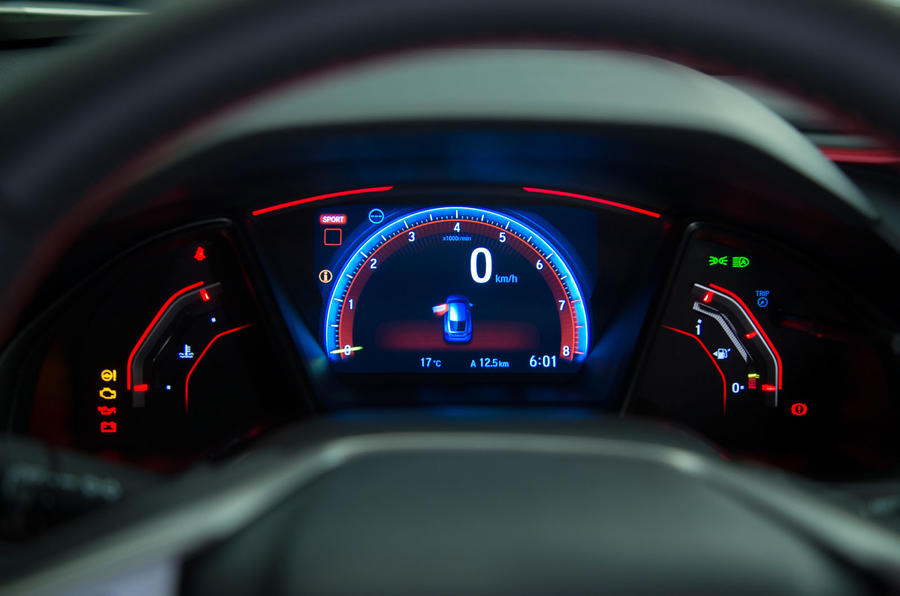 SAFETY: 4.5 / 5.0
When you have such a powerful engine and fast car, then all other safety features must be top-notch. To begin with, the type R has got Brembo brakes on all the four wheels for stopping the little monster and they are quite efficient at that. The car also features standard ABS and brake assist for all for wheels, front, back and side curtain airbags, collision warning system, automatic emergency braking, lane keep assist and lane departure warning systems.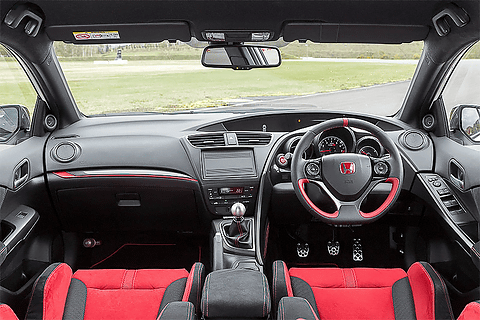 CONCLUSION: 4.5 / 5.0
The Honda Civic type R is a serious statement by Honda and it takes its rivals such as the Subaru WRX and Golf GTR head on. This car is powerful and handles surprisingly well for a front-wheel-drive. Although the engine is a little bit noisy, the short ratio gears make the car easy and fast to shift through the gears. In short, this is the ultimate car for any Honda enthusiast!