Singapore's vision for a car-lite society will take a step forward with the pedestrianisation of roads around Kampung Admiralty, specifically Woodlands Drive 63 and Drive 71. These roads will be closed off to private vehicles as part of a trial to repurpose these roads and turn them into footpaths, pedestrianised streets, or cycling paths.
To close off traffic coming in on the westbound lane, water-filled barriers will be placed along this stretch of the road. However, public buses and emergency vehicles will have access to the eastbound lane of the road. So don't worry, you still can get here via public transport!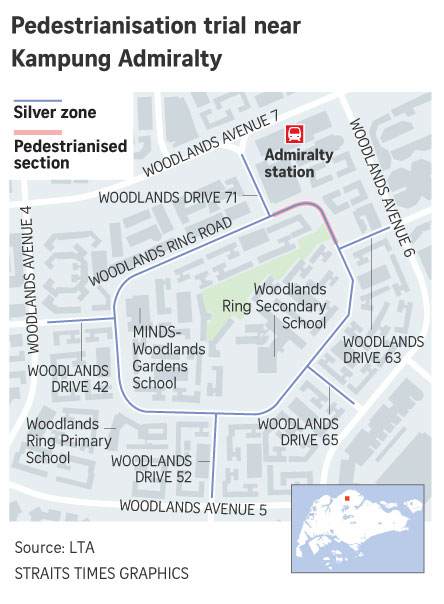 This initiative comes after the Transport Ministry set out plans to reimagine the country's road infrastructure. Announced in August of 2020, the Ministry plans to convert under-used road lanes into cycling and bus lanes, and also pedestrianise certain roads. These plans fit into Singapore's push for a car-lite society by promoting walking and cycling instead of driving.
A group that will greatly benefit from this pedestrianisation effort is the residents and students from Spectra Secondary School, Minds Woodlands Gardens School, Woodlands Ring Primary and Secondary Schools. This group of people will be able to enjoy easier and safer access to the nearby Admiralty MRT!