Imagine you are having a picnic with your loved ones under the moonlight, admiring the night sky and the magnificent stars. Now imagine you're having that exact picnic inside a car. Sounds inconceivable? Well, it does to me too until last week, when I met the all-new Renault Grand Scenic for the first time. It all started when I heard that Carro was approached to test-drive the all-new Renault Grand Scenic. It clinched the title of "Best MPV 2017" by U.K. Car of the Year, so you can imagine my excitement when I finally laid eyes on the car that day, moments before I got to ride around Singapore in it.
First sight remarks
Helmi, Carro's car expert, and I were introduced to the vast array of Renault car models. They all seem impressive to me, but Helmi raised the issue of reliability, as it had been known to be linked to Renault. Thankfully, the French automaker has striven to improve its reliability along with its sportier design. This includes sharing platform with Nissan, which has a relatively high level of reliability.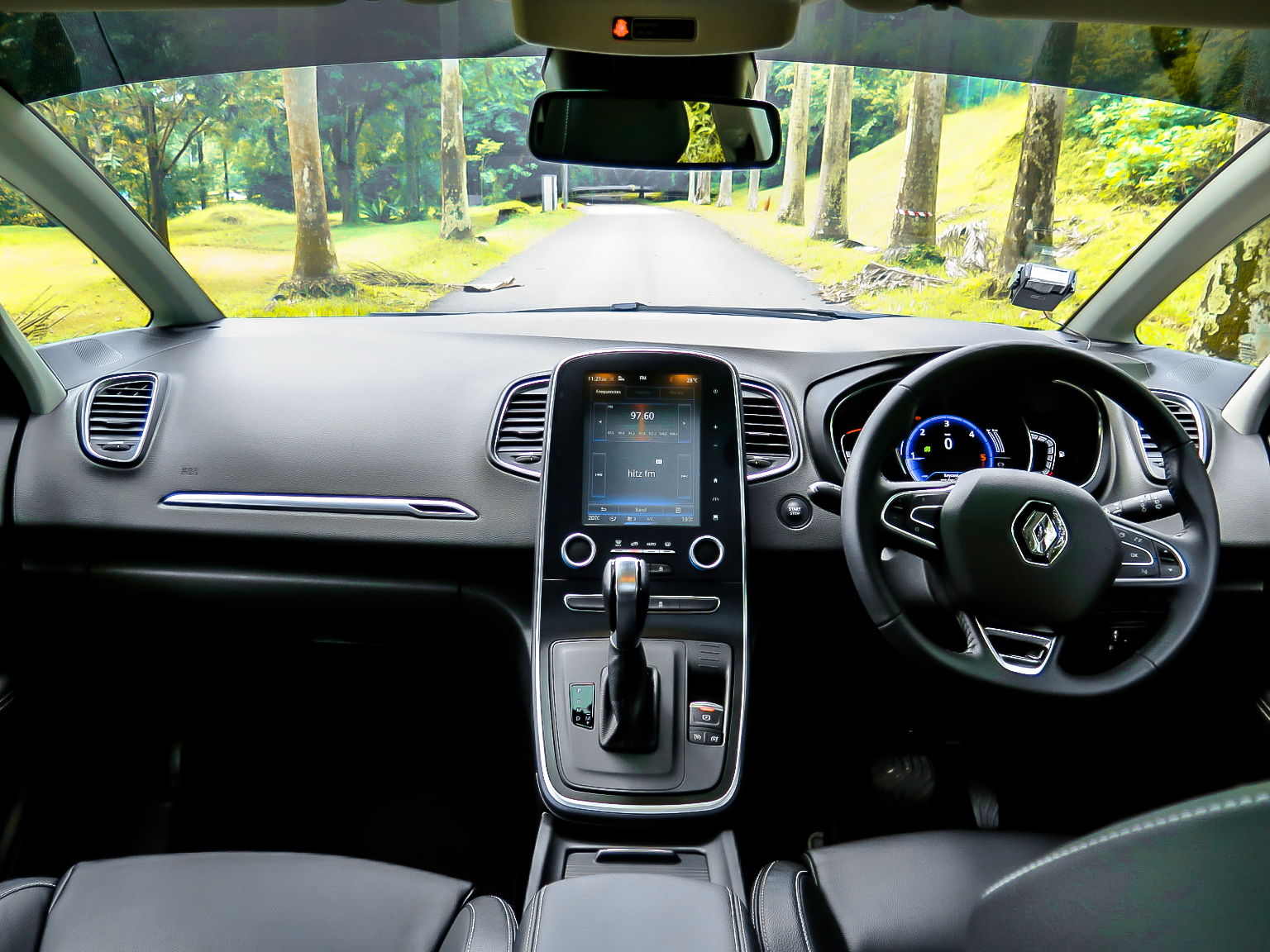 We then went on to see the MPV that we were going to drive that day and listened to all the interesting features that it has. Among them, a few features stood out for me. One of them is the fact that there are as many as 14 compartment storage spaces, including one hidden beneath the floor mat for each front seat! Once instance this storage could be used is for storing children's dirty shoes after a day out, which strikes me as such a thoughtful touch for a family car.
Another interesting feature is the One-Touch Folding rear seat control, allowing all the rear seats to be folded simply by a press of a button at the back of the car, or by choosing that same option on the touchscreen multimedia and navigation system in front. Having struggled with manually folding the rear seats of my own car, I personally believe this feature will be of great help. Plus, with all the rear seats folded flat, coupled with the panoramic glass moonroof, we could have that picnic under the stars with plenty of space. However, while folding them down is automatic, pulling them back up needs to be done manually.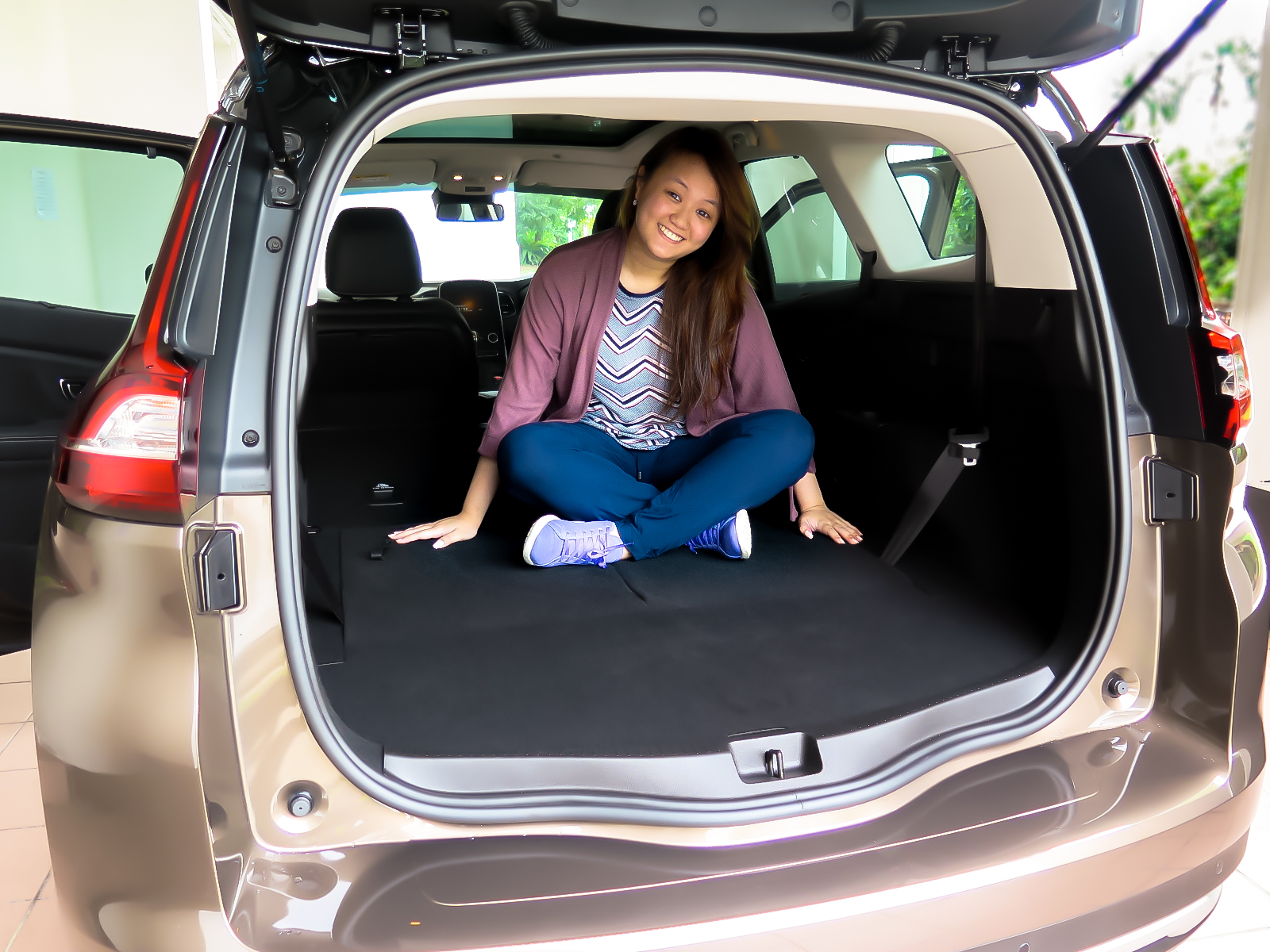 During the drive
Next, it's finally the exciting stuff – driving this gorgeous Grand Scenic around Singapore! The touchscreen system is the first thing that we used, since it practically controls everything, from radio, AC, to navigation. We tried the voice control tool, which is not only very cool but also helpful and safer when you need to use the navigation feature while driving, for instance. Helmi said that the driving feels smooth, so smooth that it doesn't feel like driving an MPV, more like driving a normal sedan instead. Indeed, a 1.5L Turbo engine with 260Nm of torque is quite impressive for an MPV. It is still very powerful, too. In fact, at one point, we felt that even driving the car uphill was quite a breeze.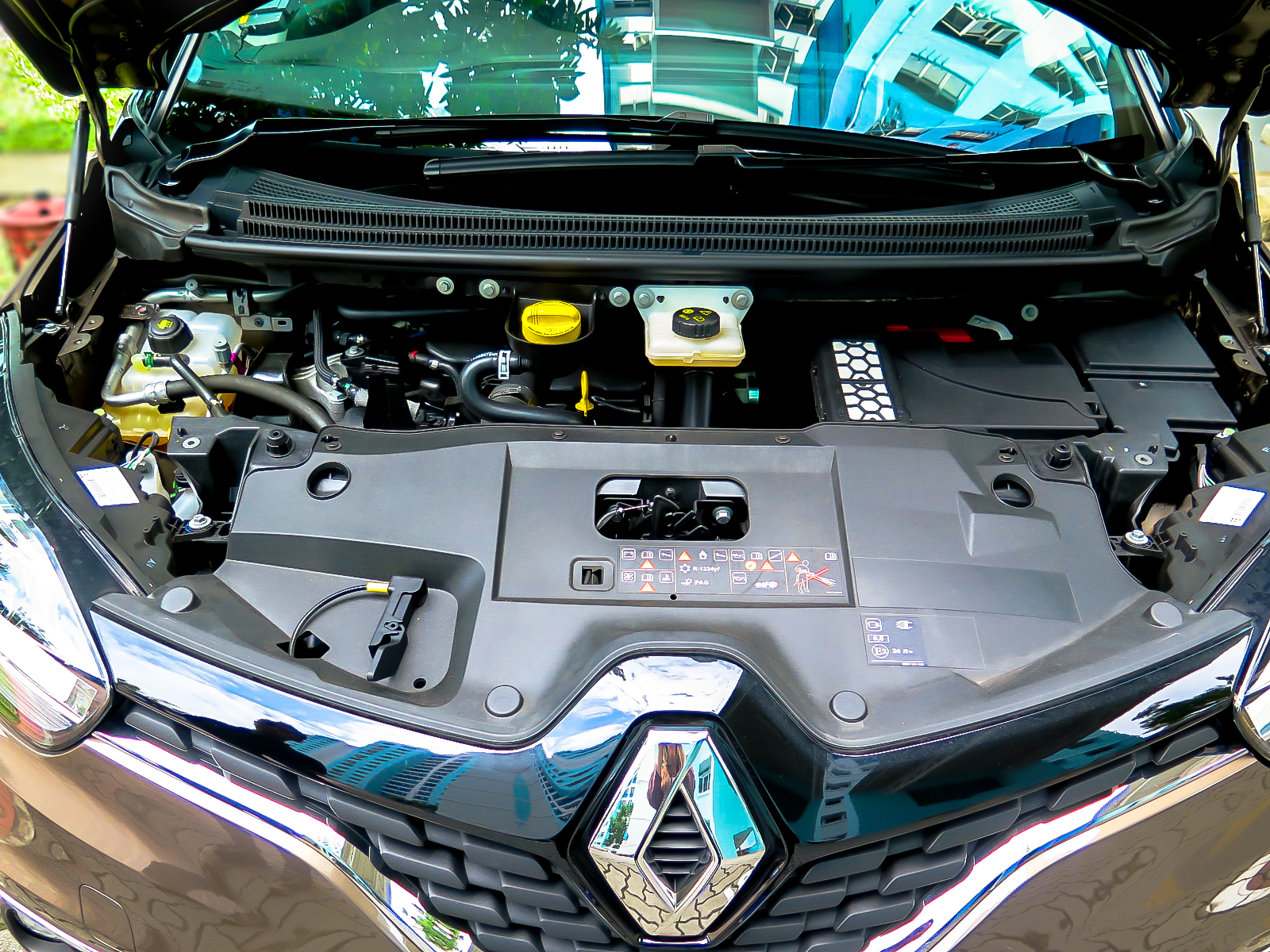 As mentioned previously, Renault has been making great strides towards higher level of safety and reliability. During our test-drive, we noticed one of its such efforts – the Blind Spot Monitoring System, which is a standard feature in the Renault Grand Scenic. It comes in the form of a small light on the side mirrors which would light up and alert the driver should there be any vehicle in his/her blind spot, enhancing the safety of driving this well-equipped MPV.
Further observations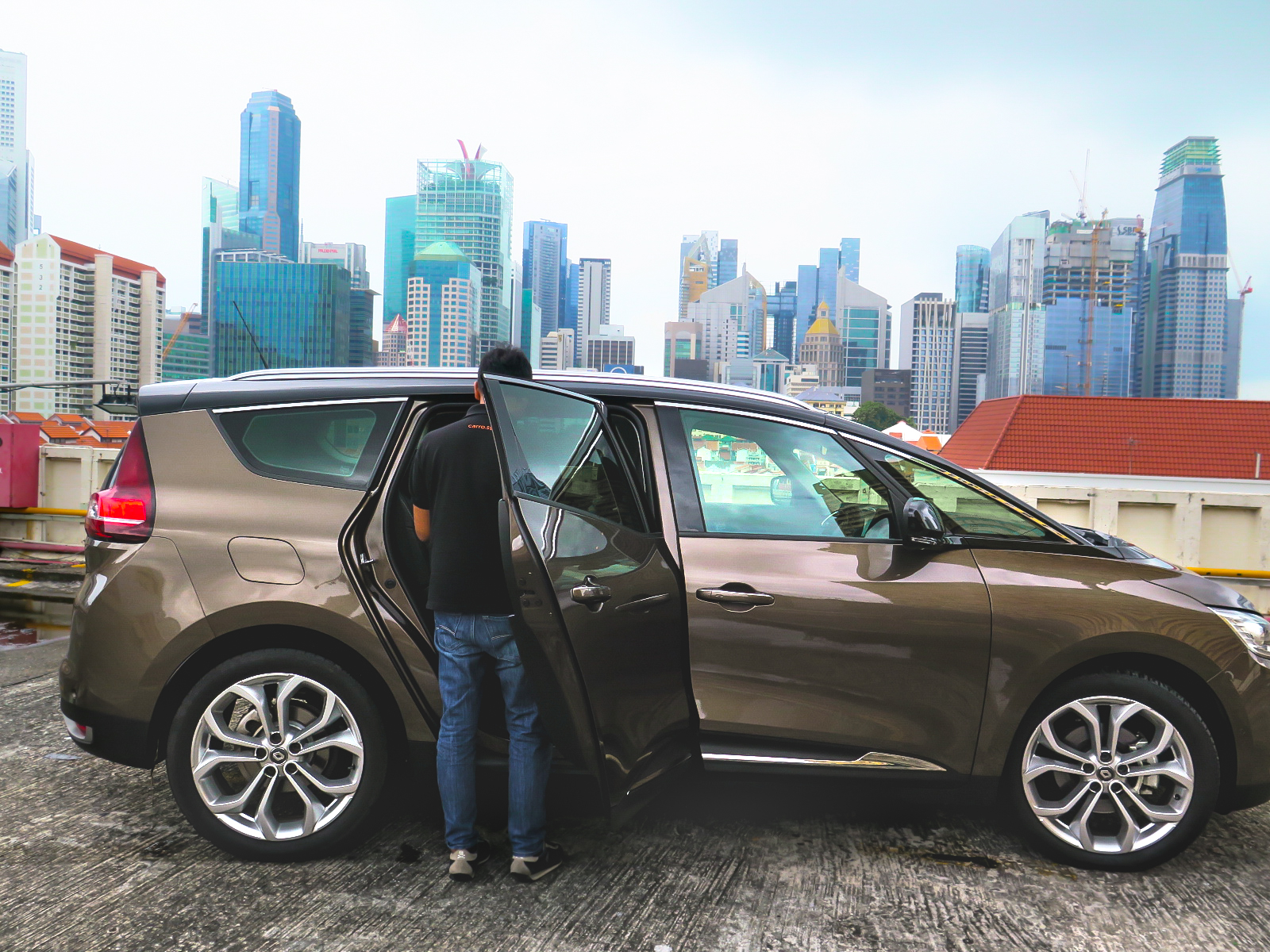 After being in the car for a while, we noticed that the seats could get rather uncomfortable due to its lack of lumbar back support, which would enable the adjustments of the seat's backrest to ensure a more comfortable sitting position. We felt that this is quite important especially for a family car, which would most likely be driven by parents of older age. Nonetheless, this is of course just a minor point, as car accessories to rectify it are widely available.
Another thing that we noticed after parking the cars a few times is its walk-away auto lock. This means that after we parked the car, we would walk away from it a few steps, and the car automatically locked itself! With this feature, you no longer have to worry about forgetting to lock the car.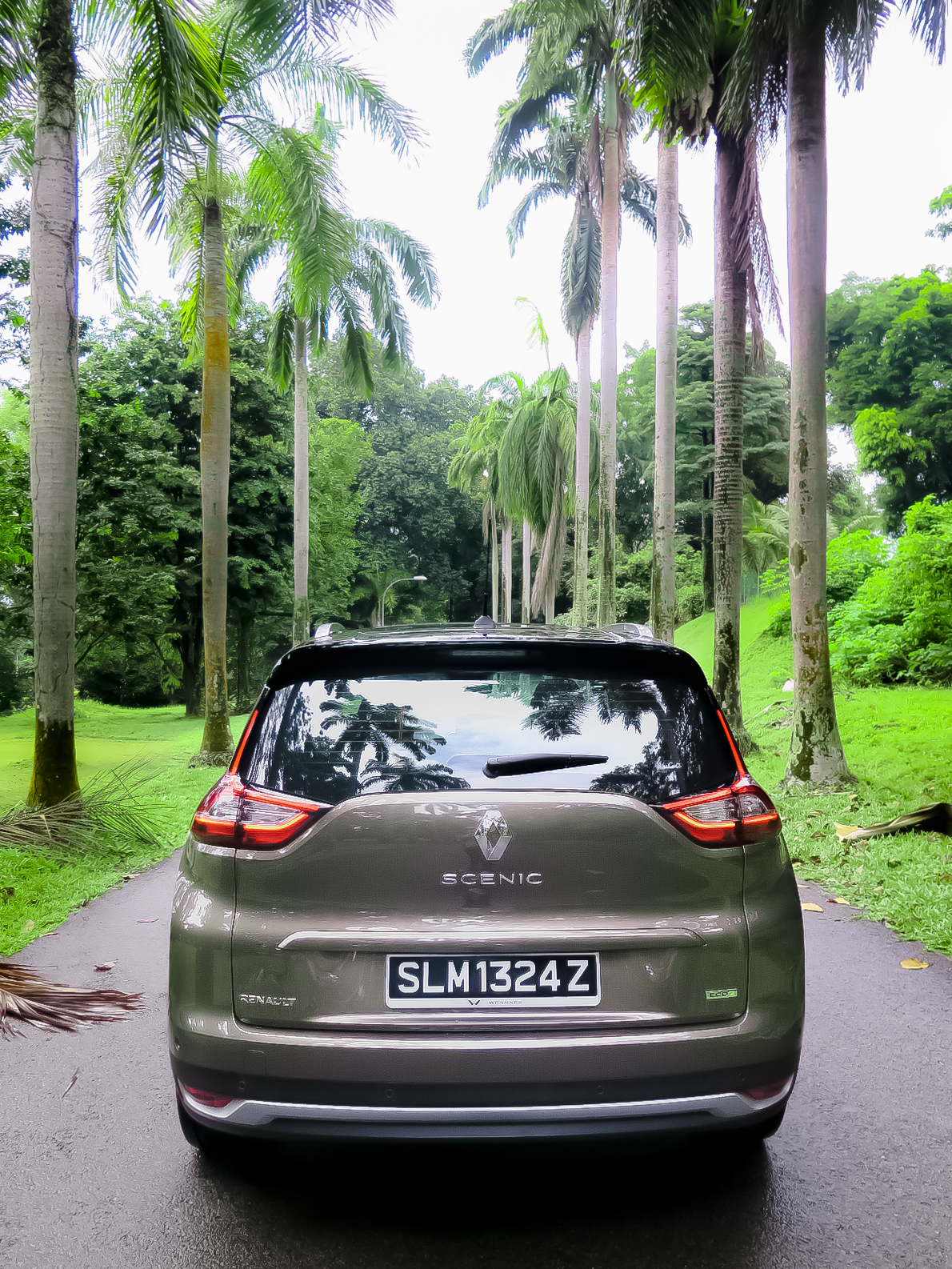 All in all, the Renault Grand Scenic is a practical, well-equipped and well-assisted MPV. There are features which are not available in this car, such as the automatic pulling up of the folded seats and active parallel park assist, but they are somewhat trivial and missing such features means that the car gets to be more affordable for us!