The Land Transport Authority (LTA) has announced the COE quota and the supply for COEs have dropped from 17,115 in Feb – Apr 2021 to 16,010 from May – Jul 2021. This works out to around 5,334 COE premiums available for bidding every month in the next quarter.
See below for a full breakdown of available COEs per category.
Breakdown of COE Quota for Each Category Per Month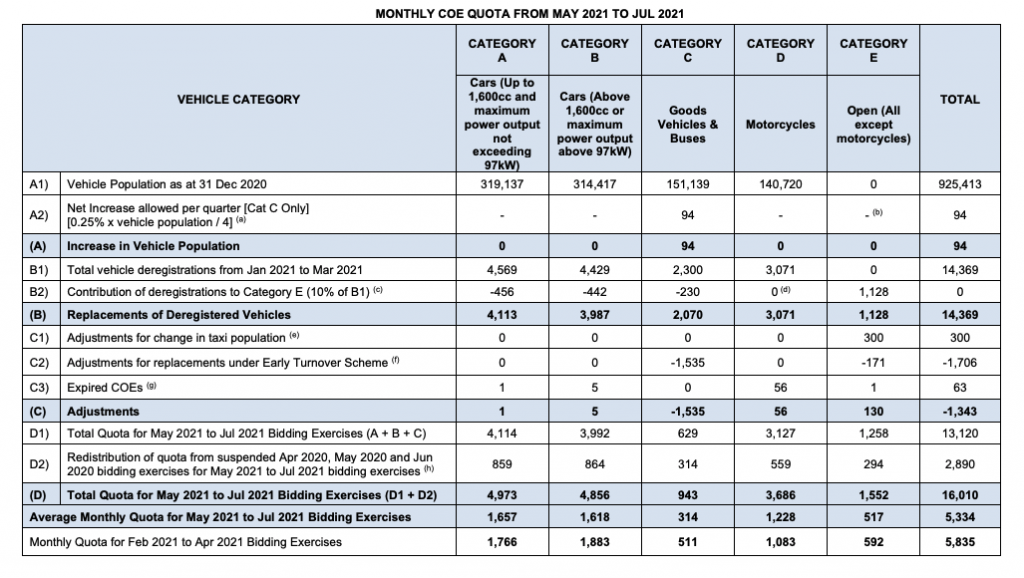 For Category A cars (up to 1,600cc and 130bhp), COE quota will average at 1,657 per month. Compared to the Feb – Apr average, available COEs have dropped by 109.
Seeing the biggest drop in COE supply is premiums for Category B (above 1,600cc or 130bhp) cars. Supply for this category fell by 14% or 265 COEs.
The drop in COE supply for Category E (Open Category) premiums saw the smallest fall, dropping by 75 COE premiums. This brings the monthly average to 517 from 592.
For commercial vehicles in Category C, COE quota saw a huge jump too, falling by 197 from 511 to 314.
However, the COE supply for motorcycles will be the only type that increases, climbing from 1,083 to 1,228.
Lower COE Quota = Higher Premium Prices
We expect COE premiums to continue to trend upwards in the coming months, and with the announcement that the COE supply has decreased, the prediction that COE prices will increase seems even more likely as long as the demand remains high.
So, if you're looking to buy a car within the next couple of months, you definitely should not prolong your decision and make the purchase as soon as you can. Otherwise, if COE prices continue to rise, you might be overpaying for your car and there's even a good chance that you might be priced out of making a purchase.
Alternatively, you should consider getting a used car as these cars tend to be more cost-effective!

So if you're in the market for a pre-owned car, CARRO is the place to be!
With a wide selection of high-quality cars that have passed a rigorous 150-point inspection check which covers a variety of parts like your tires, aircon, battery, and more, quality assurance and peace of mind are guaranteed with every purchase. So, say goodbye to lemon cars!
Additionally, we've also put in place a slew of assurances like our 30-day wear and tear guarantee that grants you full access to our workshop for any wear and tear issues related to any of your car's safety components for 30 days after you've made your purchase, free of charge.
You'll also enjoy our 'No Regrets Policy' where you can return the car within 3 days and pick another, no questions asked — that's why we're the better place to buy cars!