How COE Prices will change? Should we buy a car now?
Current situation
The change of Certificate of Entitlement (COE) prices is one of the big topics for people who want to buy a car. According to Table1, COE prices have been decreasing after they reached the highest price around 2013. On the other hand, the price of category B bounded at the 2nd bid in Feb.
Therefore, it is very difficult to see how the prices will go in near future. How will trend go in the future?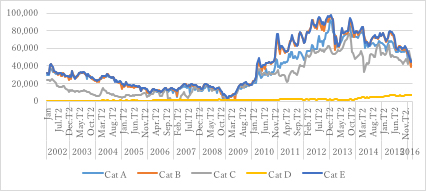 COE prices system
To think about it, we need to understand the COE system.
First, COE prices are decided by a bidding system. Hence, the price is decided by two major economic terms – supply and demand. Supply means the number of COE quota, and demand refers to the number of people applying for this quota. Especially, according to the analysis of the last 10-year data of COE prices, there is a strong correlation between COE quota and its price. (Table2) Thus, to know the future trend of COE prices, we examined the trend of COE supply.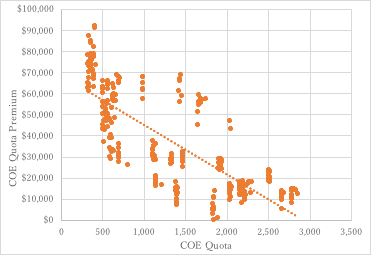 COE quota is decided by several factors, the number of vehicle deregistrations, 0.25% net increase of total number of car population(Table3). The quota is largely affected and thus decided by vehicle deregistrations. For example, the number of vehicle deregistration during Feb. and Apr. in 2016 is decided by the number of it from Oct. to Dec. in 2015. This deregulation number is mainly the COE spend over 10 years. Thus, the number of quota a decade ago.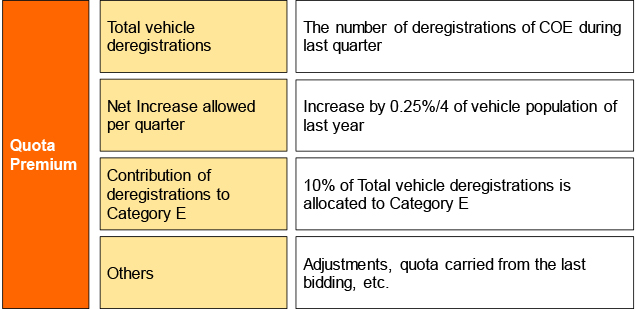 Future Trend
According to the release of Land Transport Authority (LTA), COE quota is decided until April. Thus, COE quota is going to remain around 2,000 and the price will go down. Furthermore, we assume that this trend will continue even after April.
The first reason is the number of deregistrations. According to the COE quota data, 10 years ago, around 2005 to 2006, more quota was issued to consumers compared to other years(Table4).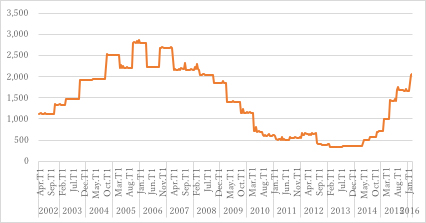 Because the limit of COE is 10 years, these COE licenses will expire soon and be deregistered. Thus, the number of deregistrations will probably remain for a certain period, which supports the COE price decline.
In addition, the economic situation will also affect the price decrease. The recent decline in the price of oil and stock in the world shows the instability of world economy. This pessimistic economy will deactivate people's demand.
From this information, we estimate that the current decrease of CEO price is not a short-term trend, but the middle/long-term trend (although there would be some fluctuations in the short-term). Therefore, consumers should wait carefully and find the best timing to bid for COE.
Note: For simplification, we focused analyze on category A Cars(Up to 1,600cc and a maximum power output not exceeding 97kW).