Car Bites
COE Analysis 2021: Premiums Predicted to Rise from Apr – Jul
To the dismay of many drivers, the latest COE results over the last year have seen premiums follow an upward trend. Even during the pandemic, the demand was strong as Singaporeans were still buying cars.
As demand was strong, COE prices saw a significant jump, climbing by about $13,379 – $16,989 from March 2020 to March 2021 in the different COE categories for cars. But, what can we expect of COE prices for the current quarter?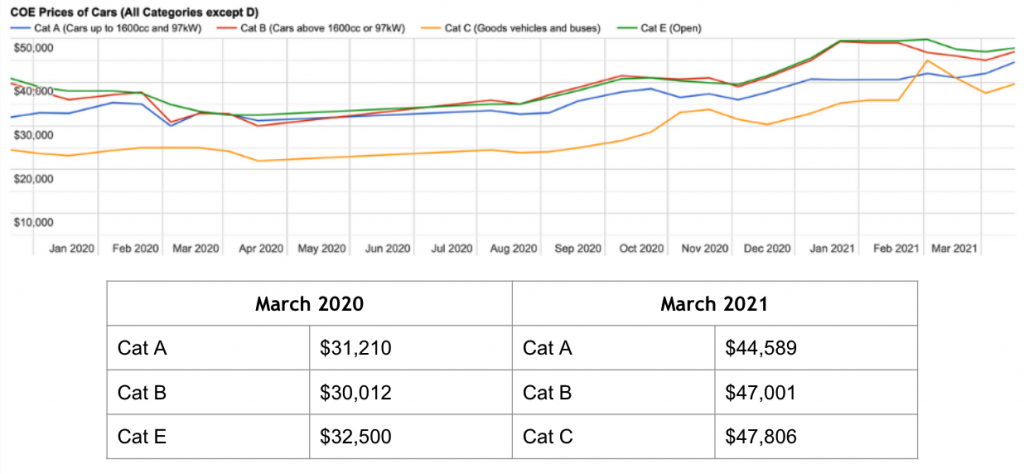 COE Analysis 2021
To make a prediction on COE prices, you must first rewind 10 years. From here, you'll be able to predict the COE supply and understand where the prices are heading.

Looking at data from 2010 – 2012,  you can see that the COE quota available decreased significantly as a result of the Land Transport Authority (LTA) efforts to progressive halve the COE allocation from 2010 onwards. 
And from the chart above, you can see that premium prices started to climb as the quota started to shrink. 
As such, we can expect this impact to happen this year because fewer drivers will be deregistering their cars from 10 years ago. This will then affect the number of COE premiums available.
And based on simple Supply and Demand economics, if the Supply is low and the Demand stays high, prices will continue rising again.
So, we think that this is likely to happen and expect prices to rise from April to June this year.
The Proof is in April's First Bidding Exercise
Just take a look at the prices for COE premiums in the first exercise in April, Cat A, B and E premiums have risen by a whopping $1,011, $5,308 and $4,394 respectively.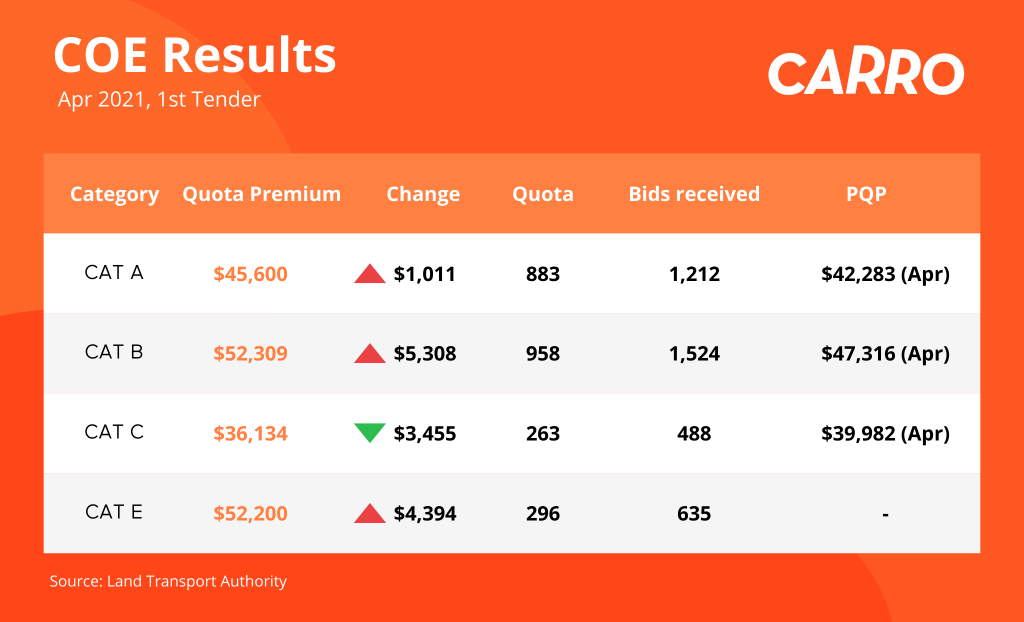 COE Prices Has an Impact on the Used Car Market…
If you're looking at getting a pre-owned car instead of a brand new one, you shouldn't think that COE prices won't affect you. Because they do!
The used car market follows COE trends super closely. When COE prices are high, prices for used cars tend to be high. When COE is down, so will used car prices too!
And the reason for this is super simple.
As COE prices are high, potential car buyers will usually shift their attention to the used car market as these cars will be cheaper. So, as more and more buyers are looking at used cars, the demand increases and prices will go up too!
Act Fast and You'll Have NO REGRETS!
If you're mulling over whether to buy a car now or not, the answer is clear — you definitely shouldn't wait any longer.
Waiting will only bring about more uncertainty as prices might get out of hand and skyrocket, which could price you out and force you to "overpay" for your new ride. 
So if you're in the market for a secondhand car, check out CARRO's wide selection of high quality used cars today!

Rest easy knowing that all our cars have passed a rigorous 150-point inspection check that guarantees quality assurance. This comprehensive process covers a variety of parts like your tires, aircon, battery, and more. 
Additionally, if we find any faulty parts during the inspection, we will replace them with brand new components too — only CARRO does this for you!
But that's not all. For even greater peace of mind, we will provide you will full access to our workshop for any wear and tear issues related to any of your car's safety components for 30 days, free of charge. 
And if you happen to change your mind, no problem. With our special return policy, you can return the car within 3 days and pick another, no questions asked — that's why we're the better place to buy cars!