Media
Press Release
Carro raises the bar for data science talent development in Singapore through CARRO X AWS scholarship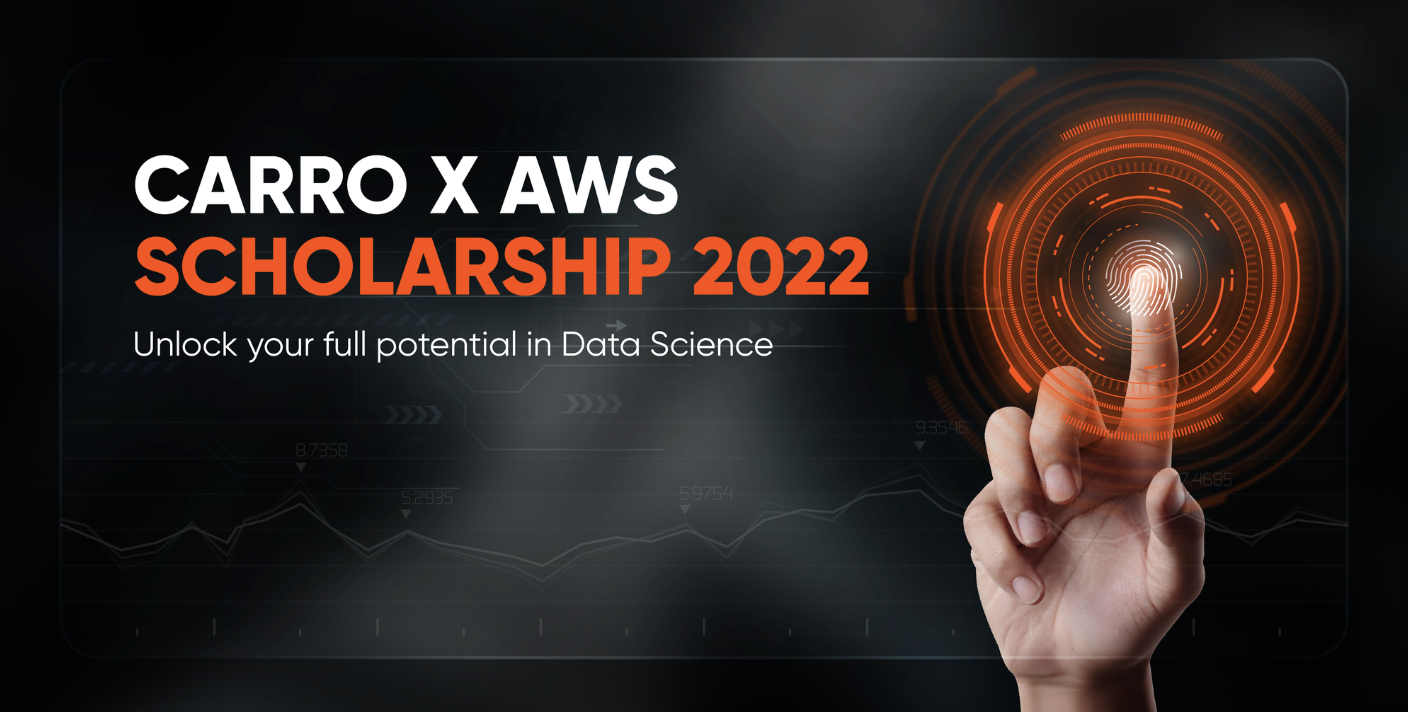 Carro and Amazon Web Services (AWS) will host a Hackathon from 18 to 20 March 2022 in conjunction with the launch of the scholarship programme to inspire the next generation of computer and data scientists in Singapore
SINGAPORE, 28 February 2022 – Carro, one of Southeast Asia's largest automotive marketplaces, formally announced its Carro X AWS Scholarship, in contribution to the development of Singapore's data science scene. Carro recognises the value of nurturing and cultivating homegrown data talents and aims to drive the development of artificial intelligence (AI) and machine learning (ML) data science talent in Singapore through its scholarship. Carro's data science team leverages data-driven AI and predictive analysis technologies on the AWS cloud platform daily, which is fundamental to its ability to develop and launch innovative solutions that catalyse change in the automotive ecosystem.
In today's digitalised world we are more data-reliant than ever, and consequently, more dependent on data professionals than ever before. This has resulted in an exponential increase in demand for data scientists in Singapore, especially with ongoing data-driven national initiatives like TraceTogether and SafeEntry. In fact, the Singapore government aims to train at least 20,000 public officers in data analytics and data science by 2023.
The scholarship will be a midterm scholarship for undergraduates across all fields of study in Singaporean universities. Carro's sponsorship includes fees for training in specialised data analytics and ML skills in the cloud via AWS online training modules alongside other online courses, and the fees for the relevant certification exams. AWS ML specialists will train students through hands-on exercises and provide mentorship. Students can also expect a 10-week internship with Carro; a potential place in Carro's management training programme; and a SGD20,000 annual allowance from Carro among other benefits.
Commenting on Carro's role in contributing to Singapore's data science scene, Aaron Tan, CEO & Founder of Carro said, "We are looking forward to working alongside this next generation of data scientists in Southeast Asia. Being innovative with a relentless focus on data and, more importantly, insights has been pivotal to Carro's continued growth over the years. We believe that investing in our talents of tomorrow is important not just for the advancement of Carro – but for the industry at large. We need more AI and ML-trained individuals to meet the rising demand across all industries moving forward."
Reinforcing Carro's commitment to technological innovation and talent development, the scholarship is designed to train applicants through exposure to real-life business challenges. To raise interest, Carro and AWS will host a virtual 48-hour hackathon from 18 to 20 March 2022, where participants will, either as an individual or in a team of five, tackle one of six problem statements in different categories. They will build their solutions on AWS leveraging AWS Analytics services and AWS Machine Learning Services to work on real datasets and business.
Commenting on the scholarship programme, Bryan Tan, Chief Scientist of Carro said, "We are very pleased to be able to collaborate with AWS in supporting up-and-coming data science talent in Singapore. AWS is the world's most comprehensive and broadly adopted cloud platform, and it is an incredible opportunity for the students to receive direct training on innovative AWS technologies and programmes. This learning experience paves the way for improved career prospects. This scholarship is also aligned with the increasing global emphasis on data-centric upskilling and training."
"Singapore's prosperity relies on a strong digital workforce and technology professionals with relevant cloud skills to ride the current innovation wave," said Santanu Dutt, Director of Technology, ASEAN, Amazon Web Services. "AWS is deeply invested in helping to address the need for skilled talents. We are excited to support the Carro x AWS Scholarship because we believe it empowers students with the Data & Analytics as well as ML skills to build with confidence for Singapore's future."
All qualifying students who share Carro's passion for AI, machine learning and data science are welcome to apply for this scholarship. Sponsorship can be up to three years, and upon graduation, chosen scholars will serve up to two years of bond. Applications are open from 28 March to 24 April 2022 and undergraduates can visit www.carro.sg/scholarship to apply.