Media
Press Release
Carro redefines car buying experience with Singapore's first 'Showroom Anywhere' launch
Drivers can now view cars in person at malls, enjoying more flexibility and convenience in the car purchasing process
Designed as a contactless experience, drivers can use the Carro app to lock and unlock the car using their mobile devices and examine the vehicle to their satisfaction
Social distancing protocols strictly enforced and cars to be fully sanitised after each visit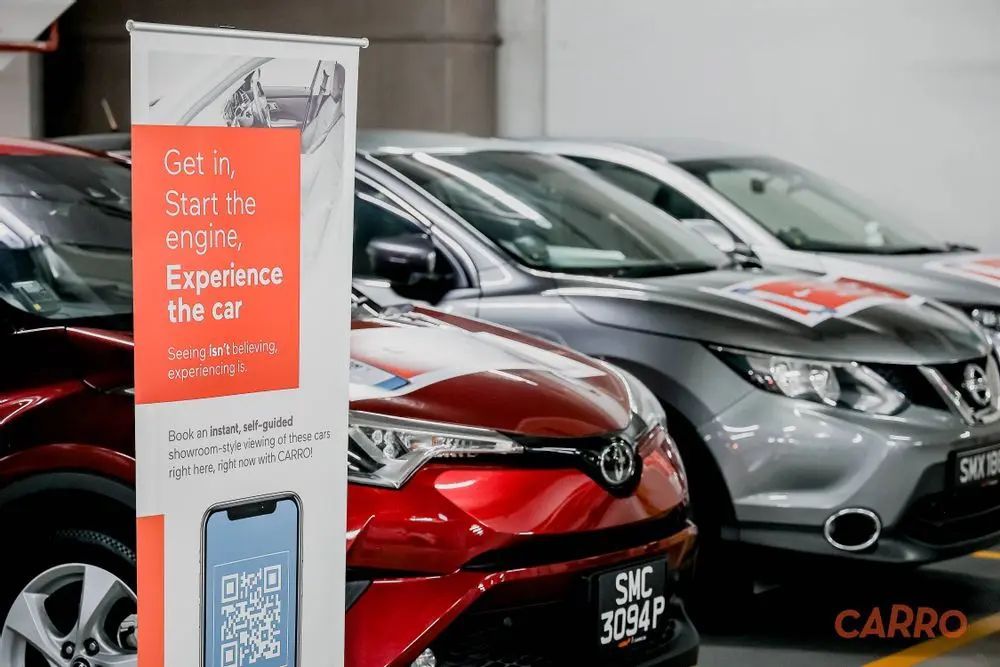 Singapore, 1 June 2021 – Carro, Southeast Asia's largest automotive marketplace, today announced the launch of its Showroom Anywhere. This new concept takes cars out of traditional car showrooms and into the parking lots of neighbourhood shopping malls where car buyers can view the cars independently at their own time and pace, significantly improving the customer experience. Rising interest in used cars has seen more Singaporeans visiting used car showrooms1 with high purchasing intent.
However, some customers may find the traditional car showrooms experience inflexible and prefer not to travel too far out due to Covid restrictions. Social distancing measures also mean that only a restricted number of customers can be serviced every day within a strict time frame, which may extend wait times to make appointments for viewing, test driving and purchasing.
Carro aims to inject more flexibility into the car buying experience for drivers through its Showroom Anywhere. From 1 June 2021 onwards, Carro will place a selection of cars in exclusive sections within the parking lots of malls, starting with Tiong Bahru Plaza. Cars will be refreshed weekly based on Carro's artificial intelligence (AI)-powered algorithm, which will predict which types of cars are most in demand in the region.
Drivers can simply download the Carro app and make a viewing appointment via the app. The app also allows them to smart lock and unlock the car, adding to the convenience driven experience. Users can inspect the car with their family while still enjoying Carro's virtual on- demand support from sales agents. Customers can touch and examine the interior and exterior finishings to check for defects and even start the engine. To prioritise safety, only one person or family will be able to view a car at a time, and cars will be thoroughly sanitised after each viewing. Appointments for test drives can be made easily via the app for a later date.
Aaron Tan, CEO and Founder of Carro, said: "We understand that customers still want in- person viewings, and Showroom Anywhere was born out of our desire to improve that experience and make it more safe, flexible and convenient. Businesses need to be where their customers are, and for us, being in the neighbourhood malls was a natural choice as we reimagine the car buying experience for drivers."
Showroom Anywhere represents the latest addition to Carro's array of innovations and market- firsts in the car buying space, including Singapore's first contactless car purchase process and car subscription, as well as Southeast Asia's first behaviour and usage-based car insurance for drivers in the region. Showroom Anywhere concept will be expanded to other malls and even other countries in the SE Asia region.
More on other media:
Tech In Asia: Singapore's Carro launches remote showrooms accessible through its app