Media
Press Release
Carro Debuts Livestream Car Selling Via Partnership With Gushcloud, Pushes Boundaries With Online Car Sales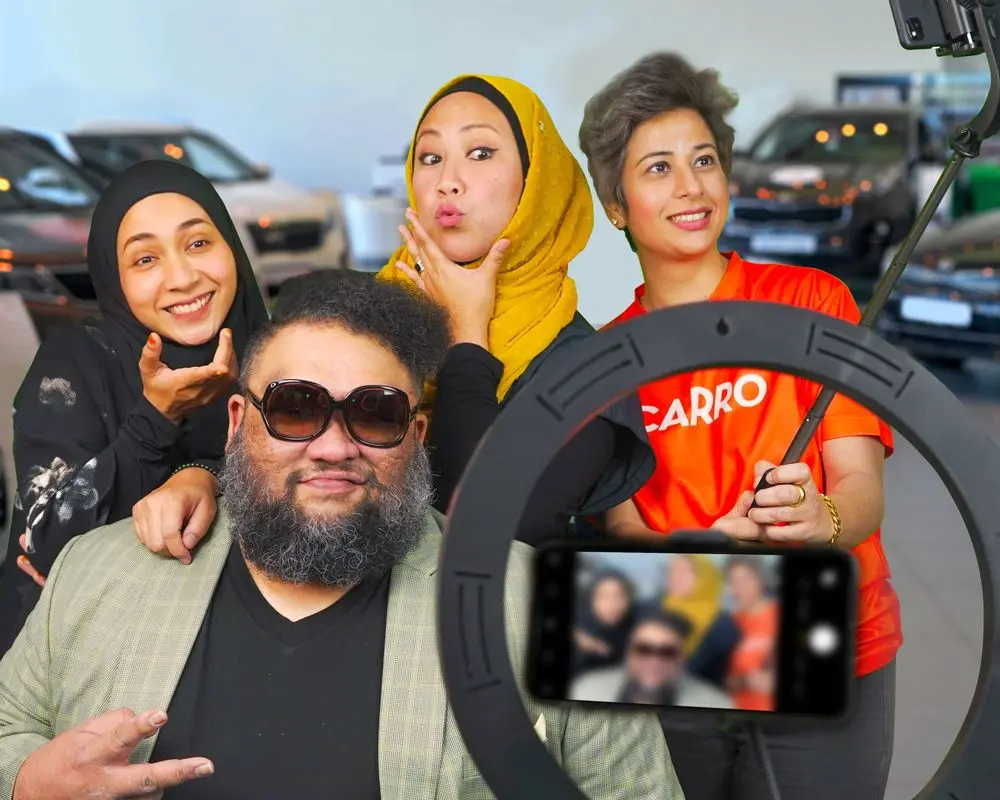 SINGAPORE, 2 December 2020 – Carro, Southeast Asia's largest automotive marketplace, successfully sold a car via livestream for the first time via Facebook Live on the 11.11 Singles' Day sale, marking a new milestone in the company's journey to transform how cars are sold. The live event was hosted by online shopping show Haikel's House of Deals, a partnership made possible by global digital talent management company Gushcloud International.
Some 4,744 unique viewers tuned in on Facebook for the special Singles' Day show, which saw Singaporean rapper, actor and radio personality Sheikh Haikel, actress and entertainer Anna Belle Francis and actress Elfaeza Ul Haq take viewers through a first-hand review of four selected cars on Carro's sales platform – a Honda Vezel 1.5X, a Toyota Estima Aeras Premium 2.4A, a Toyota Wish 1.8 and a Toyota Wish 1.8X. At the end of the 85-minute session, the Toyota Wish made Carro history as the first car sold by the company through a social media livestream event.
"As a technology-first company seeking to transform the way cars are sold, we are always trying new and innovative distribution channels. We have noticed that social commerce – livestream selling in particular – is striking chords with consumers since the pandemic began, and we decided to see if Singaporeans are ready to purchase big-ticket items such as cars through such channels. The team at the Haikel House of Deals and Gushcloud did a fantastic job reviewing the cars for a live online audience and the response has been very encouraging. I even shared the behind the scenes experience through a LinkedIn post and received fantastic feedback from the community. We will continue to experiment further to determine if social commerce can be a permanent sales channel," said Manisha Seewal, Group Chief Marketing Officer of Carro.
To leverage the live selling platform, the hosts provided close-up exterior and interior views of the cars, tested and demonstrated the vehicles' features, reviewed important details such as age and mileage.
Based on the statistics, the live show is estimated to have reached almost 15,000 people organically and the Facebook post garnered over 1,000 engagements, which is by industry standards considered high. Tracked social media data showed that Carro experienced a threefold increase in inbound traffic to the company's car-buying website pages compared to the same day in the previous week as a direct result of the increased exposure. This upward trend continued for several days post the livestream session, indicating sustained interest.
"Commerce cannot be achieved without connections, and that is where the strength of social media lies – it is the crucial bridge between businesses and customers, which is especially important as the pandemic is restricting walk-in visits. This collaboration between Carro and Haikel's House of Deals exemplifies that having the right digital channel, and the right talent to talk to the audience, and also the right product that appeals to the audience; that can make a world of difference to a business's exposure. We foresee more brands following suit in the future," said Althea Lim, Group Chief Executive Officer of Gushcloud International.
Carro is already gearing up to experiment with holding livestream car sales in other Southeast Asian countries that it has a presence in – such as Indonesia – for the upcoming 12.12 sale period. The company expects to target a much wider audience and highlight a broader variety of cars through these sales, aiming to achieve a sales growth target of ten times the 11.11 event.